How do you get your blog ready for the holidays? Ah, the age-old question.
The first answer is not a how, but a when. As of early September, the time to get your blog ready for the holiday season is now. As an added bonus, here are hardcore, hands-on tips you can start using right away to make magic on your blog this holiday season. After all, traffic is every blogger's perfect present!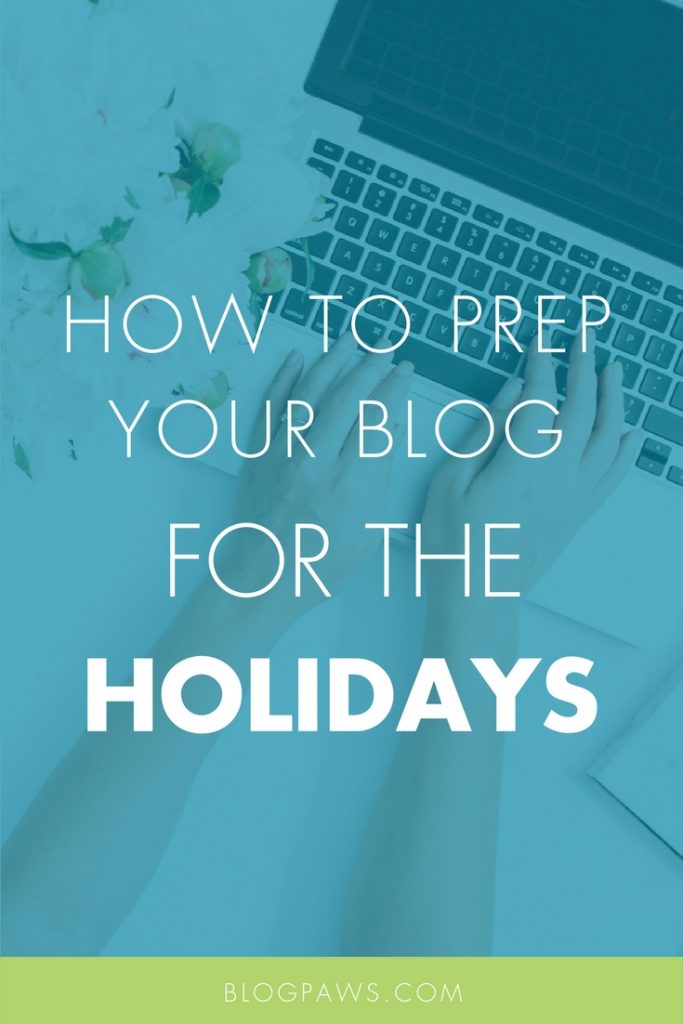 Clean It Up: Front End and Back End
1. Be sure your blog looks professional from a front-facing perspective as well as on the 'back end.' Is your blog uncluttered, are links working, are your header and contact information up to date, and just when is the last time that 'About Me' page was updated?
Stand out from the crowd and try a unique spin on your About Me page:
Make a List: Sometimes a list that is easily scannable is just the ticket, like this:
10 Things About Maryann Smith
1 In school, the kids used to call me "Star Bright" and I loved that.
2 I never owned a cat until I was 23 and now I am hooked.
3 I played the tuba until my dad told me to take up the clarinet. Now I am a whiz at it.
2. Design Tweak Magic: First impressions are everything and that goes for blog appearance. If I stumble on your blog, you want me sticking around. Like an oil check for a car, here are 7 design tweaks you can do in a weekend.
3. Keep Hackers Away: You can never guarantee that you won't be hacked, but you can make it harder for hackers to get in. A firewall can protect from intrusions and scan your files for issues. Is your virus scan up to date? Are you changing your passwords? Is your back end running smooth and plug ins are up to date? Read more: Tips for Internet Security: Your Email.
Back Up So You Don't Crack Up
Backups can be life savers, but many bloggers don't back up regularly. This is a task I perform at least monthly in addition to my photo backup services.
Here are 3 Steps to Make Your Blog More Secure
Images Preparation
You should always add pictures to your blog – but only when it makes sense. Similarly, any image on social media should be clean, clear, and representative of your brand. As an influencer, you are a brand. Now is the time to start taking images, getting deals on props, learning a photo editing software tool, and snagging deals on stock photography where you plan to use it.
Sounds like a lot, right? It is, which is now is the time to prep your blog for the holidays. High-quality images increase the engagement on your post and encourage others to share your content.
Tyler Brown of DragonSearch told BlogPaws, "Our biggest and most important tip – stay away from Google searches! Google images return pictures that best match your search query from thousands of websites. Even though these pictures may fit your search, they don't belong to Google. Using these pictures interfere with copyright laws, and you don't want to steal someone's photo!"
Optimize Blog Images for SEO and Get More Tips
Of course, if free stock photography is more your style, then check out these 3 places to find free stock photos.
Be sure to attribute any photos properly to avoid getting into legal hot water. No one was a takedown notice for the holidays. Be sure to attribute to the right party in the right format. Stock photo sites detail this information.
Is your style your own?  Here's How to Create a Branding Strategy for Your Pet Blog
Holiday Editorial Calendar
Like Christmas shopping, blog posts can creep up on you without warning and then boom, it's a frenzy. The holidays are hectic enough without worrying last minute about content. Create an editorial calendar. Truth be told, as much as love Trello, I use little sticky notes in a paper planner for my actual blog post plans. Here's how we use Trello as a blogging editorial calendar, and you can, too!
Determine if you actually have time to work for brands and take on sponsored content. If so, how much sponsored content is right for you?
Don't go it alone: The holidays are the perfect time for blogger collaborations. Are you a part of the two BlogPaws Facebook groups? Every Wednesday in the News and Boost Facebook Group, we host a Wants and Needs post. Ask your collaboration questions there!
Think outside the box with editorial content: Are you a DIY blogger? Do you ever blog about pet food? Why not infuse the two concepts into holiday posts?
Sponsored posts and campaigns are not the right place to try something for the first time. Test now. What works for you?
Need holiday theme inspiration? Check out our comprehensive list of holidays to blog about. At the very least, start prepping your blog and get images ready for the various social networks. You can fill in content later. 
Media Kit Mania
If you plan to work with brands, they will likely want to see your media kit. Is your current media kit where you want it to be content and branding wise?
A media kit is your blog's calling card: a business card or synopsis of your blog in a snapshot. Discover how to make a blogger media kit here.
An Interest in Pinterest
NOW is the time to get those pins ready and get to pinning! Here's a quick checklist:
If you sell products, include a "Pin This" button on them.
Know when to Pin: The folks over at Tailwind (scheduling for Pinterest) say that "in a post-Smart Feed world, Pinterest is looking for signals of user engagement in order to rank your Pin…If your content is posted at a time when it's likely to get in front of the right people when they are most likely to engage with it, you are sending a powerful signal to Pinterest that they should show it now, often, and to more people!" Start looking at your Pinterest analytics and Google Analytics. What's working? What isn't? What times are your pins getting the most engagement?
Add descriptions to your pins with holiday-related keywords.
Create a board on Pinterest specifically for your blog posts. Followers on Pinterest can easily access your posts and you have a place to show brands, advertisers, and others with whom you want to work. When you write a blog post, pin it to your blog's board on Pinterest along with:

The perfect pinnable image for that blog post;
An optimized Pin description about the post;
A link directly to your blog post when the Pin is clicked;
Get a refresher below or start jumping in, feet first, to these oh-so-Pinnable and helpful Pinterest posts:
Using Pinterest to Drive Traffic
Pinterest Tips for Better Blogging 
How to Use Pinterest for Blog Traffic
Your Turn
What are you doing to prep your blog in time for the holidays?
Carol Bryant is the Marketing and Social Media Manager for BlogPaws and runs her own dog blog, Fidose of Reality and its fundraising arm, Wigglebutt Warriors. When not busy playing with her Cocker Spaniel, Dexter, she stays far away from cooking. Her trademark is her mantra and is tattooed on her arm: My Heart Beats Dog.®
Images:  Floral Deco / ouh_desire / Shutterstock