Backups can be life savers, but many bloggers don't back up regularly. Think about what it would be like if you lost a lot of posts, images, and comments because you didn't backup your site! How long would it take you to recreate everything that went missing? It's a nightmare to consider.
Thankfully, BlogPaws has the experience of backing up and gaining the expertise of those in the know so that you never have to experience that dreaded "oh no, now what" should you get hacked or if something ever happens to your blog.
WordPress
There are some great WordPress plug-ins to automate and simplify the process. Remember, there are two aspects of backing up: database and folders. What's the difference?
Database: This is where your WordPress settings and articles reside. Note: Database backups are smaller and faster.
Folders: This is where your WordPress files and uploads (e.g. images) reside.
If you are hosting your blog on WordPress, here are a few tips from Steve Pelletier of Slim Doggy:
If you only use a database backup, you will not retain your images. Backups should be performed as often as you publish.
Keep backups locally and on the Cloud, if possible.
Recommend to keep old backups from 1-2 months past, just in case there is a hack or other undetected issue that is recent.
TIP: Write your posts in a word processor first and save these files on your computer, just in case.  Keep local copies of your image files as well.
Run a backup before updating WordPress or Plugins, just in case.
The backup process can use a lot of memory and some cheaper hosting plans will choke if you want to run a backup on demand.
Jill Caren, founder of 2 Dogs Media, says there are several options for WordPress users when choosing what and how to backup.
See if your host offers backup services – some offer them for free and others charge a fee. But this option can provide you full backups of your content, images, themes, and plugins on a set schedule with no work on your part.
Use a plugin like VaultPress, which is a cloud backup solution, so you are paying a monthly fee for the storage, but it is worth it for the simplicity and assurance that your website is safe.
Use a plugin like BackupBuddy, which unlike VaultPress, allows you to backup your website but then you can choose where you want to save your website to like DropBox, Amazon S3 or your own server. There is a licensing fee for this plugin.
UpdraftPlus is another option for backups that is free, and you can schedule your backup and have them stored or downloaded to your computer.
Plug-In Tip: Choose your plug-ins wisely.  Look at how many downloads. Avoid ones with small download numbers unless they are specialized. Look at last update date. Avoid ones that haven't been updated in the past year. When in doubt, search the WordPress community for possible security holes.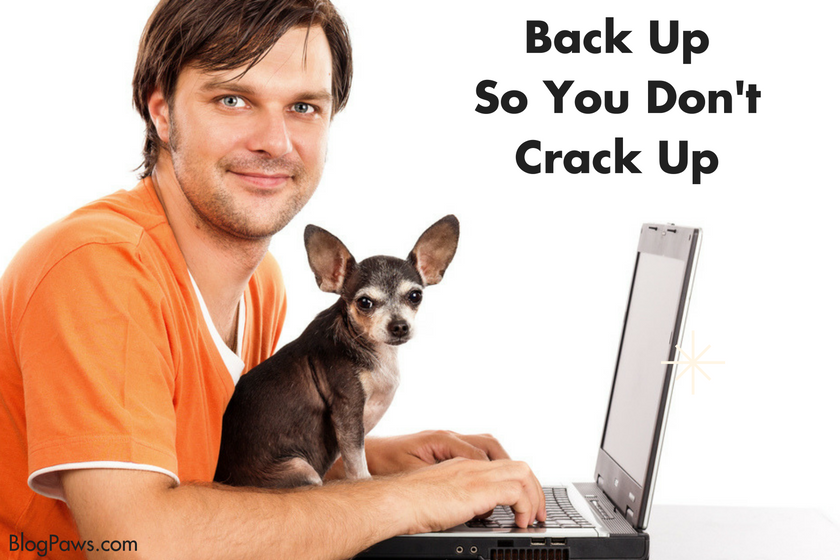 Blogger
Caren says that bloggers using Blogger.com as their blogging platform must back things up, too.
For blogger.com users, Caren says you will have to set a schedule to do updates so you always have a backup. There are settings in your account in SETTINGS > OTHER that should reflect import and backup options. Simply choose the backup content option and download your blog to your computer. In the event your blogger site should ever go down you now have a restore backup to work with!
How Not to Get Hacked
You can never guarantee that you won't be hacked but you can make it harder for hackers to get in.
Pelletier says a security plug-in can fortify the WordPress back end and prevent common entry points. A firewall can protect from intrusions and scan your files for issues. Some of these plug-ins, he cautions, may be too big for cheaper hosting plans, so it might be worthwhile for an upgrade if you take your blog and its security seriously.
A typical hack repair can take several hours if not days to repair and cost hundreds if not thousands of dollars. Bottom line: You may never know exactly how the hacker got in, so this leaves the blogger at a continued vulnerability.
Social Media Accounts
Facebook
If Facebook were to come along and delete your account (and it's happened to people, more than you could realize)…what would you do?
There is a way to backup your Facebook media content so that photos and videos are safe should something ever happen to your account.
Here are step-by-step instructions on how to backup your Facebook content.
Twitter
Curious what you've tweeted? Need some inspiration for tweet ideas? Download your Twitter archive so you can browsed through a snapshot of your Twitter information, starting with your first tweet.
Wait! There's More!
Here are 3 simple steps you can immediately take to make your blog more secure and 3 tips for securing your email.
Finally here's a great post from Jessica Shipman of Beagles and Bargains discusses which blogging platform is best for you.
Are you backing up regularly? What's your biggest obstacle if not?
Carol Bryant is the Marketing and Social Media Manager for BlogPaws and runs her own blog, Fidose of Reality and its fundraising arm, Wigglebutt Warriors. When not busy playing with her Cocker Spaniel, Dexter, she stays far away from cooking. Her trademark is her mantra and is tattooed on her arm: My Heart Beats Dog.®