When starting a new blog, one of the first decisions you have to make is where you want your blog to live. In other words, step one is deciding what blogging platform works best for you and your blogging goals. Some of the big players such as WordPress Self Hosted (.org), WordPress Free (.com), and Blogger are extremely well known, but you might be surprised at how many other options there are.
Before you rush to a decision you might want to also consider Squarespace, Wix, Tumblr, LiveJournal, Weebly, TypePad, LinkedIn, or Medium. Don't overlook the lesser known options either including Postach.io, Posthaven, Postagon, Silvrback, and SVBTLE. And if you have any coding skills in your wheelhouse, you might want to check out Anchor, Tinypress, Drupal, Joomla, Kirby, Contentful, Jekyll, or  Ghost.
Woah…That's a lot of options, right? How do you make the right decision?
Well, first let's pull out the coding required options for now. We can tackle those another day. Now let's see how the remaining options compare.
Each publishing platform is built with a different purpose in mind. Some are meant to be completely customizable and supportive of growth, while others make it as easy as possible to get your thoughts and ideas published. Fortunately, that means that there is a blogging platform out there that will fit your needs, and to find out which one, we are going to look at six categories (Cost, Customized Features, Personalized Design, Monetization, Support, and Limitations) to help determine each platform's ease of use and flexibility for growth.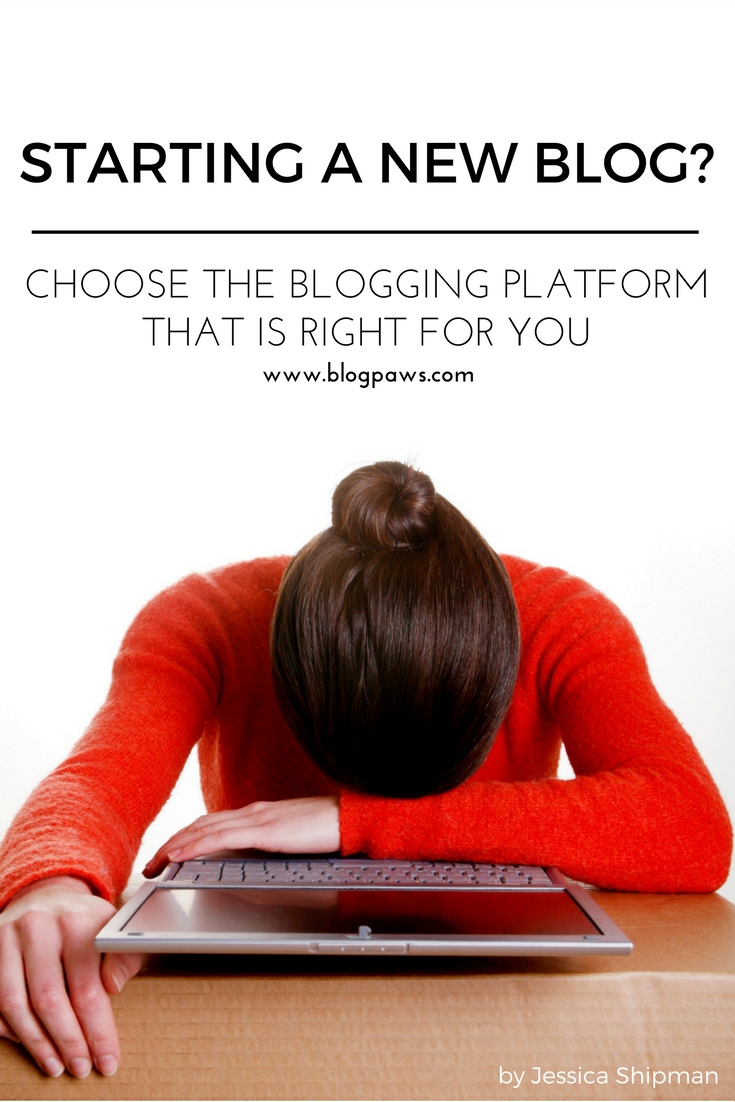 Cost (Platform, Hosting, and Domains)
Some blogging platforms include hosting either for free or a small cost, while others require you to purchase and set up the blog yourself. Having your own hosting gives you a lot more control on what you want to do with your blog or website, but it comes at a price. Choose your hosting provider wisely based on your needs for support, no downtime, and cost.
Whether you need to buy or can use a custom domain name is also a major difference between the blogging platforms. A domain costs about $10/year depending on what top level domain you choose (.com, .net, .org, etc.). Domain privacy is typically an additional cost.
WordPress.org
The platform itself is free to use, but you will need to purchase your own hosting and domain name. Hosting and domain costs can run you anywhere from $5/month on up.
WordPress.com
The platform is free and includes hosting. However, to get a custom domain name you need to get a WordPress.com plan, which starts at $2.99/month. Each plan comes with a free domain credit through WordPress, but if you want to use one you already own that will cost you another $13 per year. Without a custom domain your URL will be in the format BLOGNAME.wordpress.com.
Blogger
This one is also free and includes hosting. You have the option to use a custom domain that you can purchase through a third party for about $10/year.
Squarespace
Blog or website plans from Squarespace currently start at $12/month if you pay a year up front. This covers the platform and your hosting. Each annual plan also includes one free custom domain for the first year, but after that they renew for $20+ per year.
Wix
This platform is free initially and includes web hosting. In order to connect a custom domain, you'll have to upgrade to the cheapest of their premium plans for $5/month. Currently they have five plan options available costing up to $15+ per month.
Weebly
Basic use of Weebly and its hosting is free of charge, but you'll need to upgrade to at least their Starter plan at $8/month to have a custom domain for your blog.
Tumblr
Tumblr is absolutely free and includes hosting. You can add a custom domain, but you'll need to pick that up from a third party registrar for about $10/year.
For more free platform and hosting options, check out Medium, LiveJournal, and even LinkedIn. The platforms TypePad, Postach.io, Posthaven, Postagon, SVBTLE , and Silvrback all require a base fee that ranges from $4-50 per month.
Customized Features (Plugins)
WordPress.org
Yes, there are currently 46,712 plugins that you can choose from, and that is a number that will only keep growing. Anyone can develop one, and you can upload and use any custom plugin you'd like.
WordPress.com
There are no custom plugins available, but there are some built-in add-ons such as popular posts, Instagram feed, or a calendar.
Blogger
Yes, there are custom plugins available but not quite as many as WordPress.org. They don't quite work the same way either. Instead of being naturally combined with the base platform, you have to manually copy code into an HTML/JavaScript gadget.
Squarespace
Yes, custom plugins are available to be integrated into your site. Just like WordPress, pretty much anyone with coding skills can create one and you have the flexibility to add any of them to your site. However, WordPress definitely still wins on quantity.
Wix
Yes, there is a very limited number of custom plugins available. Most customizations are really widgets that will require you to copy and paste code into your site.
Weebly
No, Weebly doesn't have any custom plugins available. You can find code samples and drag-and-drop widgets for your sidebar.
Tumblr
No, there aren't any custom plugins, but there are a few Tumblr extensions.

Personalized Design (Themes and Templates)
WordPress.org
Yes, there are thousands of themes available. Some you can find directly through WordPress for free, while others can be purchased from third party developers. Anyone who has coding knowledge can create a WordPress theme. Feel free to customize with CSS.
WordPress.com
Yes, there are hundreds of themes to choose from. There are fewer than WordPress.org because you are limited to free non-third party themes. You will not be able to modify CSS or other code unless you upgrade your plan.
Blogger
Yes, there are a few native Blogger templates or you can upload and use a third party one. You can also customize your site with CSS.
Squarespace
Yes, there are a few template options and it's super easy to set up. However, you have limited access to the code for customization.
Wix
Yes, there Wix has a couple hundred professional templates to choose from as well as a Drag & Drop website builder. However, there are limited customization options and it may be challenging to change templates at a later date.
Weebly
Yes, there is a limited number of themes plus a Drag & Drop website builder. However, the blog layout is fixed with the latest 10 posts displaying on one page.
Tumblr
Yes, hundreds of themes are available. While some of them are free, many cost a small fee.
Monetization and Advertising
WordPress.org
You are welcome to sell as many ads as you want or join advertising networks. Affilitate links and sponsored content is also permitted.
WordPress.com
You cannot sell ads on your site. If you upgrade to the Premium ($8.25/month) or Business ($24.92/month) plans, you can use the native WordAds program. However, you are still not able to sell ads of your own.
Blogger
Since Blogger is a Google product it plays well with Adsense, but you are also able to add advertisements of your own or from another ad network.
Squarespace
There are a few e-commerce tools built in that allow you to sell products and accept donations on your site. However, there is a 2-3% transaction fee depending on your plan. You are also able to sell ads on your site or sign up for a third party service like Google Adsense.
Wix
Plans come with native ad integration and e-commerce tools, so it's a great option for small businesses. However, you may need to purchase a higher level plans for access to these tools. You can also add custom ads to your site or utilize Google Adsense.
Weebly
There are native e-commerce tools built in, so if you have a plan to launch an online store or sell services this might be a good option. However, you can only use these tools with an upgraded plan and Weebly charges 3% and limits your products unless you upgrade to the Business plan for $25/month. You can add ads of your own though or use third party ad networks.
Tumblr
There is not currently a program in place to sell ads on Tumblr. However, they are working on a partner program that should be ready soon.
Support and Troubleshooting
WordPress.org
You are responsible for the upkeep of your site. This means making sure it's up to date, creating backups, handling spam, and keeping your site optimized. Your hosting provider may be able to help with this for an additional cost or you may want to hire a web developer for help. WordPress itself has community forums for support and you may be able to get phone or chat support from your hosting provider.
WordPress.com
You don't need to worry about backups, spam, optimization, updates, or any site maintenance. If something goes wrong it is out of your hands, but you won't have to keep up with your site on a regular basis. Email and live chat support is not included in the free plan, but community forums are completely free.
Blogger
You are able to export your blog under "Settings" > "Basics" to keep a backup. However, you don't have to worry about general site maintenance. Although if you do edit HTML or CSS code, you are responsible for any issues. The help forum is available to all users in order to get help from the community. However, the individual customer support is very limited.
Squarespace
Squarespace creates a second backup of your content on standby servers. They also manage all the website upkeep. Additionally, Squarespace provides 24/7 customer support.
Wix
You are not able to externally backup a Wix site, but you will also not have to worry about keeping it up to date. Paid plans include premium customer support. Otherwise, they have community and forum support.
Weebly
You can download a zip file backup of your site. However, it does not include blog posts, which isn't very helpful. Otherwise site maintenance is taken care of by Weebly. Community forums plus chat and email support are available for all plans. You can upgrade to get customer support over the phone.
Tumblr
There isn't currently a way to back up a Tumblr blog, but rumor has it that it's being worked on. Support is available through email though you won't get an immediate response.
Limitations
WordPress.org
While there aren't too many limitations, there can be a bit of a learning curve and it's not free to get things up and running.
WordPress.com
The free version is limited to 3 GB of storage space. 13 GB of storage is available for $8.25/month or unlimited storage space for $24.92/month. Unless you upgrade your plan, your blog with display text ads to non-WordPress users. You can remove these ads for $2.99/month.
Blogger
Google owns Blogger and they have the ability to shut it down at any time (remember Google Reader?). It actually hasn't seen a major update in a long time, so many experts are wary that it might not last much longer.
Squarespace
Customization can be difficult as there is limited access to code. It's primarily geared towards static pages rather than logic driven ones.
Wix
You'll have a limited ability to customize because there is no access to code. Storage and bandwidth limits depend on the plan you choose. The free version and the lowest paid level also display Wix Brand Ads.
Weebly
There is a fixed blog layout, so no real customization. The free version displays Weebly Ads. You can get rid of those by upgrading plans. There is no site search on the free plan either, which is super important for blogs! Storage is limited to 500 MB unless you upgrade.
Tumblr
This platform isn't typically viewed as professional, so if that is your goal you might want to look elsewhere.  Tumblr is also more geared at visual content, so text heavy content isn't really supported.
So which one do you pick?
I'm a big WordPress.org fan and it is my overall top recommendation. It's a great option if you are looking to create a blogging business and want to leave room for customization and growth.
However, WordPress.org does require a little bit of extra work beyond just writing and taking photos for your blog. If you aren't prepared for that and don't want to pay someone else to do it, I'd recommend taking a look at WordPress.com or Blogger.
If you currently or might eventually have an e-commerce site complete with an online store, I'd suggest focusing on Weebly, Wix, or Squarespace. However, WordPress.org is still a potential option.
And if your priority is ease of use and ability to get your thoughts and photos out there quickly, start with Tumblr.
What questions do you have about these platforms? If you're already blogging, which platform did you choose and why? Why questions do you have for Jessica? 
Jessica Shipman is a bargain hunter, food lover, and software engineer figuring out how to be a pet parent for the first time. She shares her journey with her two dogs Ralph and Luna on her blog Beagles & Bargains. After getting an Ivy League degree and hands on experience on a corporate web development team, Jessica has decided to change things up. She has recently launched jessicashipman.com to make web technology easy and accessible to bloggers and small business owners. Stop by for free tips or to learn more about her reliable web development consulting. 
Save