Taking a well-researched blog post and pairing it similar content from a blogging buddy is a technique to add to your ever expanding blogger toolbox. Increase blog traffic through blogger collaboration: Used properly, this technique can soar.
Blogging is not a solo effort: You rely on a host/server, readers, and social media push, so why not rely on the talents of others? Blogger collaboration, when done right, is all about connecting and sharing a post that is good, but taking to the next level and making it epic. Here's a step by step collaboration idea guide to get you started, no matter how long you've been blogging:
Create Content
At its core, blogging is all about content: The right content fed to the right people makes for return visitors. Connect with those in your niche and outside your niche to form a "she said, she said" post or perhaps take different views on the same concept. Cases in point:
Choke and Prong Collars: A hotly contested topic in the canine space. Through the BlogPaws Community and Pet Blogger Boost Group on Facebook, I found out that Susan Bewley of Budget Earth and Kelsie McKenzie of both feel similarly, but with different experiences. So we DM'd each other, collaborated on an idea, and this is the result:
Pain to Train: The Reality of Choke, Prong, and Pinch Collars
At the end of my post, I put this:
Please visit It's Dog or Nothing and see what Kelsie MacKenzie has to say. She's a dog mom to Great Pyrenees and she has a lot to say about this topic!
Also visit Susan Bewley's fab blog, Budget Earth. She is dog mom to Alaskan Malamutes, Ivi and Rylie, and she weighs in, too.
See how it works? Here's another example.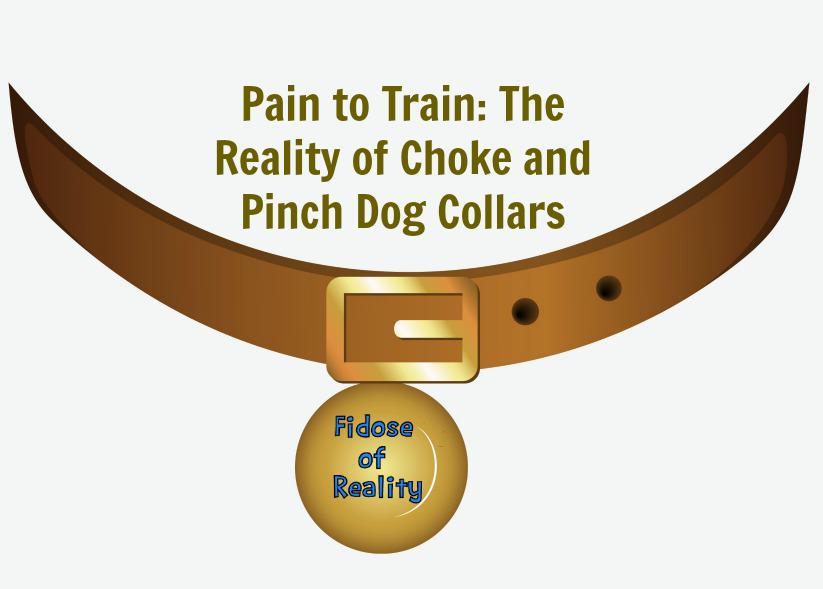 Medicine Vs. Mom: I am a dog health and wellness pet blogger who also dabbles in humor.  At a conference for Women in the Pet Industry, Rachel Sheppard  and I connected with an idea: Medicine Versus Mom. Every few weeks, we'll be focusing on a topic and presenting it from a veterinary "medicine" perspective with Rachel and the perspective from the dog mom, courtesy yours truly. Rachel is a former vet tech who blogs at MyKidHasPaws.org.
Here's the result:
Who Watches Your Dog Overnight at the Veterinarian?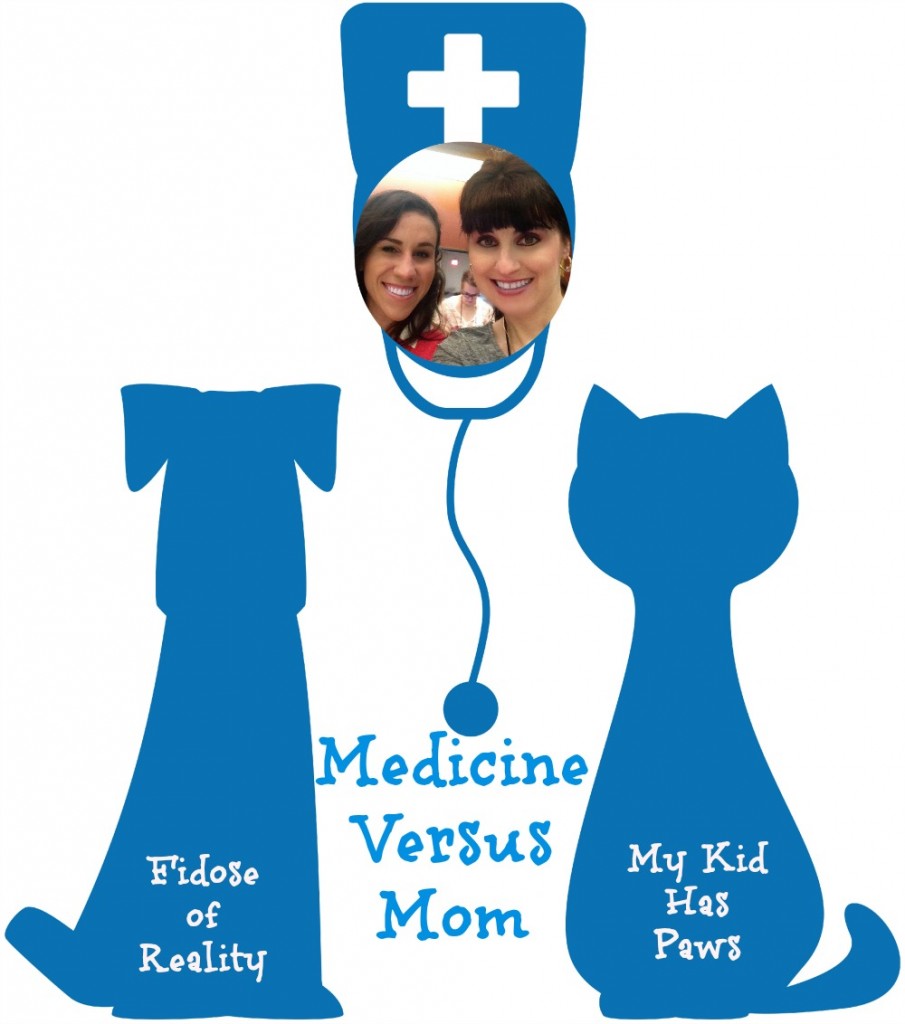 Of course, collaboration can take many forms, including but not limited to:
Podcasts
Video casts using software like Zoom or Google Plus Hangouts
Conferences: You both meet somewhere and each take part of the conference so you get it all covered and then exchange notes: This is a very popular technique at the BlogPaws Conferences.
Ninja Tip: Connect People
This is perhaps one of my most successful tips for forging ahead, forming collaborations, and for general good social media stewardship. Connect people, even if there is absolutely nothing in it for you. When you connect the right people, it will repay itself to you in some form, even if not immediately.
People remember when you connect them to one another. I cannot begin to tell you the number of times I've been at an event or online and thought "hey these two people should know one another." So I ask them or just do an intro and let them take it from there.
One or both of those people will remember that and you teach them that introductions are valuable. At some point, one or both of them will send someone your way via introduction. See how the circle of social media works?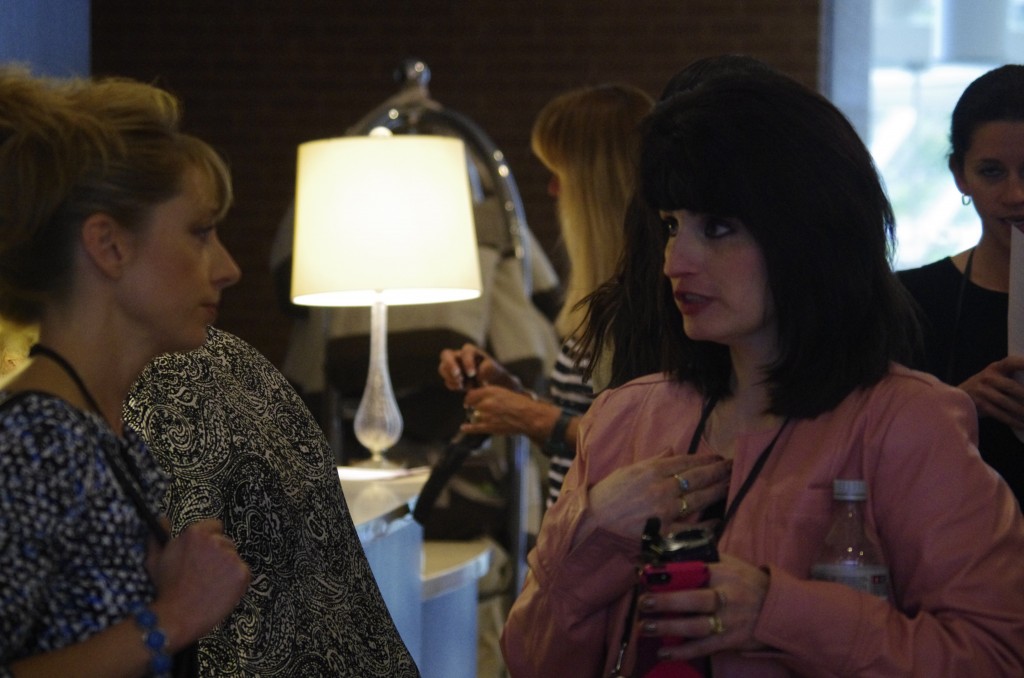 Plan the Timing Of Your Posts
In a collaboration, the blog posts can be rolled out at once or consecutively. Such is the case with the 2015 BlogPaws Nose-to-Nose Pet Blogger and Social Media award winners for a certificate in Best Collaboration:
Jennifer Niemi of Nerissa's Life; Marjorie Dawson of Dash Kitten; Linda Rodgers of Savannah's Paw Tracks.
This group was chosen for the outstanding series of collaborative posts written over the space of two years. They were chosen NOT ONLY because they were collaborative, but because the writing held interest, made us laugh, and entertained us over and over, collectively.
Necata canipbis Rediscovered: July 2013
Dash was killed by free roaming dogs on September 6, 2013
Part One: The Bookshop Mystery and Travelling to Zealandia – Dash Kitten
Part Two: The Adventure Continues… – Nerissa's Life
Part Three: Nerissa Arrives…Sort Of – Savannah's Paw Tracks
Part Four: Arrival in New Zealand: ROAD TRIP! – Savannah's Paw Tracks
Part Five: And Now…The Conclusion – Nerissa's Life
Episode Two: New Discoveries from Old Clues : March 2014
Silver joins us from Team Dash, taking over after the loss of Dash
Part One: The Adventure Starts Here – Dash Kitten
Part Two: A New Adventure Partner – Savannah's Paw Tracks
Part Three: The Conclusion and A New Beginning – Nerissa's Life
Episode Three: In the Nip of Time: April 2015
Promotion for Rescued book: Nissy's month to earn funds for his selected rescue
Nissy passed April 30, 2015
Seville joins us from Nerissa's Life, taking over after the loss of Nissy
Part One: In the Nip of Time: A Publishing Caper – Savannah's Paw Tracks
Part Two: In The Nip of Time Part Two – Dash Kitten
Part Three: the publishing caper – Nerissa's Life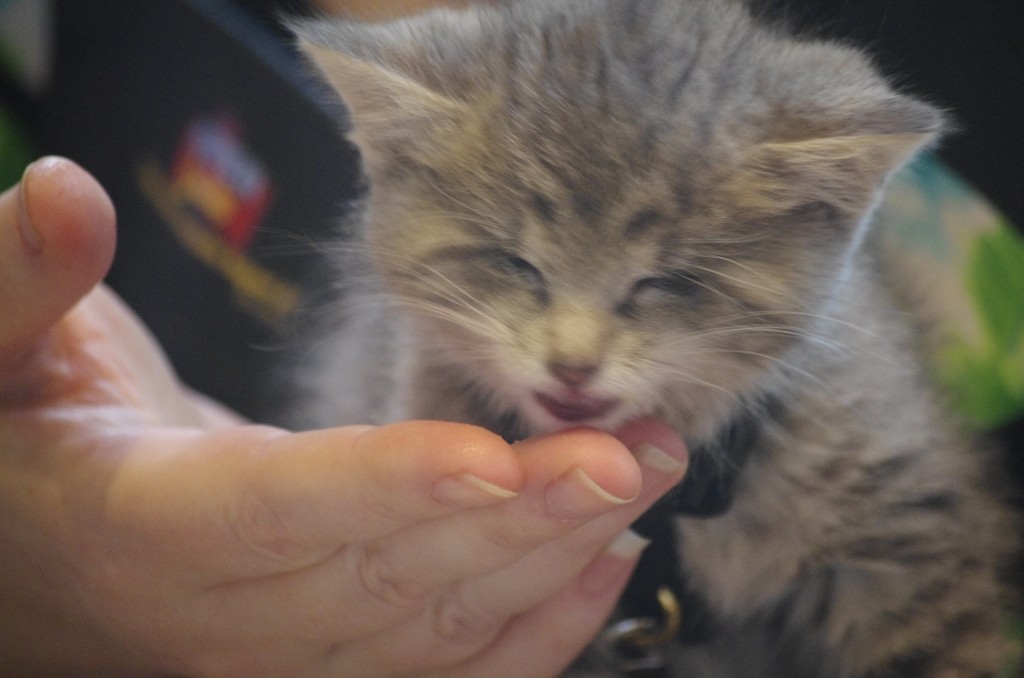 Why Collaborate?
Your readers gain a fresh perspective. Maybe you are pro walking a cat on a leash and someone else in the blogosphere is not. A respectful pros and cons post or opposing sides post fosters conversation.
Strength in Numbers:  Blog and social media numbers matter: And as much as numbers count, influence and engagement matters more. Why have 25,000 Facebook followers if there are barely a dozen comments when you post?
Working with other bloggers allows for post reach to expand, exposure to perhaps additional eyes, and you cast a wider social media net in working together.
By sharing your content that is a part of their blog, this puts your content in front of their readership.
It's a win-win!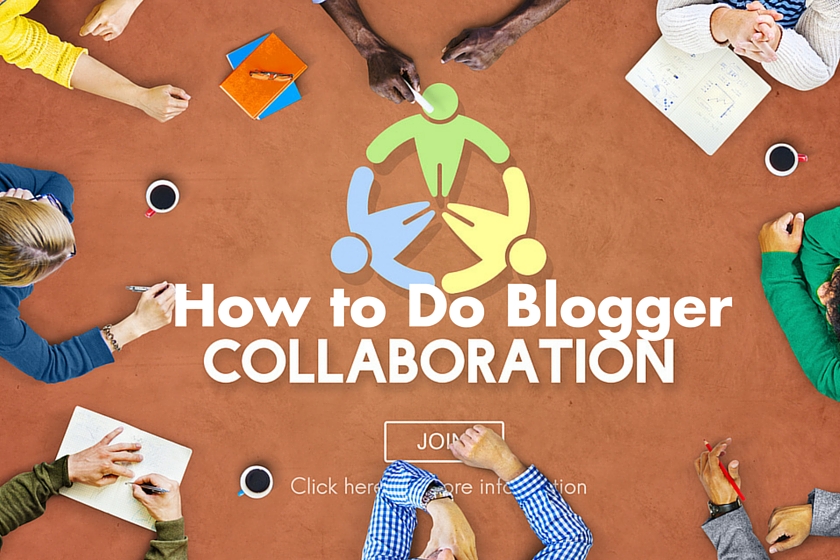 Where to Find Folks to Collaborate With
Wordless Wednesday: Some folks don't realize the power of the weekly blog hop. BlogPaws offers year-round interaction, activity, community and more to learn, earn, and connect. Plus we have the weekly tradition of the Wordless Wednesday BlogPaws Blog Hop! Visit and leave comments on other blogs to make some new buddies and maybe some new followers.
BlogPaws Community: Whether you're blogging about your pet or about pets in general, or just reading blogs about pets, and looking for a community to be a part of, the BlogPaws Community welcomes you!
BlogPaws Facebook Boost and News Group: Group Purpose: This is a "sister" Facebook group from the BlogPaws Ning Community. We will share news here, boost social posts weekly, add exclusive info and reminders, and call outs to things happening in the BlogPaws Ning Community.
BlogPaws Conference: The one conference that has changed my life. I am not alone in this mantra. Founded in 2009 by three dedicated pet lovers and bloggers, BlogPaws is the go-to resource for pet bloggers and social media enthusiasts looking to build their online presence, enhance their social networks and support animal shelters and rescues around the world.  Coupled with our yearly in-person conferences, online networking, community, paid opportunities, and educational offerings, we are truly the go-to resource for pet bloggers and anyone looking to increase their social media knowledge. The next BlogPaws conference is June 23 through June 25 in Phoenix, Arizona.
Find A Pet Parent to Collaborate With: Even if the person isn't a stellar writer, you can still ask questions of your audience. Conduct a Facebook poll, see what's on the minds and opinions of your followers. Then write about it.
The #BlogPawsChat on Twitter:We have three-times-a-month Tuesday night Twitter chats from 8 to 10 pm EST, so we encourage you to connect there and grow your own following. Follow hashtag #BlogPawsChat.
How to Get the Collaborative Juices Flowing
Not sure where to start? Here's a list of ideas to use for your first or next collaboration project. And if you do collaborate, be sure to share it with us on the BlogPaws Facebook wall; we will spotlight some of them! Do you or have you collaborated? What has worked for you?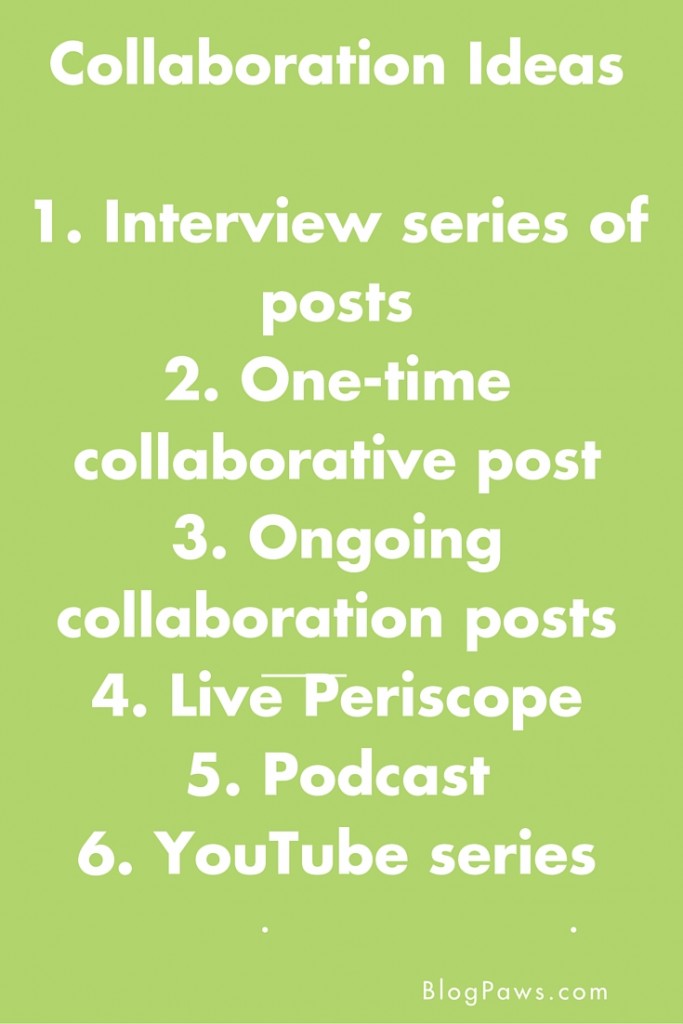 Copyright: Rawpixel.com/Shutterstock.com

Carol Bryant is the Marketing and Social Media Manager for BlogPaws and runs her own blog, Fidose of Reality and its fundraising arm, Wigglebutt Warriors. When not busy playing with her Cocker Spaniel, Dexter, she stays far away from cooking. Her trademark is her mantra and is tattooed on her arm: My Heart Beats Dog.®
Like this post? Check out these similar pieces:
5 Innovative Ways to Earn New Followers