Sometimes the lighting doesn't cooperate. Sometimes our pets don't cooperate! Or that perfect prop you need for the shot just isn't affordable, or you were hoping for a conceptual image to illustrate a concept.
Thank goodness for stock photography!
Finding the exact image you need–for free, ideally–to round out a post is a great feeling. The time it takes to find that image? Not so great.
If you can dream it, you can find it in Flickr's Creative Commons. Two things to focus on: First, make sure you're selecting the correct type of license you need. Some don't allow you to add text overlay or to crop the photos. Others prohibit commercial use. Be cautions about searching the correct category. Second, depending on your selection in that first step, make sure you follow the requirements for appropriately crediting the photographer (often with a link in your post).
Dreamstime
Not as robust as the paid offering, of course, but the the high-res, royalty-free images span a bunch of categories. You have to sign up for a free account to download, and–a con to this service, in my opinion–they send a ton of email after you've created that account. The sleepy cat image below was found on Dreamstime.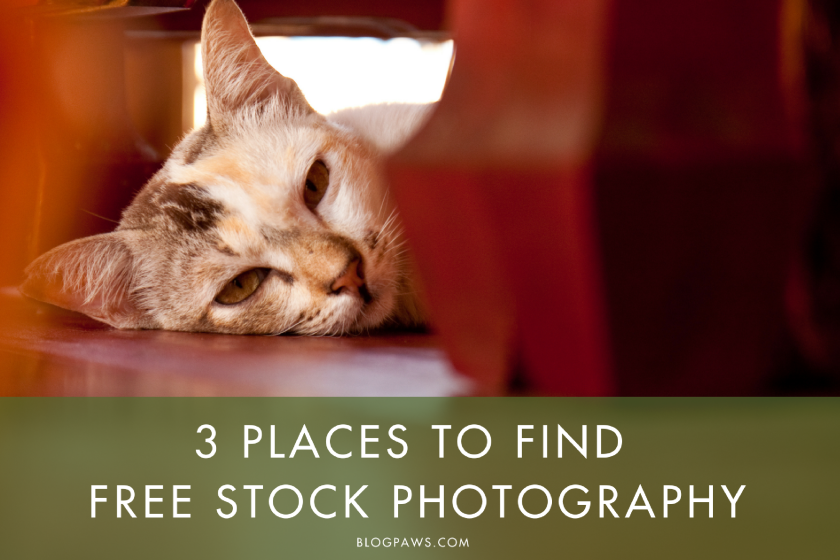 Freerange Stock
This one is my personal fave among the free sites. It doesn't have a great sort feature, so you do spend time combing through an enormous amount of search results… but it delivers an enormous amount of search results. You do have to create an account in order to download. An annoying feature with Freerange is that, with every search, it pops up an ad for Shutterstock. However, the benefits outweigh one annoying popup. In addition to a quantity of search results, the big benefit is that you don't have to provide attribution to any images you use. So, the pinnable image at the top of this post came from this site, but I don't have to place a credit in the footer (like I did with Dreamstime).
Whichever platform you choose, the most important thing to remember is that each requires its own set of crediting. Follow those rules, and you're good to go!
Have you ever used a stock photography website? Are there any resources that you'd add to this list of three? Any questions we can answer on how to properly credit stock photographs?
Maggie Marton serves as the BlogPaws senior editor. When not hiking with her two pit mixes, Emmett and Cooper, or playing with Newt the Cat, Maggie writes about them (and the pet industry) at ohmydogblog.com and maggiemarton.com. 
Image: Sleepy cat © Taoty069 | Dreamstime Stock Photos