How much thought have you put into your branding strategy for your pet blog? What is branding anyways? A brand is the emotional experience or connection a person forms with your business. Branding is so much more than just a pretty logo and the colors you use on your website.
So, how does a pet blogger create a branding strategy? In this post, I'll share with you the top things you need to consider to create your blogging brand. Think of this as a quick-start guide to creating your brand strategy!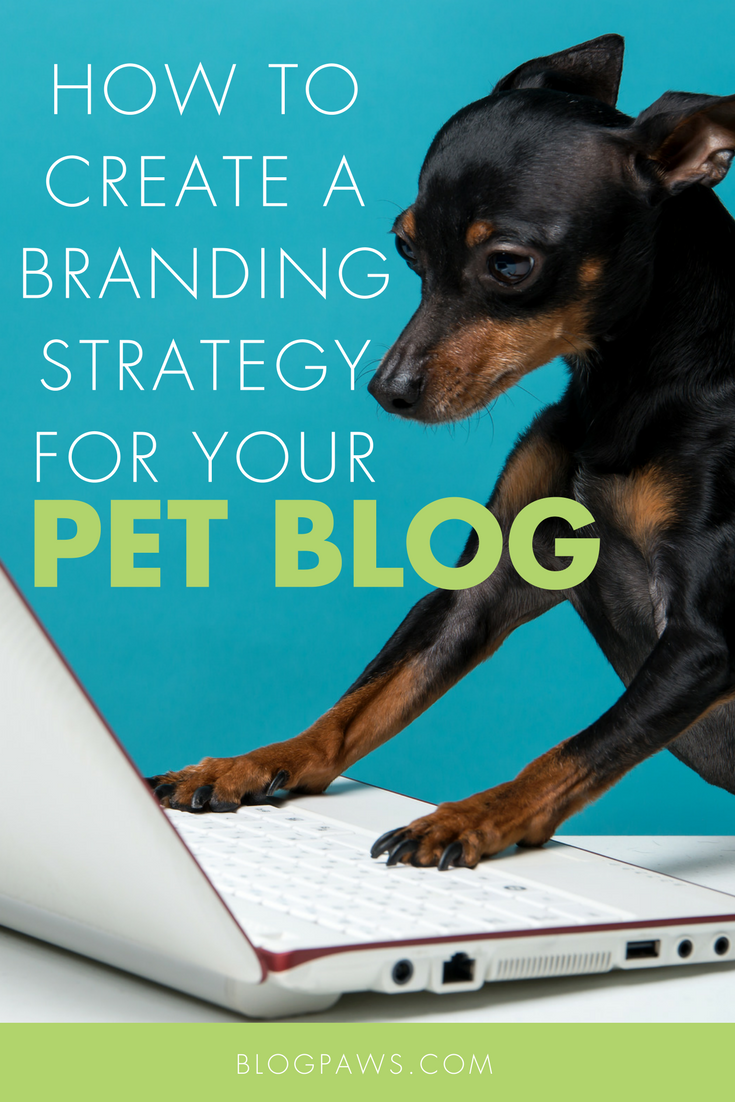 1. Define Your Why
Defining your why is the single most important thing you can do to create a successful branding strategy. What is the purpose of your blog? Think of your why as the guiding compass to all of the other decisions you make about your blog and business.
If you need help defining your why, please check out the post How to Align Your Why with Your Blogging Strategy.
Action: Ask yourself the following questions:
What is your passion?
What do you love to do?
What do you want to be known for?
What are you really good at?
2. Who Are Your People?
Who is the audience you're serving…or who do you want to serve? When thinking about your audience, there should be a problem that you're solving for them. The "problem" doesn't have to be complicated. It can be as simple as wanting to make people laugh. It can also be as complicated and deep as saving lives. Again, this ties back into your why.
Action: Ask yourself the following questions:
Who is your audience?
What problem are you solving?
What do you have to offer your audience?
3. Let's Get Visual!
Did you know that visual content gets 94 percent more views than text-based content? Did you know that the average attention span is less than three seconds? It's nine seconds for a goldfish! They say you can't judge a book by its cover, but online that is furthers from the truth. You only get a few seconds to make a lasting impression that makes people want to stick around and learn more about your why. This is where visual branding comes in. Designing the visual aspect of your brand is the fun part!
There are three main areas you need to consider for your visual brand strategy:
1. Color Palette
Colors evoke emotion as humans are visual creatures! Think about how you want your readers to feel when they visit your website. The emotions that colors evoke are actually scientific. Check out the Psychology of Colors and Their Meanings. There's also a great color chart here.
Keep these tips in mind when selecting your brand's color palette:
Keep it simple and limit your color palette to three or four colors at the most.
Use "on brand" colors but don't overdo it!
Use hues and tones of the color palette to create visual interest.
Add in neutral colors for balance and softness.
You don't need to use all of your colors at once!
2. Font Pairing
Fonts also convey emotion. You'll want to select one or two fonts that complement each other. These can be used across all of your visuals so that you start to create a consistent look and feel. Check out some of these font resources:
3. Photography & Visual Elements
The photography that you take or use should complement your brand color palette. The stock photos that we used in the following examples are not a coincidence. They were selected intentionally because the color of the pet's fur and their eye color complement the BlogPaws brand colors.
Think about this when you're taking your own photography. Our very own Campaign Manager, Bernard Lima-Chavez does a great job of only including branded photography on his blog and social media for The Graffiti Dog. Without even seeing his name, you immediately know those are Bernard's photos. That is what great branding is all about!
Join the Conversation!
Do you have a clear branding strategy for your pet blog? What helped you the most when creating your brand? If you don't have a branding strategy, what questions do you have?
Aimee Beltran is the Director of Community Education for BlogPaws. She also writes two blogs, Irresistible Icing and Irresistible Pets with her Chihuahua, Chuy. Aimee is passionate about her mission, "create an irresistible life you can't resist!" She loves anything with glitter, kayaking, and spending time at the beach.