Video is the new it girl! It has the X Factor and everyone from your grandma to your little brother is jumping on board for the video explosion. Of course, that means social media feeds are congested with videos, some of which are fantastic and oh-so-shareable and others that are, quite simply, a hot mess.
Like any new and exploding medium, there are do's and dont's. We focus so often on the things to make a video stand out in the crowd. Here are 10 social media video mistakes to avoid. (Note: If any of these apply to you, take heart: The beauty of recognizing a mistake is the ability to then correct it).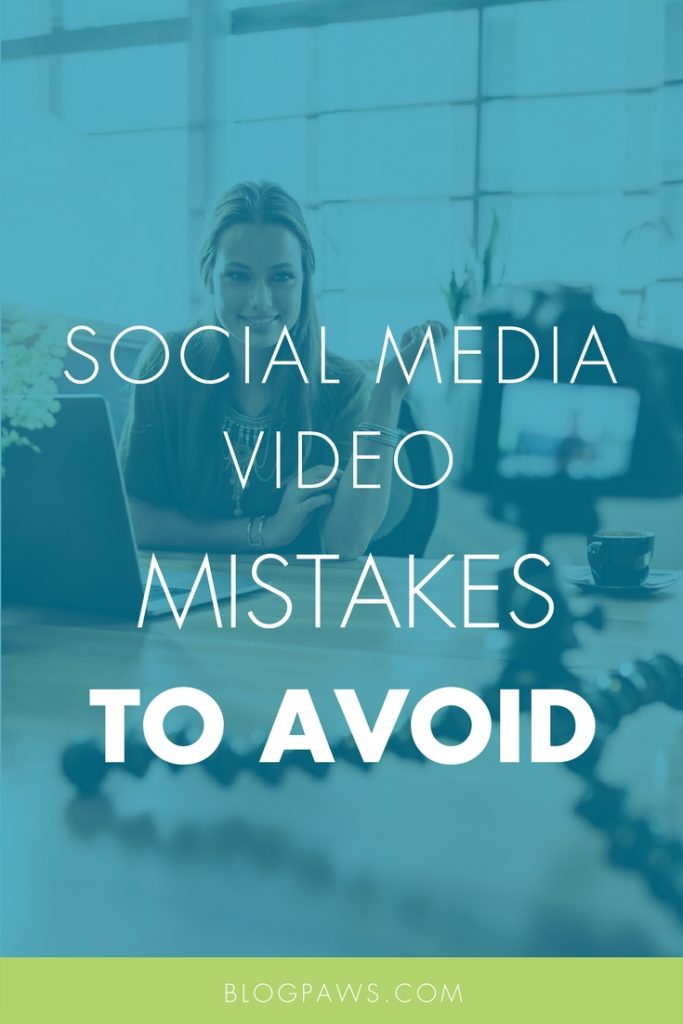 Don't Avoid Live Videos
You need not be promotional to do a live video. In fact, a live form video allows your followers/fans to connect with you in a fresh, engaging way. Live videos have a purpose, and before you go live, yours should have a purpose, too.  Create videos that serve the needs of your audience, and sometimes that need is to get to know you. Ask yourself what problems you can solve for your demographic and then create videos around it. Better yet, re-purpose those videos across platforms.
Don't Neglect the Call to Action
Learning to use successfully use a call to action is a huge component of any blog post, social media post, or video. A Call to Action is a statement that encourages your readers to take some sort of action. In a sponsored blog post, this may be clicking a link to a website or product landing page or it may be to ask your readers to share information to help increase awareness of the brand, product, service or initiative among others.
Wistia.com shares advice for three locations to insert a call to action in a video:
Pre-roll Calls to Action at the very start of the video ensure that every viewer sees them and has an opportunity to click.
Mid-roll Calls to Action can be anywhere between the very start and the very end. They are designed to target viewers when they are most engaged.
Post-roll Calls to Action appear at the very end of the video to ensure the viewer is highly interested before being presented with a CTA.
A call to action, CTA, is crucial for positive video results. Do you want your viewer to watch your video, go away, and never return to your page? Of course not, so give them something they absolutely must do.
Don't Overlook the Essentials for Videos
What is the lighting like? Is your background appropriate? Do you have a forest of trees behind you where one branch appears to be sticking out of your head? Do a location check first. You need not spend a lot of money on background but you should be aware of the lighting and your surroundings.
Mishaps will happen. While filming a Facebook Live a few months ago, a slew of police sirens passed by my office. I just worked it into the video and held up a note that said, "Well, I guess I'm in trouble," which I had ready in case of sirens.
Have you heard of BeLive? It's a new way to do Facebook Live videos. At a BlogPaws Conference, several of the speakers gave tips on phone lenses, lav microphones, and clip-on lighting. Thanks to Molly Mahoney for turning me on to the clip-on phone light. I literally sat in a dark closet and took a selfie, then did the same with the phone light and boom: Lovely lighting! Try Googling "selfie ring light" and check out reviews (note: they are not expensive).
Don't Forget to Optimize Your Video
Posting a video without all the "additional items" to go along with it, include but are not limited to:
Title: Compelling and draws the viewer in
Platform Specific: Like a social media post, any social video should serve your audience on its platform. For example, if you are shooting a video for Facebook, do you have an attractive thumbnail, a properly sized intro slide, a description that draws the viewer in and delivers on its promise.
Don't Neglect Video Length Testing
Track the overall engagement from your video, considering length as a key factor.  The length of a video varies by platform. For example, a two-minute video might be click worthy on YouTube or Facebook, but Instagram Stories and Twitter call for shorter lengths.  Track analytics.
Don't Be Afraid To Go Long
Sometimes, a longer video is fine, but be sure to break it up with social media teasers. For example, a long tutorial on how to train your dog not to pull on a leash should be broken up into shorter digestible parts.
Don't Neglect Size by Platform
Over at SproutSocial, they've gathered a treasure trove of information on social media video specs and ad sizes by network. Catch up with the most current guide to social media video sizes and specs.
Don't Forget to Trim the Fat
Fall in love with a video editor app. As in writing, a good editor is key to picture perfect video. Did you stumble over some words? Capture too much? Is the speaker on your video getting ready or hesitating? Whether the app is a mobile version of iMovie or something more elaborate, be sure to edit accordingly.
Don't Forget to Own It
A watermark a still image that overlaps a video. In apps like PicPlayPost, you can upload a video and discretely watermark your website. Other apps, like iwatermark, allow for on-video watermarking of your logo.
Don't Feel You Have to Be Front and Center
Videos need not include you every time. Consider shooting a video in which you do not appear, but perhaps using a combination of multimedia graphics and text.  Lumen5 is one example of a program that can easily assemble videos.
Don't Stop Now
Keep the video momentum flowing with these three posts:
Creative Ways to Use Instagram Stories for Blog Traffic
5 Simple Steps to Grow an Audience with YouTube
Advanced Video Tips for Blog and Social Media Traffic
Your Turn
Are you doing social media videos? What has been a successful moment for you? Where can you use some help? Let us know in the comments below.
Carol Bryant is the Marketing and Social Media Manager for BlogPaws and runs her own blog, Fidose of Reality and its fundraising arm, Wigglebutt Warriors. When not busy playing with her Cocker Spaniel, Dexter, she stays far away from cooking. Her trademark is her mantra and is tattooed on her arm: My Heart Beats Dog.®
Images:  GaudiLab /  Jacob Lund / Shutterstock