Once seen in the world of marketing as a passing trend, it's quickly becoming apparent that TikTok Is here to stay. With 67% of users saying that TikTok inspires them to shop, this video-based social media platform can be a fun and powerful part of your marketing plan.
Of course, that requires creating content, posting regularly, and building a following. Easier said than done, right?
If you're feeling stuck or overwhelmed, we've got you covered! In this post, we'll look at the basics of small business TikTok, discuss what content performs best on the platform, and share our list of 7 effective TikTok ideas for small businesses. Let's get started!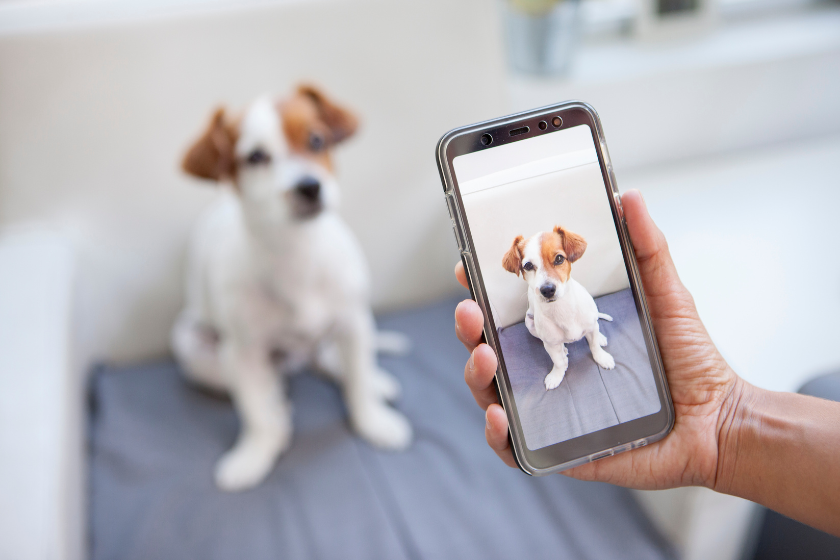 What Content is Popular on TikTok?
The key to succeeding on any social media platform is understanding its focus and what followers will expect from you as a creator. When Instagram first started to gain popularity for small businesses, the push was for high-quality images. Entrepreneurs and small business owners invested in staging beautiful photoshoots, editing pictures, and creating a cohesive feed.
TikTok's rise to popularity looks very different. What sets this platform apart from other social media platforms is its focus on authenticity.
When users are scrolling videos on TikTok, they aren't looking for highly edited and curated content. Instead, they want to feel like they are seeing the "real" you and building an honest connection through the content being shared. Videos are often raw and unedited or use minimal editing. Creators find success in sharing not only their successes but also their challenges, failures, and "bloopers."
Is TikTok Worth it for Small Business?
What does this mean for you as a small pet business owner? If you have been holding out on dipping your toe in the world of video marketing, TikTok is a great place to get started! Even if your video is full of bloopers or laughable errors, that's okay, it's what the users on the platform enjoy seeing – the real and unfiltered you.
This platform can be a great tool for your greater social media marketing plan. Its algorithm is focused on pushing video content out to new people based on your interests and viewing history. This means it gives small pet business owners and entrepreneurs a unique opportunity to reach a new audience and build brand awareness. Building a loyal following of repeat customers is important, but no business is going to see significant growth without reaching new potential customers.  
To add to the benefits, the "cost of entry" is very low. You don't need to invest in a fancy microphone, professional video lighting, or a high-end camera. Simply shoot videos with your smartphone and edit them using some of the incredible free tools available.  
What Are Some Good TikTok Ideas for Small Businesses?
Hop on Viral Trends (With a Twist)
The first thing that comes to mind for most people when they hear TikTok mentioned is the viral dance trends that took the platform by storm. There is no denying that there are a wide variety of trends that any creator can use to increase their reach. But how does this apply to a small business owner?
Try to avoid taking these trends literally. Instead, look for opportunities to take a trend and spin it with your niche and business in mind. Don't be afraid to get your pet involved. People love seeing pets performing on the platform.  
Showcase Your Products or Services
Of course, one of the more obvious TikTok ideas for small businesses is to share your product or services. After all, your end goal is likely to attract potential customers and make sales. This is your opportunity to not only show people what you offer but also to show how your products or services can provide value in their lives. 
Consider making your video entertaining by injecting some humor into it. For example, if you sell pet cleaning products, you may want to start your video with a hilarious disaster of a mess and then show the clean-up transformation. Not only does this encourage people to watch and enjoy your video, but it's also a great way to make your video relatable. 
Introduce Yourself and Your Coworkers
As I previously mentioned, the purpose of TikTok is to create authenticity and genuine connections with people through videos. One way you can do this is by introducing the people (or pets) behind your business. Introduce yourself to your followers. Share a little about who you are and the inspiration to start your business.
If you have employees, showcase them, and let others know the value they bring to your business. What about your pets? If your head of security happens to be an adorable German Shepherd that will lick everyone to death – let people know. This will allow your followers to feel like they are really getting to know you, which is an essential step in relationship and trust building.
Pack An Order
Do you ship products to your customers? One trend that performs well on TikTok is showing yourself packing an order. Take your time, and don't rush through the process. The care you put into this order on camera will help to show others how much each customer means to you. Take time to show each product you are packing on camera, explaining what it is. But don't go too into depth.
This also gives your followers the excitement of getting a "shout-out" on your channel, which can help to increase your sales as others want to see their orders packed on video as well. 
Educate and Inform Within Your Niche
One of the more serious TikTok small business ideas on this list is to use your platform for education. Choose an important topic within your niche and share some tips or information with your audience. Creating educational content is a great way to showcase your knowledge and expertise, building trust by positioning yourself as an authority within the industry.
Some examples of this within the pet space include:
Pet sitters walking pet parents through creating a pet emergency kit for their home

Dog trainers sharing tips for managing common behavioral problems

Cat groomers discussing the best products and techniques for removing knots in long fur

Pet treat companies offering insight into the nutritional benefits that certain ingredients offer
Each of these examples focuses on offering value to your audience. At the same time, the topics relate to your business. Why? The people who connect with the information you share are more likely to be your ideal customers.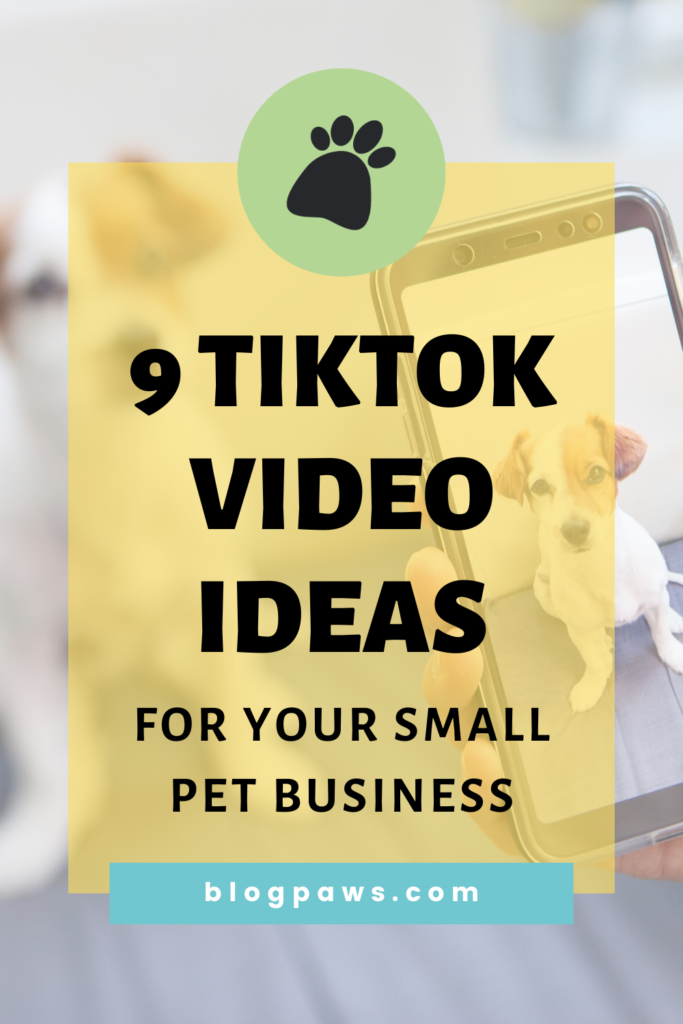 Give Your Followers a Look Behind the Scenes
Take the opportunity to give your followers a sneak peek at what is happening daily in your business. Behind-the-scenes videos are an excellent opportunity to make your community feel more connected to your business. Show your workspace, explain your daily routine, and add laughter by sharing some of the quirky or weird things that come along with it.
Your behind-the-scenes video could be a literal walkthrough of your workspace. Or, if you want to get creative with it, you can film a video from your pet's point of view discussing their busy day "working" in your business. 
Announce Sales and New Product Launches
Everyone loves a good sale. Do you know what makes a sale even better? Hearing about it before the general public! Sure, anyone has access to your TikTok account and could follow it. But framing your announcement on TikTok as a first glimpse or early access to information will make your community feel special.
Keep in mind that you don't need to reveal everything about your sale or product launch right away. You can share a sneak peek into some of the items that will be included in an upcoming sale or offer a hint as to what your next product is going to be before it launches. The fact that it is even mentioned or hinted at before the official announcement is made is all that it takes to build that excitement. 
Get Real with Your Followers
I once saw a social media marketing coach discussing the importance of what she called "coffee chat videos," and this applies to TikTok as well. Try filming a video or going live with your community and just talking about something important within your industry or niche. Don't try to make it fancy or scripted. Talk to your audience like you are having a conversation with a friend or colleague.
Some ideas of conversations you may have include:
Latest news in your industry

A controversy that is currently taking the industry by storm

New research relating to your niche or industry

An upcoming event that those in your industry may be attending (for example,

SuperZoo

, Global Pet Expo, or a smaller local pet trade show)

Discussing challenges that you may have recently faced in your business
The goal is to discuss this topic, whatever you choose to talk about, authentically and honestly. Include facts, but you can also share concerns you may have, emotions that it makes you feel, or ways you think it will improve your industry. 
Don't Forget to Engage with Your Community
Of course, we can't talk about TikTok ideas for businesses and not touch on the ways that you, as a business owner, can connect and engage with your community. Publishing content like trends and educational videos is a great way to introduce yourself to people and bring them to the table. But it's the ongoing engagement and connection that will keep them interested, build loyalty, and potentially lead them into your sales funnel.
TikTok offers many basic ways to engage with your community, like every other social platform. You can "like" people's videos, leave comments, or reply to comments that people have left on your content. But one additional option makes responding to questions and comments even easier. This platform allows you to respond with a video. When you do this, the original question or comment will show on the screen while you talk about or show the answer in a video format.
Do you currently use TikTok for your small pet business? If so, what are your favorite TikTok ideas for small businesses? Let us know in the comments!
About the Author: Britt Kascjak is a freelance writer and content creator with a background in digital and social media marketing. In addition to being the BlogPaws Director of Content & SEO, she also runs her own personal blogs Shed Happens, The Kas Pack, and Lucifer the Rescue Pup. When she's not working, she can be found volunteering in the rescue space, camping, hiking, canoeing, or spending time with her 3 dogs and 2 cats.