If you follow BlogPaws on social media, then you already know that our team attended the SuperZoo 2022 pet trade show in Las Vegas. It was an opportunity to see what is up and coming in the pet industry including fun new products, the latest pet trends, and emerging brands. But, with over 1000 exhibitors you may be wondering – what are the pet brands that stood out to us this year?
The following pet brands are doing something new, exciting, or innovative. We aren't just talking about the best-selling pet products with the highest sales on record. These are the pet brands that are making changes that we believe could have a significant impact on the pet industry.
As we move towards the end of 2022 and into 2023, we believe that these are 10 brands to watch!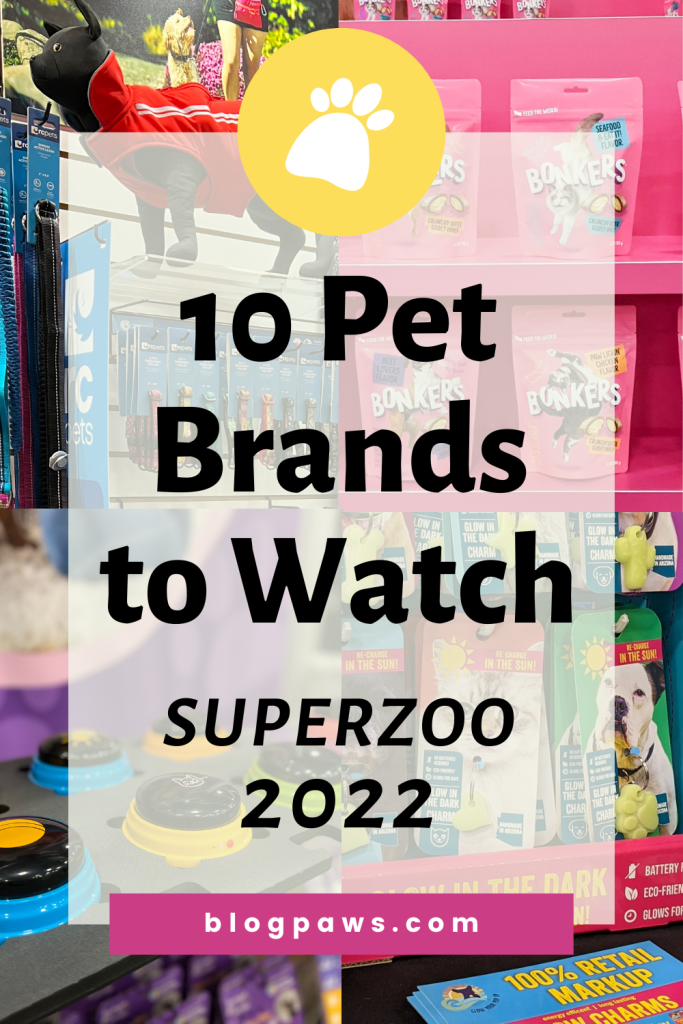 Health & Habitat
The following pet brands are prioritizing the health and well-being of our pets. They do this by educating pet owners, providing high-quality products that encourage a healthier environment, and making it easier than ever to provide the care that our pets need.
MidWest Homes For Pets
There has been a lot of discussion in recent years about the habitat needs of small animals, but many cages and small animal pens on the market are still too small. This continues to feed into the cycle with new pet owners purchasing these habitats unaware that they aren't the ideal environment for their newest family member.
When we saw the Hamster Nation hamster cage from MidWest Homes For Pets, it instantly brought a smile to the faces of the whole BlogPaws team. This cage provided 417 square inches of floor space, giving your hamster plenty of room to run and exercise – and it wasn't even their largest model! It was an incredible step towards normalizing a healthy habitat and, in turn, healthier pets.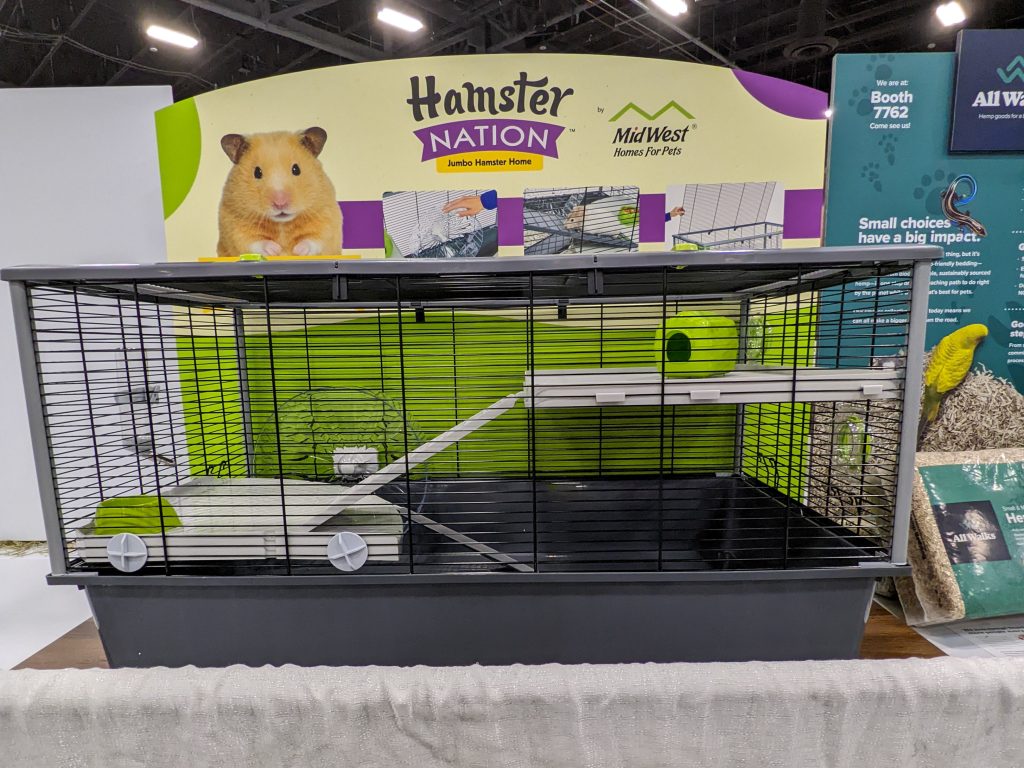 Zilla
This is another example of pet companies doing innovative things to provide an ideal habitat for our pets. At the show, Zilla introduced us to a line of reptile decor that alerts reptile owners when it's time to change their UV light.
If you're not a reptile owner, you may not know how important UV light is for a reptile's well-being. In the wild, these incredible creatures can be found soaking up the sun for hours every day. This is because UV light plays a necessary role in their body's ability to manufacture vitamin D3 and absorb calcium from their food. Failure to get enough UV light can cause a serious and potentially fatal nutritional deficiency. Being able to recognize when the UV light in your reptile's habitat needs to be changed is essential.
5 Strands Affordable Testing
This is a company that is making the health of our pets priority #1. They make home testing kits that can be used to better understand the food and environmental intolerances that our pets are experiencing. This information can then be used to make dietary and lifestyle adjustments to give our pets the best possible quality of life. What pet lover wouldn't want that opportunity?
Some of the tests that they offer right now include:
Pet Food Intolerance Test
Pet Raw Food Intolerance Test
Pet Environmental Intolerance Test
Pet Nutrition Imbalance Test
Pet Metals & Minerals Imbalance Test
The best part about these tests is how simple they are. They don't require any blood tests or messy urine collection. Instead, the company uses Bioresonance technology to test hair samples. This isn't a replacement for your pet's veterinary care. Instead, it's another tool that you and your vet can use in your team efforts to keep your pet healthy and happy.
Lifestyle & Enrichment
Another category that caught the attention of the BlogPaws team was the push to provide enrichment for our pets both in the home and by including our pets in our outdoor activities. Pet toy companies were sharing their latest food puzzles and enrichment toys. Plus, there was a lot of functional outdoor gear to explore. But these 3 pet brands are making it easier (and more fun) than ever to provide mental and physical enrichment.
Hunger for Words
Have you ever wondered what your pup is trying to tell you? While we do learn how to read body language and other communication queues from our pets, many pet owners would love to have a clear understanding of precisely what our pets are thinking. It was this desire that inspired speech-language pathologist Christina Hunger to investigate the possibility of dogs learning to talk using the same concepts that she used while working with toddlers with significant language development delays.
Christina and her dog, Stella, have been making headlines since 2019 with their incredible communication. This has inspired many other pet owners to incorporate button training with their own pets including me with my youngest pup Lucifer. We've also seen videos of cats and horses learning to "talk" with these same tools.
At SuperZoo they introduced some training packs and resources to help pet owners introduce the buttons and open the door to communication. This included a Talking Pet Goal Tracker to help stay focused while working through the training process. We're excited to see where this ability for pets to communicate will go as we move forward!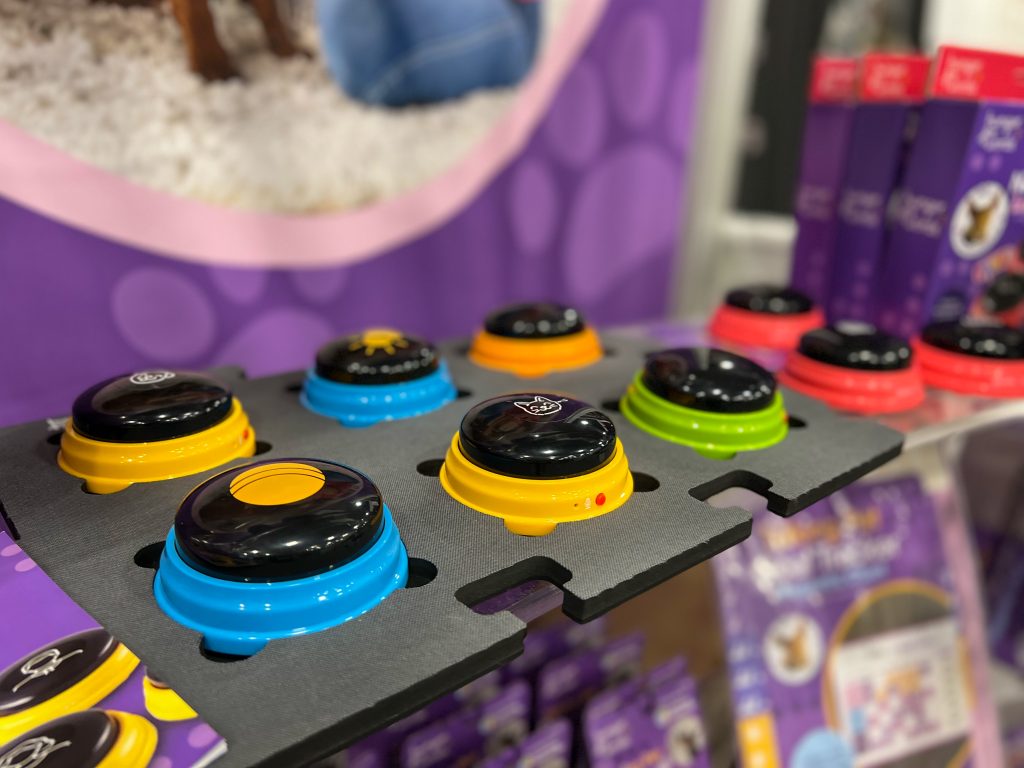 K9 Sport Sack
We all love the push to include your pets in various activities including bonding together outdoors like hiking or bike riding. But, not every pet is in a position to keep up with these high-energy activities. Whether your dog is getting older or recovering from an injury, you may have found yourself forced to choose between your plans and your best friend in the past.
One trend we noticed (and loved) at SuperZoo this year was several brands providing products that make it easier to overcome obstacles like these. Leading the way was K9 Sport Sack and their line of dog backpacks.
A backpack designed to carry pets isn't a new concept. It's actually quite common among cat lovers and those with small dogs. But, their new Kolossus Big Dog Carrier & Backpacking Pack extends this by accommodating dogs up to 80 lbs. In addition to offering a higher weight limit, this bag incorporates an internal frame to allow you to carry your dog safely. With their efforts focused on pushing the limits and including as many dogs as possible with their products, they are certainly one of the pet brands we'll be keeping an eye on.
RC Pets
There is no denying that RC Pets has earned a reputation as being one of the best pet brands to watch over the years. They have been bringing us high-quality pet products since 1986. But, their efforts in better inclusivity in pet-friendly travel caught our attention at this year's show. More specifically, they are recognizing the growing need for outdoor travel gear that is designed for cats.
At this year's show, RC Pets was showcasing a coat that was sized with a longer torso, allowing it to fit cats properly. Up to this point, cat owners have been using dog clothing that, while it can be made to work, doesn't fit quite right. While speaking with the brand representative we were told that it was just the start of great kitty-friendly things to come.
Pet Treats
Of course, we can't talk about pet products and stand-out pet product companies without also looking at the latest innovations in pet treats. Our pets would never forgive us for skipping over this tasty category!
Bonkers
While many companies caught our attention for the products that they shared, this is a company whose marketing has us intrigued. Bonkers is a pet treat company owned by Zuru Group, a company that owns a wide range of products including pet care, toys, architectural tech, and more.
During the pandemic, one of their toy products 'Mini Brands' went viral on TikTok. Their success on the platform was largely due to user-generated content (UGC) as many people around the world shared videos of themselves opening the surprise toy and working on building their collection.
With Bonkers cat and dog treats, the company plans on marketing using a similar UGC approach with their TikTok account a major focus. They are packaged with bright, eye-catching designs to help their products stand out on social media. While this isn't a traditional marketing approach, the company has already proven that it can work. We are really intrigued and looking forward to watching as they grow online.
Icelandic+
We have all heard the warnings against rawhide and the risks that it can present for our dogs. At this year's SuperZoo we noticed that some pet companies were moving towards an interesting alternative to the popular chew – collagen chews. Unlike rawhide, collagen is 100% digestible, alleviating the concern of blockages when a dog breaks off a piece of the treat.
Icelandic+ is taking this innovative chew material and creating a treat that we believe will inspire a new wave of pet treats – collagen-based dental chews. Using granulated collagen, the chews are formed with deep ridges to help remove plaque and tartar build-up from the teeth. They are also wrapped with the company's signature cod skins for a delicious taste and a nutritional boost with protein and omega-3 fatty acids. They already have different sizes available but we're looking forward to seeing what else they do with this safe and dog-friendly option in the future.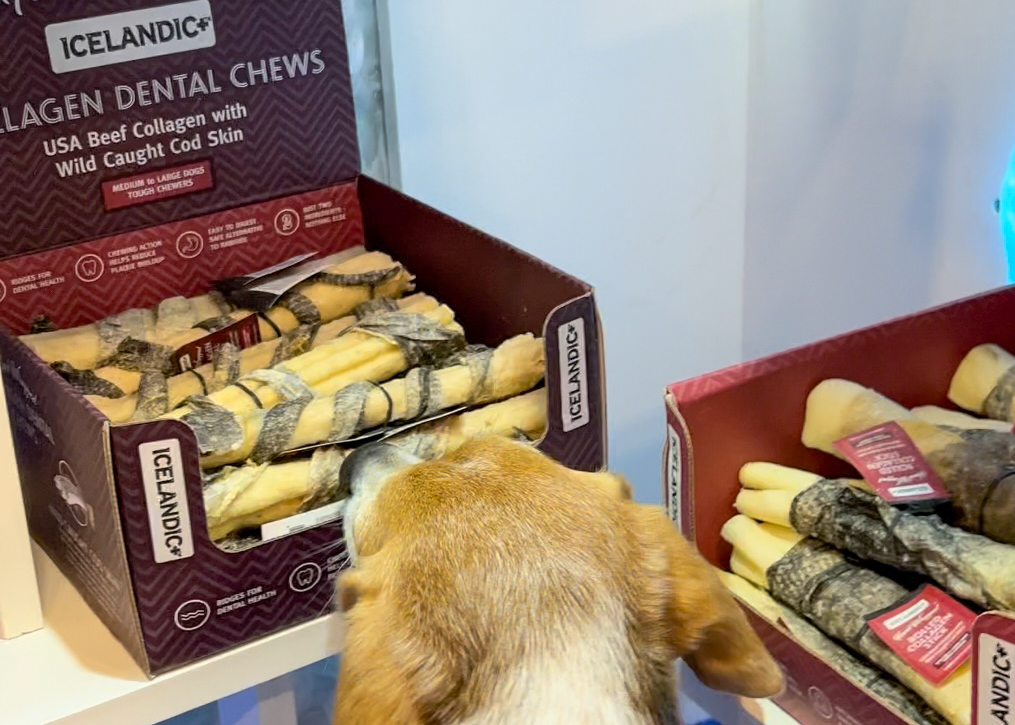 The Greater Good
There is no denying that there is some incredible innovation in the pet space in terms of the quality of life that we are providing our pets. But, pet companies also have the opportunity to make an impact on the world as we know it beyond just our pets. In fact, these two companies caught our attention for the way that they are improving the lives of everyone involved.
All Walks
Pet bedding may not be something that instantly comes to mind when considering opportunities for change and sustainability, but All Walks is focused on changing that. The company was excited to share with us how their hemp bedding product and its production prioritize the well-being of our pets, local farmers, and the environment as a whole.
The hemp bedding is made from the stalks of the plant that are often left behind after harvesting. This reduces waste and offers local farmers an additional source of income that they weren't previously benefiting from. The bedding itself is 100% biodegradable and compostable. It is suitable for a wide variety of different pets including small animals, reptiles, birds, and even invertebrates like tarantulas and scorpions.
We are interested in seeing how this changes the market for pet bedding as we move forward.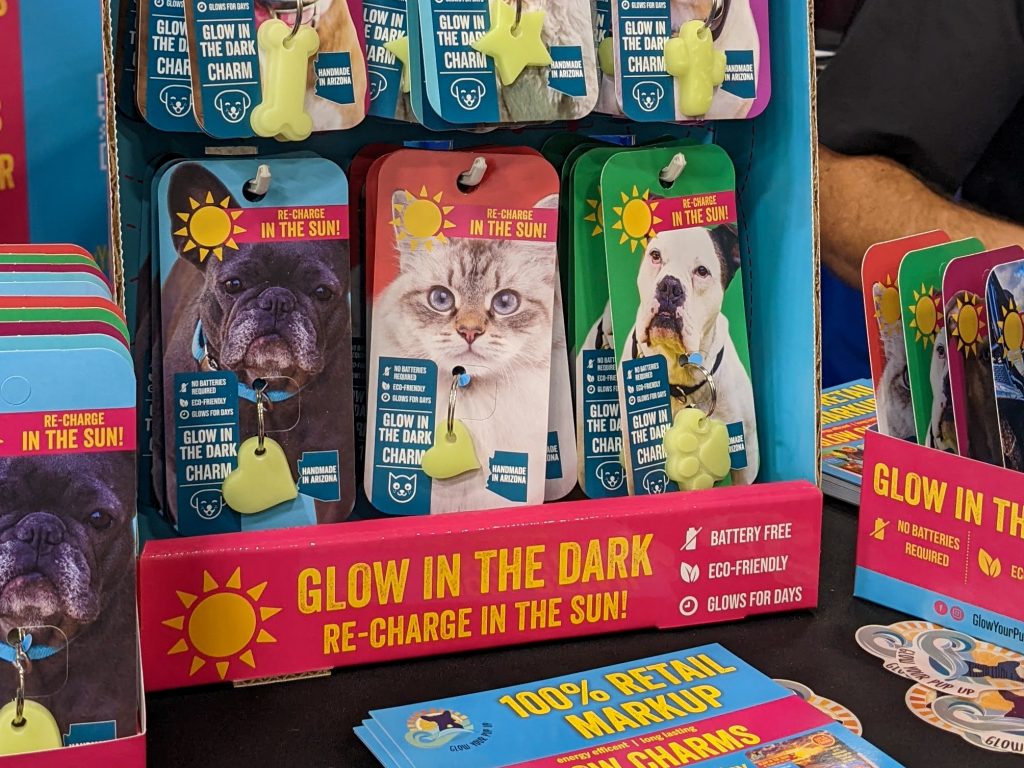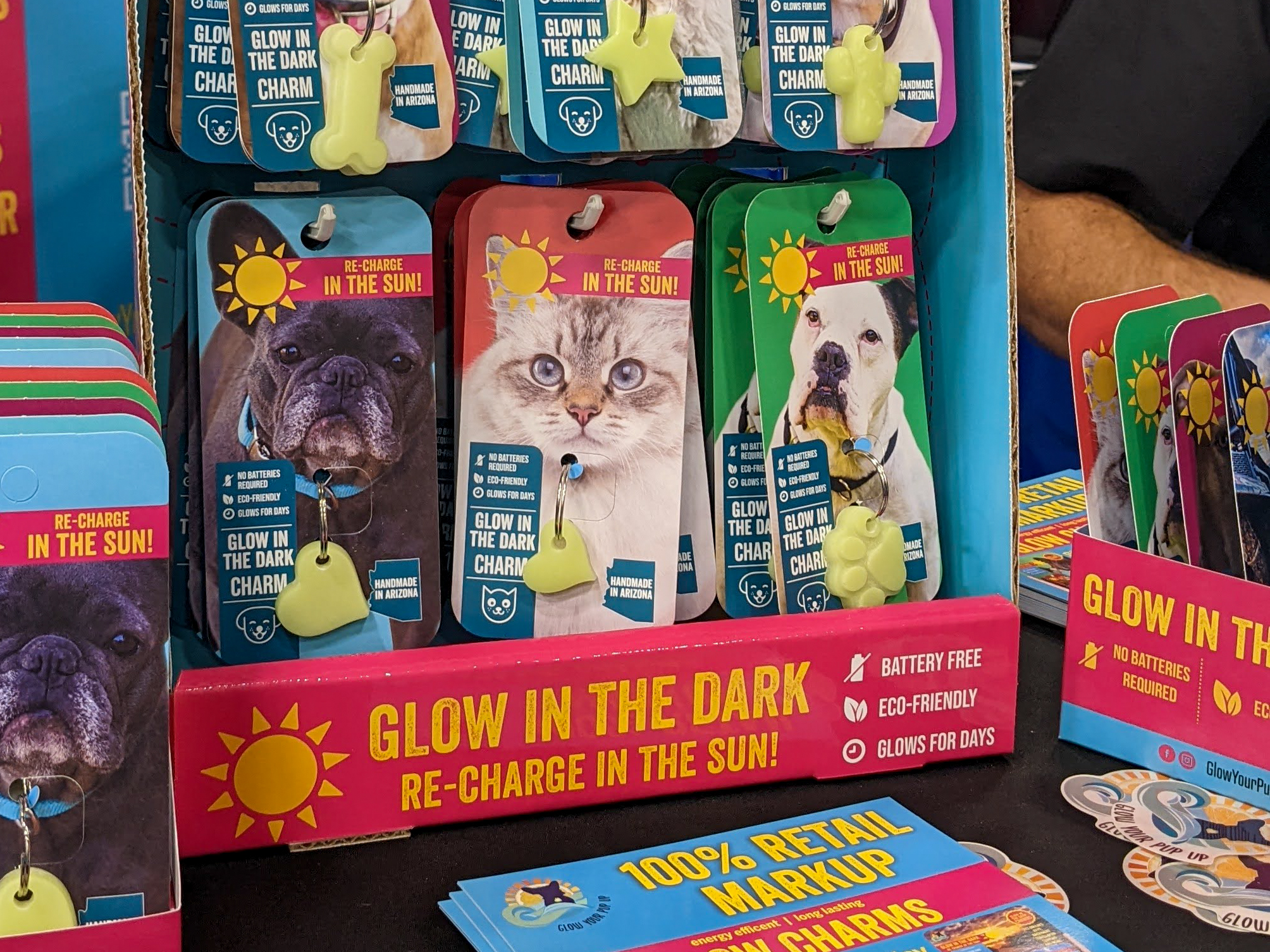 Glow Your Pup Up
We had the chance to learn about the Glow Your Pup Up glow charms and the company's Glow Mission in the Emerging Brands area of the show. These are small glowing charms in a variety of fun shapes such as paw prints, stars, hearts, and bones. They are energy efficient with no battery required, making them a great choice for those that enjoy traveling outdoors camping, and hiking. But, it also means they are an environmentally-friendly choice with no batteries to dispose of over time.
But, one thing that really stood out for us with Glow Your Pup Up was the focus on how the product was made. Each charm is handmade in Arizona where the company employs those that are otherwise disadvantaged in terms of finding employment. This ensures that each charm is made with the love and quality that only handmade products are while also empowering people in their community. It's a mission that we love, support, and are excited to see continue to grow!
Did you attend SuperZoo this year? If so, what pet brands captured your attention and have you watching closely to see what's next?
About the Author: Britt Kascjak is a freelance writer and content creator with a background in digital and social media marketing. In addition to being the BlogPaws Director of Content & SEO, she also runs her own personal blogs Shed Happens, The Kas Pack, and Lucifer the Rescue Pup. When she's not working, she can be found volunteering in the rescue space, camping, hiking, canoeing, or spending time with her 3 dogs and 2 cats.