January 2023 is just around the corner, marking the start of a new calendar year. This is the perfect time to dust off your social media marketing plan from 2022, assess what did or didn't work and breathe new life into it. Whether you're updating and refocusing your existing social media marketing plan or creating one for the first time, we are here to help!
Often when small business owners are preparing to start their business, they spend months, even years, researching their options, identifying opportunities, and creating a business plan. Why? They want to ensure that they are setting themselves up for success.
Often this planning process includes financial planning – What budget will you be working with? Where are you expecting to see larger expenses throughout the year? How many sales will you require each month to ensure that your business is turning a profit?
But what about your marketing efforts? More specifically, what about your social media marketing efforts? This is where creating a social media plan comes into effect.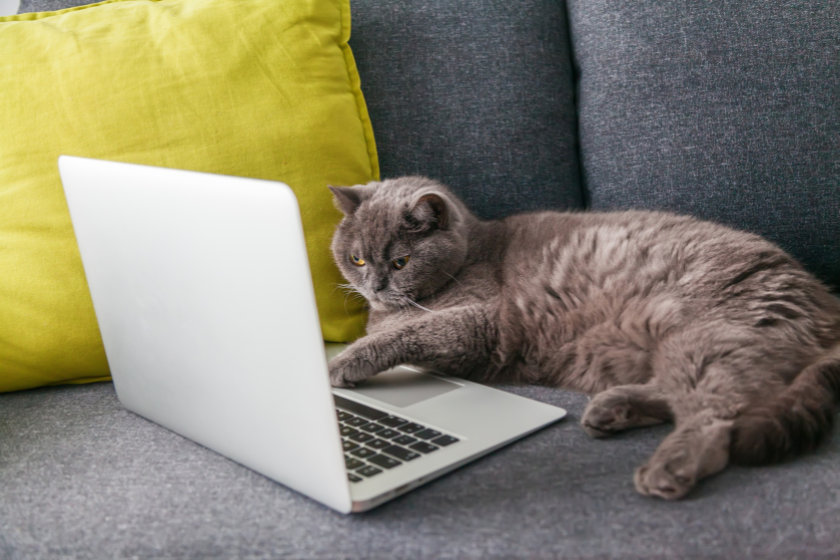 What is a Social Media Marketing Plan?
A social media marketing plan defines how your small business will use social media to achieve your greater business goals. It outlines your goals and objectives for a specific time period including a detailed, measurable plan of action.
This includes:
What social media platforms you plan on using
How often/when you intend to post
Any themes or special events you want to cover
The overall brand 'personality' you want to portray
But that's not all! It takes all of these broad topics and drills down into detail with a plan of action and timelines.
Why Do You Need a Social Media Plan?
In our technology-heavy society, it is more important than ever to include social media in your business marketing. Take a moment to consider how much time the average person spends on social media. According to the Pew Research Center, 70% of U.S. adults use Facebook at least once a day, and 60% use Instagram daily. This is a big opportunity for your small pet business!
But, using social media strategically for business reasons is very different from just posting on the platforms as a user.
If you want to stand out from the crowd and attract potential customers to your business on your favorite social media platforms, you will need to have a plan. It should be considered with the same focus and consideration as other elements of your business marketing.
A social media marketing plan can help you to eliminate unnecessary 'waste' in your business including wasted time, money and other resources. It will also provide you with the structure that many of us need to stay on track and the framework needed to measure and assess your social media effort. This will help you identify what is working, what's really killing it, and what is falling short of your goals.
In short, creating a detailed social media strategic plan for your small business can increase your chances of success online!
Begin by Auditing Your Current Social Media Presence
Before you start any planning for the coming year, you need to look at your current social media presence. Make a list of every social media platform that you currently have a business profile set up for. This includes both the social media accounts that you use actively as well as those that you may have signed up for but fallen away from.
To fully understand how you are using each platform, you will need to take note of how often you posted throughout 2022, how many people your posts reach on average, and what level of engagement you received.
Engagement includes post likes, comments, shares, tags, and traffic clicking through a link on social media to your website.
One great tool to understand the connection between your social media efforts and website traffic is Google Analytics. You can use it to view data relating to how many visitors are being directed to your website from social media links versus search engines, as well as a deep dive into how many of those visitors came from each social platform.
This is going to give you a clear vision of which platforms are driving traffic to your website and which are falling short. Keep this information close at hand as you move forward with the steps we are about to outline as it can help you make smart decisions on where to best spend your time.
Create a Social Media Marketing Plan for Your Small Business with These 9 Steps
Step 1 – Identify Your Goals and Objectives
Before you start making any decisions regarding your social marketing plan, you first have to decide what you plan to accomplish with the effort you are putting into social media. As small business owners, we often have to wear many hats and this means our time is limited and extremely important. Having goals and objectives will help you make sure that any time you put into your social media is paying off.
Ask yourself the important question – What do you hope to gain from your social media activity this year? If any answers that come to mind for this question feel broad or vague at first, that's okay! Write them down anyway. They may help to inspire a more detailed goal as you continue to workshop and narrow down your focus for the coming year.
Spoiler Alert: The answer isn't "because I should be on social media".
Some examples may include driving 25% more traffic to your website in Q1 2023 compared to Q1 2022 or doubling your social media following on a specific platform in the first half of the year.
Make sure that each goal has:
Detailed and specific numbers ("25% more traffic" versus just "more traffic")
A set deadline or timeframe ("By July 1st, 2023" or "During Q1 2023")
Consider your goals outside of social media as well. If your overall business goal is to drive sales of a specific product or service during the first half of 2023, it would make sense to create social media goals that will help you to reach this overall goal.
Step 2 – Determine Which Social Media Platforms to Target
This is an important point that many small pet business owners overlook. The key to social media success is NOT to be active on every social media platform available. In fact, doing so will only hurt your bottom line. You need to learn how to work smarter, not harder if you want to see the greatest return for your efforts.
Start by asking yourself how much time you can reasonably dedicate to your social media every week. Be realistic! No one is judging or assessing your social media plan and your goals – you are creating them to help boost your own success. So, there is nothing to be gained by setting yourself up for failure with unrealistic expectations.
Next, you will need to look at your time availability and consider how many social media platforms you can reasonably target. If you have 2 hours per week, you can't expect yourself to create content, post, and engage on 5 social media platforms.
There are a couple of factors to consider when deciding where to best focus your time in terms of social media. This includes analyzing which social media platforms are already working for your business. As I previously mentioned, you can see which platforms are sending traffic to your website by using Google Analytics. But you will also want to consider where your ideal audience (also known as your target market) is spending their time online. If you aren't sure where that would be, I suggest starting with creating a buyer persona.
Step 3 – Establish Your Branding, Tone and Voice
Now that you know where to focus your attention, it's time to consider what message you are trying to share using social media. This includes the specific tone or "voice" that people associate with your brand. When someone thinks of you and your brand, do you want them to view you as more technical and data focused, or more whimsical and friendly? There is no wrong answer. Each of these brand decisions will come with both pros and cons, so take time to think through your answers.
Your brand voice is going to help drive not only the type of content you share, but also how that content is worded.
Whatever you decide, you should commit to it fully in your social media efforts. This includes incorporating your brand voice not only into the posts that you are making, but also into creating a social media bio that helps to reinforce that "personality".
Step 4 – Create A Content Calendar
A content calendar is a visual breakdown of what you plan on posting on each social media platform. This can be done with pen and paper, such as in a planner, on a printed worksheet, or on a traditional calendar. Or, if you prefer using digital organizational tools in your business, you can set up your content calendar using spreadsheets, online calendars, and organizational programs like Airtable.
While creating your content calendar, you need to consider the different content options that you may want to share. This includes:
Newly published blog posts
Evergreen content
Product/service-specific information
Reviews or Testimonials
Sales and discount offers
Holiday-focused or seasonal content
Curated content from trusted sources
The amount of content that you will need to fill your content calendar will depend on the number of posts you plan on publishing. Make sure to choose a posting schedule and cadence that you know you can stick with. If you only have 2 hours every week, posting 5 times a day on Instagram may be a little too ambitious.
Step 5 – Create High-Quality Content
While some of the content that you share can involve sharing content from trusted sources, you are also going to want to focus on creating high-quality original content – even if this is just the post explaining why someone should check out a link from someone else's website. After all, this is your community that you are talking to. If you are sharing something with them, take the time to let them know why they may find it valuable or interesting.
There are many different types of content that you can create and share on social media including infographics, blog posts, videos, and images. Don't forget to consider your overall brand image when creating content including your brand colors, fonts, and overall personality.
Every post should offer value to your community in some way. But don't forget that entertainment is an example of value if it fits with your brand. You want to give people a good reason to follow your social media accounts as well as to engage with you when you do share content.
Speak to your audience in a way that focuses on them and how you can help them. For example, if you are creating a post to share a new product, don't just brag about all of your product's features. Instead, point out some of the problems or challenges that your ideal customer may be faced with and how this new product can improve their lives by solving it.
Step 6 – Curate Relevant Content
I briefly mentioned sharing content created by others (also known as curated content), but how does that fit into your social media marketing plan? This is a great way to fill your content calendar and provide more value to you without investing too much time.
It's important to note that this does not include stealing content and claiming it to be your own – the idea when curating content is to be honest and open about the fact that you are sharing someone else's work. When sharing a link to someone else's blog, this is generally pretty obvious. One easy way to do this if you are sharing someone else's image or infographic is to link the original creator in your post. Not only does this give credit where credit is due, but it's also a great way to start building relationships with others in your industry!
When curating content, make sure to only share high-quality content from trusted sources. Even if you are clear that you didn't create something, the quality of the posts you are sharing will reflect on your business. If your audience sees that you are sharing incorrect information, spammy websites, or other questionable content, you can do serious damage to your brand's reputation.
You can find content to share simply by scrolling your own social media newsfeeds and following others in your industry. Some other tools that can help you find content to share include:
Step 7 – Research Hashtags and Influencers in Your Industry/Niche
This likely isn't the first time that you have heard about the importance of hashtags, but not all hashtags are created equally! If you want to include them strategically you will need to start with a little research.
As a small pet business owner, you may struggle to stand out in all the noise found in broad or value hashtags like #Dogs or #Cats. Instead, you want to take the time to find more precise hashtags that will focus on topics that relate to your business and your niche (like #CampingWithCats) or those that focus on a specific geographic area if that fits with your business (like #DogsOfColorado).
You'll notice that we always capitalize the words in our hashtags. Why? This allows screen readers to identify the different words included in the hashtag making it more accessible for everyone in your target audience!
There are some tools that you can use to help you with your hashtag research such as:
But, the best way to find hashtags is to do your research right on the social media platforms themselves. Some social platforms, like Twitter, share "trending hashtags" where you can find them easily. Others, like Instagram, let you know how many posts come up for a specific hashtag when it is searched. The best hashtags will have enough posts to show that people are looking there, but not so many that any content could just blend in with the masses and be missed. Don't forget to look back at hashtags that you've used previously to see which have worked to drive traffic and which haven't.
Another great way to draw attention to your social media profiles is to identify and connect with influencers in your specific niche or market. This could include industry professionals, brands in related markets, or content creators.
The goal isn't to collect and follow as many of these individuals as you can. Following them isn't going to help grow your business online. Instead, you want to focus your attention on building relationships. One great way to do this is to start with engaging on their content including commenting, liking/loving, saving, and sharing. Try tagging brands in your posts when it relates to their products or, as you start to engage with them in a comment, asking their opinion on an industry topic.
Keep in mind that this is going to take an investment on your part. I'm not talking about a financial investment, but an investment of your time. Consider the possible return and the likelihood for success. A major dog food manufacturer is far less likely to engage with you in return and start building that relationship, for example, than another small business owner with a product that may complement your own.
Step 8 – Start Posting
When your content has been created/curated and your content calendar has been filed, it's time to start posting.
The most important thing to remember when posting to your social media platform(s) is consistency. This is why you planned everything out in such detail with your content calendar. To help stick with your posting cadence while also freeing up your time, try using a social media scheduling tool.
Finally, don't forget that there is more to social media success than just publishing high-quality posts on a regular basis. Engagement plays an important role in creating a connection with your audience as well as increasing your organic reach, allowing you to be seen by new potential customers. When deciding on your weekly schedule, make sure to include time to answer questions, respond to comments, and engage on content that is shared within your community.
Step 9 – Track Your Efforts, Analyze Your Results
Finally, the step that is far too often overlooked – tracking and analyzing your results. Social media marketing requires you to invest your time and, in some cases, your money. You want to make sure that you are getting a fair return on that investment!
Most social media platforms have built in insights and analytics to allow you to see how your posts are performing. This could include how many people saw your posts, how many took the time to engage with them (comments, likes, saves, or shares), how many new followers you gained each day, and how many people clicked on your links. You can also look at data from Google Analytics to see what traffic is coming from each platform.
If you are paying to boost posts or use paid advertising on any of the platforms, make sure to look at this data separately for paid versus organic (unpaid) posts.
Many small pet business owners will find themselves fixated on their follower counts, but this isn't actually the best way to measure your success. Why? Many people will click the button to follow your page and then, as your posts get lost in the noise of their newsfeed, never return to see your content again. This means that you aren't actually reaching them or sharing your message. Instead, focus your attention on building engaged followers. The more someone engages with your posts, the more likely the platform will keep showing them your new content.
Some businesses also choose to collect information from their client base to better understand what is working to attract potential clients. This is often done by asking their clients to identify how they heard about the brand, product or specific sale during checkout or after their purchase has been made.
Don't just collect this information! Make sure that you are taking all of this data and using it to determine what is or isn't working for your business. This will allow you to make the changes necessary to improve your results in the future. Take note of what is working and incorporate more of that into your social media marketing plan moving forward. Also, don't be afraid to let go of a type of post or social media approach if you notice it's not working for you or your audience.
Don't Be Afraid to Admit When You Need Help
Are you feeling overwhelmed? Don't worry, that is A LOT of information all in one place! If there is one thing that all successful business owners understand, it's that there is nothing wrong with admitting when you need help in a specific area.
If you have a slightly larger business with a team that includes more than "me, myself, and I", take a look at the others you work with. You may be surprised to find that you have an employee or business partner with a love for a specific social media platform that is excited to take over this part of your marketing. This could help to bring a love and passion to your social media marketing, which is such a valuable asset!
If there is no one else interested, or if you're a solopreneur, there are other options for accessing the help you need. This could include hiring someone to take over your social media, signing up for some one-on-one coaching, or joining an education-focused community like the PetBiz Collaborative. There is no wrong answer here! Any step that you take to learn and grow is a step forward in your business.
Do you currently have a social media marketing plan? If so, we'd love to hear what you plan on improving upon this coming year!
About the Author: Britt Kascjak is a freelance writer and content creator with a background in digital and social media marketing. In addition to being the BlogPaws Director of Content & SEO, she also runs her own personal blogs Shed Happens, The Kas Pack, and Lucifer the Rescue Pup. When she's not working, she can be found volunteering in the rescue space, camping, hiking, canoeing, or spending time with her 3 dogs and 2 cats.