Often overlooked but arguably one of the most powerful tools when setting up a social media account, your bio is one of the first things your potential client will see. Don't underestimate the power of this small but important detail! Let's discuss the secret to writing a winning social media bio for your business!
If you have spent any time on social media, then you have likely seen it all – Bios that go into in-depth technical descriptions about the company, those that are candid but fall short of actually explaining what the brand DOES, and everything in between. How do you find the balance between being descriptive of what you do and creatively unique?
The first thing to acknowledge is that every social media platform is different! Each features its own character limits, options for optimization including the use of links, and focus audience. For example, LinkedIn is a highly professional platform aimed at connecting business professionals whereas Instagram is a highly colorful and visual platform.
What does this mean for you? If you are sitting down, preparing to update your business social media accounts then you should be prepared to write a few different varieties. While all your bios should center around the same basic information, each needs to be customized to the platform.
Feeling overwhelmed? Don't be! I'm going to walk you through what you need to know to write a winning social media bio for the most popular platforms including a few tips, tricks, and best practices…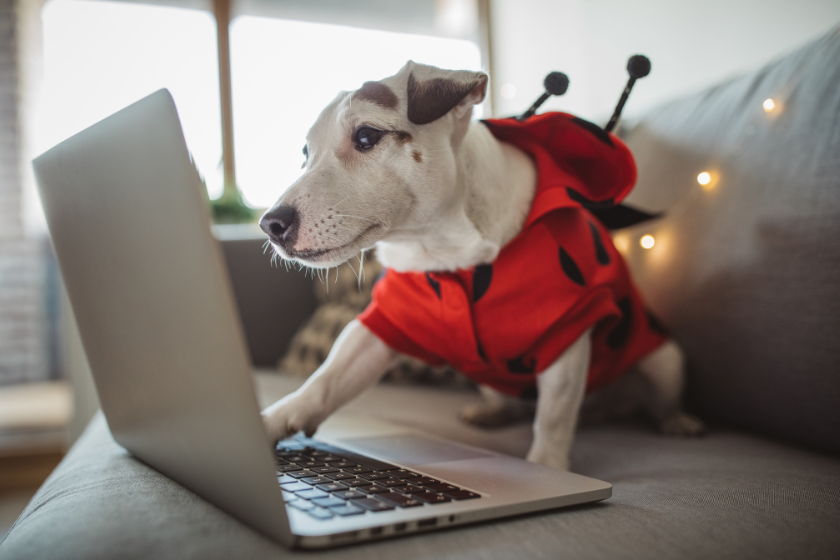 Focus on the Purpose of Your Bio
First and foremost, you need to remember the purpose of your bio: Providing visitors to your profile with a clear idea of who you are and what you have of value to offer. At the end of the day, your bio needs to convey the answer to the question on the mind of every potential customer – What's in it for me?
Your bio is often the first thing that a potential customer will notice and read about your business. It's your opportunity for a good 'first impression'. Are you giving them a valuable, tangible reason to follow your accounts? After reading it, do they feel like they know what to expect from you and how you can make a difference in their lives? If not, it's time to revisit it…
The best bio for social media will highlight your brand's personality and your unique selling points while encouraging visitors to your profile to take action in some form. How you include all of this is the secret to success.
Make Your Social Media Bio Impactful
With so many different businesses and individuals on social media today, it is easy to get lost in the noise. Whether you are a small business owner, freelancer, or the manager of a large corporate account, your bio needs to share why you are different from every other account out there in your industry.
Try to remember that your potential customers make most of their decisions each day based on emotions. Use your bio as a way to make an emotional connection. Share your mission and allow your passion to shine through!
Who are you more likely to follow a pet store that simply says they sell pet supplies or one that states, "It's our goal to help pets lead full, rewarding lives. That's why we're revolutionizing the way the industry thinks about pet wellbeing." Spoiler alert, the second bio in that example is from the Petco Instagram page, and there's no denying their success!
Make the Most of the Space You Have
The space available in your social media bio is limited by a pretty tight character count. For example, Instagram only allows for 150 characters. If you are going to truly share who you are in just a few short lines, you are going to have to get creative.
Before you start writing, take a step back and consider what exactly you want to include. Are you a local business focused on reaching people in a specific area? Is your brand centered around the production and sales of ethically made products?
Make a list of the keywords and phrases that you feel you must include to accurately describe your business. Once you have narrowed that down to the most important points you need to make, you can start working on putting it together in a way that flows with your brand personality.
You want to include important keywords, but within reason! Keyword-stuffing your bio may seem like a great solution to ensure that you show up in search results, but it will come across as spammy and turn many of your potential followers away from your account quickly. Instead, stick with a couple of carefully selected, relevant keywords for your business and industry. The best social media bios incorporate keywords in a way that flows naturally and doesn't feel forced.
Leverage Tools to Expand Your Options
While most social media platforms will limit you to the inclusion of a single clickable link in your bio, that doesn't mean you have to choose just one. Instead, you can link to a landing page that provides a selection of relevant links to your audience. This can be done by using a third-party tool or by creating the landing page directly on your website.
Linktree is a great free tool that allows you to create a multi-URL landing page specific to your business. This will allow you to share several different links as necessary to appeal to your potential customers. For example, you may want to include a link to your landing page for those interested in your products as well as a link to a free download product or to your branded community.
However, we recommend creating a landing page on your website. This directs traffic directly to your site instead of to a third party like Linktree and website traffic is valuable!
You can do this by creating a page on your website with a simple URL like /connect or /Instagram. On this page, include links that are relevant to those that discover you on Instagram. This could include your about page, other places that they can find you, or recent posts that you may have made reference to in your posts.
Finally, you may choose to use this link to direct your audience to one specific focus – a product that you are launching, a sign-up page for your online course, or, as you see below on Boss Dog Brand, directly to their online store to make a purchase.
Don't Forget Your Branding
Branding is an important piece of your overall online marketing strategy. What does this mean? You want to establish a recognizable presence that creates unity between your social media accounts, website, and any aspects of your traditional marketing. This can be done by selecting a specific brand color scheme, font choices, and the tone you use.
While the use of your logo and imagery in the cover photo (if applicable) will help to establish this connection, your social media bio is another piece of the puzzle. For example, if your website is written in a very conversational style, so too should your bio across the various social media platforms. Important keywords or phrases can also help to establish that feeling of familiarity.
If you have a short, recognizable tagline, including it is a great way to incorporate branding. One great example in the pet industry comes from West Paw's Facebook bio with "We're in it for the wags!"
Include Hashtags (Where Applicable)
Hashtags are a great tool in the world of social media marketing, and some platforms even allow for this tool to be used in the creation of your bio to link you to your content and your industry. This is also a great way to encourage customers to interact with your business!
The most basic way to include this concept in your online marketing efforts is to create a unique branded hashtag for use across various social media platforms. You want to choose something that can be connected back to your business and is easy to remember. Don't forget to search your potential keyword across social media to ensure that it isn't already being used by someone else!
Once you have chosen a hashtag and started to share your own content using it as a tag, it's time to encourage your followers to do the same. Include the hashtag in your bio inviting them to share their photos, videos, and more. For more elaborate marketing plans, you may choose to change the hashtag you are highlighting throughout the year, focusing on specific themed hashtags for whatever promotion or contest you are running at the time.
You may also want to include a hashtag that connects you to your audience in a specific and strategic way. This could be a location-specific hashtag for a local small business or something that is connected with the industry that you are part of.
Check out some of your favorite brands for social media bio ideas involving a hashtag. A few examples in the pet industry include BarkBox (#BarkBoxDay), Kurgo (#KurgoTogether), and Outward Hound (#OutwardHound).
Try Emojis When Using Instagram
Unlike other social media platforms where emojis are often seen as unprofessional, Instagram embraces them! This is a fun way to add a little personality to your bio but also an effective method of breaking up your text into bite-sized pieces.
After all, no one wants to read a wall of text. If your bio looks like one long run-on sentence, many people will likely skip right over it.
If you aren't familiar with the use of emojis or how to incorporate them effectively, let's start small. If you want to convey that you are from a specific country, try adding a flag. An envelope is often used to indicate that you are about to share an email address. You can also use a pointing finger emoji or an arrow to direct your potential customer to look at something specific like the link included right below your bio.
Many social media bio examples use emojis effectively, but one in the pet industry that instantly comes to mind is The Anxious Pet. In their bio, emojis are used to break up the text, making it more appealing to the visitor.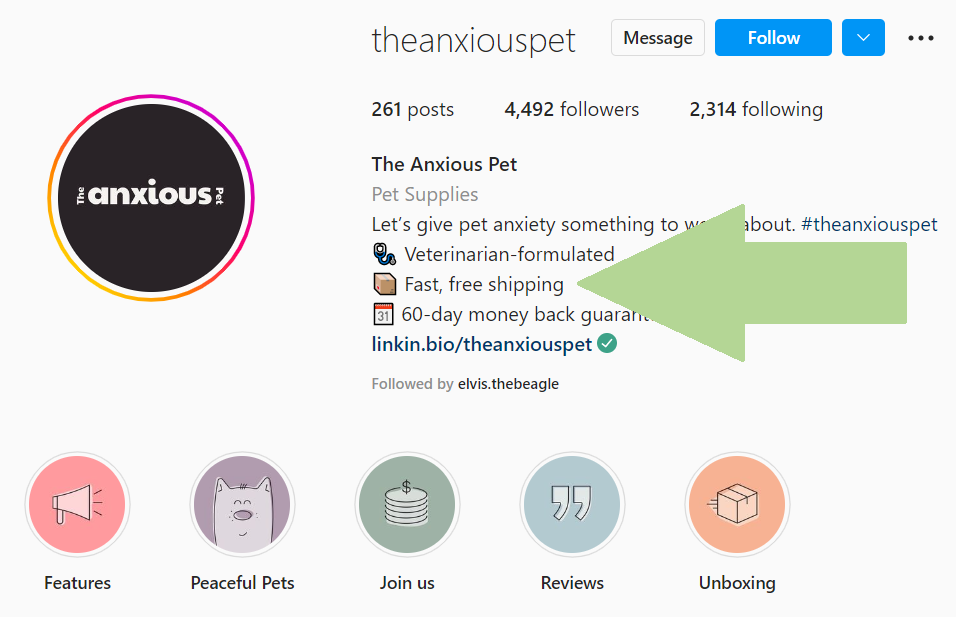 Don't Forget the Call to Action!
Rather than just hoping that your potential followers will take the next step towards becoming loyal customers, why not guide them through the process? After all, we don't leave anything else in our business to chance.
At the end of your bio, include a simple CTA encouraging those who visit to take the next step. This may include directing them to your website, encouraging them to sign up for a free trial or online course, inviting them to join your community, or suggesting that they subscribe to your email list for more information. Whatever it is, be intentional with your suggestion. You aren't just collecting empty numbers with your social media following, you are ultimately trying to convert these followers to customers.
Coming back to that initial question we discussed in the first point, your potential followers want to know what's in it for them. Why not use this to your advantage? Use your CTA to encourage your audience to download a lead magnet. Coupons, printables, workbooks, and checklists are all great ways to draw someone in.
Don't overcomplicate your CTA. The SPCA of Texas is very clear with what they want their followers to do on Twitter in this example.
Analyze and Adjust
Whatever you put together today; your social media bios are not engraved in stone. Rather than seeing this as a once-and-done process, allow your bios to grow and evolve with your brand. If you notice that something is performing well, take note and adjust your efforts to incorporate it. On the other hand, if something isn't working for you, you don't have to stick with it!
For example, if you notice that you introduced a free download product on your Facebook and it's taking off like wildfire, why not adjust your Instagram bio to include that freebie in your call to action? If you currently have a simple link to your website with the CTA 'Click here for more info' and you aren't seeing any activity coming from this, change it up and try something new.
Each social media platform offers a variety of analytics and insights, providing you with a clear idea of what your audience is doing (or isn't doing) with your content. Furthermore, Google Analytics tracks a wide variety of stats that can help you to better understand your website traffic, including where your visitors are coming from! Leverage these resources to make smart marketing decisions.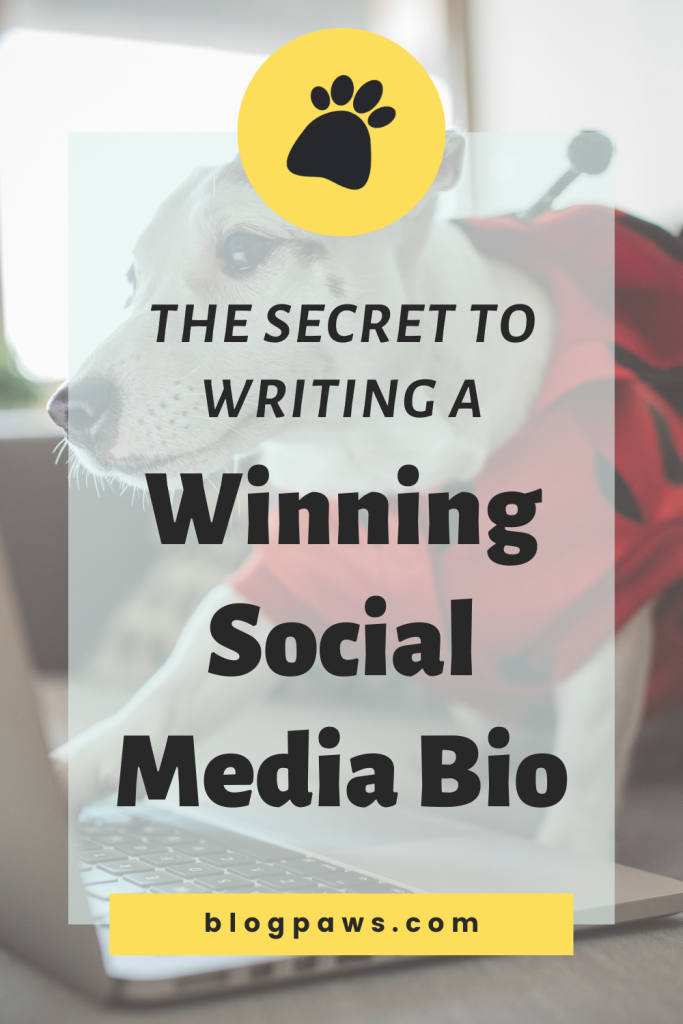 Most importantly, remember that social media is not 'one size fits all'!
The solution to creating the best performing social media bio for your account isn't going to be found by following strict rules or trying to fit into some 'correct' box. The real secret to writing a winning social media bio is to take the above tips and make it your own! Experiment and get creative.
As Pablo Picasso once said, "Learn the rules like a pro, so you can break them like an artist."
Do you have any favorite social media bio examples that we didn't mention? Share them in the comments and inspire one another!
About the Author: Britt Kascjak is a freelance writer and content creator with a background in digital and social media marketing. In addition to being the BlogPaws Director of Content & SEO, she also runs her own personal blogs Shed Happens, The Kas Pack, and Lucifer the Rescue Pup. When she's not working, she can be found volunteering in the rescue space, camping, hiking, canoeing, or spending time with her 3 dogs and 2 cats.