There's no debating that Instagram Reels are a great opportunity for small pet businesses to grow their audience and reach new potential customers. And if you don't believe me yet – start here.
We don't only create our own business Reels, but we encourage and teach Reel creation through our semi-annual #PetBizReels Challenge. One of the main reasons we think Reels shouldn't be overlooked is that you don't need much to get started. In fact, you really only need an up-to-date smartphone.
But that doesn't mean there aren't products and tools that can take you to the next level. In the BlogPaws Community and PetBiz Collaborative, we're most often asked about two things – editing software and photography or videography equipment. Today we're focusing on the latter and are excited to share a top product pick from each BlogPaws team member that will not only make your Reel creation easier, but it will also take it to the next level.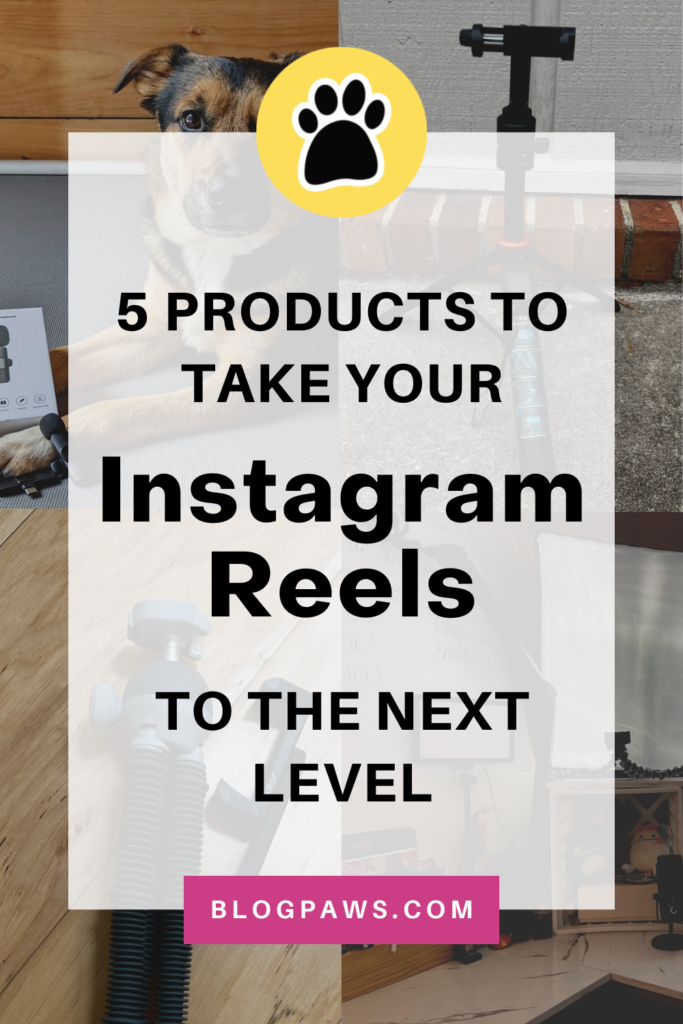 BlogPaws may receive commissions from affiliate links included in this article.
5 Products to Take Make Next Level Instagram Reels for Your Small Pet Business
Newest 62″ Phone Tripod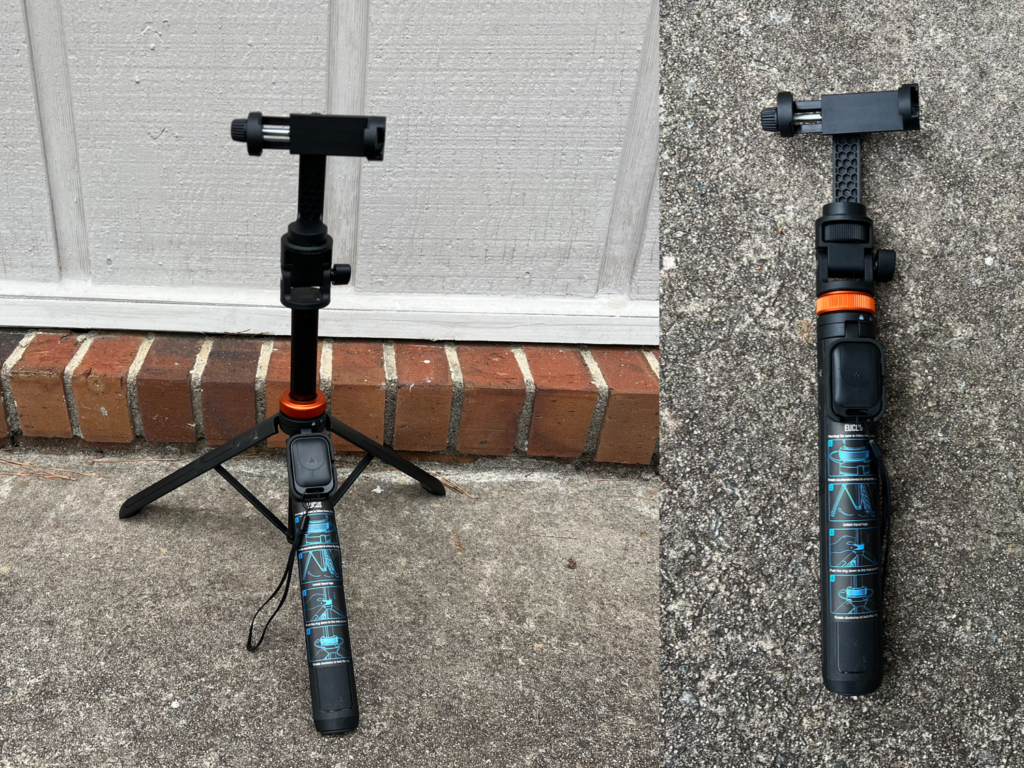 This pick comes from our Director of Marketing & Community, Emily Hall, and it tackles one of the best ways to improve your Reels through stable video and recording with your camera at the right height.
We're seeing more and more success with videos where people are talking directly to the camera. While you can absolutely hold your phone or balance it somewhere to record these styles of videos, you won't get the same result as a sturdy tripod.
"This tripod is sturdy and durable, and it has all the features you need to take videos with your phone. I love the telescoping capabilities of the handle because I can set it on the ground and adjust the handle so my phone is face-height – perfect for creating Reels!" – Emily
Price: $36.99 with frequent sales and coupons
JOBY PodZilla Large Flexible Tripod
The next pick comes from Christy Castillo, our Director of Brand & Creative and is another great tripod option. This differs from our first tripod recommendation because the legs are flexible, which allows you to attach it to unique locations like fences, trees, chairs, and more!
"The tripod is compact and a great go-to when you don't have a larger tripod available. The legs are also flexible which makes it easily adaptable to any situation. The phone mount allows you to film in vertical or horizontal mode. The Easy Release Plate is usable on their other tripods which is helpful when shooting with different cameras simultaneously like a phone and DSLR." – Christy
Price: $54.95 with frequent sales and coupons
Skytex Softbox Lighting Kit
The next big thing to tackle when improving your Instagram Reels is lighting. Let's face it – not all of us are able to shoot all our content in natural light or even during the daytime. Our CEO, Chloe DiVita, works in her home office, complete with a special lighting set up for not only recording Reels but also both live and recorded long-form content.
"Having an easy to move light that adjusts to different heights can help your videos have consistent light no matter the space. It also works well if you want to put it in a specific place and leave it, which is how I currently use mine." – Chloe
Price: $49.99
Wireless Lavalier Microphone for Phones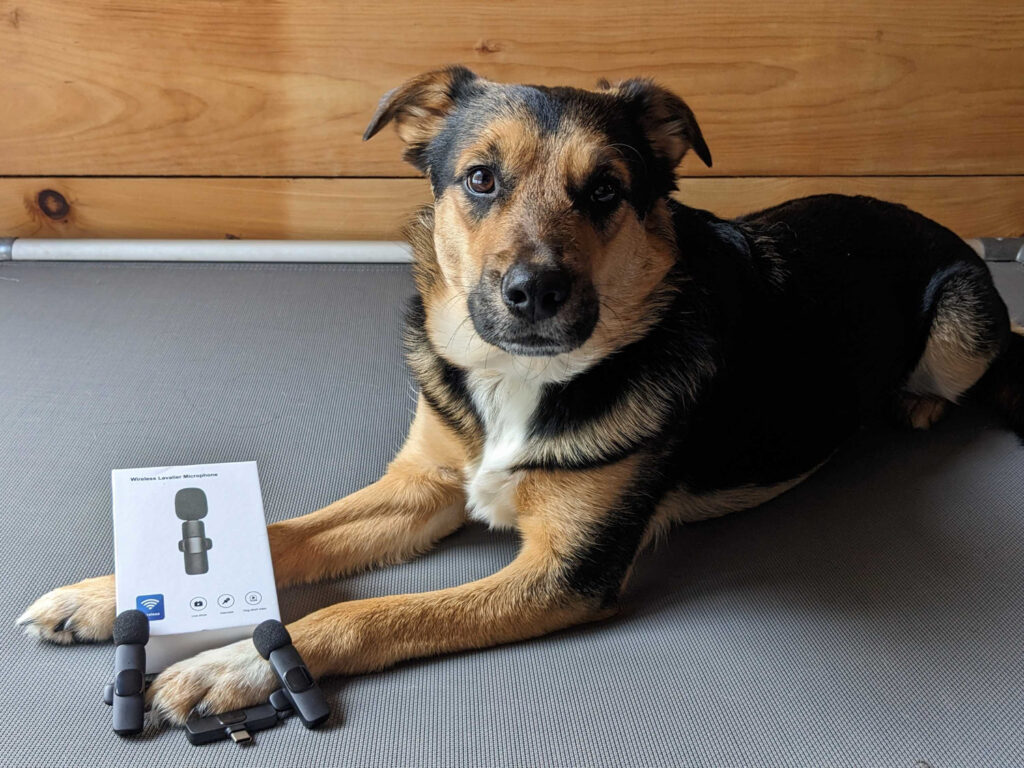 If you mastered both stable video and video lighting in your Instagram Reels, then the next thing you might want to consider is improving your audio quality by looking into a microphone that not only records high-quality sound but also provides some level of noise reduction.
If you're generally recording Reels while moving or on the go, you'll want to consider a lavalier or clip-on microphone over a handheld. Our Director of Content & SEO, Britt Kascjak, has just the recommendation for that!
"Often taking our videos on the go outdoors, sound can be a problem. These wireless mics allow us to connect 2 microphones to a single phone easily, and the noise reduction helps to eliminate outside distractions. We can create high-quality original audio for our reels anywhere." – Britt
Price: $42.99 with frequent sales and coupons
DJI Osmo Mobile 6 Smartphone Gimbal
Once you've mastered stationary video recording for your Reel creation, you might want to try introducing action to the mix. Adding action shots could not only give you a whole new type of Reel to share but also grow your audience's desire to connect with you by showing behind-the-scenes or in-the-moment content.
Plus, our pets and the pets we create our products and services for are real living things. If we want them represented in our content, then we need to be able to keep up with them.
If you're ready to tackle this new type of content, then a smartphone gimbal might be the next piece of equipment for you. This is my pick – Hi, I'm Jessica, COO / CMO.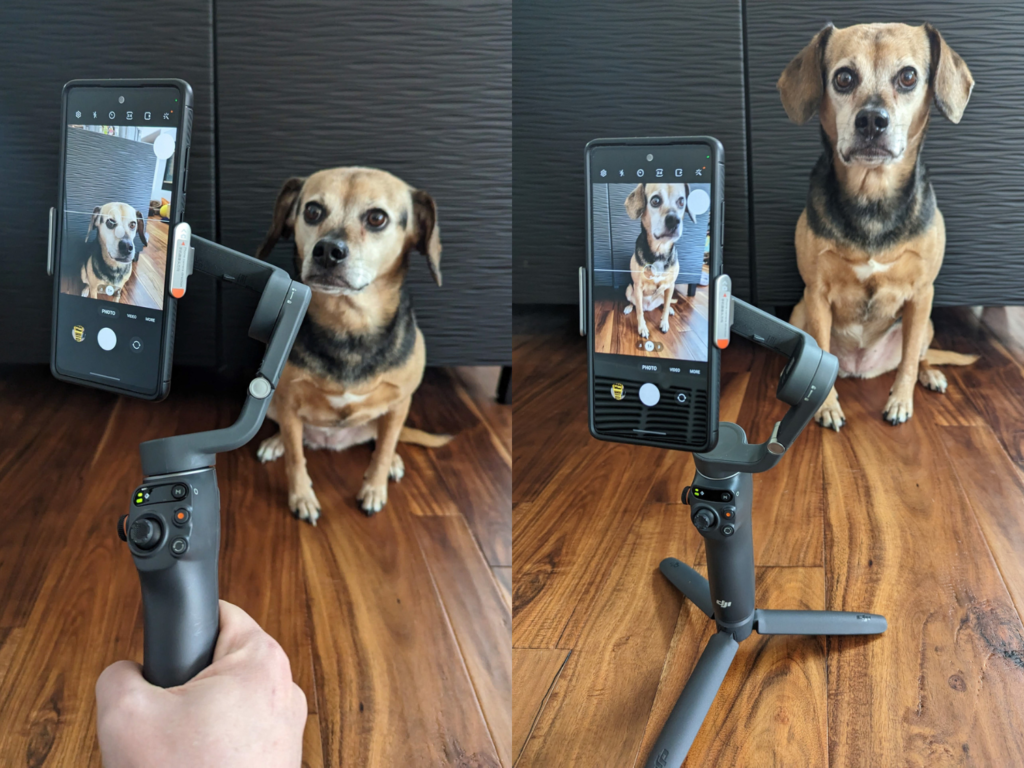 Just like with all of our product recommendations listed above, you don't need a gimbal to create quality content, but it does help provide additional stability when you need to move to capture your content. Certain models also provide object tracking, so that they can do the movement for you.
Unlike the rest of the recommendations, it does come with an over $100 price point, which is why I've listed it last. While plenty of videography equipment is more expensive than this, I do view it as a true investment in your video creation process.
This recommendation is also a little different from the rest, as I just recently purchased it and am still putting together all my thoughts about it. I will report back with updates on how the gimbal works for me, but I didn't want to overlook it as a possible piece of equipment to add to your Instagram Reel creation toolkit.
"I selected the DJI Osmo Mobile 6 after comparing a few different manufacturers and models. My decision came down to price point, the ability for the gimbal to fold, and the option to use object tracking. Other smartphone gimbals I considered include DJI Osmo Mobile SE, Zhiyun Smooth 4, and the Zhiyun Smooth Q4." – Jessica
Price: $159
There are many products on the market, and these are just a few that we love as a team. Whether it's equipment for image stability, better lighting, or improving audio quality, there are affordable options available to help small pet business owners take their Instagram Reels to the next level. We stand by the belief that not having these tools shouldn't stop you from utilizing Reels for your business, but these products can help make your creation process even easier.
What did we miss? What products do you love to use when creating Instagram Reels?
About the Author: Jessica Shipman is the COO / CMO of BlogPaws. She has been in the pet industry since 2013, when she accidentally became a content creator and launched Beagles & Bargains. Since then, she has loved leading the PetBiz Collaborative, a membership group for small pet business owners, and engaging in the BlogPaws Community. When she's not planning content or researching SEO keywords, you can find Jessica loving on her two dogs, Luna and Ralph, and putting her Ivy League Engineering Degree to work as a sought-after web developer.