Summer is in full swing, and summer means vacations! Summer means more time outside, enjoying barbeques, picnics, pool parties, and trips to the beach.
Summer also means… your blog traffic might take a big dip.
Why?
All those vacationers and outdoor enthusiasts aren't checking their laptops!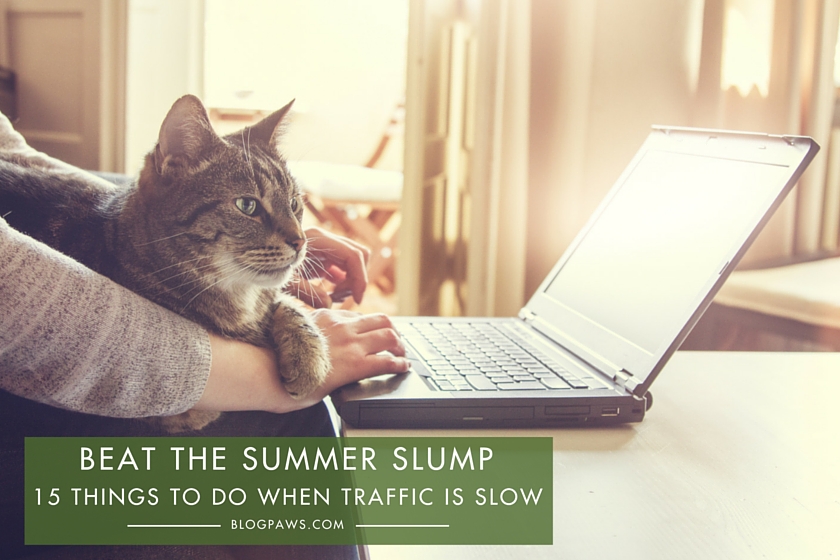 Hopefully you have fun summer adventures planned, too, but for those lingering work hours when you're facing low traffic, take advantage of the slow-down by tackling those "some day" tasks. Here, 15 things you can do to beat the summer blogger slump:
Behind-the-Scenes Updates
Check for broken links. Pro tip: If you're on WordPress, there are widgets available to scan the links on your site and notify you if any are broken. However, most broken link checkers slow performance, so only activate it when you plan to run the scan. 

Refresh the photos on your top 20 posts.
Delete inactive widgets.
Back up your site. Watch this video with BlogPaws 2016 speaker Jessica Shipman to find out which aspects of your site you should be backing up.
Marketing Updates
Update your media kit with your most recent traffic and follower counts… or, if you don't have one, create one!

Add links to recent posts to LinkedIn.

Make a list of brands you'd like to pitch. 

Schedule social shares for the 20 posts you refreshed in your behind-the-scenes updates. (I like Buffer, but Hootsuite is also popular for good reason.)

Leave comments on all those blog posts that have been piling up in your feed. It's good blogger karma and helps market your site to potential new readers. 
Social Updates
Are all your profile pics up-to-date? As in, pictures from the last decade? 

Spice up those About pages. Pro tip: Nail your Facebook About section with these strategies. 

Scroll through your followers, and follow back anyone you've missed. 

Create a Twitter list. Or, dig even deeper into Twitter with this list… it's everything you need to know to maximize this platform!

Experiment with a new platform. I downloaded Snapchat yesterday!
By the time you work through these 15 tasks, it'll probably be time for Back to School, and traffic will pick back up again! If you want even more tips and tricks to improve your blog and social presence over the summer, start (or restart) the Boost Your Blog 10k challenge at a quicker, "summer boot-camp" clip! Get started here or download the most recent workbook here. 
What updates do you make when traffic is slow? What would you add to this list to make the most of the slower summer season?
Maggie Marton serves as the BlogPaws senior editor. When not hiking with her two pit mixes, Emmett and Cooper, or playing with Newt the Cat, Maggie writes about them (and the pet industry) at ohmydogblog.com and maggiemarton.com.