I mentioned in the Summer Reading List that BlogPaws is going "back to school" this fall with the launch of the new SLC. In true back-to-school fashion, we have a supply list… with a twist. This back to school supply list has been created just for bloggers! The BlogPaws team has put together our top must-have blogging tools that we can't live without. Ready? Let's dive right in!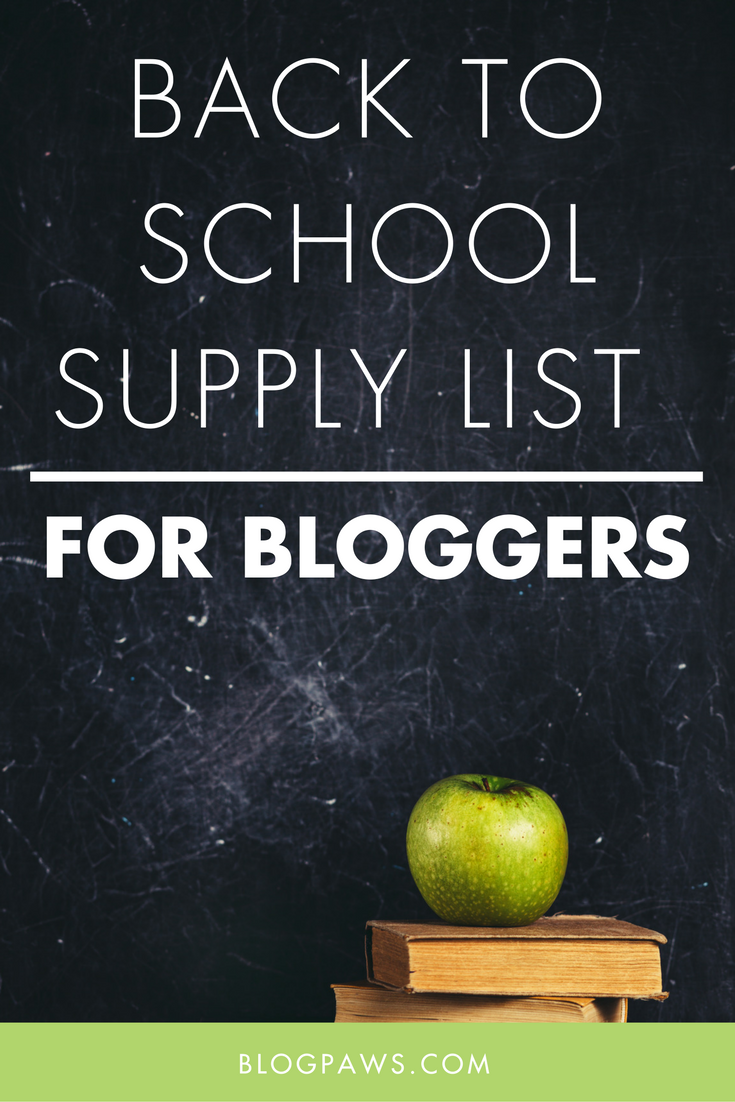 Blogging
Email Marketing – You definitely need an email marketing platform to send newsletters to your subscribers and give them the option to subscribe to your RSS feed. Some great "starter" platforms are MailChimp or Mad Mimi. As you grow and get bigger, you'll find that you may need a more robust platform such as ConvertKit or Aweber. It really just depends on your business goals.
Feedly – Use this to read blogs and find content ideas and inspiration.
Google Analytics – This is a must have to track your blog traffic.
Gmail – While we recommend that you create a domain specific email for your blog, you can have those emails forwarded to your Gmail account. This makes it so much easier to manage on your desktop and mobile. We also recommend checking out Gmail's Canned Responses Lab to save time in your email replies.
Grammarly – Grammarly has an awesome Chrome extension that will notify you if there are any grammatical errors in your writing.
Lead Pages – An amazing tool if you're looking to create landing pages, lead magnets for your email list, or content upgrades on your blog posts.
Microsoft Live Writer – I use this for my personal blogs because it makes writing and photo editing so much easier! Live Writer can automatically add your watermark to images without having to do it in a separate photo editing software. For someone like me who shares a ton of pics, this is a HUGE time saver!
Some other must have tools that we recommend for all bloggers include:
Business
If you want to run your blog as a business you need to have these tools in your toolkit.
Organization
Trello – The BlogPaws team uses Trello on a daily basis for a variety of things from editorial calendar planning, team meeting notes, project plans, and more. Trello is great for collaborating with a team and there's a mobile app.
Evernote – Evernote is great for saving articles that you want to reference later by organizing them into notebooks. It's also great for brainstorming blog posts because you can take it everywhere thanks to the mobile app.
Google Drive – Store all of your important documents on Google Drive so that you always have them on the go no matter which computer you're using. If you use Google Docs, Sheets, or Slides, these do not count against your storage space!
Photography
Canva – Canva is a huge time saver and our team could not function without it! We especially love Canva for Work for branding. There is now a mobile version of Canva for iPhone!
PicMonkey – This is great for editing photos and creating collages. Be sure to also check out the new mobile friendly app.
Stock Photo Membership – You don't always have time to shoot and edit original photos. A stock photo account can save a lot of time!
Some other mobile apps that our team loves are:
Social Media
These tools come in handy for scheduling your social media posts so you can spend more time creating and promoting content.
You can use Hootsuite for following along with our weekly #BlogPawsChat. Personally, I prefer to use TweetChat because it shows up in real time like an "old fashioned" chat room!
WordPress Plugins
Akismet – This is a must have to automatically filter out spam comments.
Broken Link Checker – This plugin will check your posts, comments and other content for broken links and missing images, and notify you if any are found.
Revive Old Post – This plugin shares your old posts on twitter, Facebook, LinkedIn to help promote old posts and boost your traffic.
WordPress Editorial Calendar You know this one is good when our Senior Editor, Maggie Marton says, "This one's a game changer!!"
Yoast SEO – This plugin makes it easy-peasy to optimize your blog posts for SEO.
Are you a blogger who shares recipes? Pick a recipe plugin that does the heavy lifting for you. It makes the recipe easily printable, and automatically creates google recipe view. The plugin you pick should also have a database or access to sharing on a database of people looking for recipes. Check out WP Ultimate Recipe or Easy Recipe.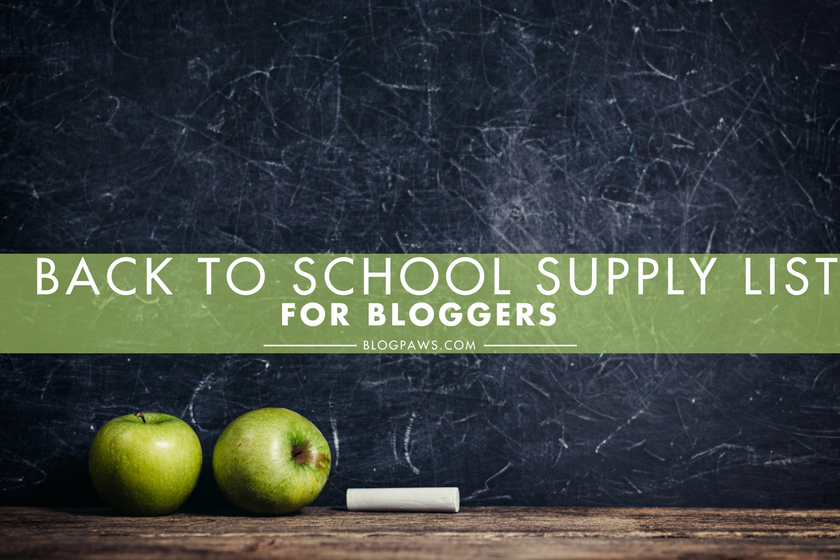 Share Your Blogging Tools
What are your must-have blogging tools? Let us know down in the comments below! Do you want to learn more about any of the tools we mentioned in this post? Let us know!
Aimee Beltran is the Director of Community Education for BlogPaws. She also writes two blogs, Irresistible Icing and Irresistible Pets with her Chihuahua, Chuy. Aimee is passionate about her mission, "create an irresistible life you can't resist!" She loves anything with glitter, kayaking, and spending time at the beach.