During this year's conference in Phoenix, I made it my job to sit with as many newbies as I could. These are folks who were new to our conference, and even new to blogging. Not surprisingly, a frequent question asked was, "How much does it cost to blog?"
The answer, as many of you know, isn't black or white.
For some folks, blogging is free. Anyone may start a blog on a free platform, with no hit to their budget, and yet as soon as they start putting effort and time into the writing of the blog, it stops being free.
Other folks put the money into a paid platform, with the intent to turn their work into income. Their intentions are to attract opportunities that will provide compensation for their work.
With that thought in mind, let's discuss some necessary costs of turning your blog/writing into a business, however big or small.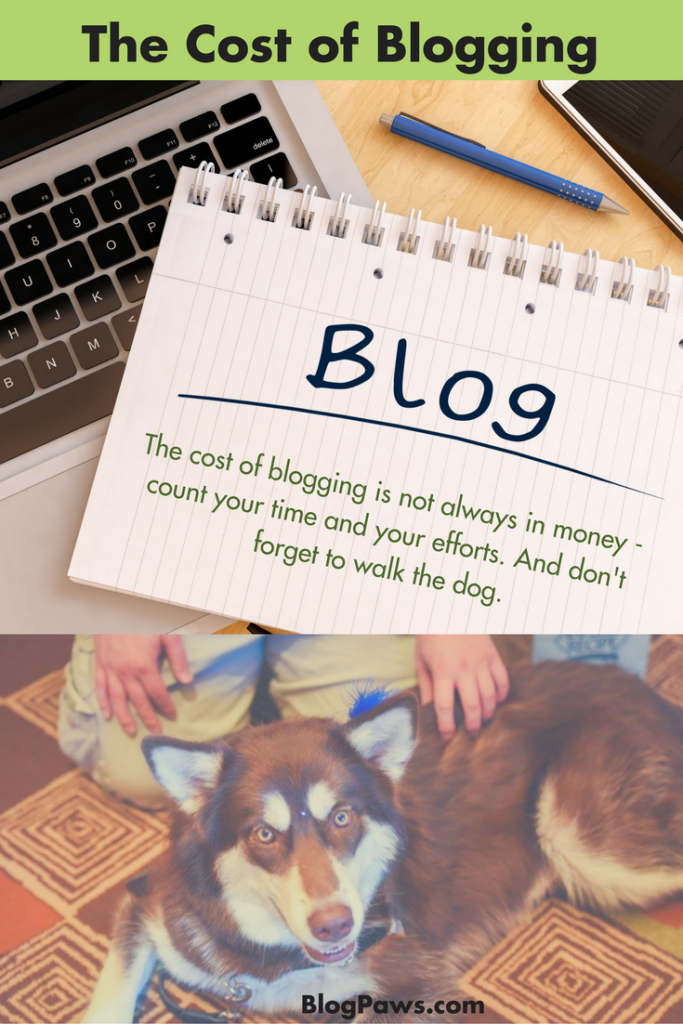 Here is a list of 7 must-haves or must-dos, that will put a dent in your budget. Don't think of them that way – as 'dents' in your budget. Think of them as wise investments in your future.
A proper Domain Name. Choose your domain carefully and consider multiples: .com and .biz, for instance. We often buy .com and .net (we being Tom and myself, not BlogPaws)
A DBA or an LLC. DBA stands for "doing business as" and LLC is a "limited liability company". Talk to an accountant or a lawyer to decide which you need, immediately. I have never used LegalZoom but it's worth checking out. If you do, let us know what you think.
Canva. There is a free version and a paid version. Test it on the free version, but consider the paid version as it comes with a great deal more than the free version.
An IT person and a Designer. I put these two together because sometimes they are the same person. But not always. I want to urge you to consider your blog design. People online have seriously short attention spans; the first thing they notice is your design, and if it's clunky, juvenile, or dark, they may not stay long enough to read your great content. The IT person is to handle your IT issues. They are not as expensive as you think. Having to deal with IT issues on your own is far more trouble and cost than having even a part-time technical professional.
A bookkeeping program or VA. VA stands for virtual assistant. These awesome folks will act as your admin, your bookkeeper, and your travel agent, if you want them to. If you really want to handle your bookkeeping, go for it. But, have a good accountant for tax time!
Guest bloggers. New folks will need to show consistency in their blog writing and voice to attract guest bloggers. Established writers should look at this option as a way to enhance your work and your message. Guest bloggers can and will write for free, if you give them reason to. Or, if you want to attract the best of the best, you might want to pay your guest bloggers. No, Google will not penalize you for having guest bloggers. I promise.
Conferences/Webinars/Online training. I suspect some will think I am adding this to promote our Social Learning Community, and that's partly true. I am promoting it. However, I add it here because it's imperative to your success if you are serious about earning money blogging. The SLC at BlogPaws is ramping up to serve our community with year-round educational content.
Yvonne DiVita is a Co-Founder of BlogPaws. She is dedicated to storytelling and the human-animal bond. When not working on BlogPaws, she writes at Scratchings and Sniffings and The Lipsticking Society. You may contact her at Yvonne@blogpaws.com.
Images: Singkham/Shutterstock.com, Mathias Rosenthal/Shutterstock.com, and BlogPaws 2016 Conference
Save
Save