There has been a lot of talk in the business world about the growing power of video online. With more people consuming video content than ever before, marketers are invested in the potential offered by YouTube for marketing businesses in all industries – and you should be too! Why? We will take a deep dive into YouTube as a marketing platform online and why you may want to include this tool in your digital marketing strategy.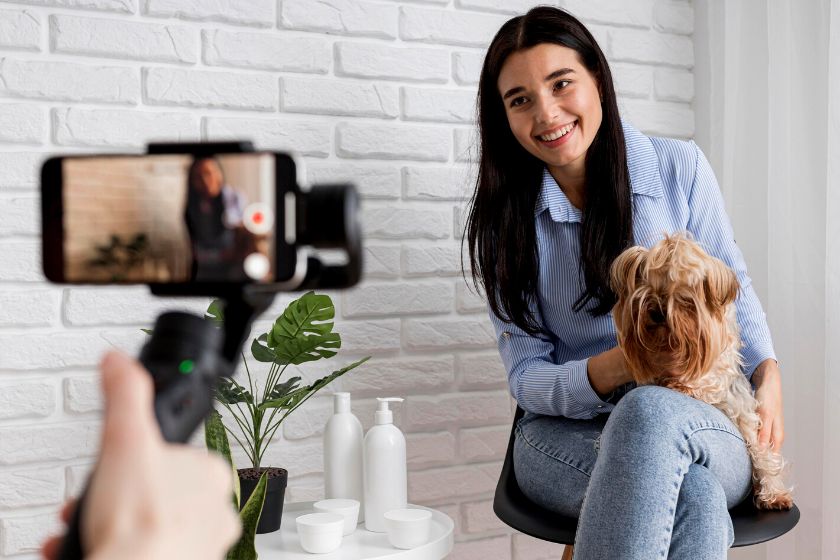 Why You Should Use YouTube for Marketing
One of the biggest challenges faced by those trying to leverage the internet to grow and market their small pet business is the struggle to stand out. How do you position your business as a trustworthy and reliable resource in their lives? One way to do this is to meet people where they spend their time online the most, which data reveals is video content.
92% of internet users watch some kind of video content online each week (

Hootsuite

)

56% of marketers report YouTube is their biggest ROI, ranking second only to Instagram (

HubSpot

)

YouTube is the second-largest search platform in the world, with more daily search queries than Bing, Yahoo, Ask, and AOL combined (

Sprout Social

)
The data speaks for itself! People are turning to video content for information searches, to help them find solutions to their problems, and to aid in buying decisions. Creating a solid YouTube marketing strategy for your brand will increase your visibility online, help you build brand awareness and, ultimately, drive sales of your product or service.
Tips for Creating Professional-Looking YouTube Videos
The first step you will need to take to leverage YouTube for marketing your small pet business is to get started! That's right – It's both the most straightforward and most challenging step in the video marketing process. Luckily, the cost of entry for video marketing is lower than ever. Most smartphones and many laptops today have reliable cameras that are more than capable of recording high-quality video. You don't have to invest in an expensive camera to get started.
Of course, you can always take steps to improve the quality of your content creation and make it look more professional. These factors will help set you apart from your competitors and make your content stand out.
Here are six simple tips to improve your video content and set you up for YouTube video marketing success:
Plan Before Filming:

Take some time to

plan out what you are going to record

before you start. This includes writing out the key points that you want to cover and identifying any props or visual aids you may need.

Create Visual Prompts for Key Points:

Make a prompt sheet containing the key points you have decided on. Keep it in point form to avoid reading straight from your sheet. Put this sheet up near your camera to make it easy to glance at your prompts without looking away from the camera the whole time.

Remove Distractions:

Before filming, pay careful attention to any distractions. This includes visual distractions and sounds that could make your audio hard to understand. One way to reduce outside interference is to use a microphone that helps to eliminate background noise. Another easy way is to film in a closed room away from distractions.

Ensure You Have Good Lighting:

The lighting while you are filming will significantly impact the overall quality of your finished video. If possible, take advantage of natural light. For videos that need to be filmed at different times or in darker rooms indoors, consider investing in lights to brighten the space for a clear, sharp, professional-looking video.

Use a Tripod or Stabilizer While Filming:

Shaky video will quickly take away from the hard work you've put into creating your content. While we are big believers that you don't have to invest a lot of money to get started, we do recommend using

a tripod or stabilizer

to keep your phone or camera steady.

Edit Before Publishing:

Take some time to watch your video and edit out any unnecessary footage. You can

add transitions to help the video smoothly transition

from one section to the next. Keep in mind that most viewers have short attention spans, even with long-form video content. So, don't include a bunch of extra "fluff" in your video. Be concise and to the point.
Video Ideas for Your YouTube Content Strategy
Now you are ready to create high-quality content, but there is one more thing to consider – what are you recording? You can create the best-looking video on the platform and still get nowhere with it if it doesn't offer your audience value. The secret to success with digital marketing, YouTube channels, and video content is to focus on what your content offers the viewer. Is it entertaining? Are they learning something that can improve some area of their lives? Does it solve a common problem that they face? Here are a few content ideas to help you create valuable YouTube content for your small pet business.
Showcase Your Product
The first and arguably most obvious answer is to use this opportunity to showcase your product or service. Share what you offer, focusing on how it can improve their lives. This could mean highlighting everyday struggles and how you can easily solve them. If it's a product that your customers will use at home, demonstrate how to use it best.
Educational Videos
Take a moment to consider the different topics that relate to your specific niche and how you can educate your audience. For example, if you own a dog treat company, you can take this opportunity to inform others about the different ingredients and how they can support good health. This offers value to your audience and helps you establish yourself as an authority and go-to source for reliable information.
How-To Videos
In 2022, approximately 1/3 of all online users watched tutorials or how-to-videos each week. You can use this knowledge to help draw new eyes to your videos by creating how-to videos that speak directly to your ideal audience. This means finding DIY projects or how-to opportunities connected to your business. Some great options include DIY dog or cat enrichment, homemade treats, or training-related tutorials. Make sure to break it down so that your video is easy to follow and invite your viewers to share their experiences to encourage engagement with your content.
Behind-the-Scenes
You can also use your YouTube videos to connect with your audience and build trust. Try making a video that offers a look behind-the-scenes of your business. This could be sharing what your office or workspace looks like, talking about the work that goes into creating your product or carrying out your service, or a sneak peek into the ideation process of a potential new launch before it has been made public. This will help to create trust through transparency while also allowing your audience to feel like they are an important part of your business, which they are!
Meet the "Team"
As a small pet business, we have a unique opportunity when it comes to "Meet the Team" videos. Most marketers recommend introducing the people involved in your business – the owners and employees. But we can take it a step further and add a furry twist. Consider introducing not only your human team members but also the pets that are involved. This could include discussing how a pet inspired your business or giving them a cute role in the company, like Chief of Security or Lead Product Tester.
Interactive Videos
Including interactive videos in your YouTube marketing strategy is a great way to take the audience you are building on the YouTube platform and lead them further into your sales funnel. Incorporate fun quizzes or polls to increase engagement and get your audience invested. You can tie these opportunities to a contest that requires them to submit their email address to your mailing list, building your list and opening the door for further communication.   
Customer Testimonials and Reviews
Do you already have customers that rave about your product or service? Has your audience already started to share their opinions on social media? If so, creating videos to showcase their reviews and testimonials is a great way to build social proof and establish higher trust with potential customers. This is also a fun way to highlight some of your customers. Most people love being featured and may even share your content because they were mentioned, further extending your reach.
Q&A Sessions
As a small pet business owner, you likely get many questions about your product or service and the pet industry in general. These questions are often repetitive, but providing a knowledgeable answer is essential when establishing trust and authority in your niche. One way you can address these questions effectively is by creating a Q&A video. This can be done either live or pre-recorded. You likely already have a list of questions to include, but you can also ask your audience to submit questions they want to be answered. This video is one you can share and pin on all your social platforms or embed on your website as an ongoing resource. 
Event Coverage
Many small business owners will get involved in industry-related events, including trade shows, local festivals, or fundraisers. This is a great way to connect with your local community, but don't stop there. Using your YouTube channel to share event coverage allows you to create a lasting record of your involvement and offer a way for followers around the globe to feel like they are involved despite the distance. 
Collaborative Videos
Don't overlook the power of collaboration when planning to use YouTube for marketing. This is a great way to reach a new audience and increase conversions. Look at the people in your industry building an engaged online following that would benefit from what your small pet business offers. Pay careful attention to engagement instead of just follower counts to get the best return on your collaboration efforts. Another option is to connect with other small business owners that complement your own. For example, I have seen a pet baker that specializes in eye-catching dog cakes team up with a pet photographer in their area for a project that benefited both businesses.
Are you currently using YouTube for your small pet business? If not, what is holding you back from taking the first step in your video marketing efforts?
About the Author: Britt Kascjak is a freelance writer and content creator with a background in digital and social media marketing. In addition to being the BlogPaws Director of Content & SEO, she also runs her own personal blogs Shed Happens, The Kas Pack, and Lucifer the Rescue Pup. When she's not working, she can be found volunteering in the rescue space, camping, hiking, canoeing, or spending time with her 3 dogs and 2 cats.