By Michele C. Hollow of Pet News and Views
Someone, who I was close to, called me up to say that she wanted to get rid of her daughter's rabbit. Her nine-year old child was no longer interested in caring for the rabbit because she got a cat, and she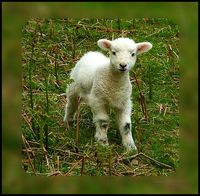 liked the new pet better.
This person knows that I write about pets and wildlife and wanted to know if I knew of a place where they could unload the pet. I told her that replacing one pet for another is a bad lesson to teach a child, and that my site, Pet News and Views doesn't list adoptable pets. My site covers animal welfare and pet care.
All Animals Need Our Love
When I was 13, I took zoology classes at the Bronx Zoological Society. I grew up in the Bronx, and went to the zoo every Saturday to learn about animals. In the summer, when I graduated from the program, I had a choice to either volunteer at the Bronx Zoo or the Central Park Zoo.

Being in Manhattan was far cooler; so, I chose to volunteer at the Central Park Zoo. While at the zoo, I got close to several animals. I was allowed to handle a sparrow hawk, a boa constrictor, and I made friends with ducks, lambs, sheep, goats and other animals in the Children's Zoo. My favorite was a lamb.
I was at the zoo every Tuesday and Thursday. It was my last week in August before going back to school. I raced to the Children's Zoo looking for the lamb. I found out from one of the zoo keepers that the lamb died. I just started sobbing. The zoo keeper took me into the monkey cage with Panzee, a friendly young chimpanzee.
Panzee saw how sad I was and immediately gave me a hug. He sat on my lap as I cried. I don't remember the zoo keeper's name, yet I clearly remember he said: "You must love all of the animals equally."
Pointing to Panzee, he said: "How do you think he would feel if you liked one animal better than him? You really must share your love. Whether, it's chimpanzees, lambs, goats, cats or dogs, you will have a number of animals in your life, and all of them will be special."
Fast Forward
The day I brought my son, Jordon, home from the hospital—10 years ago—a nurse asked me what was I going to do with my cat. I talked a lot about missing Earl Gray (our family cat) while I was in the hospital. So, I guess she overheard me.
I honestly didn't understand the question. Then I learned that many people relinquish their pets at shelters when they bring home a newborn, when they get married, when they want a different pet, when they move, etc.
I had no thought of giving up Earl Gray. Today Earl and Jordon are friends, and Jordon cares about animals.  Children learn so much from taking care of a pet. They learn responsibility and compassion.
A Former Friend
 The woman who called me about unloading the rabbit is no longer a friend. She still has the rabbit and is looking for a new home for it. I feel bad about losing a friend, but I honestly lost respect for someone who would trade in one pet for another.
Giving up one pet because another one comes along is wrong and it is a poor lesson to teach a child. I tell parents to talk to pet owners before they adopt. Parents must be sure their children are ready to pitch in and help.
As a child, we had two dogs. My dad said that he would get rid of them if I didn't take care of them. So, I got up early to make sure they were paper trained as pups, walked them, and fed them. My dad would have given them up if I hadn't pitched in. I didn't think of it as a lot of work at the time. If it was, it was truly worth it. And for my son, I believe he is more compassionate because he has a cat for a brother.
Michele C. Hollow writes the animal welfare blog Pet News and Views. Pet News and Views covers pet care, pet travel, and people who work with and on behalf of animals.