Influencer marketing is a growing industry that is quickly becoming a key marketing strategy for new brands in all sorts of industries, and in the pet industry there are plenty of reasons to partner with pet micro-influencers. In fact, influencer marketing is the fastest-growing customer acquisition method being used by national brands right now.
But it turns out that influencer marketing isn't just for big corporations and influencers with famous pets and millions of followers across the globe. There's also a very realistic opportunity for local small businesses and local micro-influencers to work together for mutual benefit.
For example, maybe you're a small veterinary hospital that can't afford to hire big influencer famous pets or celebrities to promote your brand. Or, maybe you're a local pet blogger or radio celebrity with a small, loyal following. Maybe your famous pet is locally famous. If businesses partner with pet micro-influencers, it could be the perfect partnership!
Let's take a look at how micro-influencer partnerships can provide targeted, affordable advertising for local small businesses in the pet industry, as well as some fantastic benefits for area pet influencers.
What is a Pet Micro-Influencer?
Every industry defines what they consider to be micro-influencers, macro-influencers, and celebrity influencers. There has recently been a new term being thrown around for the super small influencers, now referred to as nano-influencers. One of the main considerations for working with a micro-influencer is niche and engagement.
In general in the pet industry, micro-influencers have less than 100k followers. That could be on one platform, like Instagram, or across several platforms, like Twitter, Facebook, and Instagram.
As mentioned above, it's more important to consider engagement and niche, than follower size in the micro-influencer space.
If you run a reptile only store, then partnering with a reptile influencer with 2k engaged followers is going to be better than a dog influencer with 75k. Keep that in mind when considering possible micro-influencer partnerships.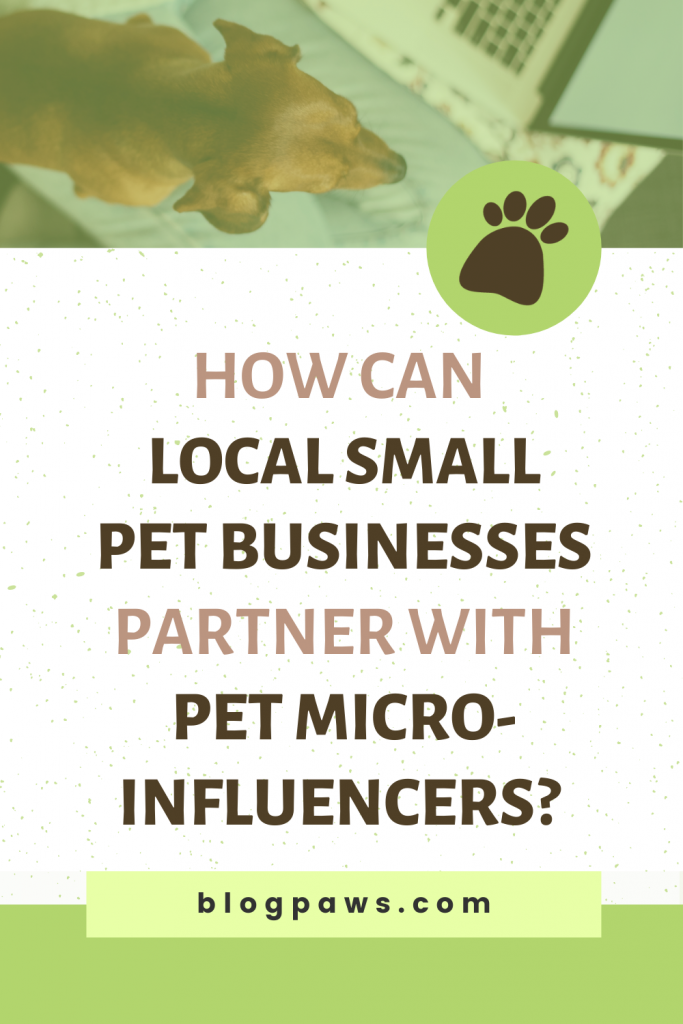 Types of Local Small Businesses That Can Benefit from Partnering with Pet Micro-Influencers
Just about any type of local pet business can benefit from partnerships with micro-influencers, including:
Veterinarians
Groomers
Trainers and Animal Behaviorists
Pet Sitters and Dog Walkers
Doggie Daycares and Boarding Kennels
Dog Bakeries and Pet Boutiques
Micro-Influencers Who Can Partner with Local Pet Businesses
Any influencer with a local following that's interested in pets could be a fantastic marketing partner for a local pet business Here are some examples:
Local personalities who love to talk about their pets and post pet pictures on their social media.
Local lifestyle, travel, and pet bloggers.
Local rescues and shelters with an active social media following.
Benefits of Working with Micro-Influencers for Local Small Business in the Pet Industry
If you're a local small business in the pet industry, you're probably wondering how influencer marketing can help your business grow.
Well, one of the best things about working with local micro-influencers is that they are regular people who are already well known and trusted in your area. Their audience is streamlined by geography and niche, which can mean more targeted traffic for your business.
This strategy extends the reach of your word of mouth marketing, which is incredibly valuable for any small business. When the influencer talks about your business on their social media, their audience will chime in about their experiences with your business. They'll also share those posts with their own friends and family, extending your reach even further.
As you can imagine, all of this sharing helps build trust in your brand. It's also an extremely cost-effective way to improve your online reach and visibility. It will attract new traffic to your own social media and website.
But even more than that, influencer marketing generates relevant leads and influences purchasing decisions in a way that no other marketing strategy can. Consumers will choose to work with a business that's been recommended by someone they trust over one they know nothing about every single time, especially when it comes to their beloved pets.
Benefits for the Influencer
That sounds like a great deal for the small business, but what if you're the influencer? How does this partnership benefit you?
In addition to monetary compensation, small businesses who work with influencers often also include discounts, free products and services, or gift cards when promoting their business by representing them at public events or sending traffic to their website.
Partnering with a local business by co-hosting a giveaway or some other promotional event also boosts reach and brings in new followers for both parties, which can be incredibly valuable when you're building a brand.
But that's not all. Being a well-known influencer can bring new experiences and new business opportunities your way. It's not uncommon for influencers to be offered TV or radio gigs when they become popular in the community. It's a great way to connect with your local community and gain additional publicity for your own personal brand.
Partnership Ideas for Local Small Businesses and Micro-Influencers
The great thing about influencer partnerships is that they're totally scalable. The two of you might collaborate on a one-time event or you might have an ongoing partnership. It's completely up to the two of you and how much time you want to commit.
Brooke Goldstein, Senior Marketing Associate at the Garden City vet clinic, Bond Vet, explained how they've approached this customized type of collaboration. "Since we're a local business with brick and mortar locations, we partner with local influencers and brands to help us reach a wider audience. We reach out to potential partners via Instagram and suggest various ways of partnering, including giveaways, virtual events, a mention in a post, etc."
Curious how to apply this strategy to your business or what to offer as an influencer for mutual benefit? Here are some ideas:
The business could offer exclusive discounts, coupons, or promo codes to the influencer's followers.
Run a contest or do a giveaway on the influencer's social media with a product, gift certificate for a service, or some brand swag donated by the business as the prize.
The influencer could publish a sponsored post written by the business on their blog. Or write a sponsored post themselves about the business. Or, the two of you can do a link exchange on each other's blogs. Always follow FTC and Google rules!
You could co-host local in-person or social media events like vaccination clinics, pet food drives for local shelters, pet costume contests, pet photo contests, adoption events, or fundraisers for local charities.
The influencer could host an event at the business. For example, a new vet clinic has the perfect excuse to put together a grand opening celebration – or even a holiday open house down the road – and have a local pet celebrity act as the host.
The business could let the influencer take over their social media for the day to share behind-the-scenes photos, business highlights, their favorite things about your business, and more.
The business owner could go live on the influencer's social media or vice versa.
The business could host an event specifically for influencers at their facility where they can interact with influencers in person and get them excited about their business.
Both can establish an affiliate marketing partnership where the influencer earns a small commission every time they send new traffic to the business website or initial a sale through a custom link.
The influencer can become a brand ambassador for the business, sharing products, wearing brand swag at local events, distributing marketing materials, and talking about the business at local events or to other media.
Wrapping Things Up
Businesses can start looking for likely partners among their social media followers. Or, if you have the right audience and want to be an influencer, consider reaching out to businesses you already have a relationship with. Don't be afraid to approach people who aren't actively looking for partners… you never know who might be interested in an influencer partnership until you ask.
Are you ready to give local influencer marketing a try?
This post is written by guest author, Nicole McCray. Nicole is a word warrior and covert agent behind the scenes who creates engaging content and captivates audiences. She is a freelancer whose motto is to always be learning.