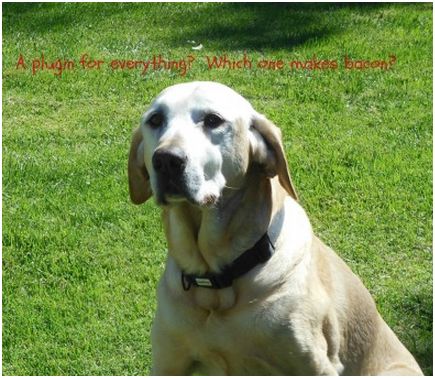 Photo courtesy SlimDoggy
One of the key advantages to using WordPress as your blog publishing system is the fact that there is a robust library of WordPress plugins to help you customize and extend the features of your WordPress site.  Plugins are essentially add-ons that you can install with your WordPress software from the WordPress back end, usually with just a few clicks.  Created by independent programmers and companies, most plugins are available at no cost.  According to the official WordPress site, there are now almost 34,000 plugins available in the WordPress plugin library.  There is a plugin for (virtually) everything.
The Good
WordPress plugins provide a number of functions, some more critically important than others.   Examples of the more popular uses of plugins include performing functions such as:
Backups- one of the more important tasks in running a WordPress site is regular backups.
Security- another critical feature that plugins can provide is adding additional levels of security to your WordPress site.  These plugins can block hack attempts and scan your site contents to make sure that your files are intact and not compromised.
SEO- these plugins can help you ensure that your posts (and your site) are search engine friendly.
Caching- for site speed, many bloggers us a caching plugin to help.
Formatting- making your pages standout with cool fonts and colors is made simple with formatting plugins.
Membership- if you want to have readers sign in to view special content or features, these plugins let you do so (rather) easily.
Social media- designed to help you promote your social media pages and to let your readers easily share your stories.
The Bad: Plugin Conflict
With all the great things you can do with plugins, you still need to be cautious when choosing which plugins to use.  One of the common problems with plugins is what I call plugin conflict.
Plugin conflict is when you install or update a plugin and either something on your site 'breaks' or one or more of the other plugins that you use breaks.  Examples could include the cases where your site no longer loads, or it looks different than it is supposed to look, or your membership page starts throwing an error.  Plugin conflict occurs because the developer of the offending plugin has no practical way to test their plugin against all possible combinations of WordPress and plugins.
Tip: Before you install a new plugin, or update an existing plugin, take a site backup, just in case something goes haywire. Of course, this means you will likely need a backup plugin 😉  I use Backupbuddy, which is a paid plugin, and Updraft Plus, which is free. (More on backups in a future post.)
Examples of plug in information to watch for courtesy SlimDoggy.com.
The Ugly: Security Holes and Hacks
Even worse than plugin conflict is the possibility of getting hacked or spammed because your plugin is out of date or inherently not secure.  While there is no way to know for certain that a plugin is vulnerable to a hack, there are a few steps you can take to choose your plugins wisely.
When reviewing a plugin, look at how many times it has been downloaded.  In most cases, avoid plugins with relatively small download stats.
Tip: The download stats can be subjectively interpreted.  It is impossible to say what the right number is.  I will normally do a search and compare the stats across related plugins (e.g., membership plugins), and look for ones who have strong recent download stats.
About the Author: Stephen Pelletier is an experienced technology and start-up executive with a passion for health and fitness for people and pets.  He is the founder of SlimDoggy.com, SlimKitty.com, and PetsMove.org, which provide tools and tips for pet owners to help them keep their pets fit and healthy. He and his wife currently share their home with Jack and Maggie, two Labrador rescues who never cease to make them smile.
BlogPaws note: During a very popular Google Hangout, Steve discussedWordPress tech tips and tricks for pet bloggers. Highlights of the tech talk for pet bloggers can be found here, with the complete video below:
If you missed the first in the Tech series with Steve, "WordPress: Blessing or Curse" time to catch up!