You're about to attend a conference or live event…as in in-person, in the flesh, nose-to-nose, and face-to-face. Though you want to be networking and spending quality time talking to attendees, hobnobbing with brands, and exchanging business cards in person, a social media action plan is pivotal to your attendee success. This is where social media tips for live events come into play.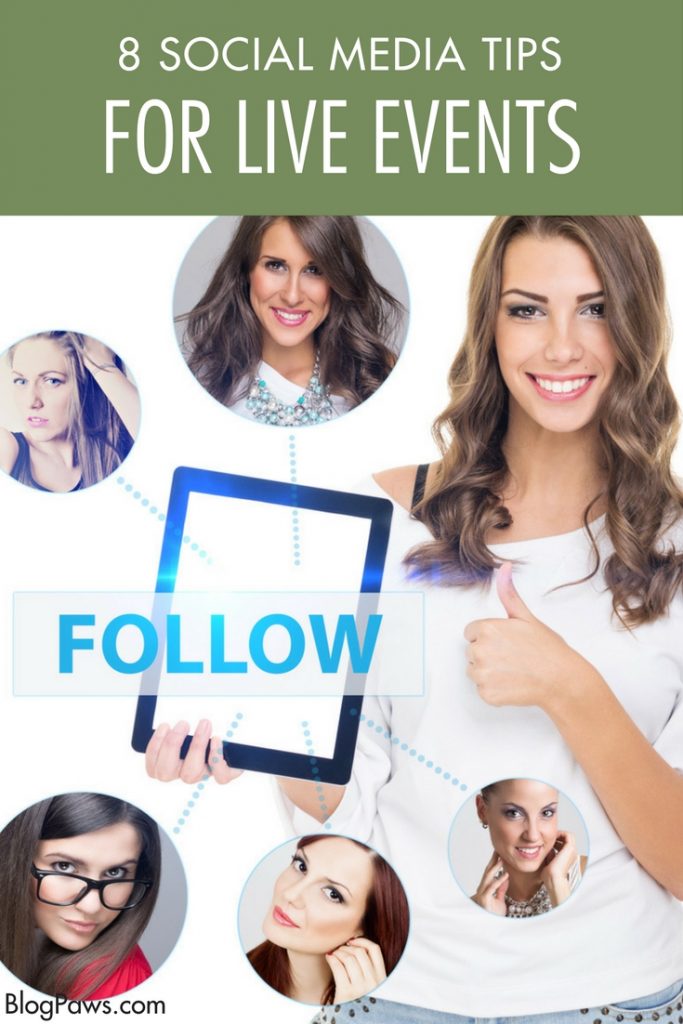 Here are 8 social media tips for connecting on social media during a live event, like for example, the upcoming BlogPaws Conference in Myrtle Beach, South Carolina…and a bonus tip for good measure:
8. Do Your Social Homework in Advance
Save yourself a whole bunch of time and connect with attendees, sponsors, staffers, ambassadors, and speakers in advance of the event. For example: Follow the BlogPaws speakers, follow all the sponsors who make the conference possible, and discover who is attending with the Facebook event group. Say hello, get on the radar or these people, and let them know you look forward to connecting in person.
7.  Let Your Followers Know Where You Are Going
Social media moves faster than the speed of light. If you blog, let your followers know where you are going when, and to follow you throughout the event. Even better, tell attendees on what platforms to follow you. If you are most active on Twitter and Instagram, then get the word out in advance with the official event hashtag. In the case of BlogPaws, it's, yep, you guessed it… #BlogPaws.
6. Schedule (Some) Social Ahead of Time
Face it: At a busy expo, event, or conference, you'll likely be chatting, networking, visiting, learning, eating, and more. Pre-populate your automated schedulers with social content.
Examples:
Twitter: I can't wait to stop by and meet the folks from @NaturalBalance at the #BlogPaws Conference this May.
Instagram: My cat and I are packing for the upcoming #BlogPaws Conference. (Share a totally adorable photo of your cat in your suitcase 'helping' you pack.)
Facebook: Pre-schedule blog content in advance of attending an event so you don't have to fret about keeping up while you attend.
5. Tell an Instagram Story at the Conference
Instagram Stories is totally meant to be used at a conference, event, or expo. What are people missing? Show them, don't tell them, in bite-sized nuggets throughout the day. Even cooler: Use tip #7 and alert followers in advance (but not too far in advance so that they forget; eep.)
I re-purpose my Instagram Stories many times. They disappear after 24 hours. You can use photos or videos or a combo of both. Some of the best video I take is often spontaneous, funny, or cute of my dog. I want my Facebook followers to see it or I make a collage of my week using Instagram Stories.
Instagram Stories is a great way to engage your followers in real time and for a slice of your day, project, blog post, etc.
Visit your Instagram Stories, click the three dots/ellipses at the bottom right, and a menu opens up. Click SAVE onto your phone. You can choose one story or all stories in the past 24 hours. Many of my Facebook followers are not on Instagram, so I occasionally share quality Instagram Stories video content there to promote a blog post.
Don't forget to tag brands, attendees, speakers, and anyone on social you engage with on Instagram Stories throughout the live event. Here's how to tag in Instagram Stories:
Swipe right to open the Instagram Stories camera.
Take a photo or video.
Tap anywhere on the screen OR the Aa icon in the upper right-hand corner to add text.
Type the@ symbol immediately followed by the username of the account you'd like to mention.
Select the correct account from the menu.
You can mention up to 10 accounts in each photo or video you share to your Story.
When you mention someone, they'll get a notification letting them know they've been tagged, as well as a direct message from you that includes a preview of your Story.
4. Follow the Conference or Event Hashtag During the Event
Let's use BlogPaws as an example. During the BlogPaws Conference, be sure to add a #BlogPaws column to your social media scheduler, such as Hootsuite. It makes for an easier experience. You can jump into the conversation at any time, and in those minutes between sessions or at the end of the day, you can follow back anyone you missed that day.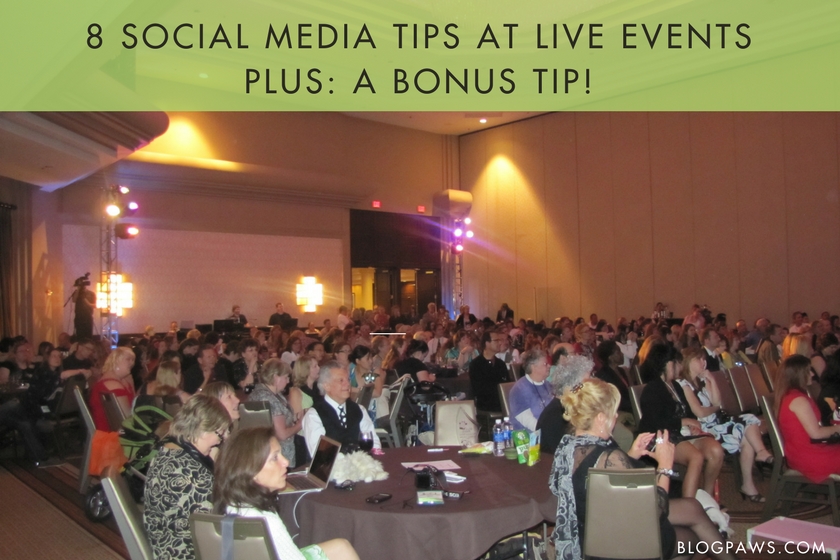 3. Facebook Live at an Event
Engage in real time with your Facebook followers from an event or conference. Maybe you want to set up some interviews in advance. Take advantage of the power of live and walk around the conference with your Facebook live pointed outward. Show people what you are experiencing and let those in your path know what's happening. What better way to get followers to tune in, engage, and see your event engagement? Remember tip #7 or be spontaneous. You don't have to publish to your Facebook feed if you aren't happy with the end result.
Bonus tip: At the start of any Facebook Live video, it takes several seconds or more for notification to go out to your followers. Start by saying, "Hi, this is YOUR NAME and welcome to the replay from EVENT name." Even when folks tune in live, they won't hear that part of the video and you'll want to remind people from time to time where you are.
2. Embrace the Power of the Selfie
Sure, it's great to tweet about a brand, but it is uber-fabulous to include a selfie or image with the brand in your tweet or social share. If there is a brand or speaker whose radar you really want to be on, what better way to embrace the modern day and age than a tagged selfie on social?
1. Harness the Power of Video
Both during and after the event, use video to spotlight a blog topic or social media post. Instead of telling your readers about the coolest cat products you found at the BlogPaws Conference, show them. Splice your videos together with a video app or online software editor. There are so many available these days and many are easy to use and user friendly! (Remember to embed Instagram posts into blog posts later on.)
BONUS TIP: Post Event Write Up
In the weeks following an event, this is when the next level of engagement takes place on social media and on blogs. What did you learn at the event? Who did you meet? What caught your eye? Do you need ideas for what to blog about after a BlogPaws Conference? We have you covered with this oldie but goodie:
50 Things to Write About After a BlogPaws Conference
Don't Stop Now
How Bloggers Can Use Instagram Stories for Success
How to Build a Large and Loyal Following on Instagram
BlogPaws 2017 Conference Alert
Meet me and 500 of the pet industry's best bloggers, influencers, experts, brands, and more. The BlogPaws 2017 Conference takes place May 18-20 in Myrtle Beach.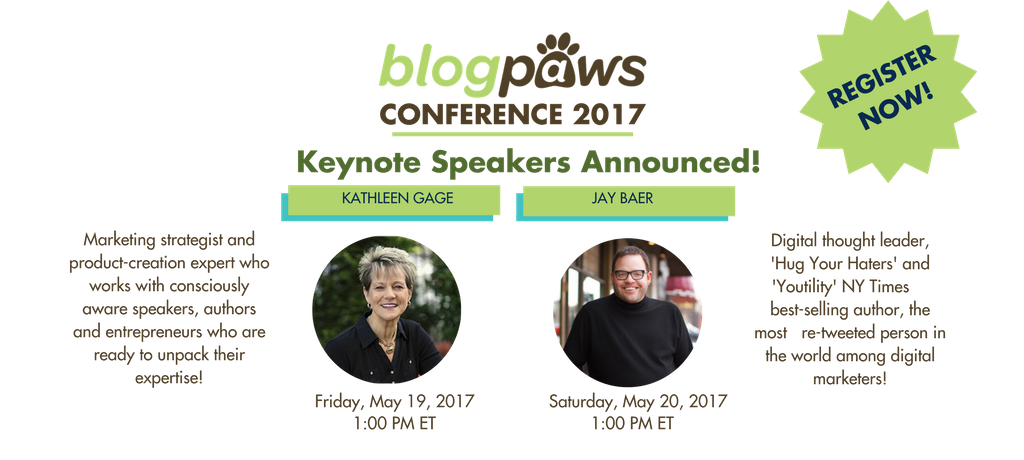 Now It's Your Turn
What's your favorite tip from the list above? Did we miss any? Tell us in the comments below.
Carol Bryant is the Marketing and Social Media Manager for BlogPaws and runs her own blog, Fidose of Reality and its fundraising arm, Wigglebutt Warriors. When not busy playing with her Cocker Spaniel, Dexter, she stays far away from cooking. Her trademark is her mantra and is tattooed on her arm: My Heart Beats Dog.®
Images: BigLike Images/Shutterstock.com and Carol Bryant