This post is for all pet parents and pet bloggers who want to grow your pet's Instagram account! I started my dog's Instagram account @genevieve_the_cute_dog over two years ago. And within a month, bam! She gained 15,000 followers.
Just kidding.
It wasn't that easy.
It took us a couple of years to reach 18,000+ followers. It was a lot of work, and one of the things I've learned is that the success of an Instagram account is not about how many followers you have. Yes, it makes a large difference, but engagement is the thing that makes you look outstanding compared to other Instagrammers.
Just to define engagement… it is the interaction with followers who are active on your account. They like, comment, repost, etc.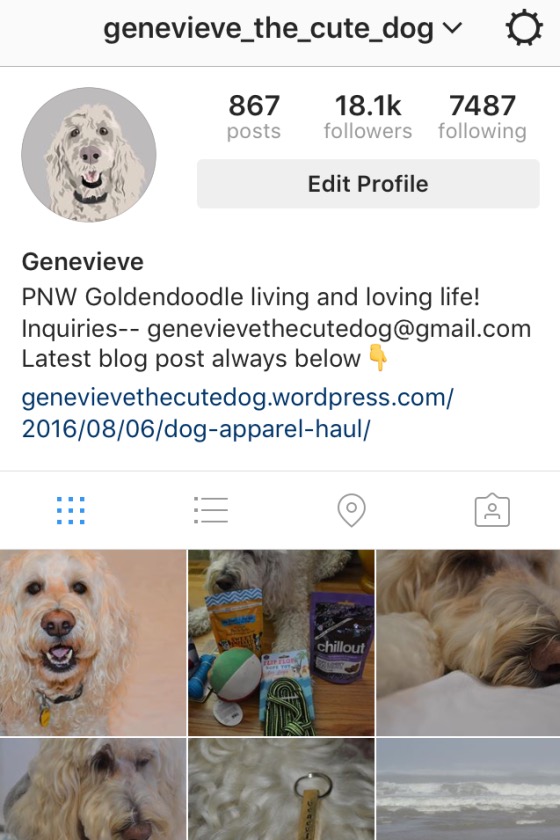 Start with the Right Name
To attract loyal followers, you need to have a catchy username. Our username was originally @genevieve_the_cool_dog but a follower commented we should change it to @genevieve_the_cute_dog, since it fit more with our photos. Your username should be simple and easy to remember. Make it relevant to your account so that it is more memorable. A great example of this is @honeyidressedthepug.
Develop Your Niche
Next, you need to have a solid niche. This is something I'm still working on. If you look at the most developed pet Instagram accounts, they don't have screenshots and random photos. Refrain from posting something your friend texted you or something that you captured from a screenshot off of Pinterest. Your feed needs to flow. So, if you upload mostly photos of your dog, just keep on doing that!
This also means that if you work with companies, you need to make sure your feed won't suffer because of it. It's okay to turn down offers that aren't a good fit because your followers will know you did it for the money or product. I only accept business proposals that advocate holistic items and have something to do with pets. I sometimes advertise products that are for humans, but they donate some of the earnings towards shelters, which fits within my policy.
Edit with a Purpose
You should also edit your photos the same way. Don't make your Instagram feed a jumble of different filters and edits. It will not be as appealing. You should use the same filters, effects, and edits for your photos to create unity throughout your account.
For an example of consistent styling and more tips on growth, check out the post Bernard Lima-Chavez, BlogPaws' campaign manager, wrote about his Instagram growth experiment.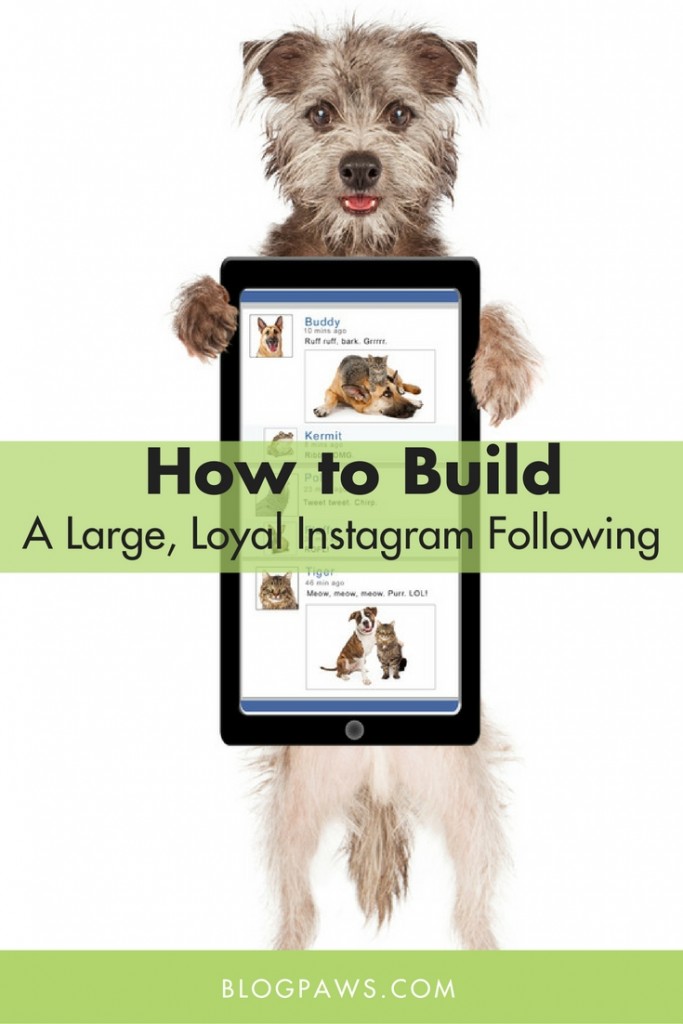 Make Friends on IG
The best way to get followers to engage is to make "Insta-friends". Comment on other people's photos, like their photos, follow people, but be genuine. Instead of commenting, "Cute ears," comment something like, "It must be fun to take slo-mo videos with those floppy ears! So adorable!" When you put more thought and effort into your comments, the user is more likely to look at your account and follow you back.
Positivity is essential to growing relationships within the digital world… and the real world. What questions do you have about growing your pet's Instagram account? What tips and tricks have worked to expand your Insta-audience? 
Elizabeth Prater is a pet blogger, using her own blog genevievethecutedog.wordpress.com to provide pet reviews and advice to all those who read. Her main platform is on Instagram (@genevieve_the_cute_dog) where she posts photos of Genevieve's life! You can find occasional videos on their YouTube channel. The dynamic duo has lots of fun off and on camera.
Images courtesy of the author and Retriever Tails, edited by Scott the Toller
Image: Susan Schmitz/Shutterstock
Save