Instagram is at it again, and once more savvy bloggers can use the new Instagram Stories feature for success if a strategy is in place. Yes, everything these days seems to require a strategy: Proper planning and all that jazz.
What Are Instagram Stories
From the Instagram blog, "Instagram stories is a feature that lets you share all the moments of your day, not just the ones you want to keep on your profile. As you share multiple photos and videos, they appear together in a slideshow format: your story."
One thing that annoys followers on Instagram is overposting. By utilizing the Instagram Stories feature, the concern of overposting is diminished. If you are familiar with SnapChat, it works in a similar fashion. You can share photos, short videos, add text and Emojis overlays, and even get creative with drawing tools.
There is one caveat: The photos and videos will disappear in 24 hours and they do not appear on your feed.
Here are some of the questions we've seen floating around the pet blogosphere lately and our response to those concerns.
Where Do I Find Instagram Stories Within the App?
Head over to your Instagram feed and check out the top portion. See those circles? Those are populated with "stories" from your favorite accounts, friends, etc. If someone posted a new "story," a colorful ring encircles it.
Click on the '+' sign in the upper left corner and that's what to tap to begin a story of your own.
You'll see stories from people you follow in a bar at the top of your feed — from your best friends to your favorite popular accounts. When there's something new to see, their profile photo will have a colorful ring around it. Like this: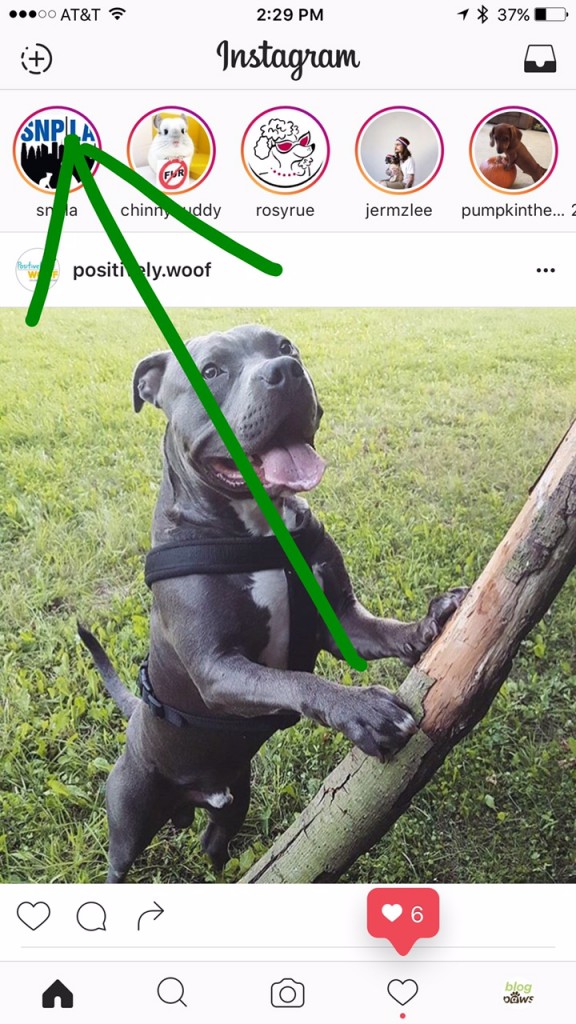 Why Don't I Have Instagram Stories On My Phone?
According to the official Instagram blog, Instagram Stories will be rolling out globally over the next few weeks on iOS and Android.
Is There a Quick Instagram Tutorial For This?
Yep!
Quick Facts About Instagram Stories
People can interact on Instagram stories by DMing you unless you turn that feature off in settings.
Stories are not regular posts, so there are no likes or public comments.
Your story follows the privacy settings of your account.
Scroll through stories by swiping right for the previous story or left to go to the next one. You can also tap to skip a story (video/photo).
Add content from your cell phone if it occurred in the past 24 hours. Once in the Instagram stories feature, swipe down and you'll see a bar of content from your phone's camera roll across the top from the past 24 hours. Add to your Instagram story from here if desired.
Can I Save My Instagram Stories?
Yes! Open the story, and click the three dots at the bottom right and this screen pops up for a variety of options. If you add it to your timeline feed, then your account's privacy settings apply.
Why Would Bloggers Want To Use Instagram Stories?
Profile the daily "behind the scenes" of your blog or account.
Engage with the people who are viewing your stories. This is my favorite feature. You can see who watched your "story" by tapping on the number of at the bottom of your story. That will open a second window that shows everyone who has viewed the story! The beauty of this is you can engage with those folks on their Instagram accounts, follow them, like their content, and in turn, this helps foster your Instagram community. I've already gained followers using this tactic.
Show the world something you are working on: Brands are leveraging their own content on this new feature.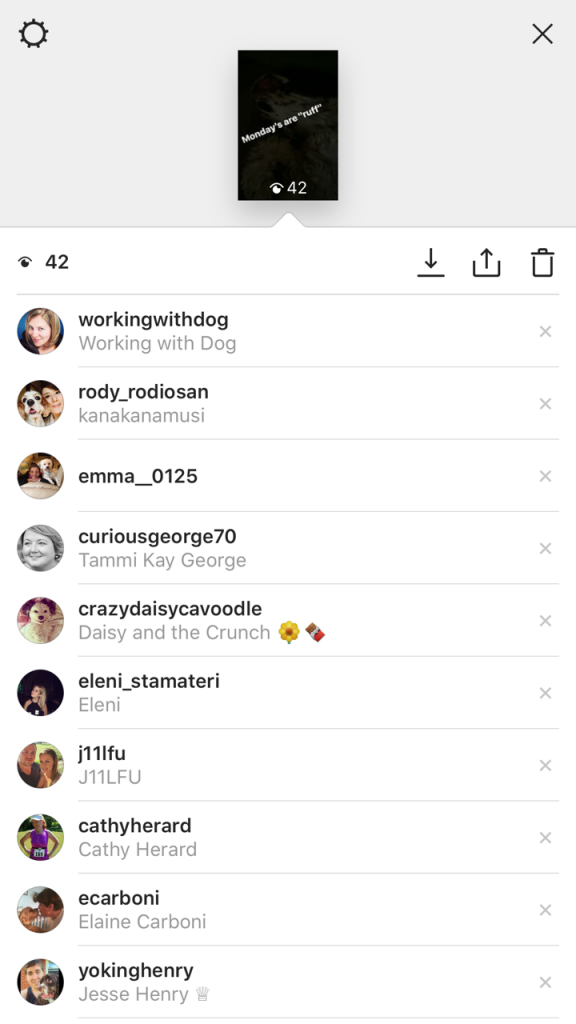 Why Does It Disappear in 24 Hours?
According to Instagram, the disappearing act after 24 hours allows users not have to "worry about overposting" and clogging up their profile in the process.
As your community grows and you produce great content, even in small segments for an Instagram story, folks will want to tune in to be sure they didn't miss out. They will wonder what's happening on your storyline!
24 hours is a day: What happened in your day? Tell it in an Instagram story and repurpose it if the story is one you want to share across platforms.
BlogPaws is on Instagram. Follow us and we will follow back!
Are you using this feature? What are your thoughts on it?
Want more like this? Catch up on Instagram In a Weekend here.

About the Author: Carol Bryant is the Marketing and Social Media Manager for BlogPaws and runs her own blog, Fidose of Reality and its fundraising arm, Wigglebutt Warriors. When not busy playing with her Cocker Spaniel, Dexter, she stays far away from cooking. Her trademark is her mantra and is tattooed on her arm: My Heart Beats Dog.®
Images: shutter_o/Shutterstock.com and Cathy Keifer/Shutterstock
Save
Save