This
year, BlogPaws is adding a lot of new things to our already fab conference. In
May, when 500 pet industry leaders, bloggers, celebs, and brands descend upon
Tysons Corners, you'll be treated to many things, one of them being the
addition of Lunch Pack Leaders!
BlogPaws has a full schedule with quality speakers and topics, but we know
there is always more talk about and more to learn. Our Lunch Pack Leaders have
compelling topics for conversation that will be held over lunch on
either Friday or Saturday.
You will have the chance to sign up at the conference starting
Friday morning at the registration desk. There will be limited seating
for these round table discussion lead by our experts in these tabs.
We've
got an exclusive interview with Dana Humphrey who happens to be an LPL (Lunch
Pack Leader). Sit at Dana's table where she'll be dishing "Who's Who in the Pet Industry." Want the scoop ahead of
time? Here we go:
BlogPaws: Hey Dana, thanks so much
for joining us. Tell us a bit about yourself.
Dana Humphrey: I am from Astoria,
New York, and this is my first time attending BlogPaws. I'll be a Lunch Pack
Leader for "Who's Who in the Pet Industry: Movers & Shakers."
BlogPaws: Sounds great, Dana. What
sort of info will you be dispensing?
Dana:  Find out about the pet players and who is who
in this exciting world, and discover the niche that's perfect for you. Hear
about product distributors, major retailers, pet shops, boutiques, catalogue
businesses and how to market a pet e-commerce site. Explore hosting designer
doggie trunk shows and learn about partnership opportunities with trainers,
shelters, groomers and sitters. Learn about the importance of including
non-profit organizations into your business plan. Practice marketing yourself
and your business.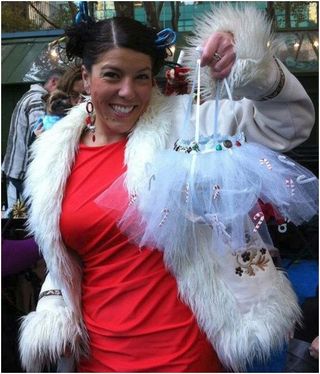 BlogPaws: What is your
favorite aspect of attending BlogPaws/what do you most anticipate as an
attendee?
Dana:
I'm excited to network and say hi to
all my pet blogger friends.
BlogPaws: What is your background in
the pet industry?
Dana: I am the Owner of Whitegate PR,
is a Marketing and PR Consultant  in the pet industry. I  launched Pet News Now with Co-Founder Amanda Leesburg. A FIT
(Fashion Institute of Technology) Professor, I currently teach Who's
Who in the Pet Products World: Makers, Shakers and Social Media and an
Introduction to Pet Branding.
BlogPaws:
Just for fun, what is something about you people would be surprised to learn?
Dana:
I have been to over 40 countries and
I love exploring the sky and sea – from Sky Diving to Scuba Diving.
BlogPaws: Do you have any pets?
Dana: I do! I have Monster the gold
fish. (photo below) His tank was designed by pet fashion designer Ada Nieves. He
was in a fashion show with a bunny, some dogs and cats and an iguana. At an
event in December called Whiskers in Wonderland – an old drunk man showed up to
this Cat Adoption Event, with a big brown paper bag. He was there to relinquish
his fish. He had won a goldfish at a fair about 6 months prior – fed him 3-4
times per day and decided that he got too big and he couldn't handle it
anymore. He named him Monster due to his very large size. At this cat adoption
event, everyone is freaking out about the man trying to drop off his fish. I
decided to take Monster home. Monster is an unusually large goldfish. Monster
is a trooper. He has been in several fashion shows – including at Bryant Park
and on Anderson Cooper. He had several tanks – including a Teddy Tank – http://www.teddytank.com/default.aspx.
He gets VERY special treatment. Happy to send you photos or answer more
questions.

BlogPaws: What is one site you go to
daily and one blogger you follow?
Dana: I Have Cat – Tamar is the
blogger and a site I visit daily is LinkedIn.
BlogPaws: Finally, where can folks
find you online?
Dana: On Facebook: www.facebook.com/WhitegatePR
On Twitter: @danakhumphrey  
On LinkedIn: http://www.linkedin.com/in/danakhumphrey 
Ready to take your blog to the next level
or learn how to get started? BlogPaws 2013 Registration is in full swing. Join
us May 16-18 in Tyson's Corner, Virginia. BlogPaws is a pet-friendly 3-day life
changing conference! Register for BlogPaws 2013 here. P.S. You
will have access to a variety of "tracks," including 101 for Beginners, 201 for
Intermediate level, and even a Pro Level for seasoned bloggers who want to take
their blogging and goals to the next level. An exclusive 4th track
will cover a variety of topics from Law to Lifestyle to Be the Change for
Animals.