Guest post by Angie Bailey
Last year I attended the inaugural Internet Cat Video
Festival at the Walker Art Center in Minneapolis. It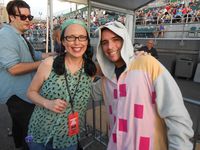 was practically in my
backyard and, honestly, I expected maybe several hundred people to attend the
screening that happened in an open field beside the Walker. What I didn't
expect was the more than 10,000 spectators who showed up to collectively laugh and
"awww!" together while we shared some of our favorite cat videos.
This year, I was one of the 20 jurors for the festival,
which was incredibly fun and quite an honor. The fest was moved to the
Grandstand at the Minnesota State Fair. It was no longer free ($12 fair
entrance and $10 festival ticket), and a little fewer than 10,000 showed up,
which is pretty impressive considering the heat and the cost.

I had a press pass, so I was able to move around a little
more freely. Before the show started, I got to meet the creators of Nyan Cat,
Keyboard Cat and had a chance to sit down and talk to Mike Bridovsky, the man
behind Lil Bub. Oh, and did I mention I was petting the pint-sized Internet
sensation the entire time? It's true. Don't be jealous.
After two bands took the stage, the hosts conducted brief
interviews with some true online cat celebrities and/or their humans, which
included:
Will Braden, creator of the French existentialist, Henri,
videos
Paul Klusman and TJ Wingard, better known as "The Cat
Engineer Guys"
Chris Torres, creator of Nyan Cat (dressed as our favorite
flying Pop Tart)
Charlie Schmidt, creator of Keyboard Cat (who sported a
bright blue beard)
Maddy Kelly, the adorable little girl from Kittens Inspired
by Kittens video
Sweet Lil Bub and her human, Mike Bridovsky
The ever-indifferent Grumpy Cat and her family/entourage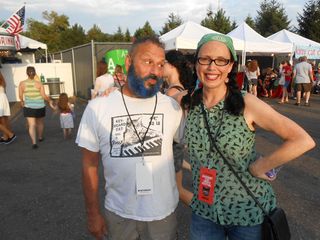 The video reel began and everyone went nuts! You know, cat
people just don't get to connect face to face on this level very often. Thank
goodness for a conference like BlogPaws! Dog folks are always outside, walking
and hanging out at parks. Cat lovers tend to stay indoors and develop
friendships online. It was such an indescribable treat to sit among thousands
of fellow feline worshippers and laugh together at a cat in a shark costume
riding a Roomba.
Grumpy Cat wound up winning the
coveted Golden Kitty award, which Henri scurried away with last year. Fellow
BlogPaws blogger, Alana Grelyak (Cat in the Fridge) was runner-up with her clever video called Catalogue.  Congrats to Alana!
The only part of the festival that was less-than-fantastic
was the fireworks at the end of the night. The host warned us that Lil Bub was
stressed and asked us not to clap or scream when she came onto the stage. Then,
shortly after that, they set off fireworks, which cats do not like. They even hurt my ears! I sincerely hope they nix that
part of the program next year.
Overall, it was a memorable night. I was thrilled to meet
some really fun people – how cool that they were all in one place! A cat lady's
paradise, to be sure! I have to say, though, I did miss the more relaxed venue
of the Walker. I enjoyed stretching out on a blanket and bringing my own
cooler. Also, people could bring their cats last year and there were booths for
rescue organizations.
I'ill go again. The spirit of camaraderie and
shared love of all things kitty were absolute elation. Everyone was in a
fantastic mood, smiled and felt instantly connected to one another. It was like
a Grateful Dead concert … but with cats.
About Angie: She is an author, freelance writer, blogger, performer and humorist. Her new book, whiskerslist: the kitty classifieds will release on September 3, 2013. Pictured upper right: Angie and Chris Torres of Nyan Cat. Pictured lower left: Angie and Charlie Schmidt of Keyboard Cat.