by: Carol Bryant
Controversial blog topics are definitely reader and traffic inducing, but as with all blog topics, there is a way to approach them, handle the content, and respond to feedback.
How far is crossing the line? What won't you write about? Is there anything that doesn't deserve the spotlight? How do you handle "haters" and "trolls?" What about the folks who respond and aren't so nice but they provide their name, email, and/or Facebook info: In other words, they aren't hiding their disdain to something you wrote?
Do you have a set of blogging guidelines and editorial etiquette in place? Even if you don't accept guest bloggers, is having a set of guidelines something you intuitively follow? Read on…
1. Your words can and will be copied, pasted, and shared. If you write something controversial, especially in the form of social media or blogging/microblogging, you can be nearly certain that someone, somewhere, will share it: Hence, the word "social" in "social media." Are you prepared for the attention, backlash, and commentary your post might garner?
Case in point: I wrote a blog post titled, "Five Things Your Vet Should Never Say To You," and though the post was very popular and garnered a lot of views, shares, and feedback, I kept abreast of where it was being shared. These are my words and my reputation, after all. Set a Google Alert at the very least and follow your post.

2. From a journalist standpoint, one of the steadfast rules I follow is to have solid resources in place to support a strongly worded piece. If I am tackling a controversial topic, I want to be sure I have my ducks in a row and sources in place. If the piece is an opinion, be sure to state this in your post. We recently talked about the notion of blogger vs. journalist in the BlogPaws Community, so hopefully you've followed along in that discussion.
3.  Don't get personal. In the event someone bashes me, calls me names, becames defamatory or otherwise puts me down, their comments are toast. Civil debate is encouraged, but being plain mean and offensive should never be tolerated. Watch what you put in writing, so resist the urge to blast someone with your words: they can end up splattered all over Facebook, Twitter, etc. BlogPaws has a set of community guidelines you are welcome to peruse for inspiration in your own blogging writing policy.
4. Be a fact provider and use visuals. Have a link to a study? A chart? A graph? Your own fact-based infographic? These are all tools of the trade when you want to support a controversial topic. They are not all needed but they sure help carry words. Facts help prove a point.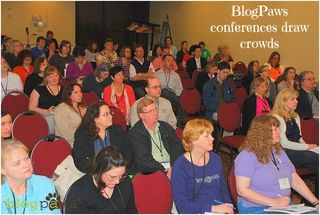 5. Will you alienate anyone as a result of your words? Prepare for this and have a "how far do I really want to go" element in place. I tend to follow my gut but fact check with my head. That's my job as a journalist and a blogger: To separate fact from fiction, follow my gut, but be able to substantiate my opinion with why I feel that way while providing sources for fact-based posts.
Knowing these 5 elements, do you still want to write about controversy? For me, the answer is yes. I am neither true to myself nor my readers if I stray from topics that speed the heart rate.
If you want to write about a controversial topic and have no clue where to start, consider that not all controversy has to be negative. Sometimes, controversy is merely taking a stance on a hot topic: Case in point: "How to Spot a Bad Dog Walker" makes a good headline: Just be sure to deliver.
Your readers will remember your post one way or another. You certainly do not want to alienate people by turning them off with a headline that does not deliver.

Have you tackled a controversial topic? How do you handle negative feedback? We're all ears.