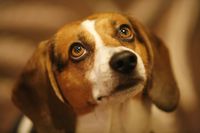 BlogPaws the conference is only 9 weeks away! It's hard to believe we began planning this event almost a year ago. Well, at least 10 months ago, right after BlogPaws West in Denver where this little guy's picture was taken. And, we're already beginning to plan for 2012. If you're new to BlogPaws, or if you missed Denver's event, visit our photo page and get a glimpse of what went on. BlogPaws West Photos.
For those who are still on the fence, so to speak, here are 10 Reason You Should Be at BlogPaws the Conference 2011 –
1. Our presenters are professionals and experts in their industry. If becoming a better blogger is a goal of yours, BlogPaws is the place to be to move yourself forward at least 6 months!
2. You will learn tips and tricks on how to monetize, write better, design, connect, and increase readership to your blog, Twitter or Facebook page – and be able to implement them the same day!
3. You will have an opportunity to learn new tools that can increase your performance online. Tools like StumbleUpon, Email Marketing and more. These are tools you should be using now, and you may be using now, but after attending BlogPaws, you will be 100% more effective at using them.
4. Registration is still a low, low $179.00. You get ten times the value you'd get if you took a college course in social media. Yes, you will learn more in these two days than in a whole semester of one college course!
5. You'll meet tons of new friends and their pets. Well, more friends than pets but there will be a good many pets there. We're very pet friendly! (someone asked about bringing her horse – seriously, we would love to see your horse, but…the hotel has to draw the line somewhere!)
6. BlogPaws is the BEST place to connect with pet brands. We have all kinds of pet brands at BlogPaws. Their reps and executive marketers or PR folks are eager to get nose-to-nose with our pet bloggers. This is your chance to tell them how to do their job. No…wait… this is your chance to offer some insight into how you feel they should do their job. That's better.
7. We'll have tons of swag. Yes, tons.Just ask attendees from previous conferences.
8. Our Be the Change folks have something exciting and new in store. But, you have to be there to find out what it is. And, Miah (seen here from BlogPaws Denver)
is also preparing a performance that you don't want to miss! [in conjunction with Bz Tat – now, seriously, you know it will be good!]
9. Our keynotes are the finest in the world.
10. Joining us in Tysons Corner, VA this year will change your life. I do not say that lightly. This conference, and our growing community, are focused on you – Mr. or Ms. Pet Blogger. There is no where else to get this kind of focused attention.
The world of the pet blogger is unique. So unique that other social media conferences just can't offer the kind of fun, excitement and education BlogPaws does. Yes, we are open to folks who love pets but don't necessarily blog about them. Why not? We're providing expert training and education. But, at the core of everything we do at BlogPaws is the belief that pets matter. Pets count. Pets help make our world go round. Pets help make THE world go round.
So, when you're thinking about how to monetize your blog, think about coming to BlogPaws for advice on that – from folks who have monetized their blog.
When you're thinking about how you'd like to meet your favorite pet bloggers nose-to-nose, think about how many will be at BlogPaws and how excited they'd be to meet you, too.
When you're wondering how to do better SEO, or create more compelling content, or build a brand, or write a pet book, or take better photos and make better videos and how to get paid to write for a bigger pet blog, think about coming to BlogPaws where you'll get the answers to all those questions and more.
And, when you're thinking about all the dogs, cats, ferrets, birds, horses, goats, pigs, etc. who need your help – think about BlogPaws and how your attendance will benefit several shelters in need.
Think about meeting some big names in the shelter/rescue world – including some of your very own pet blogger friends who do amazing things every day.
Then… think about not being there!
Woody Allen is quoted as saying, "80% of success is just showing up." If you show up, we'll do the other 20% by providing the best conference ever.