Guest Post from members of Embark 
In a country which is home to just over 20 million people and an estimated 2 million stray dogs, a litter of pups, normally beautiful and heartwarming, is seen as a menace and a curse. Many such unwanted litters are born into the terrible conditions of street life, with many pups dumped near markets, temples and public places every day.
The situation is compounded by large sections of society where owned dogs are given free rein to wander the streets with strays. This coupled with a culture which is only slowly warming to the concept of spaying/neutering creates a vicious cycle of uncontrolled litters, dumping, and increase in the number of stray dogs. For a Sri Lankan stray pooch, there are few safe corners.
As Sri Lanka moves on through the 21st century, its capital city Colombo has developed into a fashion and technology hub. Kids, teens and adults alike are more conscious of the latest trends in technology, electronics, media, clothing etc. Where people are looking for a degree of uniqueness, sophistication, and class in everything they do, Embark's clothing and accessories line that supports and advocates care for community/stray animals has gone a long way toward combining a passion for animal welfare with the latest fashion trends.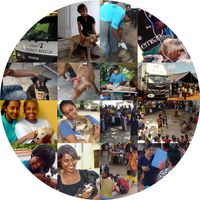 Embark's "Pashionable" campaign rode on a range of clothing with a several design themes, launched for the Spring and Autumn seasons The campaign raised awareness on the plight of several thousand stray dogs in Sri Lanka, while encouraging the public to be a "Pashionable person" and adopt a stray. Print media marketing went hand in hand with online and social media events that brought together animal lovers and local celebrities who supported the cause of adopting strays and improving animal well-being. Embark products and apparel have garnered a cult following.
How Embark came to be
Because there are so many strays that are often victims of road accidents and with no access to veterinary care they usually experience long drawn-out deaths on the streets. They are also prone to rabies, infections, mange, ticks, fleas, dog fighting and several atrocities inflicted upon them by ill-tempered passers-by. This vicious cycle continues and also gives rise to the spread of rabies. Reports state that Sri Lanka is among the countries with a higher number of human deaths due to rabid dog bites.
What Embark is all about
Taking all this into consideration, Embark was launched in March 2007 with the overriding objective of enabling humans and animals to live in harmony by changing the attitudes of people towards animals, improving their wellbeing and reducing animal cruelty.
The main focus of Embark is the stray dog. Two parts guardian, three parts loyal companion, four parts faithful friend and one part crow-chasing, meal gulping hyperactive maniac; the Sri Lankan street dog is an enigmatic creature indeed!
The Embark team consists of ardent dog-lovers working closely with veterinary clinics and organizations supporting animal welfare, rabies eradication and stray dog population control.
Embark's key activities include large scale CNVR campaigns, sterilization surgeries, puppy re-homing campaigns, caring for injured stray animals and vaccination for rabies eradication. Each of these activities is supported by a comprehensive and consistent campaign of education. To date, this has been achieved by raising awareness of the importance of animal welfare, and advocating practical approaches to connecting with stray dogs and communicating the importance of treating these community animals with respect.
Anyone interested in supporting or finding out more about Embark can visit the website (www.embark.lk), Facebook page, Flickr photostream, and stay connected to the EmbarkLK twitter feed.