Paying close attention to trends and innovative brands is critical to truly understanding the workings of the pet industry. As an educational media company, the BlogPaws Team has the opportunity to attend and cover large industry events where the major trends are apparent and these innovative brands exhibit their latest products.
Recently the team attended SuperZoo 2022 in Las Vegas, NV and hit the tradeshow floor scouring for the best of the best in a wide variety of categories. The team then came together to award BlogPaws Best ribbons to 23 products or brands that left a lasting impression.
Each of these brands has pushed the pet industry in some shape or form. Keep reading on to find out just how these brands stood out and how they are changing the pet industry.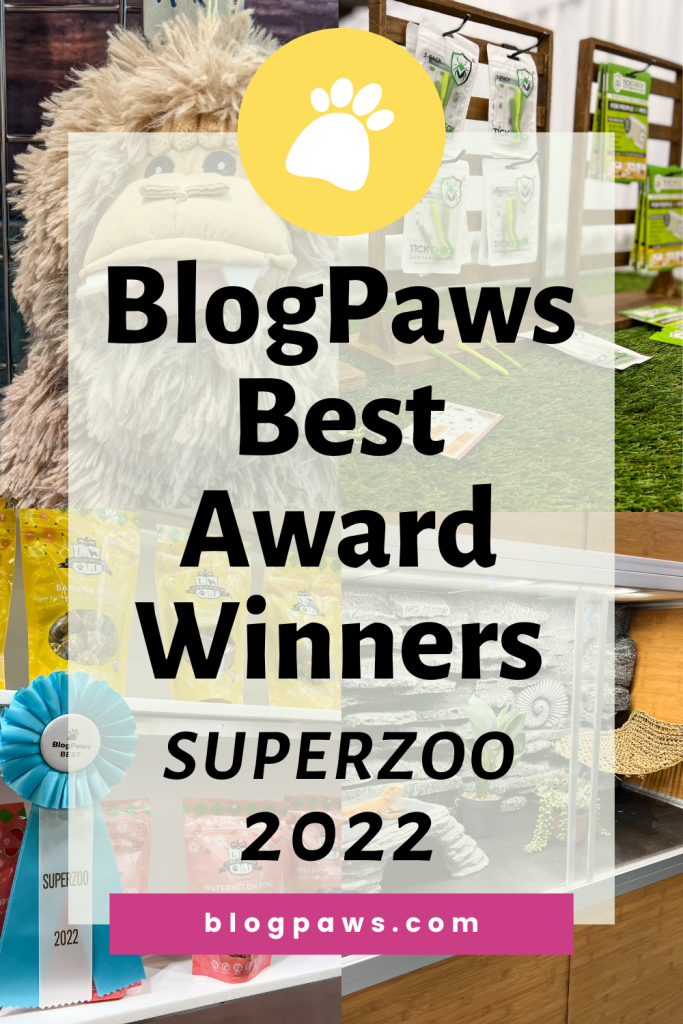 What are the BlogPaws Best Awards?
The BlogPaws Best Awards were started in 2012 to highlight and honor pet brands for their innovations and commitment to bettering the lives of pets everywhere. After a bit of a hiatus, we are excited to bring the awards back for SuperZoo 2022.
This year we are awarding BlogPaws Best in 18 categories along with a "Best in Show" for each of our 5 team members. During the tradeshow, our team divided the show floor to find products or brands that might be in the running for winning each category. Then – like any good team does – we gathered together for an entertaining debate to determine the winner of each category. And when we say debate, we mean it! There were many amazing brands considered and we're thrilled for what that means about the future of the pet industry.
Once our winners were selected, they were awarded a BlogPaws Best ribbon on the show floor that they could then proudly display in their booth for the remainder of the show.
BlogPaws Best Award Winners at SuperZoo 2022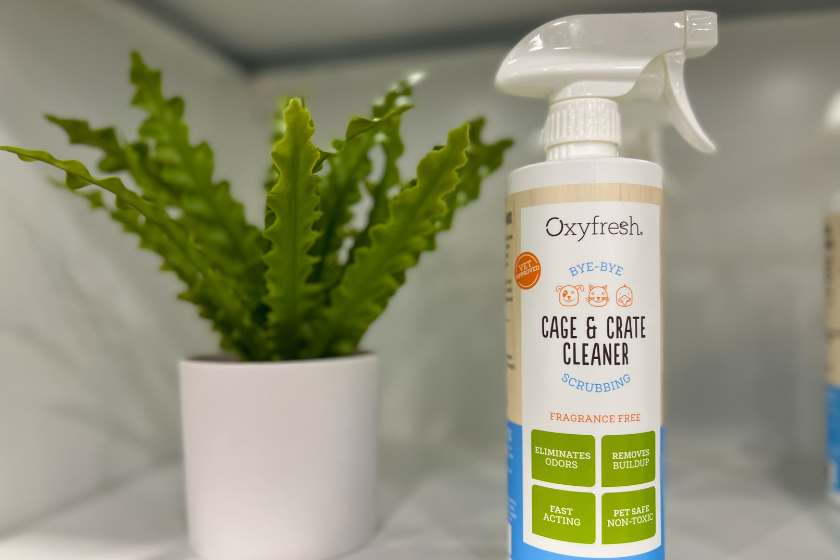 Best New Product: Cage & Crate Cleaner by Oxyfresh
Deciding on "Best New Product" was tricky for the team, but it came down to recognizing that small animals and birds aren't always represented within the pet industry itself, and when they are, they don't always get products that are actually developed with their needs in mind. The Oxyfresh Cage & Crate Cleaner jumped out to us because it provided an effective cleaning solution that is safe to use around the pets it's for.
Small animals and birds have different sensitivities to dogs and cats. In fact, something as simple as a self-cleaning oven can be harmful or even deadly to birds! That highlights the importance of having a safe, but working cleaner to keep these pets healthy and safe.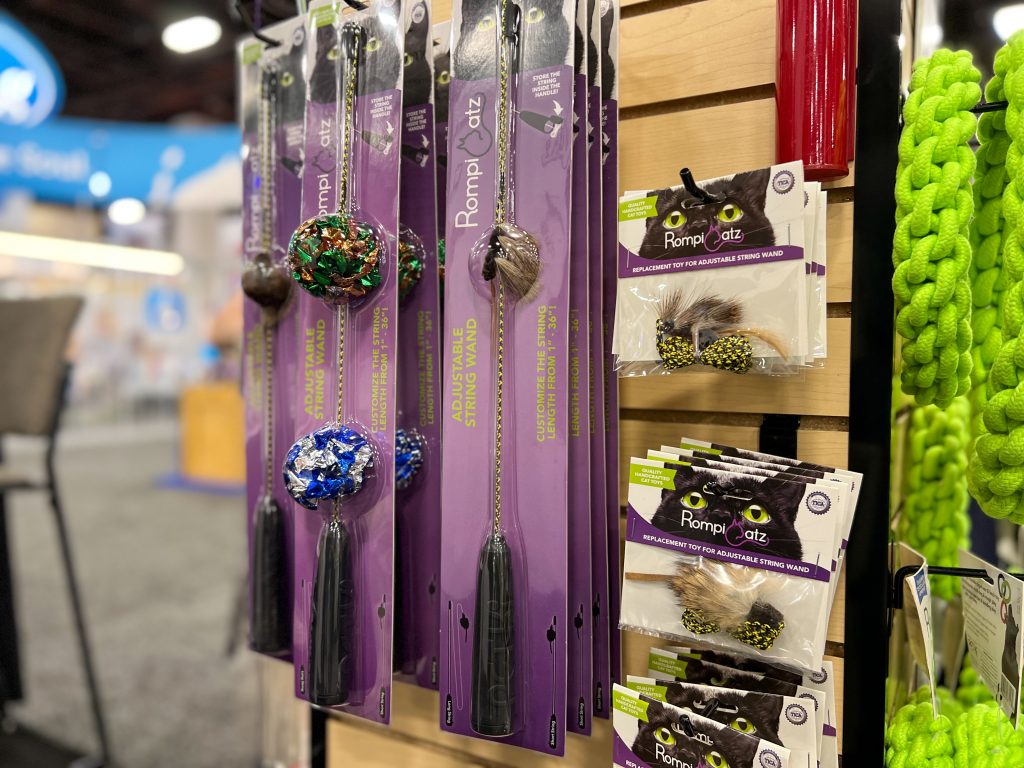 Best Cat Product: Adjustable String Wand by RompiCatz
For our "Best Cat Product", we were looking for something that was truly different, a product that improved the lives of cats and cat parents everywhere even with just a minor update to something we know and love. And that's exactly what we found in the RompiCatz Adjustable String Wand.
We all know and love a good cat wand. Some are made better than others, but they almost all get tangled. That's where this wand stood out. Not only does it have a more comfortable handle to hold while playing with your cat, but that handle is designed to store the wand string so it doesn't get tangled with itself or other wands. Our team's go-to cat expert, Emily, was excited by this product because she stores her wands together, and detangling them is a regular, unenjoyable activity.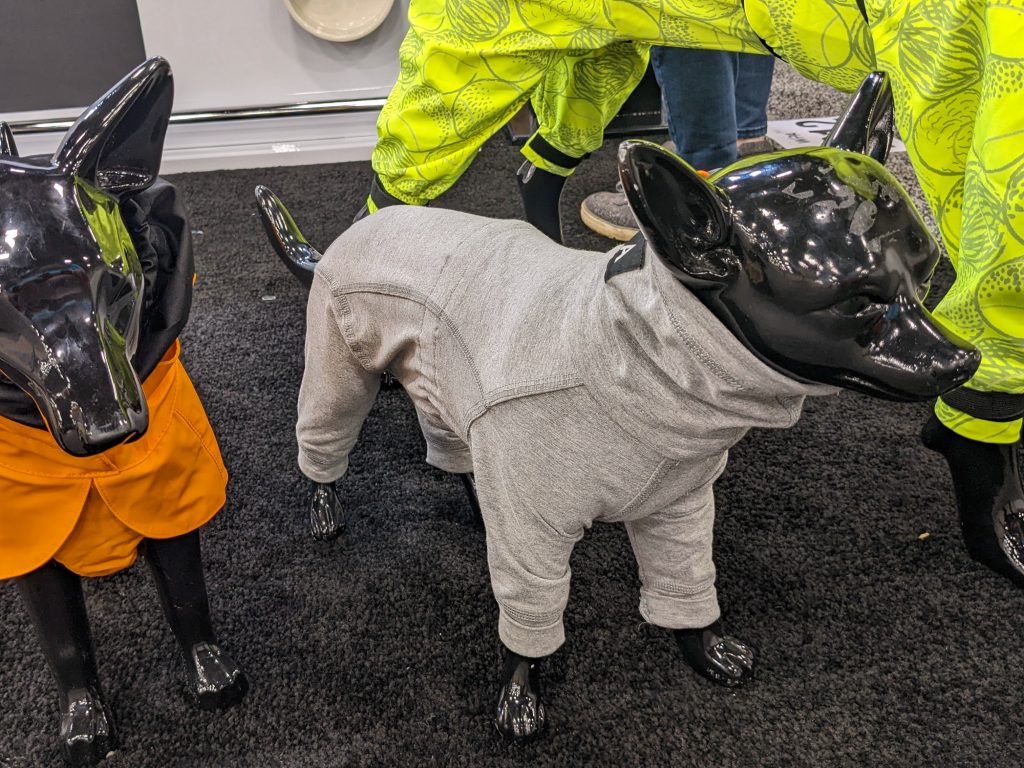 Best Dog Product: Recovery Overall by Paikka
If you ask our team what booth we spent the most time at, the answer is almost certainly Paikka. Not only did they have a game that tested your reflexes and response time, but they also had tons of products we wanted to learn more about. It was tough to pick just one product from Paikka for "Best Dog Product", but we decided to go with one of their flagship products, the Recovery Overall.
The Recovery Overall is a bodysuit for dogs made of special Far infrared (FIR) emitting fabric. It is designed to help your dog's body recover by promoting blood circulation and increasing oxygen levels in their blood. It can be used by any dog after exercise or a long hike, by senior dogs after a day of regular activity, as an underlayer for added warmth in cold weather, or simply as pajamas to maximize rest.
The technology in the Recovery Overall is also used in many of the clothing items offered by Paikka as well as their Recovery Blanket for Pets (and Humans!). This blanket was such a hit that two of our team members bought one on the show floor and our pet representative, Elvis, used his every night after walking all day long.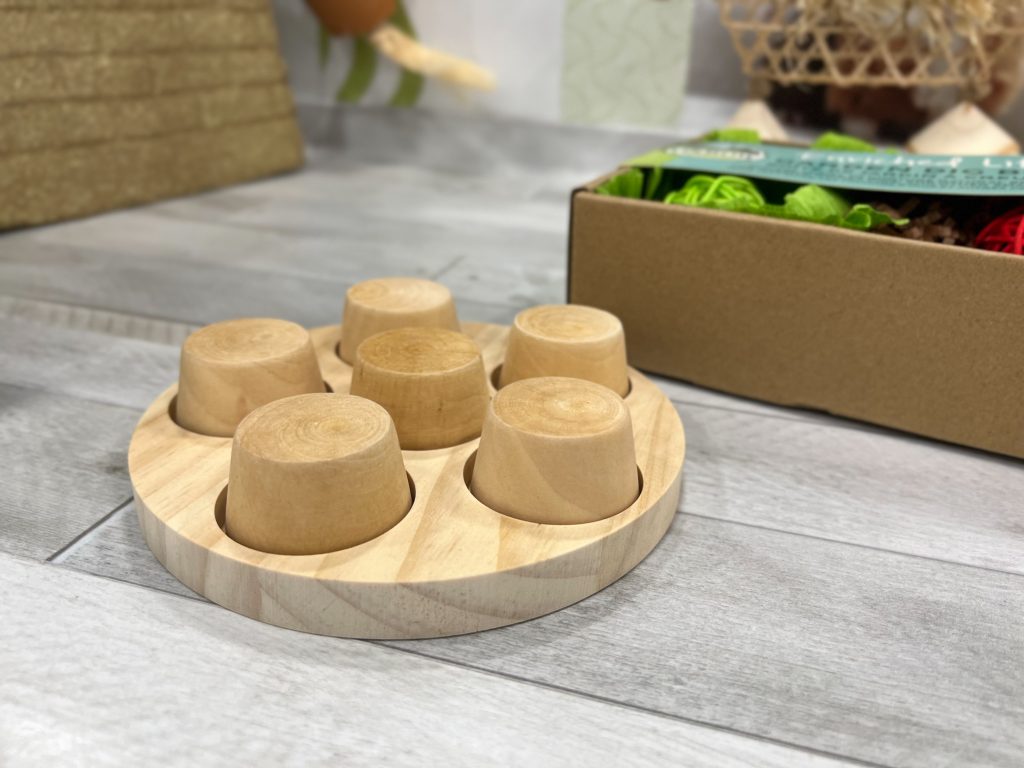 Best Small Animal Product: Enriched Life Wooden Puzzler by OxBow
We were thrilled to see a growing trend of enrichment toys across the board at SuperZoo this year, but even more excited to see the important trend finding its way to small animals in addition to dogs and cats. That's why it was a no-brainer for us to highlight the Oxbow Enriched Life Wooden Puzzler for rabbits and guinea pigs as our "Best Small Animal Product".
Enrichment toys help pets stay active physically and mentally. It also encourages them to stay curious about their environment and supports their natural instincts to explore.
Oxbow Enriched Life is an entire line of enrichment products designed specifically for small animals. While there are many other products in their line, the Wooden Puzzler stuck out because it was one of the first true puzzle toys we've seen for smaller animals and because it gives pet parents the ability to swap out the treats or prizes based on their pets specific preferences and nutritional needs.
Best Bird Product: Foraging Fun Pack by Lafeber Company
Sampler packs are widely available when it comes to dog and cat food and treats. There's nothing worse than buying a large bag of pet food or treats only to find out that your pet doesn't like or want to eat it! The ability to test out new brands or flavors with your pet's preferences is valuable, but also often taken for granted. It didn't hit us until we saw this product that this same luxury isn't always available to more exotic pets like birds. And that's why the Lafeber Company Foraging Fun Packs took home our "Best Bird Product".
Currently, Lafeber offers five different Foraging Fun Packs for different birds – Cockatiel, Conure, Macaw & Cockatoo, Parakeet, and Parrot. Each of these packs features four trial-sized foods catered to the bird species. The variety enables bird parents to try it before they invest in it! They can see what food type their pet bird enjoys and responds to the most.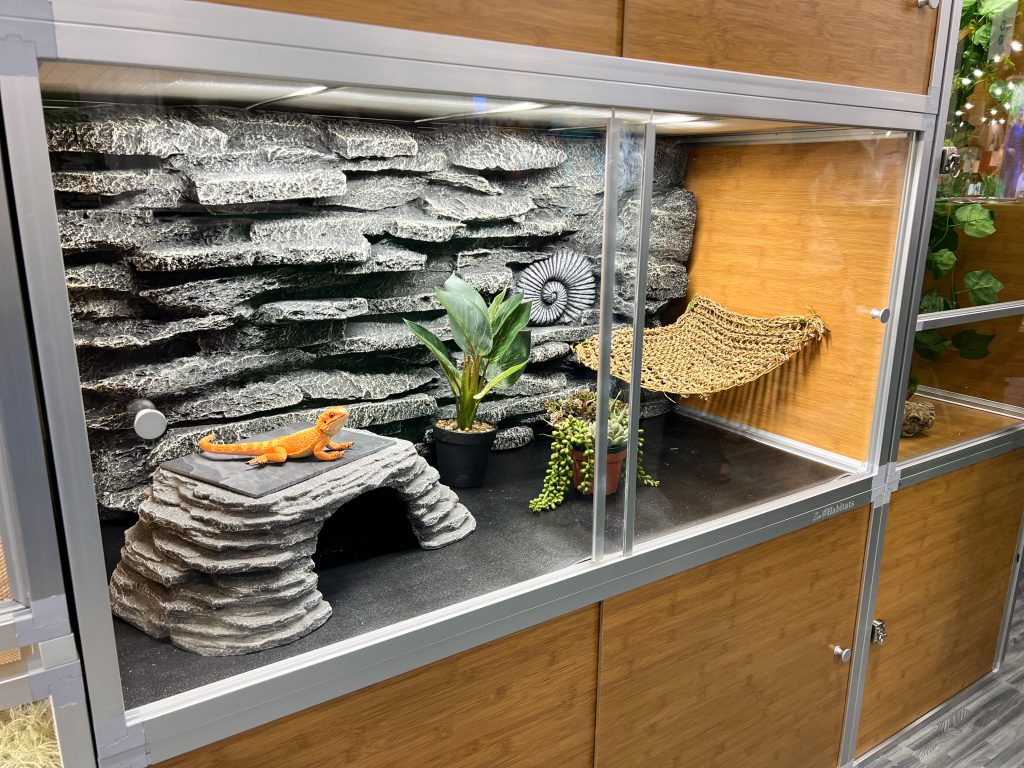 Best Reptile Product: Original Wood Reptile Enclosure by Zen Habitats
If you learn anything from Zen Habitats, make a note that cute stickers are powerful marketing materials! That's exactly how they got our attention – with cute stickers of a chameleon and bearded dragon. But once we got our stickers, we didn't just leave. We were sucked into learning more about their reptile enclosures.
Immediately after starting our conversation with the Zen Habitats team, their passion and knowledge of reptiles was clear. The product offerings including their Original Wood Reptile Enclosure were developed based on the needs of the reptiles they were designed for and inspired by how these beautiful creatures live in nature. Plus, they are customizable, stackable, and expandable!
The biggest thing that stood out to us is the size of the enclosures. Let's say goodbye to the days of putting a pet in a far too small enclosure just to have it more easily fit in our homes. Let's usher in a new trend of giving pets the space they need to thrive! This momentum created by Zen Habitats is what earned them our "Best Reptile Product" award.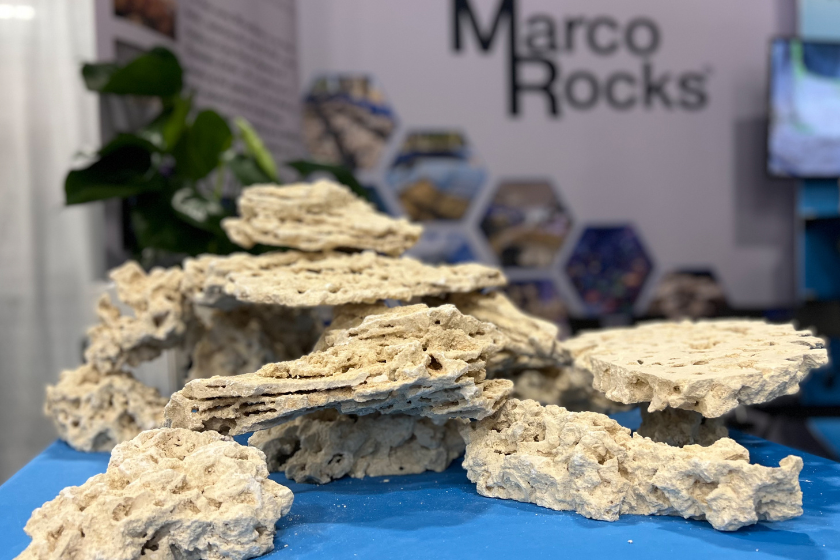 Best Aquatic Product: Premium Shelf by MarcoRocks
Sustainability is another trend that is growing each year in the pet industry, so it was definitely an undertone when we were looking for our BlogPaws Best winners. There were certain things we knew to look for when it came to reducing our environmental impact, but we were not expecting what we learned when we dropped by the MarcoRocks booth!
Generally, aquarium rocks are either made of plastic or harvested from a living reef and neither of these options is particularly great for the environment or our fish at home. MarcoRocks was founded to provide a green alternative to these options. Did you know much of Southern Florida is sitting on ancient coral reefs? We didn't either!
That's what MarcoRocks utilizes to create their Premium Shelf. This raw limestone skeleton is collected and cleaned of sediment before becoming a sustainable option for aquariums. This unique approach is what earned MarcoRocks our "Best Aquatic Product" award.
Best Technology Product: Smart Bottle by Healers PetCare
The "Best Technology Product" was another challenging one to award. There are just simply so many amazing tech products hitting the market each year. To award this category, we looked for a product that was unlike any other, affordable, and easy enough for every pet parent to use. That's what led us to the Smart Bottle from Healers PetCare.
The Smart Bottle is a storage system for pet supplements that helps pet parents remember if they have administered them yet or not. It connects with a phone app that can generate reminders for giving those supplements. The Smart Bottle isn't yet available, but we are excited for its launch.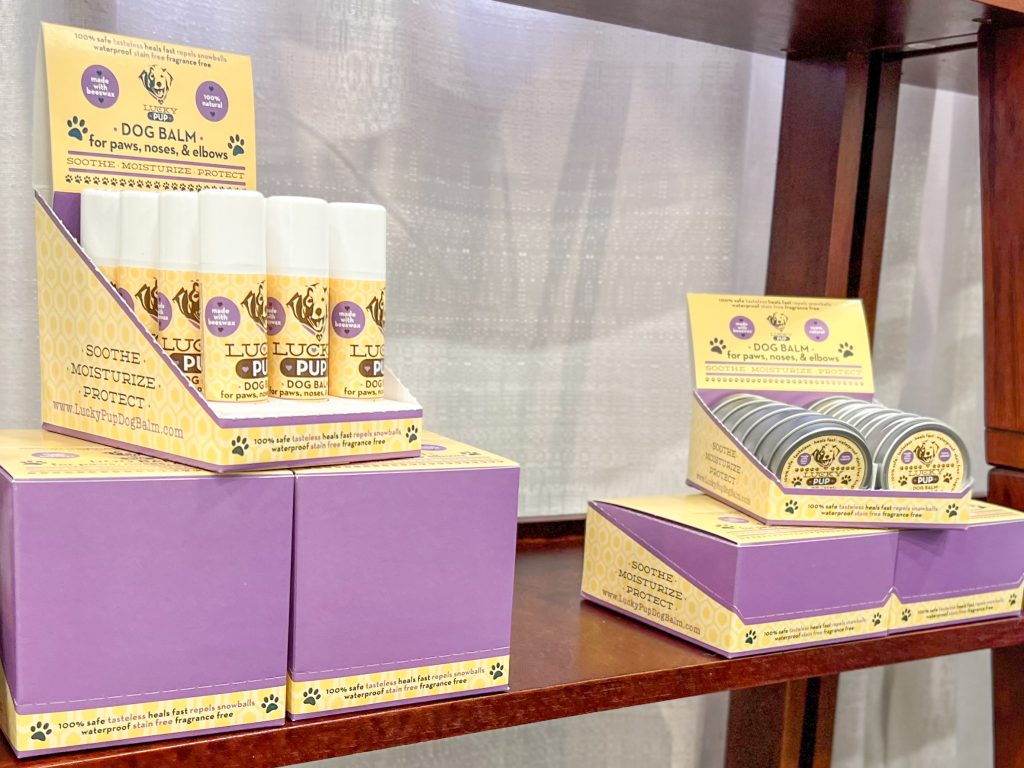 Best Natural Pet Product: Dog Balm by Lucky Pup
When it comes to buzzwords, the pet industry LOVES them. Each year more and more products are labeled with the word "natural", but that word isn't well defined. That made finding our "Best Natural Pet Product" a bit more challenging because what does that actually mean?
When we started looking, we weren't quite sure. Then we came across the Lucky Pup booth and we had our answer – made of simple ingredients that exist naturally. When we read the ingredient panel of Lucky Pup's Dog Balm, we couldn't find a product that was more simple and natural outside of a few single-ingredient chews or treats.
The Dog Balm is made of beeswax, shea butter, lanolin, and coconut oil and is available in a tin and twist-up lip balm-like tube. This balm helps soothe and repair rough paw pads, noses, and skin.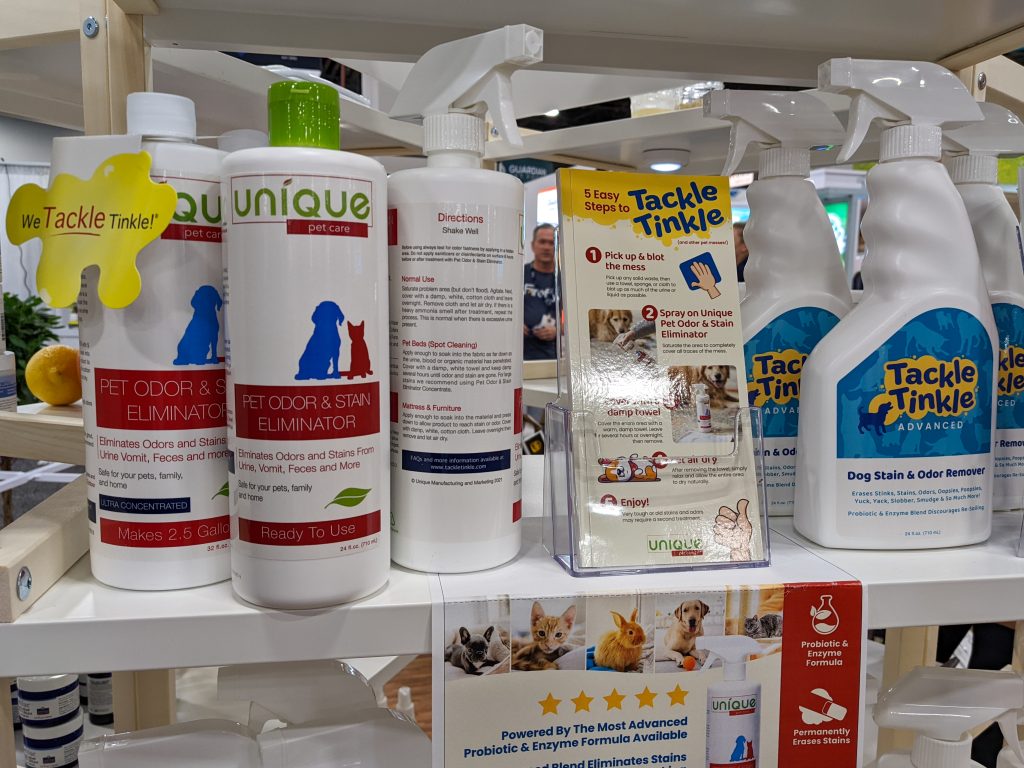 Best Household Cleaning Product: Pet Odor and Stain Eliminator by Unique Pet Care
The key to a good cleaning product is that it's safe to use around our pets and that it's reliable in doing what it's meant to do – removing stains and odors. That's exactly the experience we have had with the Unique Pet Care Pet Odor and Stain Eliminator.
This eliminator is a bacteria and enzyme-based cleaning solution that can be purchased pre-mixed and ready to use or in a more concentrated form for you to mix yourself. The bacteria in the solution are hungry and looking for a food source, which they find in pet stains and odors – we're glad something enjoys those things! Once the bacteria finds its food, it creates enzymes that help break down those stains and odors even further, so they are easier to eat!
It might sound a bit like a weird science project, but at least 2 of our team members use it regularly for keeping our homes clean and pet safe.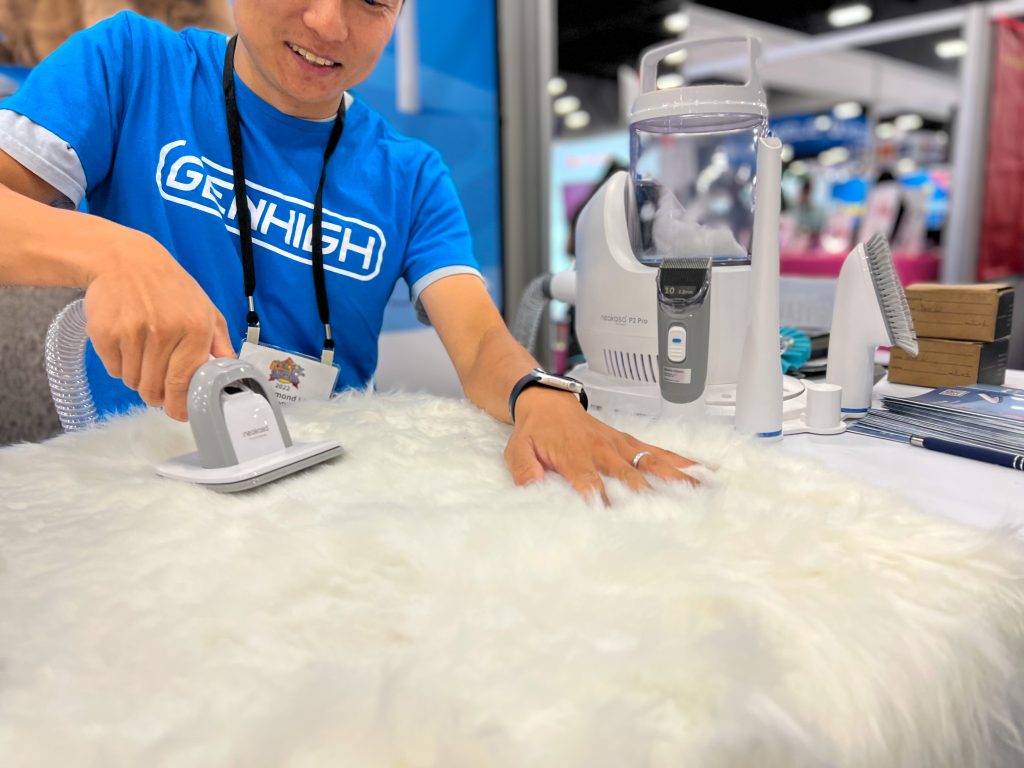 Best Grooming Product: P2 Pro Pet Grooming Kit by Neakasa / GenHighTech
When it came to the "Best Grooming Product", the team generally had shampoos and brushes on our minds. But we knew that SuperZoo has a special emphasis on grooming, so we were excited to see if we would be surprised with an especially innovative product.
And we were! We were able to see the Neakasa P2 Pro Pet Grooming Kit in action and we were dazzled. This device, which our team lovingly calls the "pet vacuum", is essentially a small, powerful, but super quiet vacuum with multiple grooming attachments such as a brush, de-shedding tool, trimmer, and more.
While the P2 model is not yet available for purchase, I've had the chance to try out the older model – P1 – with my dogs. When I first received it, I showed it to my husband late at night to make a plan to try it within the next few days. He immediately unpacked it and started using it with our dog, Ralph. I think that might have been the happiest my husband has been in a while as he kept exclaiming "this is amazing!" while he used the de-shedding tool on Ralph around midnight.
Ralph was a little cautious at first, but once he figured out he was just getting brushed, he loved it! I was a bit concerned about the sound with our dogs, but it didn't seem to phase them.
The P2 model, once released, will improve upon a few areas of the P1. It has a larger collection container for pet hair, a detachable hose, and is even quieter.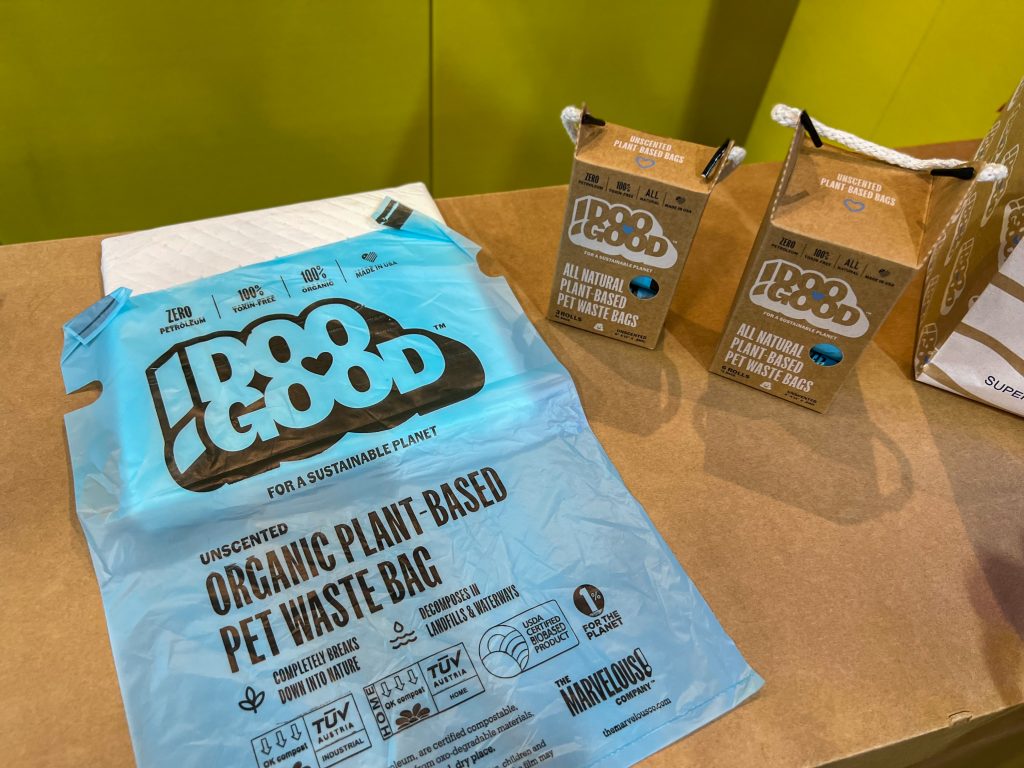 Best Sustainable Product: Organic Plant-Based Pet Waste Bags by Doo Good
As I mentioned above, sustainability is a growing trend in the pet industry. We are seeing many brands make steps towards recycling or compostability, especially in their packaging. When it came to the "Best Sustainable Product", we sought to find a product AND brand that was sustainable from all angles.
When we stumbled upon the Doo Good booth, we found what we were looking for. Not only was the product they were highlighting pet waste bags that were plant-based and compostable, but also their entire booth was made of cardboard!
Doo Good Plant-Based Pet Waste Bags are made of maize flour, vegetable oil, and natural minerals and completely break down with no microplastics. Plus, the bags themselves are actually usable to collect pet waste. They are super stretchy and won't fall apart when you need to get down to business.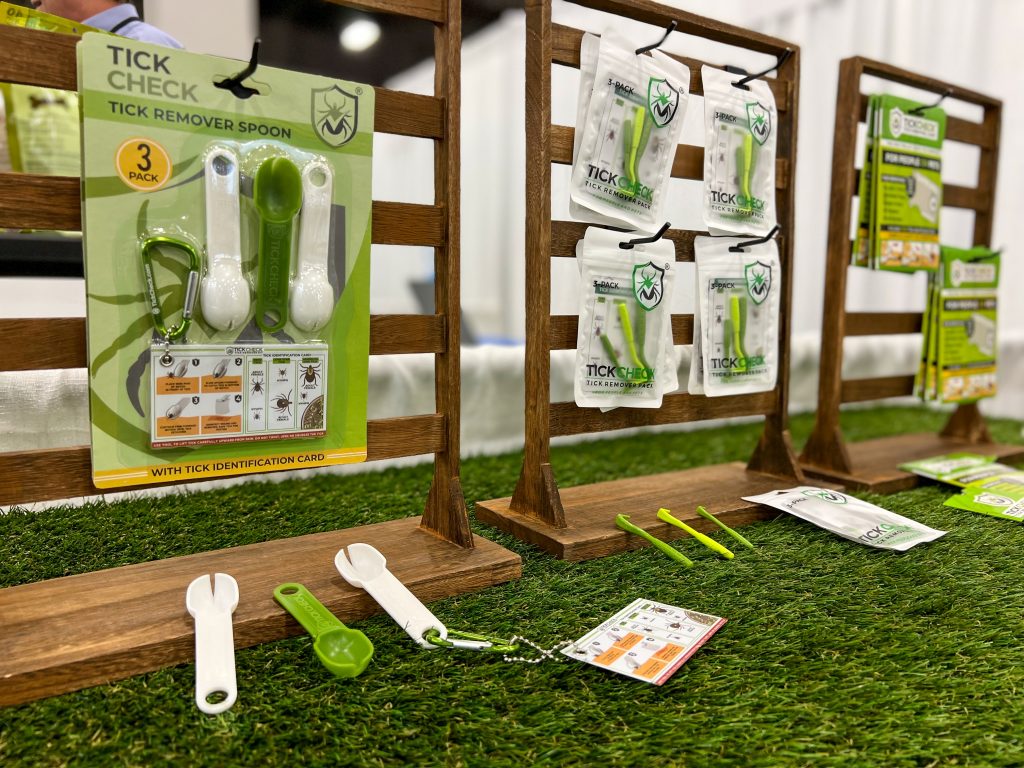 Best Travel Product: TickCheck Tick Testing
Have you ever found a tick on yourself or your pet and wondered if it was carrying a dangerous pathogen or disease? Now you can actually send that tick in to get tested, so you don't have to wait until you or your pet gets a positive test or shows symptoms.
We are a team of hikers, campers, road trippers, and all-around travelers, but we're also a team of tick haters. So it was a no-brainer that TickCheck Tick Testing should win our "Best Travel Product".
To get a tick tested, you simply need to fill out the form, decide which type of panel you'd like to have run, and mail in your tick (don't worry they give you step-by-step instructions). Currently, TickCheck offers three panel options based on how many pathogens you want to test for – Basic ($49.99), Advanced ($99.99), and Comprehensive Diagnostic ($199.99).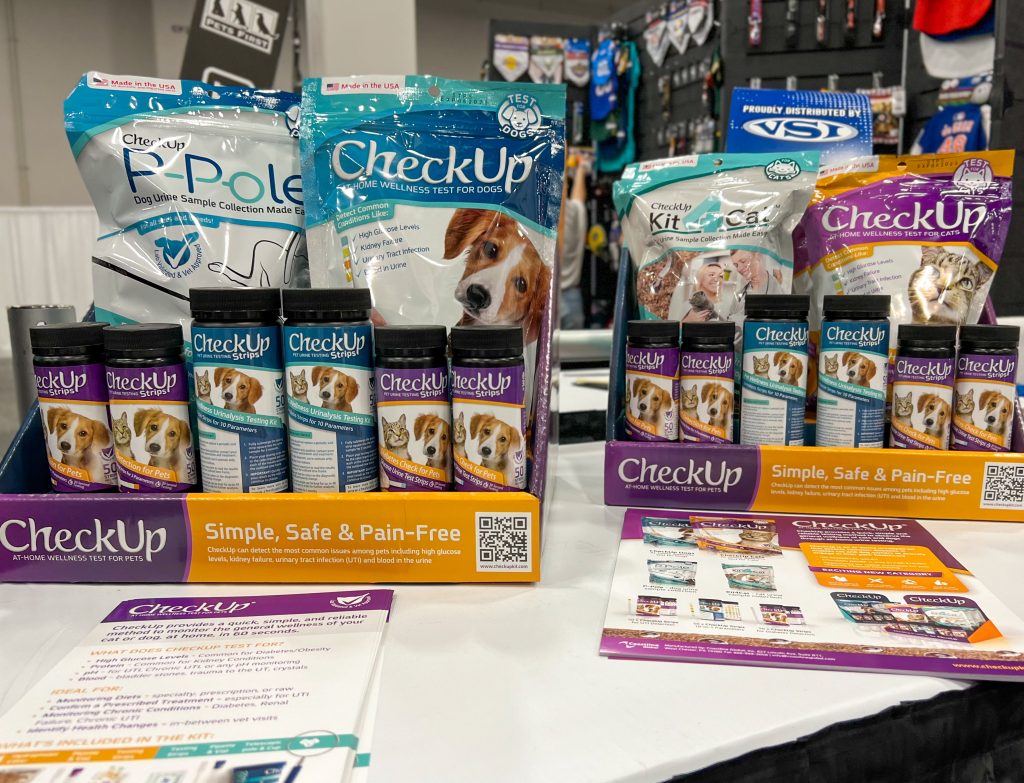 Best Health Product: CheckUp at Home Wellness Tests for Dogs and Cats
Spending more time at home over the last few years has led to an increase in at-home health care for pet parents. This trend could have tried to replace vet care, but instead, we're seeing a more positive approach. Pet parents are being encouraged and empowered to be more knowledgeable and take better care of their pets at home, while still seeking professional veterinary care when needed.
For our "Best Health Product," we sought a product that highlighted this positive trend in the industry. CheckUp at Home Wellness Tests for Dogs and Cats took home this ribbon because it provides both cat and dog parents an affordable and quick way to detect health issues like diabetes, kidney failure, urinary tract infections, and blood in urine from the comfort of their own home. If a health issue is found, the CheckUp kits then encourage pet parents to take their results to their personal veterinarian to discuss treatment plans.
Both the dog and cat kits contain a method for urine collection (a telescopic pole with a cup or hydrophobic litter, respectively) and two testing strips. The kits retail for $14.99 and additional testing strips can be purchased if needed.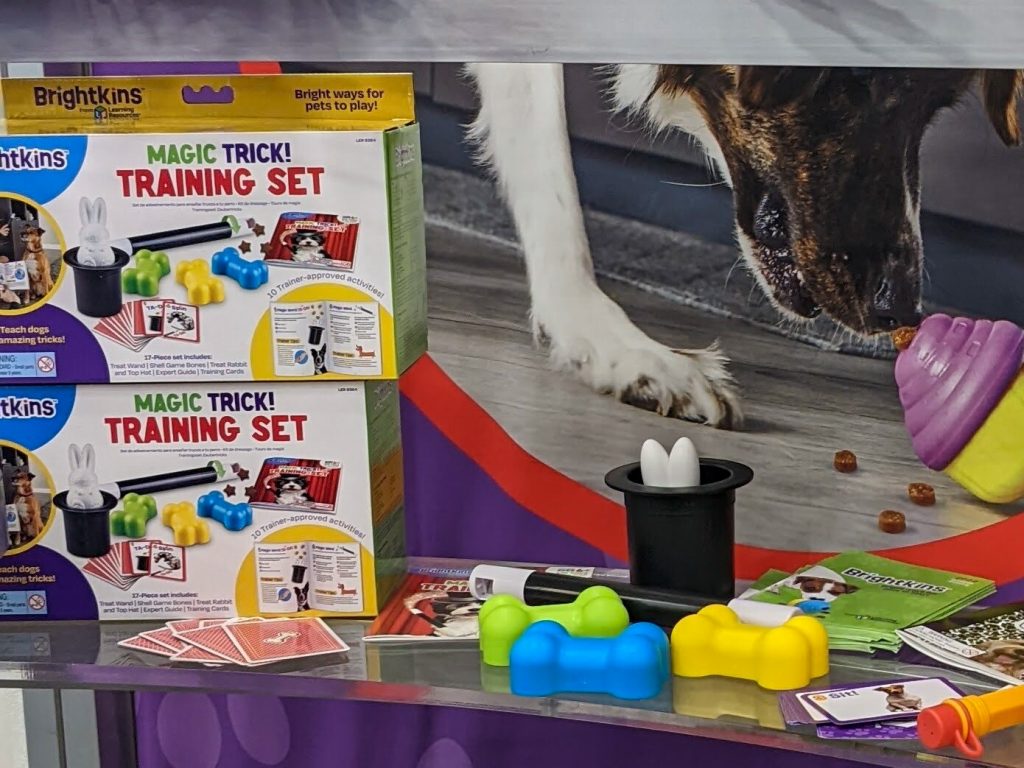 Best Enrichment Product: Magic Trick! Training Set by Brightkins
We've already talked about enrichment toys for small animals, but we couldn't ignore the number of amazing enrichment products hitting the market for dogs and cats. When it came to picking our "Best Enrichment Product," Brightkins stood out to us because their entire product catalog focuses on enrichment opportunities and improving the human-animal bond.
Brightkins Magic Trick! Training Set encourages the entire family to join in the fun of trick training. The kit has the instructions and supplies for dogs to learn 10 new tricks through play and exploration. With this training set, dogs can learn to solve the "shell game" or to pull a rabbit out of a hat. Plus, the magic wand that comes with this kit is a treat dispenser for positive reinforcement. At just $15.99, Magic Trick! has a lot to offer pups and their families.
One of the Brightkins other product lines, Hunger for Words, also got a shout-out on our list of Brands to Watch.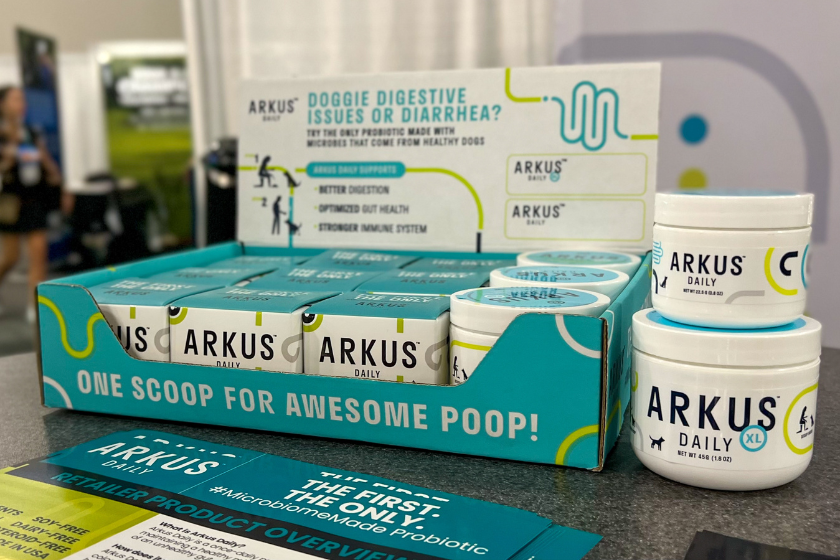 Best New Innovative Product: Arkus Daily by Native Microbials
Often the pet industry mimics the human world with trends in health, care, and lifestyle. The increased emphasis on gut health and the need for probiotics is just one example. Probiotics aren't exactly new for pets, but they are finally being made specifically with the pets who are using them in mind.
Humans are built differently than dogs and cats. We eat different things, so it makes sense that our microbiomes are different too! Finally, we're seeing a product hit the market to help improve a dog's gut health based on an actual dog's gut!
Our CEO, Chloe, spent quite a while talking with the Native Microbials team on the show floor in awe about the brand-new product they were bringing to market. Though it seemed like an obvious improvement to existing probiotics, we are still waiting for other brands to follow suit. And that's why Arkus Daily took home our "Best New Innovative Product" ribbon.
Best Emerging Brand: Bow Wow Labs
Collectively as a team, one of our favorite parts of attending a pet industry trade show is learning about new brands or new-to-us brands and the products or services that they offer. This year there were so many new brands that we loved, so it was tough to select our "Best Emerging Brand".
We finally selected Bow Wow Labs as a team because we were impressed by how the bully stick – something most dog parents know very well – inspired the entire brand. A scary situation where the founder's dog Finn choked on a small piece of bully stick led to the creation of the Bow Wow Buddy and Bow Wow Labs. The Bow Wow Buddy is a bone-shaped device that secures the tail end of a bully stick to prevent dogs from choking. It comes in six different sizes for dogs from 15 lbs to over 100 lbs and provides an opportunity for dogs to be more engaged with their chewing by holding it with their paws.
From there, Bow Wow Labs has added a wide variety of treats and chews and even dental care products. At the show, the team was dressed in lab coats and their passion and excitement for their products and brand were clear.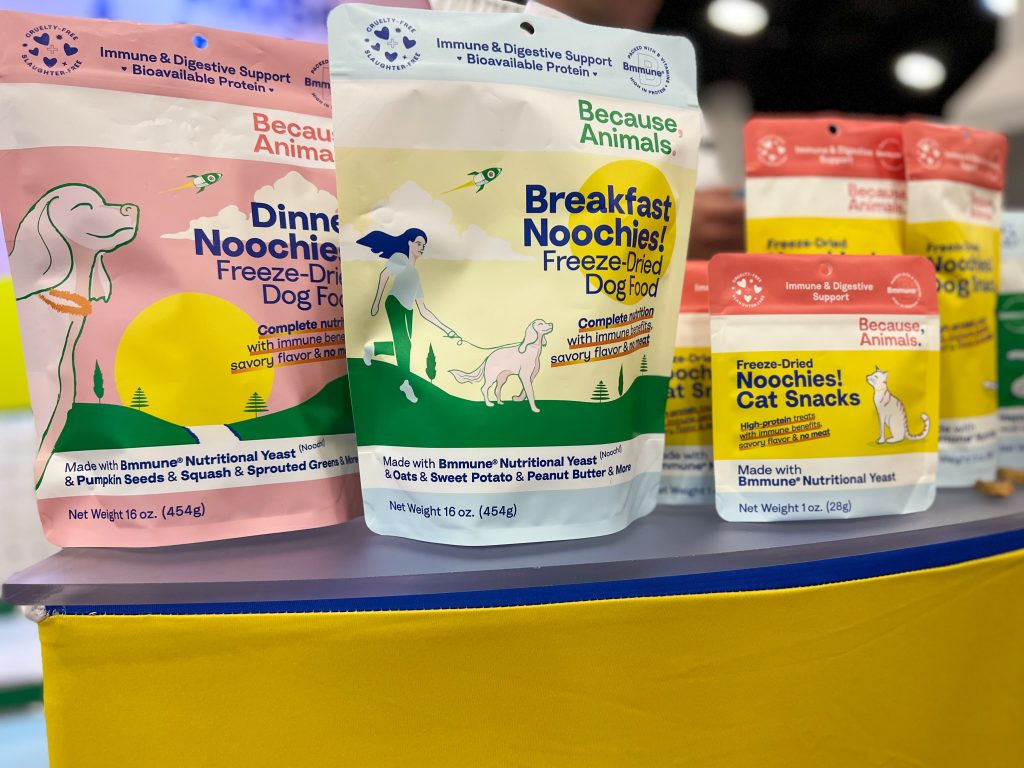 Best Packaging: Recycled packaging by Because, Animals
When it comes to making waves in the pet industry, you can bet that Because, Animals is right at the front. Built on a mission to make pet food more sustainable and a goal to make cultured meat available to dogs and cats everywhere, they are certainly mixing things up… What is cultured meat? Meat that is made without the animal by culturing animal cells.
Since they won for "Best Packaging," I'm not going to dive too deep into the world of cultured meat, but I did want to provide evidence that this brand is a true disrupter.
At first, their packaging caught our attention with its simple, but cute and fun designs featuring cats and dogs in a colorful cartoon art style. But they took home this BlogPaws Best ribbon because the packaging – while beautiful – is also made of 100% post-consumer recycled materials. It truly is the best of both worlds!
BlogPaws Best in Show Winners at SuperZoo 2022
Chloe's Best in Show Pick: Farm Stand Collection by Lord Jameson
When Chloe first learned about Lord Jameson, she raved! Her pup Onyx has some dietary restrictions that make finding food and even treats a bit of a challenge. And Onyx LOVES treats, so finding a treat he can eat and a treat he wants to eat is a very important task.
The Lord Jameson Farm Stand Collection is inspired by fruits and veggies that you can normally find at your local farmer's market or farm stand. The collection is complete with five flavors – Watermelon Pops, Banana Pops, Mango Pops, Apple Pops, and Carrot Pops. Each bag is $12.99.
The ingredients are simple and rolled into small balls with fun and functional coconut shreds on the outside. Not only are they delicious for Onyx and other pups, but they are healthy treat options that look festive and fun.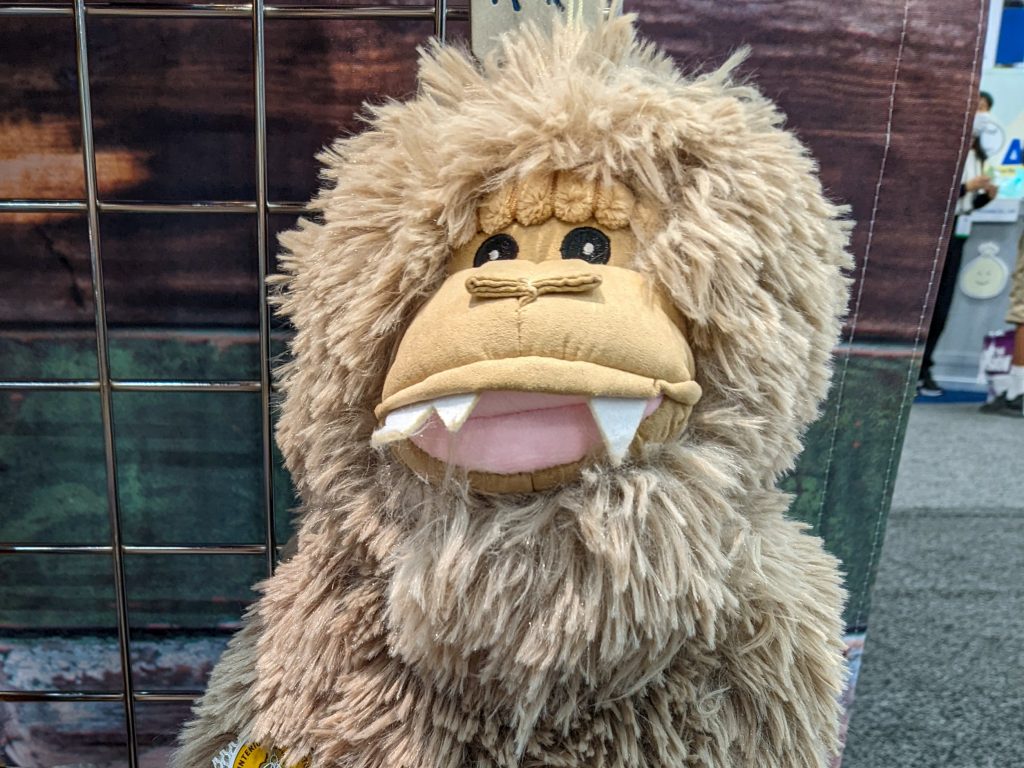 Jessica's Best in Show Pick: Stuffless Big Foot by Tall Tails
When I approached Alex from Tall Tails to award my Best in Show, she knew exactly what product was winning before I even said a thing. Perhaps I'm bad at not letting my excitement show or perhaps it was all the enthusiasm this toy received from tons of other attendees at SuperZoo, but she knew!
The Tall Tails Stuffless Big Foot took home my best in show ribbon because I want it… sorry pups! But in all seriousness, the quality behind all Tall Tails products has always blown me away and it has continued with this adorable monster. Big Foot is stuffless, which is great for dogs who just live to de-stuff plushies, but it still has a squeaker for engagement. The exterior is the softest thing you'll ever touch and the interior is made of a rope structure, which makes Big Foot great for snuggling and tugging!
Big Foot is on the larger side, but his flexible body and limbs make him great for play with most size dogs. He's available for purchase for $32.99.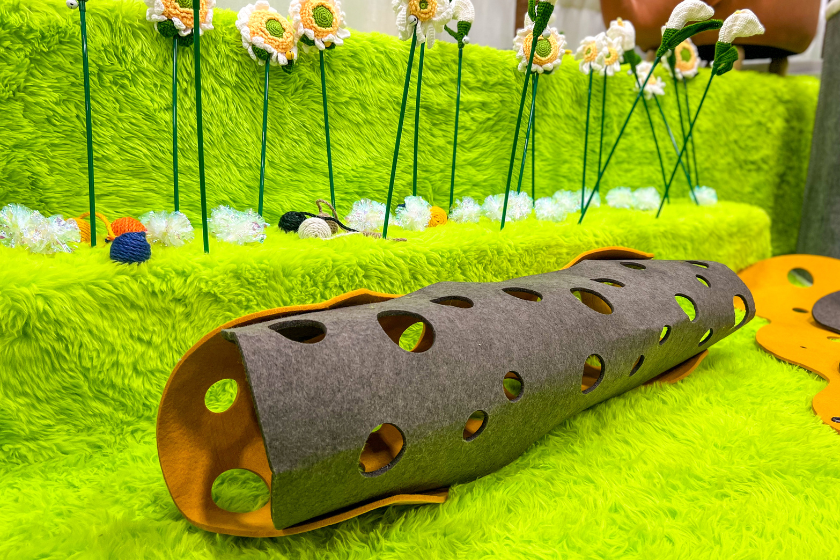 Emily's Best in Show Pick: The Cheese Adjustable Tunnel Cat Toy by PETradise
One of the best parts of having each team member pick a Best in Show was seeing the show floor from a different perspective. I suspected our resident cat expert would likely pick a cat product, but she didn't disappoint! Emily picked a product that I might have never noticed, but now think is pretty cool.
Emily said, "There are so many cat tunnel toys out there on the market, so they can be easy to overlook. The Cheese Adjustable Tunnel Cat Toy breaks the mold with its felt design, holes, and adjustability. It makes for a great environmental enrichment toy for kitties and can be used in countless ways!"
"The Cheese" is available from PETradise directly for $21.
Britt's Best in Show Pick: Freeze Dried Raw Diet for Dogs – Fish Recipe by Boss Nation
Always looking for fish-based food and treats is something that our team surprisingly has in common. We love the added omegas that come with adding a bit of seafood to our pet's diets, but we don't love that often fish-based foods still have some traces of chicken.
Britt explains, "It can be challenging to navigate the pet food and treats available when your pet suffers from food allergies. Most ' fish-based foods', for example, contain a chicken meal base that isn't necessarily mentioned clearly on their packaging. I was so excited to see a brand that was committed to providing high-quality foods that truly accommodate nearly any allergy or concern!"
Boss Nation's Freeze Dried Raw Diet Fish Recipe is chicken free and packed with real fish! That's why it took home Britt's Best in Show ribbon.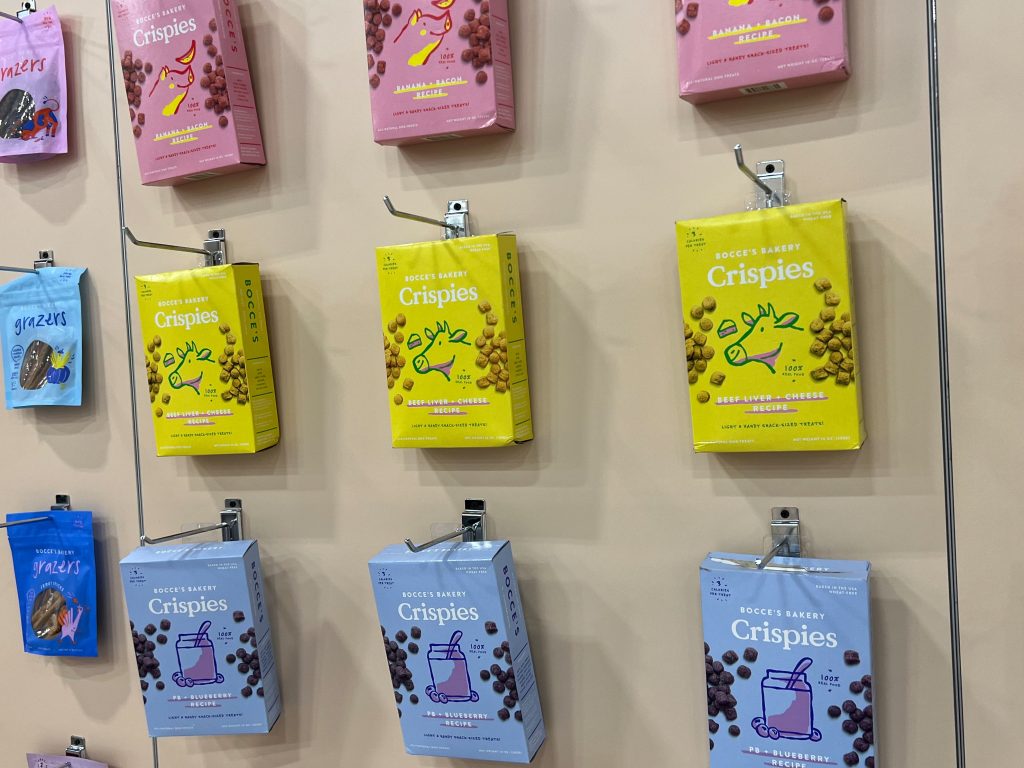 Christy's & Elvis's Best in Show Pick: Crispies by Bocce's Bakery
It's quite possible that Elvis influenced this pick a little more than Christy. As a team, we witnessed Elvis enjoying his fair share of Bocce's Bakery Crispies throughout the entire show and he never once declined one that was offered to him
"What initially caught my eye at Bocce's Bakery were the limited ingredients and the fact that treats are made in small batches – both things that are important to me. The taste however can't be disputed – very important to Elvis! And the creative recipes make buying and giving the treats fun for all involved," said Christy.
A 10 oz. box of Crispies sells for $9 from Bocce's Bakery directly. Elvis says to try the PB + Blueberry flavor!
And that's a wrap! 23 ribbons later we are happy to highlight these innovative brands who are helping to shape the pet industry and the world into a pet place for pets everywhere.
What is your favorite from our picks? Did you learn about a new brand or product? Tell us in the comments!
BlogPaws is not affiliated with SuperZoo or the World Pet Association. BlogPaws Best awards are presented solely by BlogPaws and are in no way endorsed, sponsored, administered, or associated with SuperZoo.
About the Author: Jessica Shipman is the COO / CMO of BlogPaws. She has been in the pet industry since 2013, when she accidentally became a content creator and launched Beagles & Bargains. Since then, she has loved leading the PetBiz Collaborative, a membership group for small pet business owners, with Chloe DiVita and engaging in the BlogPaws Community. When she's not planning content or researching SEO keywords, you can find Jessica loving on her two dogs, Luna and Ralph, and putting her Ivy League Engineering Degree to work as a sought-after web developer.