As pet parents and small business owners, we all know how incredible and exciting the pet industry is. New and innovative ideas inspire us as they come to market, brands regularly update and improve upon existing products, and the industry continues to grow year after year. In fact, according to the American Pet Products Association (APPA), the pet industry is expected to reach $143.6 billion in sales in the U.S. this year alone!
With so much happening, staying on top of all the changes and developments can be challenging. Luckily for us, industry events like SuperZoo bring us all together.
With over 20,000 pet professionals in attendance and 1,100+ exhibitors, SuperZoo is touted as North America's largest pet retail event. The website states, "It's the ultimate destination for pet pros to get business done (while having some fun)! Stock up, scale up and catch up with peers and suppliers in the most comprehensive marketplace of debut products, proven best-sellers and management and e-commerce solutions that can drive your business forward."
This year, two members of the BlogPaws team (Britt and Jessica) attended the show, scouring the tradeshow floor to find the most innovative, impressive, and show-stopping brands, products, and displays. After 3 busy days at the show and some long conversations back home, the team has awarded a total of 27 BlogPaws Best Awards to the brands we felt were making a significant impact in the pet industry.
Keep reading to learn more about the winners and why we feel they deserve the recognition.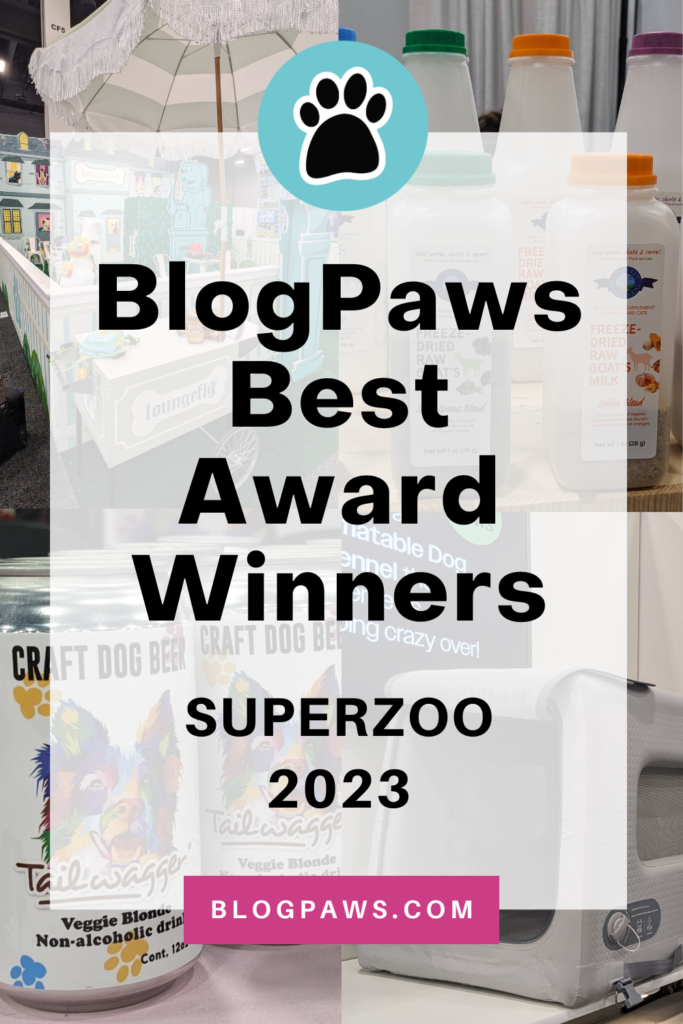 What are the BlogPaws Best Awards?
If you are newer to the BlogPaws community or working in the pet industry, you may be wondering: What exactly are the BlogPaws Best Awards?
First introduced in 2012, these awards were created to provide an opportunity to recognize and honor pet brands that go above and propel the pet industry forward and better the lives of pets and their parents. After a short hiatus, the BlogPaws Team brought the awards back for SuperZoo 2022, Global Pet Expo 2023, and now SuperZoo 2023.
In their latest iteration, the BlogPaws Best Awards focus not only on the products but also on the incredible work brands do in their marketing, including branding, packaging, signage, and booth presence. In total, we awarded 27 awards, including 25 standard categories and a "Best in Show" from each team member attending the show.
There were so many amazing brands and products considered that it was hard to narrow it down. However, we are beyond excited to share these deserving winners with all of you… 
Note: BlogPaws is not affiliated with SuperZoo or the World Pet Association (WPA). BlogPaws Best awards are presented solely by BlogPaws and are in no way endorsed, sponsored, administered, or associated with SuperZoo.
BlogPaws Best Awards Winners at SuperZoo 2023: 
Best New Product: Freeze-dried Raw Goat's Milk by Shepherd Boy Farms
When it comes to feeding our pets, we all want the best. This can be seen in the large number of pet parents seeking information about different dietary options and products that can support their nutritional needs. However, there are some challenges that you may face when committed to feeding high-quality foods, including finding ways to keep this food fresh when you're on the go. Whether you're going on vacation with your pet by your side or navigating a crazy, busy schedule, Shepherd Boy Farms has introduced a new solution.
Their line of freeze-dried goat milk makes offering this high-quality food additive with your dog's meal easier than ever. Add water to the product, shake it up, and it's ready to serve. In addition to the standard health benefits of goat's milk, the company took it a step further by creating 3 other blends – Super Greens Blend, Golden Blend, and Super Fruit Blend. We were impressed by the portability of this product and their commitment to optimal nutrition.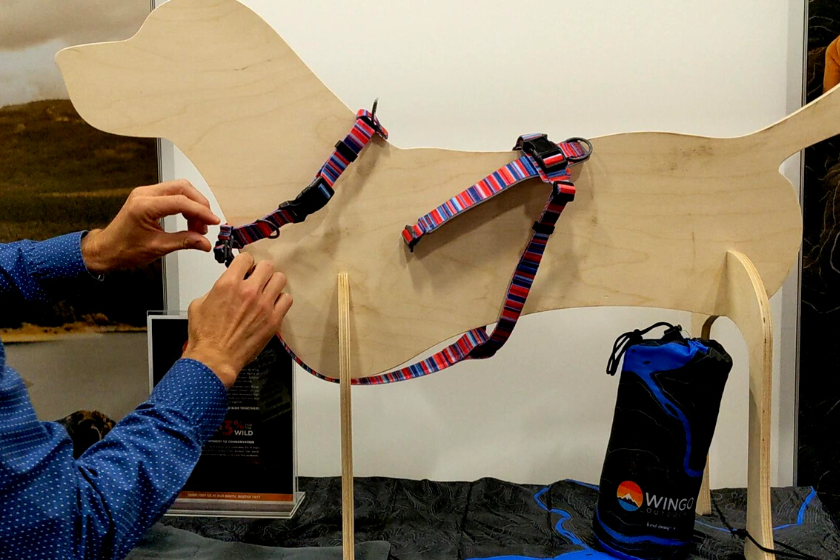 Most Innovative Product: Ollie 2 in 1 Harness by Wingo Outdoors
Often, the term 'innovative' is associated with something new and wildly different from the products already on the market. But Wingo Outdoors caught our attention for their new spin on two very common products. The Ollie 2-in-1 Harness is a convertible solution, making it easier than ever to switch between the two. 
While we were at the booth, the brand representative demonstrated how easy it was to switch from harness mode to a traditional flat collar. This is a unique solution for dog parents who enjoy traveling and are looking for a way to cut back on the amount of gear they are packing. Plus, the company names all their products after their own pets – Is that not an adorable personal touch? 
The harness isn't available for purchase yet. However, the website states that it will be available in November.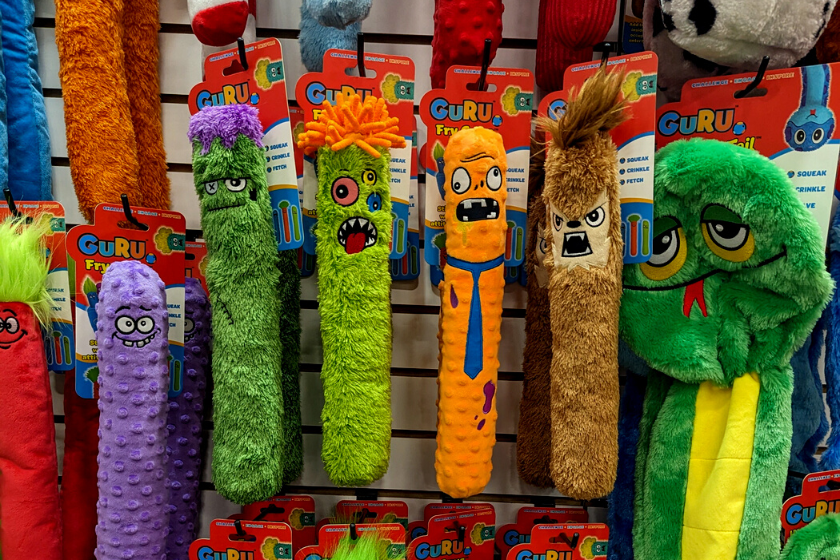 Best Emerging Brand: GURU Pet Company
One of the great opportunities that SuperZoo provides us is the chance to discover new and emerging brands. In fact, according to the official press release, the show featured 262 first-time exhibitors and 72 emerging brands. We spent a lot of time exploring that area of the show floor, and one thing stood out – these brands were all SO passionate about their businesses and the pets they could serve. But there was one brand whose passion and dedication really grabbed our attention: GURU Pet Company.
Founded by JJ and Amy Stone, the couple took their experience designing, inventing, and developing products for other pet brands and applied that to creating their own small business, a pet toy company dedicated to challenging, engaging, and inspiring pets everywhere. We were impressed by the attention to detail in each toy, from adaptations to make their toys safer than the other available options to features making them more exciting for our pups. But even more impressive was the joy and passion in their eyes as they told us about each product.
Best Sustainable Brand: GreenLine Pet Supply
As we become increasingly familiar with our impact on the environment, many pet parents are searching for more sustainable and budget-friendly alternatives to the products they use every day. We have seen this shift with the rise in biodegradable dog poop bags, recycled packaging, and more sustainable sourcing of ingredients for treats and supplements. For this award, however, we were looking for products that took their commitment to sustainability to the next level.
The first thing that caught our attention about GreenLine Pet Supply was the brightly colored Banner Bags. These poop bag holders are made from festival banners that would have otherwise wound up in the landfill. Stopping at their booth to learn more about the bags, we learned that was only one of many decisions the company made to make a difference for our planet. From providing package-free (to reduce waste), environmentally friendly products to their efforts to educate pet parents about biodegradable vs. compostable bags and the best choices we can make for the planet, they are inspiring and leading a genuine change in the industry.
Best Cat Product: Puzzle Digger / For Hunting Instinct by The Puzzle Feeder
Slow-feeder dishes and food puzzles have been gaining much attention, both for their ability to prevent bloat in dogs and the enrichment they offer. However, many brands market these products specifically for dogs, overlooking the benefits they could provide to other pets. Not only does The Puzzle Feeder include cats in their marketing efforts, but they also introduced a puzzle feeder designed explicitly with the needs of our feline friends in mind.
The Puzzle Digger/For Hunting Instinct includes the typical feeder dish with ridges that pets must eat around along the bottom of the dish. The ridges included were more prominent and spaced out further than most slow feeders to reduce the risk of whisker fatigue. Another unique element of the dish we enjoyed was the cup-like structures at the top to create a hunting opportunity for cats where they must reach into the feeder to pull their food out with their paws. This design mimics multiple hunting styles, adding excitement and entertainment to your cat's meals.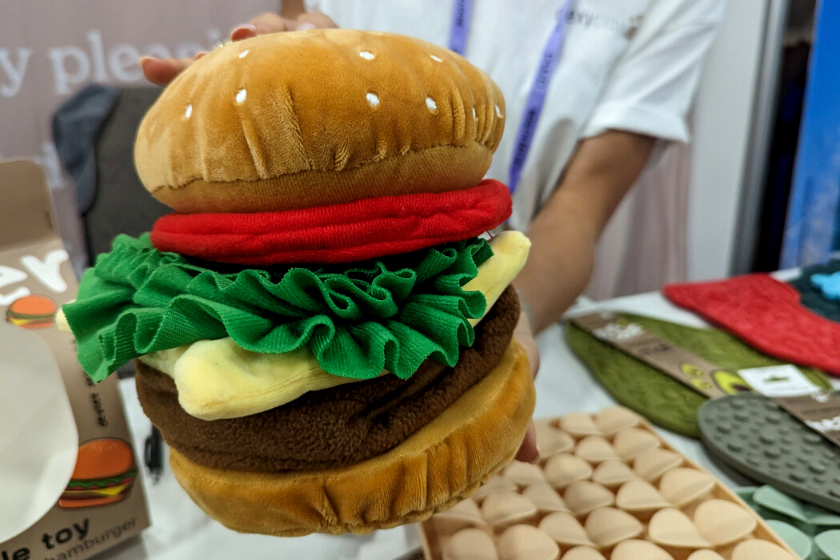 Best Dog Product: Expandable Treat Burger Snuffle Toy by dexypaws
Another product category we have seen increasingly represented is the snuffle mat or snuffle toy category. This category of enrichment products encourages dogs to use their nose to "sniff out" their treats or food, much like they would foraging for food in the wild.  We saw many creative and outstanding products that fall into this category, but the creativity and versatility of the Expandable Treat Burger Snuffle Toy really captured our attention.
The toy is designed to look like a burger with layers that can be detached, removed, or swapped out to change up the toy a little for each use. With each layer, there was a different snuffle-like element. For example, the ruffles of the lettuce worked like a traditional snuffle mat, the tomato had a small little pocket for each section of the tomato slice, and the burger was a single giant pocket accessible through a hole in the side. It was a cute way to add enrichment (and easy to clean, as a bonus).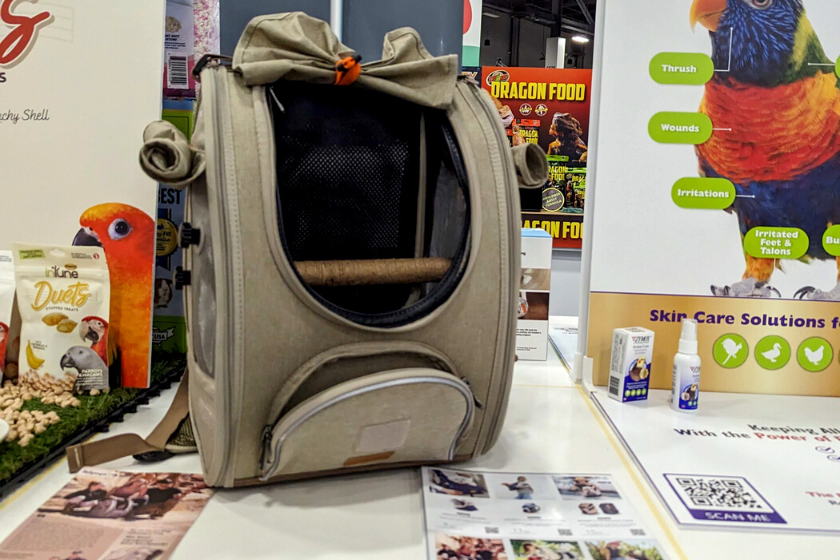 Best Bird Product: TrackPack for Birds by Ibiyaya x BirdTricks
If you are a bird lover, then you know that the market for bird-related products has been a little "behind the times" compared to the product availability for dogs and cats. This primarily reflects our society as incorporating birds into your everyday life still isn't as common, especially traveling with our feathered friends. The good news is that this mindset is shifting, and the evidence of that change could be seen at SuperZoo this year with products like the TrackPack for Birds gathering attention.
This backpack is a simple twist on the typical pet backpack, but a twist that will have a considerable impact for many bird parents. Rather than setting the bag up with a collar clip and cushioned mat on the bottom like most are for cats and dogs, the TrackPack for Birds has been set up to make your bird comfortable on the go, including a perch, hanging feeding bowl, bedpan, and spots to hang your bird's favorite toys. It's airline-approved, allowing those interested in traveling with their bird to do so safely.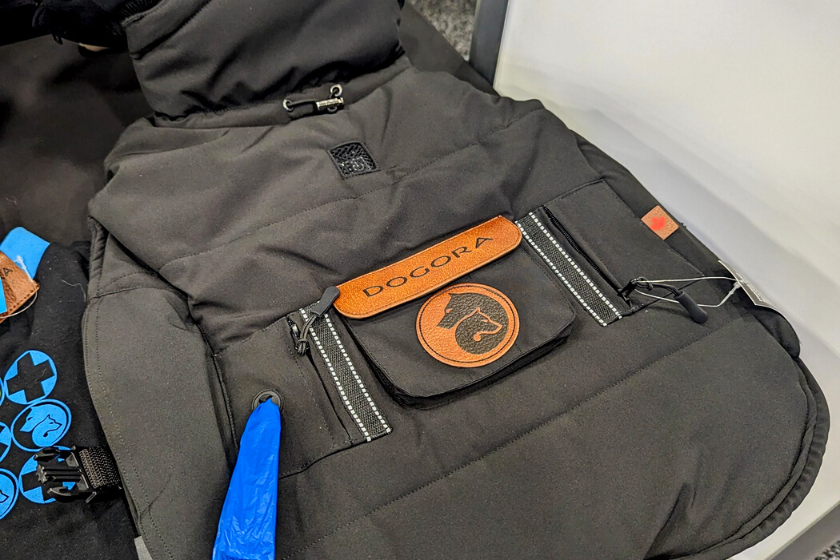 Best Adventure Product: 3 Season Heated Coat by DOGORA
Those of us who live in a colder climate area understand that the chilly temperatures are not always easy on our furry friends. While they have their own "fur coats," the level of protection their fur provides varies considerably from breed to breed. Even looking at my three dogs, all German Shepherd mixes, the mix factor means that the two older dogs thrive in the snow and ice, while Lucifer, our youngest, loves being out with the others, but the cold temperatures don't always love him!
Being Canadian, DOGRA's founder and CEO, Nicholas Mozas, understands that all too well. This was clear when he was explaining the features of his 3 Season Heated Coat. The warm coat has a polyester shell and a cozy fleece lining to protect your pup from the elements. But the innovative aspect of this coat that caught our eye was the removable heating panel that provides the extra warmth that many dogs need on the coldest days. We were also impressed with the fine details, like the many adjustable elements to get that "perfect fit" regardless of your dog's size and body shape.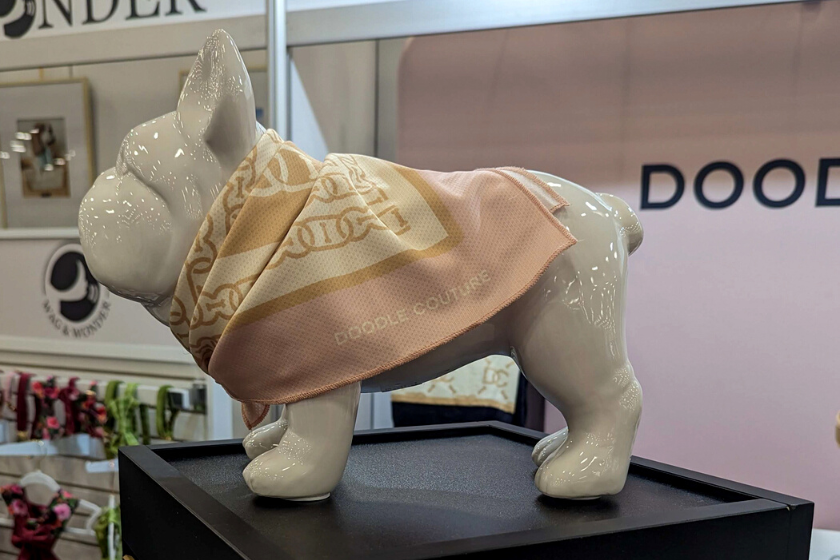 Best Boutique Product: Cooling Dog Bandana by Doodle Couture, New York
Finding the right balance between style and function can sometimes be a struggle with pet products. It is that junction where Doodle Couture focuses most on creating their products, including our selected Best Boutique Product, their Cooling Dog Bandana. We were impressed by how they were able to meet the needs of dogs everywhere while still allowing for their (and the dog parent's) personality to shine.
Cooling bandanas are likely nothing new for those who spend time outdoors in the summer. These products work using evaporative technology. Simply wet them down before placing them on your dog and as the water evaporates, it pulls in heat from its surroundings, including the surface of your dog's body. This creates an effective cooling effect. But most cooling bandanas are a single solid color or lacking in character. This specific cooling bandana is sure to catch attention in all the best ways with its stylish jacquard monogram design, showcasing your dog's trendy style.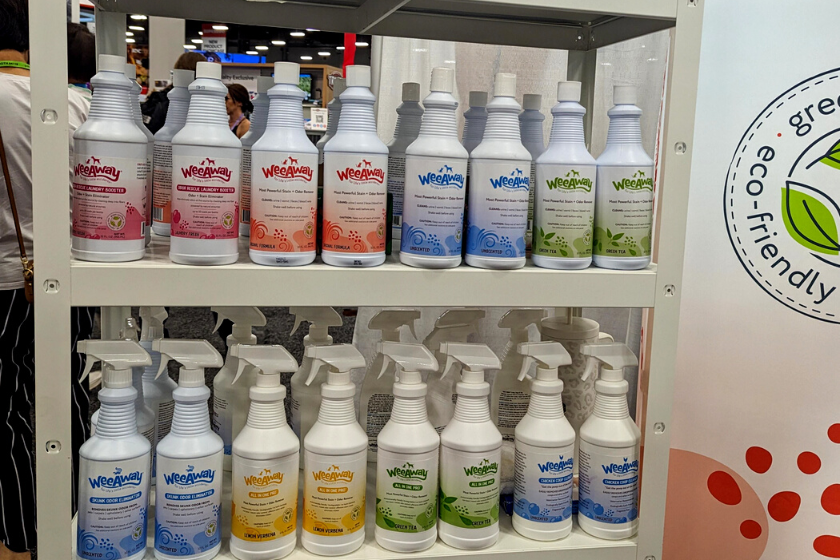 Best Cleaning Product: Wee Away for Dogs & Cats Ocean Breeze Scent by Wee Away Company
Pet-related cleaning products may not be the most interesting and exciting for most pet lovers, but they can significantly impact our lives. Cleaning products offer an easy and effective way to handle messes, accidents, or spills, allowing us to live harmoniously with our pets. This careful consideration can make all the difference for many of us, especially for pet parents raising young puppies or kittens, those with aging pets, or those caring for pets with special needs.
At the same time, cleaning products can be more than just effective, as Wee Away understands. They can also add a fresh smell to the home, bringing new life to the area in all the best ways. This was our first thought when we were given the opportunity to smell the Ocean Breeze Scent of cleaning products that the company was showcasing at this year's show. This is an effective way to clean those hard-to-remove smells like urine or vomit, leaving behind a smell that will make you smile when you enter the room – a scent that left us thinking about tropical getaways and beach vacations.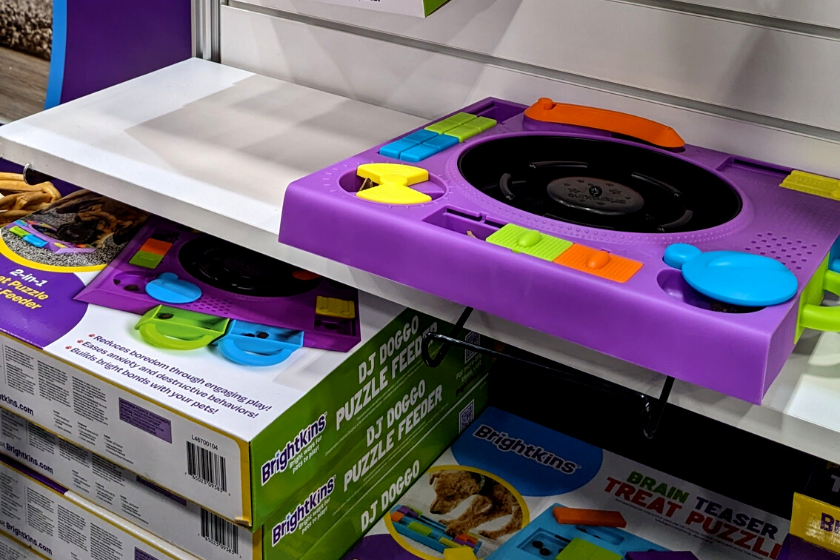 Best Enrichment Product: DJ Doggo Puzzle Feeder by Brightkins
Do you have a pet that gets bored with their enrichment toys quickly, figuring out the puzzle or the challenge faster than you would like? That has been an ongoing challenge with my "too smart for her own good" dog, Daviana, which is one of the reasons we were so quickly intrigued and drawn in by the DJ Doggo Puzzle Feeder by Brightkins. This company has made a name for themselves in the category of mental enrichment with a wide assortment of different treat dispenser toys, food puzzles, and interactive games for our dogs. Still, the DJ booth-themed addition to their line took the challenge to a new level.
This food puzzle toy featured a central slow feeder bowl with different "buttons" and elements of the DJ booth around the outside that acted as the food puzzle. The exciting thing is the number of different puzzle styles they included on a single puzzle feeder, including drawers, sliders, a spinning element, and more. Even if your dog were to figure out one of the challenges quickly, there are many more to challenge their mind and extend the fun.
Best Grooming Product: Drying Coat 2Go for Dogs by PAIKKA
You may have heard the BlogPaws team mention the brand Paikka before. Their line of recovery products (including a body suit and blanket) is a favorite of several BlogPaws Team members. So, we were excited to hear that the brand had some new products to introduce at SuperZoo 2023. Both Jessica and I have water-loving dogs – so we understand how challenging it can sometimes be to stay on top of that "wet dog" smell that we all know and love (note the sarcasm) so much. While you may have a mountain of towels or a hand dryer at your disposal at home, trying to dry off a dog on the go isn't quite as easy. Or at least, that's how it was before…
The Drying Coat 2Go for Dogs introduces an easy solution. Whether you're bringing your dog home from the pool after a day of dock diving or climbing into the vehicle after a dip at your favorite dog beach, this coat will keep your dog cozy and speed up the drying process. Think of it like a bathrobe but for your dog. Plus, the material features a SILVERPLUS treatment that helps to keep odors at bay. You can even use it as a cooling coat on hot days by wetting the coat before placing it on your dog, making it a convenient dual-purpose design.
Best Health Product: Kinesio Canine by Kinesio Tape
Human athletes have long used elastic therapeutic tapes to improve circulation, support muscles, reduce pain and swelling, support the healing of injuries, and prevent further damage. While the use of kinesiology tape is well-known and accepted, it is only recently that many pet care professionals have begun exploring the potential of using treatments like these in our pets. Developed by Dr. Kenso Kase, Kinesio Tex Tape not only provides these benefits but also considers the unique challenges and opportunities canine rehabilitation therapists and veterinarians face in addressing injuries in our dogs.
The tape works similarly to human kinesiology tape in that it is applied strategically to apply pressure in some areas while relieving pressure in others. One unique twist is the specialized adhesive made specifically with a dog's fur in mind. You don't have to shave your dog before use. Instead, it is applied directly to the fur. As the tape puts pressure on the hair and hair follicles, this has a beneficial impact on your dog's deeper tissue layers using a technique called Follicular Stimuli, which further helps to reduce swelling and encourage healing. Whether you have an older dog that still wants to be active despite their aches and pains or a younger pup recovering from an injury, this is a great way to help support their healing.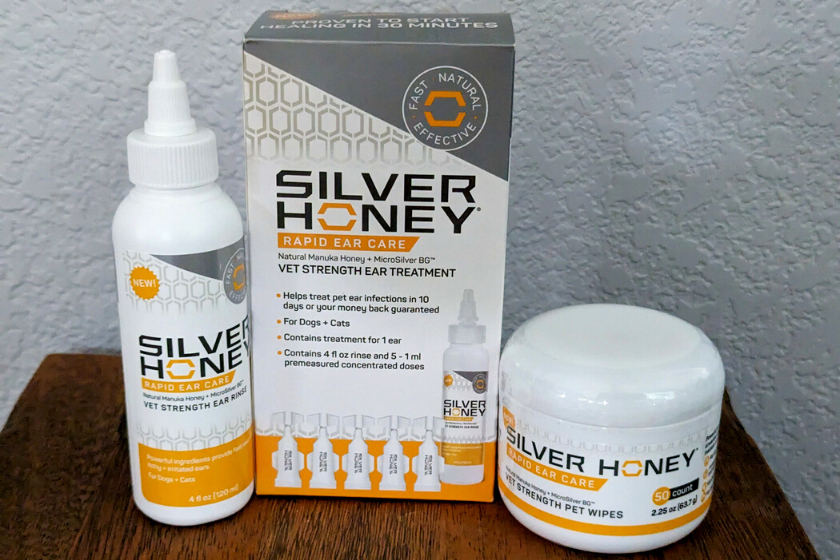 Best Home Care Product: Rapid Ear Care Vet Strength Ear Treatment by Silver Honey from W.F. Young
At-home care is a growing segment of the pet industry that we believe has great potential. This refers to products that allow us to support our pet's health and well-being in cooperation with our veterinarian as part of a team working together to keep our pet happy and healthy. We have seen products that help to identify and track symptoms, products that can be used to support prescribed medications and treatments as part of a larger treatment plan, and products that can be used to treat minor conditions naturally at home. Rapid Ear Care Vet Strength Ear Treatment is an excellent example of this.
Leveraging the benefits of MicroSilver BG and medical grade Manuka Honey, it helps to reduce inflammation, fight bacteria, and promote healing from a wide range of basic ear conditions. For those who battle chronic ear infections in their pup, this is a great way to offer quick relief, even if the condition will ultimately require a veterinary prescription to completely address the problem in the long term. Common conditions like yeast or fungal infections can often clear up with just ten days of treatment.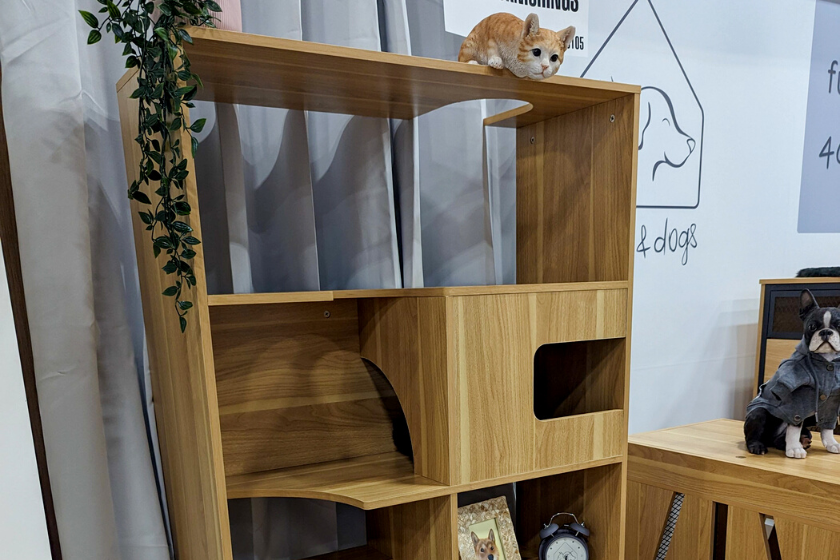 Best Household Product: Clifford Pet Shelf by 4 Cats & Dogs Home Furnishings
As we walked the show floor, the 4 Cats & Dogs Home Furnishings booth caught our attention from a distance, so we had to check it out. It looked like something out of a home design catalogue with modern and eye-catching furniture like bookshelves and coffee tables. As we got closer, we realized every piece was carefully designed to provide a stylish and aesthetically pleasing item for your home as the cat parent while providing special space for your feline family members. The most impressive of these designs was the Clifford Pet Shelf.
The shelf looked like a nice modern bookshelf with plenty of storage space and an oak finish that would complement a wide variety of spaces. But look closer, and you'll discover several elements specifically for your cat, including cutouts to make it easier to climb up from level to level and sectioned-off hiding spaces for your cat to relax and watch over your living area. We were impressed by how a single piece of furniture could serve so beautifully as a functional element in your home for storage, a comfortable place for your cat, and a statement piece or conversation starter.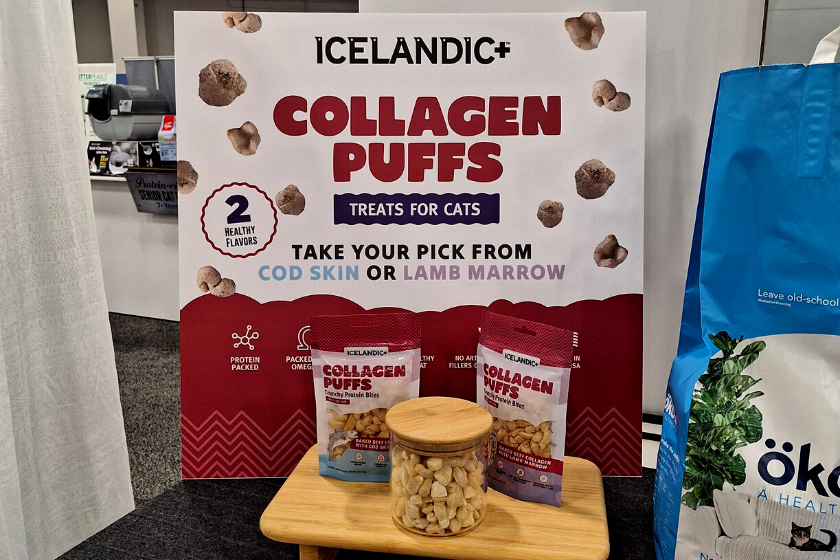 Best Natural Product: Beef Collagen Puffs with Cod Skin Treats for Cats by Icelandic+
We were having a difficult time deciding on the best product for this category when a member of the BlogPaws Community (and Pet Biz Collaborative) directed our attention to these cat treats from Icelandic+. Thanks to Katherine from "Momma Kat and Her Bear Cat" for this excellent recommendation. While cod skins and collagen are both trends in dog treats and supplements to support their health and well-being, Icelandic+ didn't want to forget about our feline friends – they should enjoy the benefits, too!
So, they created a treat with a mouthwatering taste that the cats would love (or so our kitty friends report) while emphasizing the importance of safe, natural, and healthy options. Beef Collagen Puffs with Cod Skin Treats for Cats are made from just two ingredients: wild-caught cod skin and USA beef collagen, forming a puffy and crunchy treat that, at only 4.2 calories, allows you to spoil your cat guilt-free.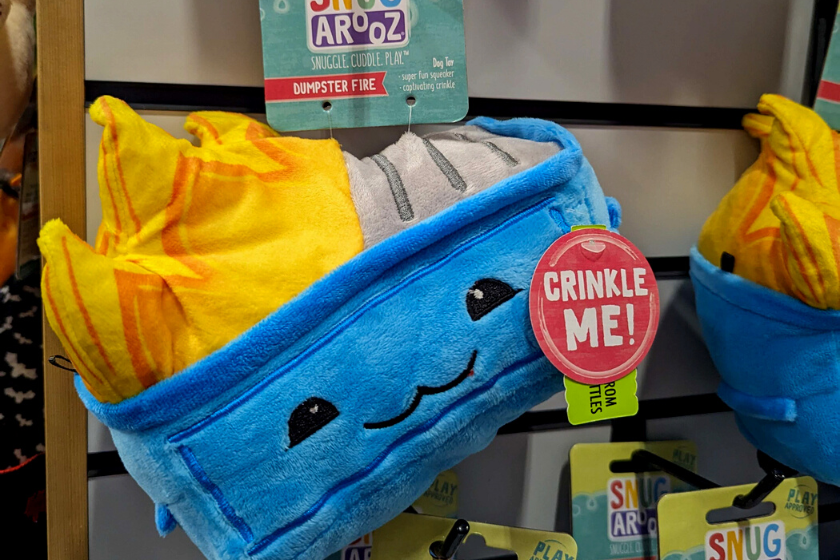 Best Recycled Product: Dumpster Fire by SnugArooz
Who says that recycled dog toys have to be boring? Many companies that create recycled toys focus on natural colors, leaning into the environmentally friendly element of their products. But not every dog parent wants to give up the fun aspects of their pet's toys, especially with the growing awareness of the limited colors dogs can see. How do you learn about their limited color vision and not want to seek out toys that will stand out and bring joy to their lives?
SnugArooz took their commitment to reducing their environmental footprint seriously while still embracing the happy, bright colors they are known for with this chaotic Dumpster Fire. Every element of the toy, except the squeaker, is made from recycled water bottles. It's a great way to reduce waste. At the same time, its bright blue appearance is sure to grab your pup's attention in any setting.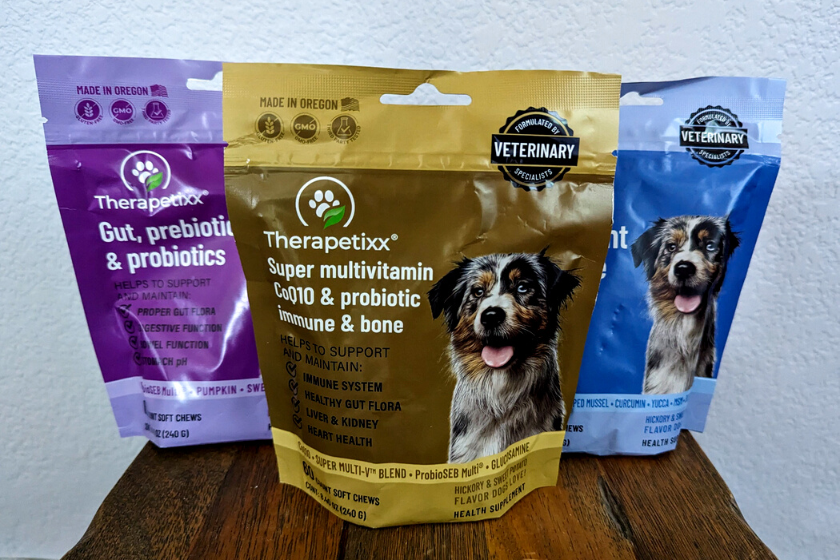 Best Supplement: Super multivitamin CoQ10 & probiotic immune & bone by Therapetixx
There are SO many pet supplements on the market that it can be challenging for companies to stand out and make their mark in the space. But that didn't stop the passionate professionals behind Therapetixx from dedicating themselves to the health and well-being of canine, feline, equine and exotic companion animals. They drew on over 35 years of experience in the vet industry to create supplements that they could stand behind proudly including the Super Multivitamin CoQ10 & Probiotic Immune & Bone.
Like a human multivitamin, this product addresses many vital systems in your dog's body, including the gastrointestinal and immune systems. The pre-and probiotic formula encourages the growth of good bacteria in the gut while preventing bad bacteria from growing, allowing the digestive system to work optimally. This can also help dogs to maintain a healthy weight, a problem that is faced by many pet parents today. The best part? The supplements are hickory & sweet potato flavored soft chews, giving your dog the impression that they are getting a treat each day instead of a supplement.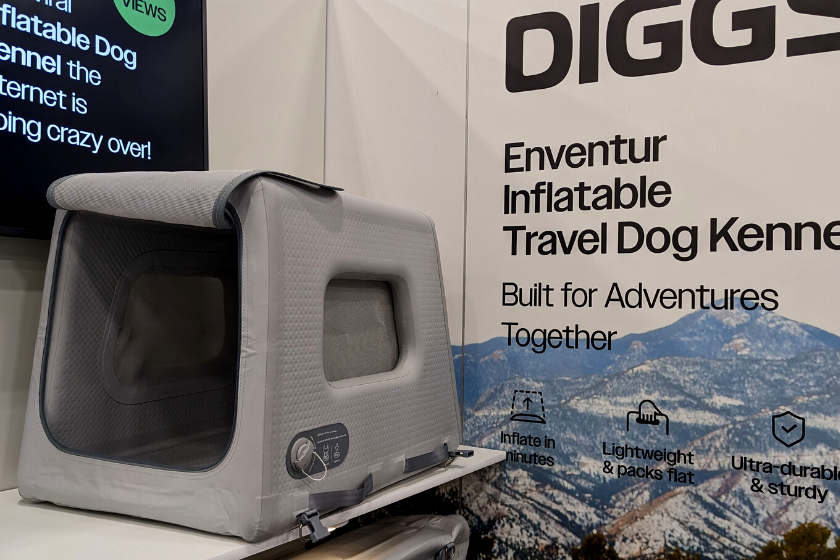 Best Travel Product: Enventur Travel Kennel by Diggs
Traveling can be challenging, especially if you are limited in space. Whether you are boarding a plane for a far-off destination or driving across the state to visit family and friends, a dog kennel is one of those oversized, bulky items that, while needed, can make packing a bit of a nightmare. Unless it doesn't… Diggs has already offered a creative solution to this problem with their well-respected and loved collapsible dog crates. But their latest product is a new and innovative spin that blew our minds.
Eventur Travel Kennel is a fully inflatable kennel, meaning that it folds flat for travel and can be blown up using an air pump when you arrive and get settled. The material it is made from is surprisingly strong, similar to the material used for inflatable paddleboards and kayaks, so they can survive hitting rocks in the water and stay afloat. The whole setup was so strong that the brand representative sat on top of their display kennel to show us that it would hold her with ease. You can even buy tie-downs to turn it into a crash-tested safe place for your pet during the journey. This is definitely a product we felt every travel-loving dog parent should check out!
Best Booth Design: Loungefly
Loungefly target="_blank" rel="nofollow noopener" has long had a dedicated and loyal following of customers, a strong community built around their fun and creative bags. Trust us, Jessica is one of them! So, you can imagine the excitement in her eyes when she realized that they were also going to be present with a booth at the show. It was quickly added to our list of places to visit as she promised it would surely be unique and engaging. She wasn't kidding.
The booth was set up like an adorable block of townhouses, with cute pups peeking out every window. Tables and chairs almost gave a bistro feel to the space, while a white fence kept all the happy puppies contained safely in one place. Of course, the pups were each showing off their own Loungefly dog backpack – after all, that was the focal point of the whole display. Their booth was so beautifully designed and set up that you couldn't help but fall in love.
Best Booth Presence: Tailwagger Dog Beer
There is no denying the fact that Tailwagger Dog Beer has a product that, in and of itself, establishes quite a presence in an event like SuperZoo. After all, who doesn't want to enjoy a cold beverage with their best friend, even if that friend happens to be a dog? But they weren't going to sneak in and hope that the word spread. Instead, they made a statement with their booth at the show – enough that we couldn't resist giving them the Best Booth Presence award.
While the booth itself embraced the fun colours of their different dog beer varieties (including Beefy Brown Ale, Chicken Porter, and Veggie Blonde – how cute is that), the biggest statement was their giant inflatable can of Beefy Brown Ale that was sure to catch the attention of anyone walking past. Jessica couldn't resist stopping to take a picture. They were fun, the energy was infectious, and we loved everything about the presence they created.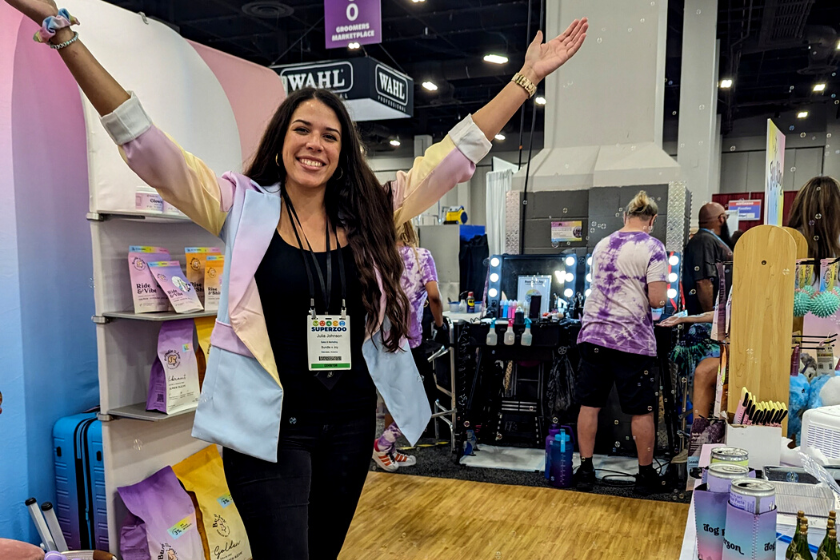 Best Branding: Bundle x Joy
As a woman-owned business ourselves, we were quickly drawn to the female empowerment vibe that Bundle x Joy was giving off in their booth and across their product branding. Led by Jess Berger, the company's founder, they set out to carve out their own space in the pet industry. They did so while being proud and unapologetic about who they are – a group of strong, dedicated, passionate and influential women who love their pets. What's not to love about that?
The most impressive thing about this company wasn't the bright feminine colors or the fact that they proudly announce that they are a woman-owned business, although those are both things that we admire about them. What really got us was that they are putting their money where their mouth is. What do we mean by that? The company has committed to supporting women in business by giving back to fund women in entrepreneurship in their local communities. They aren't just powerful women on their own; they are actively helping to build up others.
Best Packaging: Native Pet
One aspect of marketing that plays a vital role in selling a product to pet parents is the packaging. This is a brand's opportunity to catch your eye, showcase a product's benefits, and provide essential information. But some brands take their packaging decisions a step further, finding new, exciting, or innovative ways to create a better overall experience for pet parents. A great example is the new packaging being rolled out by Native Pet.
We have seen the company make changes to their packaging in the past, each time improving their design further. But the most recent updates were very impressive. Switching to a reusable tin package to help reduce their impact on the environment, they also found a way to include the scoop needed to serve their powdered supplements conveniently in the package so that it's always close at hand. The balance between marketability and functionality after the purchase highlighted the company's commitment to their customers.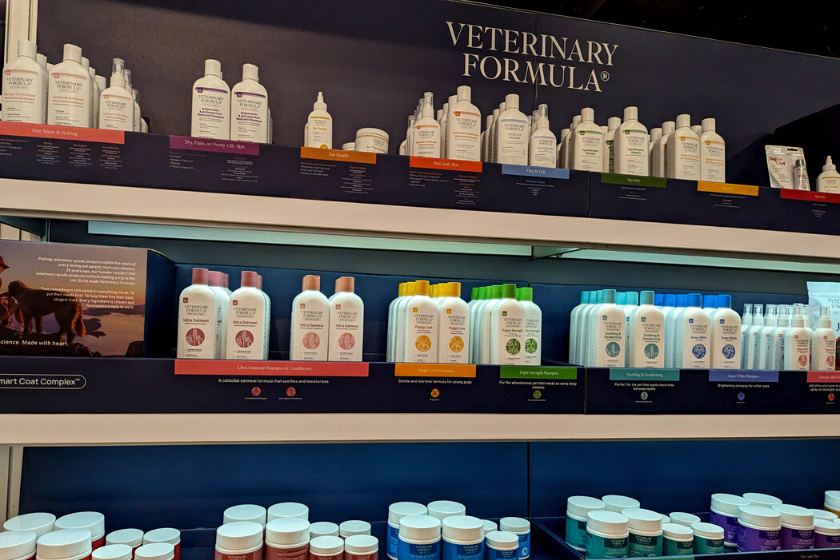 Best Rebrand or Refresh: Veterinary Formula by Synergy Labs
When a company has been around for a considerable amount of time, branding that was once highly successful may begin to fall short of what we were hoping for. Why? As the pet industry grows and evolves, so too do we to keep up. We noticed that this was a point many businesses were making this show with an assortment of rebrands and refreshes being rolled out at the show. But there was one that we felt was incredibly effective and well thought-out – Veterinary Formula by Synergy Labs.
They recognized that their old packaging wasn't as easy to read and understand as customers wanted. Furthermore, they had several styles happening from different product categories, taking away from the unified branding that most companies rely on to help establish a presence in the industry. With all this in mind, they rolled out new, clean, easy-to-follow packaging with a colour system to connect products from the same line easily. For example, all sensitive skin products had the same accent color, making it easy to spot which products worked best together for the same end goal. At the same time, they took the opportunity to reassess the formulas of their products for a refresh there too! It was all so effective, and we can't wait to see where this next chapter takes them.
Best Signage: Barkworthies
Have you ever stopped dead in your tracks because a sign caught your attention, and you just had to know more? That's the power of signage – and Barkworthies definitely understands that! The first thing that we noticed about their signs was that they were dramatic and adorable all at the same time, a powerful combination in the pet space.
But the brand ultimately won us over when they shared that the dogs featured on their signs were all their own pets. There is something special and relatable about incorporating that kind of personal touch in the work that you do in this space. Plus, I'm sure you'll think about that the next time you're walking through a pet store and see a sign for Barkworthies, wondering whose pet you're looking at. It's okay; we're guilty too!
Best of Awards from the BlogPaws Team: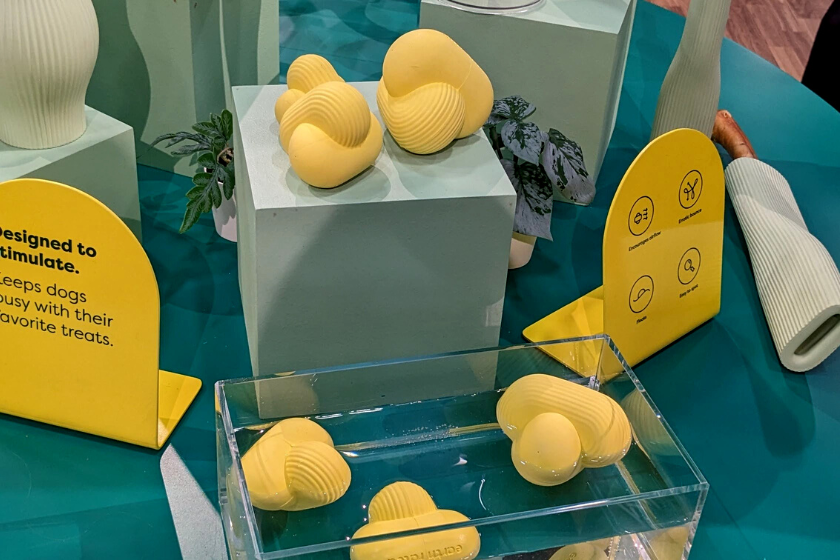 Britt's Best-in-Show Pick: Fetch Toy by Earth Rated
Does your dog have a favourite style of play? Are they a tug-of-war addict? Do they need to chew on anything and everything? For my youngest pup, Lucifer, there is nothing better than fetch. That's why I couldn't help but be intrigued that Earth Rated was launching a new line of dog toys, including a toy dedicated to fetch. There are a million tennis balls and dog toys out there, so what made this specific fetch toy so different?
I was most impressed with the level of thought that went into every aspect of this toy. The company thought through the challenges a dog and their owner may face when playing fetch and how to overcome them. The toy's unique shape causes it to bounce unpredictably, making the game more exciting and allowing for better airflow when your dog carries it. It floats (an important factor for those of us who enjoy spending time on the water), and the yellow color takes into account a dog's limited color vision. Their dedication to creating the best possible toy stood out for something seemingly so simple on the surface.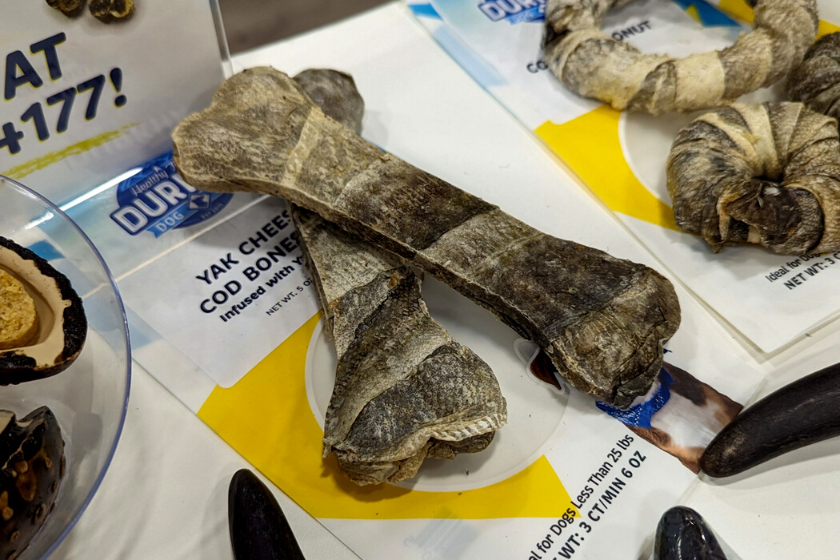 Jessica's Best-in-Show Pick: Yak Cheese and Cod Bone by Durkha Dog Chew
The second "Best of Show" award was selected by BlogPaws COO/CMO Jessica Shipman. When asked about why she chose the Yak Cheese and Cod Bone by Durkha Dog Chew, she stated:
"What I love about the Yak Cheese and Cod Bone from Durkha is how it seamlessly combines two standard types of chews available on the market into something new and exciting for both us humans and our dogs. One of my favorite things about finding new products at trade shows like SuperZoo is that you get the chance to interact with founders, product designers, and members of the team behind the products. Durkha was no exception. Passion and excitement about their products and yak cheese poured out of Founder & Head of Sales, Neil Pokharel, and the rest of his team."
Did any of these incredible winners catch your attention? Did you discover a new brand or product? We'd love to hear your thoughts about our picks in the comments!
About the Author: Britt Kascjak is a freelance writer and content creator with a background in digital and social media marketing. In addition to being the BlogPaws Director of Content & SEO, she also runs her own personal blogs Shed Happens, The Kas Pack, and Lucifer the Rescue Pup. When she's not working, she can be found volunteering in the rescue space, camping, hiking, canoeing, or spending time with her 3 dogs and 2 cats.