Writing can be difficult for a lot of people. Even those of us gifted with a passion for wordsmithing can often find ourselves hitting walls when it comes to creating the right copy for the right occasions. This perhaps happens most often in the world of SEO copy.
For many, SEO copy is a difficult beast to wrangle. Not only does it involve checking off all the boxes of any other writing (easy to read, good grammar, economy of words, etc.) but it also needs to include the kind of content that will catch the favor of search engines. A lot of writers tend to get hung up on that last part, sacrificing their normally stellar writing styles for a difficult-to-read, keyword-stuffed tome that could only be enjoyed by search bots.
The one thing that a lot of people don't realize about creating search engine optimized copy is that it doesn't need to be approached much differently than one would normally approach their copy. With a few small tweaks and a solid plan, you can easily strike a balance between engaging content and SEO-friendly content.
Here are a few ways to create great SEO copy that will be loved by spiders and humans alike.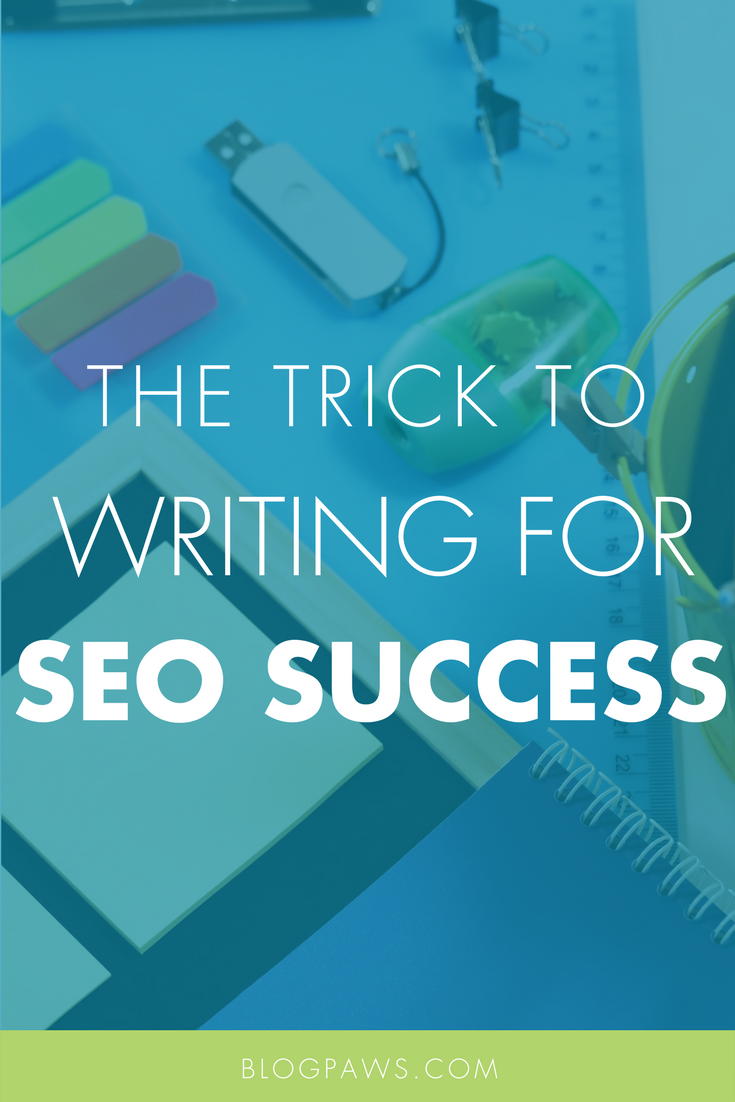 Keyword Research
As with many SEO-related tasks, you'll want to start with a solid keyword research plan. We've already covered keyword research in depth here, here, and here, so you likely have a good idea of what this entails.
Once you have a list of optimal keywords, it's time to brainstorm. Pick a handful of the most relevant and highly-searched keywords and jot them down. Next, begin thinking of synonyms and related terms. Feel free to use a thesaurus, if you like, or a free online tool like KeywordTool.io or the Google Keyword Planner. Once you have some related terms, put them aside—we'll come back to those in a minute.
Organize Your Thoughts
You likely already have a pretty strong idea of what you want to write about. And while jumping head first into writing may seem like the next best step, consider making an outline first.
An outline not only helps you stay focused during the writing process, but it also allows an opportunity to contextually organize what you want to say. Why is this important? Because search engines, Google in particular, are all about context and relationships these days. Just like a human would, spiders often figure out the purpose of a page by comparing its content against itself and against the content on the rest of the site.
For instance: Before smart phones really took off, people used to search with single words or concepts. For instance, someone looking for a local pizza joint might type something like "pizza place" or "pizza place in Philly." But because mobile searches and voice searches have gotten so popular, the average person has evolved to the point of asking Google questions instead, such as "What's the best pizza place in Philly?" or "Which pizza places in Philly sell beer?"
To take advantage of this, you need to anticipate potential questions a reader may have and fashion your content towards that. This can be difficult, however, a quick brainstorming session can go a long way.
Don't be afraid to go long
It's no secret that Google tends to rank longer-form content a bit better than shorter content. This isn't because Google is "rewarding" higher word counts, but usually because those longer pieces are more comprehensive and answer more potential questions for users.
So, when creating your copy, consider writing something a bit more long-form that covers all the possible topics that could relate to your theme. By doing this, you're essentially casting out a larger net and may end up ranking for more relevant searches than you might with a shorter piece of content.
That said, you don't want to add words to a document just for the sake of it. Adding fluff doesn't help readers, so it likely won't help in Google's eyes, either. Always practice "quality over quantity."
Don't use too many keywords (or use certain keywords too often)
You have your keywords, you have your outline, you have all the topics you want to cover—you're ready to write. But unfortunately, this is the part where a lot of people get hung up. The reason? Keywords.
As mentioned earlier, the right keywords are essential to a successful SEO campaign, however, sometimes we put a little too much emphasis on them. When this happens, we often end up with hard-to-read, keyword-stuffed content that borders on nonsense. Not only does this suck for readers, but it sucks for search engines, too—and they'll show you how much it sucks with lower rankings.
The best way to combat this? Be yourself! Put the keywords aside and start off by writing as you normally would, using the verbiage you normally would. Once you get a draft committed to paper, go back and think about places where keywords could organically fit into the copy without affecting readability. By being yourself and not thinking about keywords, you may find that you've already done this naturally!
The trick here is to be careful not to use a keyword too much. Instead, bring out those synonyms we discussed earlier. Part of Google's charge toward understanding context included understanding the relationships between words (for instance, Google likely knows that a hoagie, a sub, and a grinder are all the same thing). Take advantage of this by using some of those synonyms you found earlier in your copy. This could potentially help the content rank for a wider range of searches as it could potentially answer a wider range of queries.
Layout matters
To varying degrees, search engines take readability and usability into account when ranking a page. To take advantage of this, you'll want to make sure your post isn't just a giant block of text but is instead broken up in a way that makes it easier for a reader to consume.
One of the easiest ways to do this is by breaking up your content into sections—similar to how you did earlier with the outline. Make sure each section is designated with its own subhead line, and that said subhead line is contextually relevant to the section it's introducing (also make sure you're judiciously using keywords to create it).
Also try to take advantage of numbered and bulleted lists, if it makes sense for your copy. Not only does this make it easier for users to process the copy, but Google tends to favor these as well.
Final Thoughts
There's a lot to process in the above steps, but if I can impart one primary lesson it's this: Stay true to your writing! While it's tempting to write copy for rankings, what's most important is the message you're trying to convey and doing it in a way that resonates with readers. If you write great content, great rankings are likely to follow!
Michael Ferrari owns and operates Pen Cap Online Marketing, an agency specializing in search engine optimization. When he's not helping businesses dominate the search rankings, he's most likely hanging out with his wife, son, and beagle. You can reach him at "michael(at)pencapseo(dot)com".