In my previous post, I demonstrated a quick and easy way to use the Google Keyword Planner (GKP) to find keywords and pick the best ones to use in your blog content. In case you missed the last post (or don't have time to re-read it right now), here are some points to keep in mind:
The GKP offers a peek into Google's wealth of search data
The tool works best if you have a rough idea of what you're searching for (described as a "seed" word or phrase)
The numbers provided are not very accurate and should only be used for directional purposes
All caught up? Cool! Let's get started on some of the more advanced ways to use the GKP for your keyword planning.
Expanding Your Keyword Research
Last time, we focused on the primary function of the GKP: Entering a word or phrase, and seeing what other relevant words/phrases it suggests. That's all well and good, but it's only one way this tool can help you out.
Let's start by going back to the GKP's "main" page. As you may remember, there are three options. We're going back to that first one—"Search for keywords using a phrase, website, or category"—to explore it in more detail.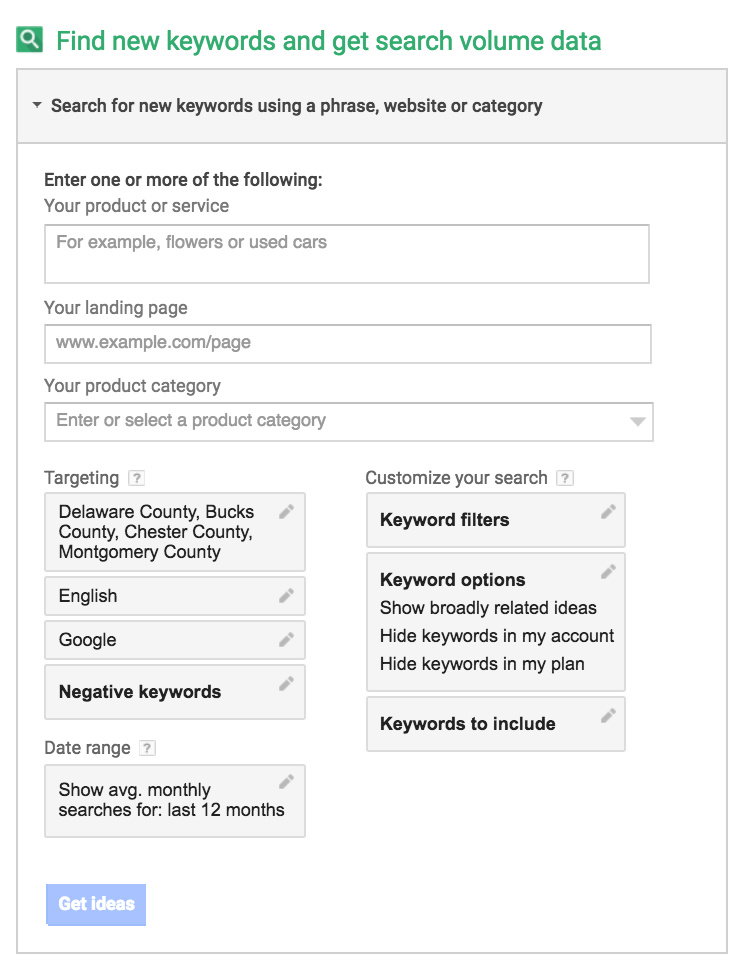 Here, you'll see three primary ways to start your search. The first one, "Your product or service", was covered in the last post. One thing I'd like to add, though, is that creativity and experimentation can be your friend here. Instead of just popping in one phrase, try several different words or phrases. You might be surprised at what pops up!
The second section, "Your landing page," is typically used for AdWords, but it can be a great way to mine some keywords from other sources. For instance, if you're like me and contribute online marketing ideas to the pet blogging community, entering BlogPaws.com in here can give you some ideas for potential keywords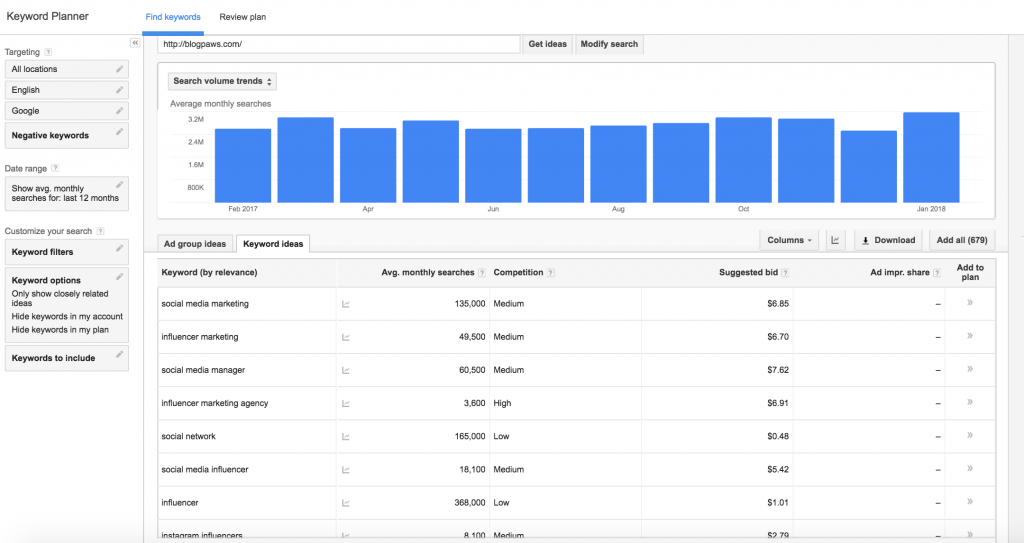 Finally, there's the "Your product category" option. Google is pretty good at categorizing searches, and this option gives you a peak into that database.
I'll be honest—this can be a bit of a crapshoot, but at the same time it can offer some surprisingly good results with the bad. The nice thing about this option is that it not only provides some very broad, top-level ideas (such as "Pet & Animal Training"), but it can also let you dig deeper into that idea by providing a list of keywords that Google relates to that concept.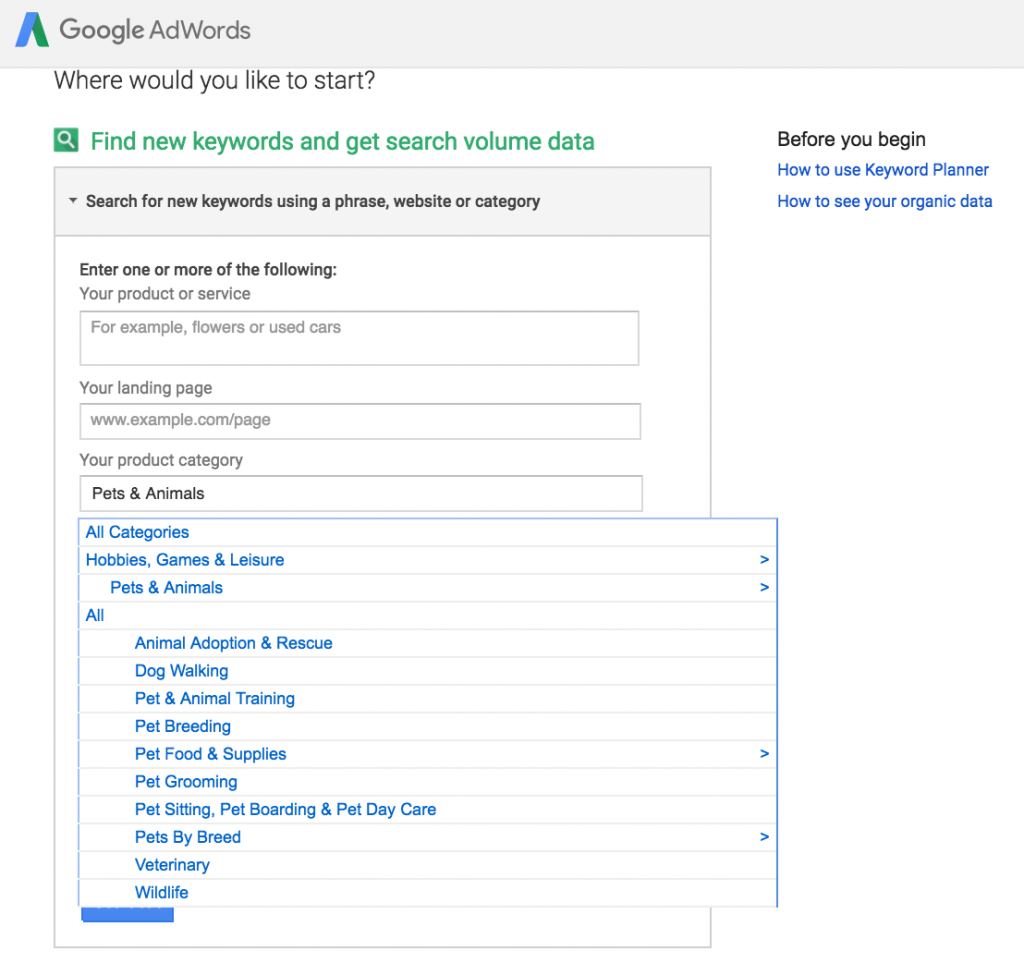 Unfortunately, a lot of the keywords provided here are very random and may have little to do with the category you entered. But if you have some extra time and interest, digging through the list might provide a few diamonds in the rough.
Reviewing the Results
Now that you have a good idea of the different ways you can search for keywords, let's talk about what you can do to fine turn the lists and separate the good from the "meh."
To do this, we're going to use the filters GKP kindly provides us. You may have noticed these filters already, as they are just below the options discussed above.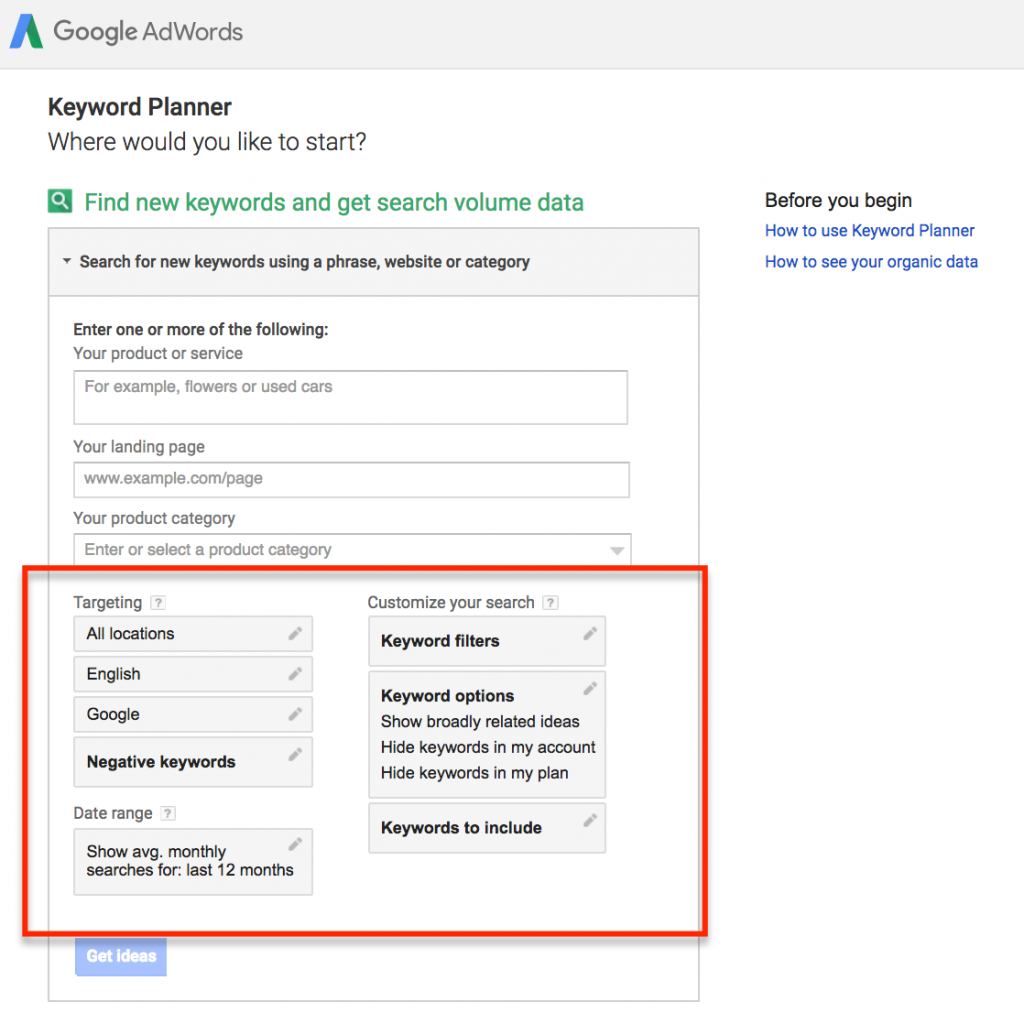 Here's a quick breakdown of each feature and how it can help you out in your quest for the perfect keywords:
Negative Keywords: Think of negative keywords as a fancy way of saying "keywords I don't want." This is handy for weeding out ideas. For instance, if you're looking for keywords related to "pet food," but you know you don't want/need anything relating to pet food recalls, you can enter "recall" as a negative keyword to keep them out of your results.
Keywords to Include: This is basically the opposite of the Negative Keywords filter but serves a similar purpose. In this case, if you only want results focusing on pet recalls, this is the place to put it!
Keyword Options: There's not much here to help us out with our research, but the first option ("Only show ideas closely related to my search terms") can be helpful in further filtering out results that may not relate to what you're looking for. But be careful—using it in the wrong situations could potentially filter out some solid results.
Keyword Filters: This tool can be helpful and weeding out the results that may not be up to your particular standards. For instance, you can filter out results that don't fall into a desired range of Avg. Monthly Searches or results that are too competitive or not competitive enough (more on that in the next post!)
So, is that everything?
LOL, no. While the above options can greatly help you refine your search as well as offer ideas for new ones, it's still just a start. The real magic happens when you put everything together and use everything the GKP offers at once. So next time, we're going to discuss the whole keyword research process—finding seeds, picking the ideal keywords, and most importantly, one of GKP's more useful features: Ad groups!
Michael Ferrari owns and operates Pen Cap Online Marketing, an agency specializing in search engine optimization. When he's not helping businesses dominate the search rankings, he's most likely hanging out with his wife, son, and beagle. You can reach him at "michael(at)pencapseo(dot)com".
Image: Mallmo/Shutterstock.com