The Wordless Wednesday blog hop is getting you connected to BlogPaws throughout the year. We are hearing stories of a BlogPaws Conference slump, a sadness that washes over after the networking in person, and so we have ways you can stay connected and keep the enthusiasm going year-round.
There are more than a few things you can do right now to prevent those blues from become full-blown post-BlogPaws Conference depression… or even worse…. putting you in a "cat"atonic state (see what we did there?).
Here's How to Connect with BlogPaws Year Round
The BlogPaws Social Learning Community.
Visit the blogs of folks you encountered at BlogPaws. Leave comments, get to know them, and build on existing relationships while forging new ones. Put the "social" in social media. If you did not attend the BlogPaws Conference, get social with the BlogPaws News and Boost Group on Facebook.
Get involved with #BlogPawsChat on Twitter every Tuesday of each month from 8 to 10 pm ET, except for the third Tuesday of the month.
Visit the BlogPaws blog daily. We have new content Monday through Friday. Bookmark us, make BlogPaws a daily stop, and add us to your Bloglovin' or other reader.
Programs: The BlogPaws® Pet Influencer Network™ is the fastest growing group of engaged pet influencers online and off – we attract the best and the brightest. Join the community and let us know you are interested.
Get our emails and stay in the loop and in the know. Visit our BlogPaws.com homepage to sign up!
Grab your 2018 ticket now for the BlogPaws Conference in Kansas City, Missouri!
Look at what we did recently at the BlogPaws 2017 Conference with a paw it forward mantra.
And, as a conference aside, be sure to link any blog posts you do about the conference to our Linky Hop!
The Wordless Wednesday Blog Hop
BlogPaws offers year-round interaction, activity, community and more to learn, earn, and connect. Visit and leave comments on other blogs to make some new buddies and maybe some new followers. You can add the button to your post and/or to your blog sidebar, either by cutting and pasting the image or using the HTML code below. Need help? Here it is:
How to Join a Blog Hop – BlogPaws Tutorial Video: Step by step help to get you started:
.
You can add the button to your post and/or to your blog sidebar, by cutting and pasting the image below. Need more help? Here it is: How to Join a Blog Hop – BlogPaws Tutorial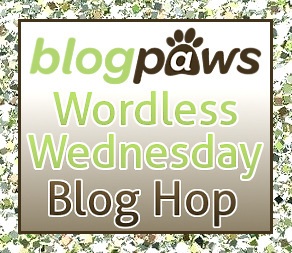 Image:  Africa Studio / Shutterstock.com