As we move towards 2018, we look back fondly at 2017. With all of the uncertainties in the world, one thing is for certain: Changes in social media are constant. Instead of fearing change, here are a year's worth of social media improvement posts in this week's blog hop.
Over the holidays or in your spare time, we encourage you to embrace these posts and apply the knowledge from each to your own social media presence and goals: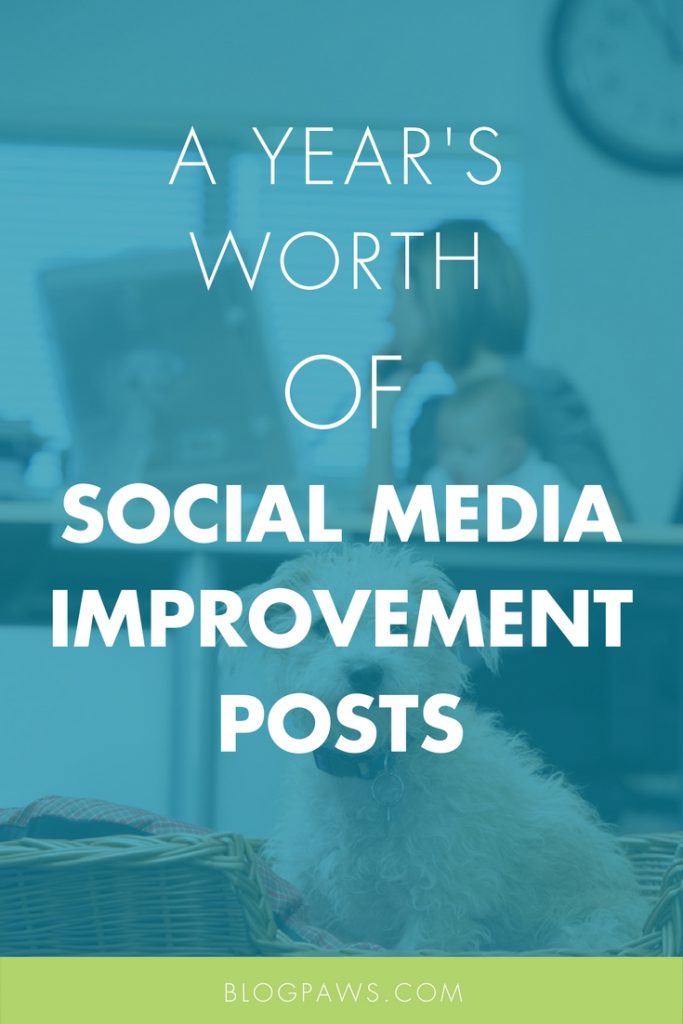 January: "You're a high achiever. You're running a successful blog. You might be working a day job or taking on a side hustle to support your blogging efforts. And you're probably constantly raising the bar on yourself," says Maggie Marton, BlogPaws' Director of Content. Learn how to Celebrate Your Wins: How to Enjoy Your Achievements Before Moving onto the Next Task.
February: "Could your Pinterest images use a little invigorating jump start? Maybe you've been pinning for a while with no clear strategy, or with all the changes on Pinterest, you need someone to guide you with the best way to create a Pinterest image. There is a way to make your Pinterest images rock…it just take some planning and a little insight," says Carol Bryant, BlogPaws' Marketing and Social Media Manager.  Learn How to Make Your Pinterest Images Rock here.
March: Video integration is a necessary part of a social media and blog strategy. If you are growing your blog as a business, video should be one of the tools you call upon regularly. Of course, anyone can pick up a camcorder, use an app, or shoot a video segment using a phone. Here are five advanced video tactics, and stay tuned for the bonus tips, too!
April: It makes sense to embrace a post about social media at live events, considering the BlogPaws 2018 Conference is in April of 2018.
May: "Repurposing your older work–blog posts, social media shares, video and even print (gasp!)–is the way to save yourself from writer's block and frustration from trying to get everything done," writes Nancy Hassel. Here's How to Re-Purpose Content and Market it Consistently Online.
June: Twitter hacks to the max: Imagine getting some insights into how to grow a Twitter account beyond the basics. Here are 8 advanced Twitter tips to start using right away.
July: Gone are the days of posting content on Facebook and hoping people see it. Here's How to Boost a Post on Facebook.
August: Here are 5 popular Instagram tips you must ignore (or suffer the not-so-pleasant consequences).
September: Love them or hate them, hashtags are a way of life on Instagram. Do you have a hashtag strategy for Instagram in place? Here's How to Develop a Hashtag Strategy for Instagram.
October: Discover How and Why to Start a Facebook Group.
November: Take the BlogPaws' 2017 Social Media Holiday Challenge, which is great for ANY time of ANY year.
December: Dive into advanced tips and techniques to drive blog traffic using Instagram Stories.
---
Don't Forget
Get the Latest in Social Media, Pet Blogging and Pet Influencer Education at the BlogPaws 2018 Conference in Kansas City, Missouri.  If you want the early bird rate before a sell out, claim your BlogPaws 2018 Conference tickets here.
The Wordless Wednesday Blog Hop
BlogPaws offers year-round interaction, activity, community and more to learn, earn, and connect. Visit and leave comments on other blogs to make some new buddies and maybe some new followers. You can add the button to your post and/or to your blog sidebar, either by cutting and pasting the image or using the HTML code below. Need help? Here it is:
How to Join a Blog Hop – BlogPaws Tutorial Video: Step by step help to get you started:
Image:   Monkey Business Images/ Shutterstock