From The Editor's Desk:The first national monument ever to pay tribute to dogs and that honors every dog who has served in combat since World War II to be dedicated at Joint Base San Antonio – Lackland,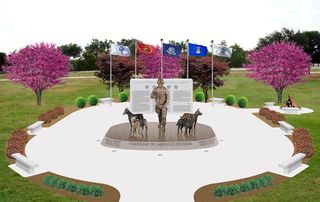 TX on Monday October 28, 2013
The John Burnam Monument Foundation announced that that the U.S. Military Working Dog Teams National Monument, America's newest national monument, will be formally dedicated and added to the inventory of the United States of America's national treasures, at a special ceremony on October 28, 2013. The dedication ceremony, which is open to the public, will be held at Joint Base San Antonio (JBSA) – Lackland Air Force Base, San Antonio, Texas.
JBSA – Lackland is home to the Department of Defense Military Working Dog (MWD) Program and is where the U.S. Armed Forces has been training its military working dog teams since 1958. It is the world's largest training center for military dogs and handlers and is also home to the largest veterinary hospital for military working dogs.
The founder and inspiration for the national monument is John C. Burnam, a highly decorated Vietnam infantry Veteran Scout Dog Handler and author of "Dog Tags of Courage" and "A Soldier's Best Friend."
"As a Scout Dog handler in Vietnam I experienced firsthand how valuable these dogs are at saving soldiers' lives," said Burnam. "Yet, despite their value, when we pulled out of Vietnam the dogs were left behind. They were fellow soldiers and they were our best friends. They were heroes and they were left to die. So I was determined to get the dogs, of all wars, recognized at the highest level of our nation's government and then build them a magnificent national monument to ensure they would never be forgotten again."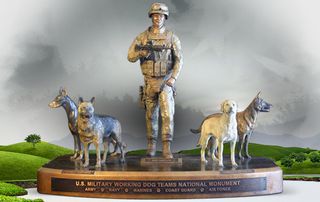 The U.S. Military Working Dog Teams National Monument's main granite pedestal features the U.S. military's four prominent working dog breeds since WWII (Doberman Pinscher, German Shepherd, Labrador Retriever and Belgian Malinois). The nine foot tall bronze dog handler represents all dog handlers of all branches of the U.S. Armed Forces that served during World War II, Korean War, Vietnam War, the Gulf War and the War on Terror. Another significant design feature is the "Not Forgotten Fountain" – a fully functional bronze dog and handler water fountain that epitomizes the bond between dog and handler.
The larger than life, "hero-sized", bronze handler and dogs, tell the stories of the unbreakable bond between America's war dogs and their handlers, and the courage to protect and serve. All seven of the bronze sculptures that make up the U.S. Military Working Dog Teams National Monument were meticulously sculpted by internationally recognized sculptor, Paula Slater (www.PaulaSlater.com).
The U.S. Military Working Dog Teams National Monument was funded through the generosity of corporate sponsors (Maddie's Fund www.MaddiesFund.org, Natural Balance Pet Foods www.NaturalBalanceInc.com, Petco www.petco.com), veterans groups, dog groups, donations made by individuals, and funds raised through charitable events.
A number of local, state, federal and military officials will be in attendance for this historical occasion, as well as current and veteran dog handlers. "As a nation we owe our war dogs a tremendous debt of gratitude," said Burnam. "Their selfless service, loyalty and sacrifices to our country must never be forgotten. The U.S. Military Working Dog Teams National Monument is a treasure for us all to ensure they are honored and remembered forever."
For more information about the U.S. Military Working Dog Teams National Monument and its journey to becoming a United States national monument, go to www.jbmf.us.