BlogPaws Guest Blogger: Theresa O'Connell

One of the great things about winter in New York City is the annual Westminster Kennel Club Dog Show, held in early February. Among the events preceding the show is the third annual New Yorkie Runway Fashion Show. 
Some of the celebrities attending this year's show are Miss USA Alyssa Campenella, former MTV VJ Lyndsey Rodrigues, Miss Teen USA Logan West, Peter Yarrow (of Peter, Paul & Mary), Kenny Santucci (from MTV's Real World/The Challenge), Dr. Marty Goldstein (radio host of "Ask Martha's Vet), Beefy the Skateboarding Bulldog and Ella, the Therapy Dog of the Year.
When I was invited to attend the New Yorkie Runway Casting Call, I jumped at the chance. The fabulous New Yorker Hotel was abuzz with the excited contestants and their human companions – and I could see why. The stakes are high! The winner and his or her proud owner, will walk the runway at the New Yorkie Runway Doggie Fashion Show, surrounded by celebrities!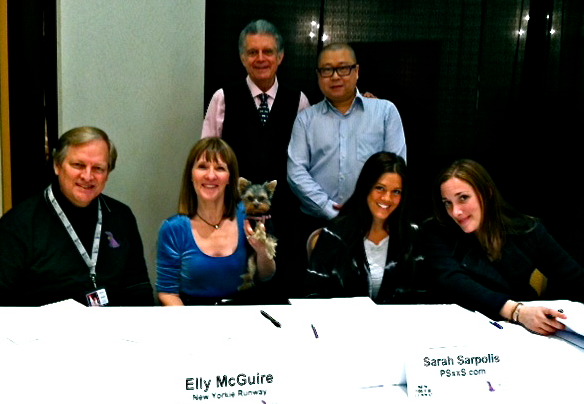 The Judges
Among the prizes are the coveted NYR trophy, representation by the world famous All Tame Animals Agency, a two night stay at the New Yorker Hotel and two tickets for the Westminster Kennel Club Dog Show!
Multi-talented Elly McGuire, of the popular weekly #Petchat on Twitter, founded the New Yorkie Runway Fashion Show to help raise money and awareness for "Angel On A Leash." Elly designs all the outfits worn by the pups on the runway and emcees the event, too!
"Angel On A Leash" was founded by the "Voice of Westminster" David Frei. His mission: To create a "properly administered and monitored therapy dog program". It was a thrill to meet Mr. Frei. I have to confess, whenever I read a description of a breed, it's his voice that I hear. (He's been at it for 23 years!)
It was also great to meet Schmitty the Weather Dog! I've been a fan of Schmitty for some time now and it was great to watch the producer of the show, meteorologist Ron Trotta @pianoweatherman, as he introduced each entrant, joking with them to make them comfortable and allowing each one to "strut their stuff."
People and their pets from as far as California came to audition to be part of the show. All of the contestants were wonderful, but the group had to be honed down to the top ten. The judges discussed, then chose the best candidates. Last year nearly 20,000 people voted for their favorite teams. Now it's your turn to vote! Check out the videos at New Yorkie Runway and cast a vote for your favorite!
Better yet, if you're in New York city area, come to the show! Tickets are available now at the New Yorkie Runway website – but it always sells out…
Photos courtesy of Theresa O'Connell and The New Yorker Hotel.