I get a lot of traffic to my blog using Twitter. Twitter moves fast, with approximately five hundred million tweets sent per day. That's six thousand tweets per second! Tweeting your blog post once or twice probably isn't going to drive much traffic to your blog. Using Twitter more effectively for maximum visibility will result in more blog traffic. Here are some tips to maximize Twitter and drive traffic to all your blog posts.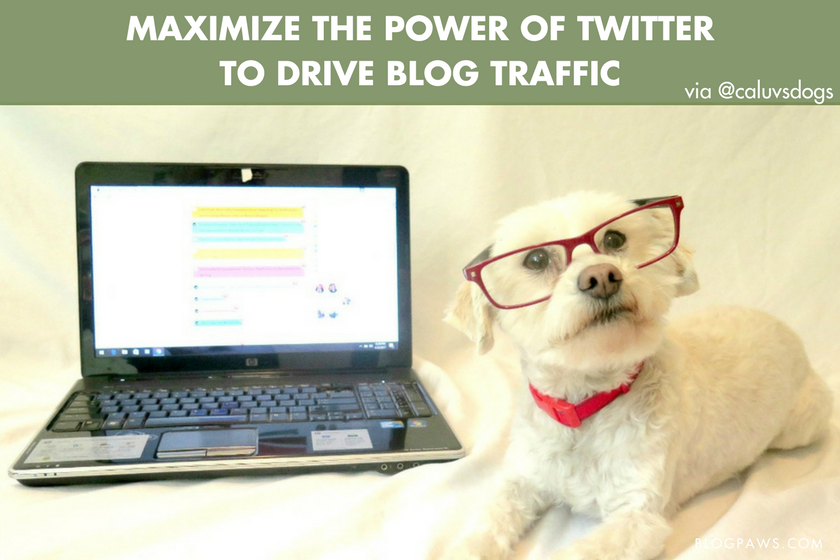 Rather than tweeting your blog post only once or twice, Tweet more often and for a longer period of time, especially for sponsored posts. Twitter is definitely not a one-and-done social media channel!
Vary the times of day you tweet. Don't tweet only at the most popular times. Capture more of an audience by also tweeting during lunch hour, in late afternoon, in the evening, and over the weekend, too.
Schedule tweets in advance using a scheduling tool like Hootsuite or TweetDeck.
Change up your tweet message. Rather than continually tweeting "Why You Should Attend the BlogPaws Pet Bloggers Conference " every time you tweet, vary the message: "5 Great Reasons To Attend The BlogPaws Pet Bloggers Conference", and "Take Your Blog To The Next Level At The BlogPaws Conference!"
In addition to changing up your tweet text, vary the hashtags you use, as well. Rather than always using only the most common ones like #pets, #dogsoftwitter, etc. for all your blog post tweets, find new ones to increase your reach. Include hashtags that make sense for your blog post topic like #naturalpetfood or #travelingwithdogs. Consider including related hashtags that may be outside your specific niche, such as #influencers and #motivation.
Engage and keep the conversation going. As with other social media channels, you should be social on Twitter as well. When someone Likes or Retweets your tweet, don't just hit the Like button back; keep the momentum going. If someone Retweets this: "Why You Should Attend the BlogPaws Pet Bloggers Conference", don't just hit the Like button and Reply with "Thanks for sharing." Keep it going by responding with something like, "I can't wait for the session on SEO tips. What session are you excited about?" You don't need to beat the subject to death, but don't let the conversation die after the first Retweet!
Here's a simple example: BlogPaws tweeted about Natural Balance being a conference sponsor. I could have simply hit the Like and Retweet buttons, but instead I continued the dialogue by Quoting their tweet. Blogpaws or Natural Balance in turn can then continue the chatting and sharing the message in the tweet.


We can't wait to Pawty w/ @NaturalBalance at their sponsored Happy Hour at the #blogpaws conference in Myrtle Beach https://t.co/zjPGm6VCUj

— Catherine Armato (@Caluvsdogs) April 26, 2017

If there's a Tweet you really want to spotlight, select "Pin To Your Profile Page" by clicking the More down arrow in the upper right corner of that tweet. The tweet will remain at the top of your Tweets feed. People who want to see what you've tweeted lately will see that one first. I change my pinned Tweets regularly to get more exposure on select tweets, especially my sponsored tweets.
Following these tips for all blog posts will help maximize the power of Twitter and continually drive traffic to your blog.
We'd love to know: What questions do you have about Twitter? Do you have any tips to share with the community that have worked for you and your content on Twitter? 
Cathy Armato is a freelance writer and pet blogger. She is passionate about the human-animal bond and animal welfare issues. Her blog, Dogs Luv Us and We Luv Them, focuses on pet health and well being, pet safety, traveling with pets, and animal welfare. Cathy is a lifelong animal lover and animal shelter volunteer. She fosters dogs in her home and volunteers in her community with her Therapy Dog, Icy.