Knowing how to make money as an Amazon Affiliate is one of the topics we are asked to cover here at BlogPaws. Fortunately, our team has many years of combined experience with this topic, as they, too, are successful Amazon Affiliates.
We are pulling back the curtain and going behind the velvet ropes with a 'deeper dive' into making money as an Amazon Affiliate. There are many ways to monetize on Amazon beyond affiliate links.
Two Keys to Make Money as an Amazon Affiliate
Must have consistent traffic to your blog
Must realize that people just need to CLICK on your affiliate links or posts and buy something even if it is NOT the item to which you linked
Being consistent, solving a problem, and being a valued resource to your readers and potential followers are all important elements to gain and maintain blog traffic.
Be sure to check out 5 Easy Ways to Increase Blog Traffic.
When someone clocks through your affiliate link, said person has 24 hours to make a purchase on Amazon in order for you to receive a commission. However, if the person clicks through on someone else's Amazon affiliate link before the 24 hours are up, that Amazon Affiliate will receive commission. If the person clears cache and cookies on their browser, the cookie is lost.
Making Money with Amazon Opportunities
Most folks know the term "Amazon Affiliate," but there are a plethora of ways to make make money with Amazon, so we're calling them Amazon opportunities.
During a recent Facebook Live in the BlogPaws Social Learning Community Facebook Group, BlogPaws' Director of Influencer Marketing, touched on some of the many ways to make money with Amazon.
"Most of you are probably familiar with Amazon Affiliate links," Elfeinbein says. "This is where you search for a product you love and share the link in your blog post or on your social channel. This, however, is not the only offering you can take advantage of through Amazon. Visit your affiliate account and you will find all of your options as drop down menus at the top of the screen. You can use any combination of the following options."
Banner Ads – This is not traditional banner ads and it almost looks like this might be fazing out or getting a facelift in time for the holidays.
CPM – You need an existing ad network set up but once you have one you can create banner, sidebar, header, and footer ads from Amazon. Amazon allows you to set your cost per mill (or cost per thousand impressions). If Amazon cannot fulfill a space at your set CPM the ad will revert back to your regular ad network.
Native Ads – Various times throughout the year Amazon runs specials using the Native Ad Platform. Native Ads are customizable so that you put in the exact products you would like displayed or you can pick subcategories of products to display.
Mobile Popover – If you choose this option be mindful of your readers experience and make sure to test it on your own site before full implementation.
Link to a Page – Instead of linking to just one product you can link to hot topics, best sellers, special offer pages, or search results.
Seasonal Promotions – This option allows you to have a static sidebar ad on your Blog that promotes one of hundreds of different special offers. Everything from Prime Pantry for Pet Food Delivery to deep discounts on open boxes of camping gear. Use the search function to find an option that makes sense for you or scroll through the categories to see what is currently on offer. Traditionally, Amazon creates holiday-themed pet promotions sometime in November.
Bounties – Amazon has a number of subscription-based products that they want your help in promoting. These are called bounties. You can copy and paste code onto your blog that allows your readers to take advantage of a trial offer. When they sign up for the offer you get a set payout. Bounties change seasonally so check back often to see is something new has popped up.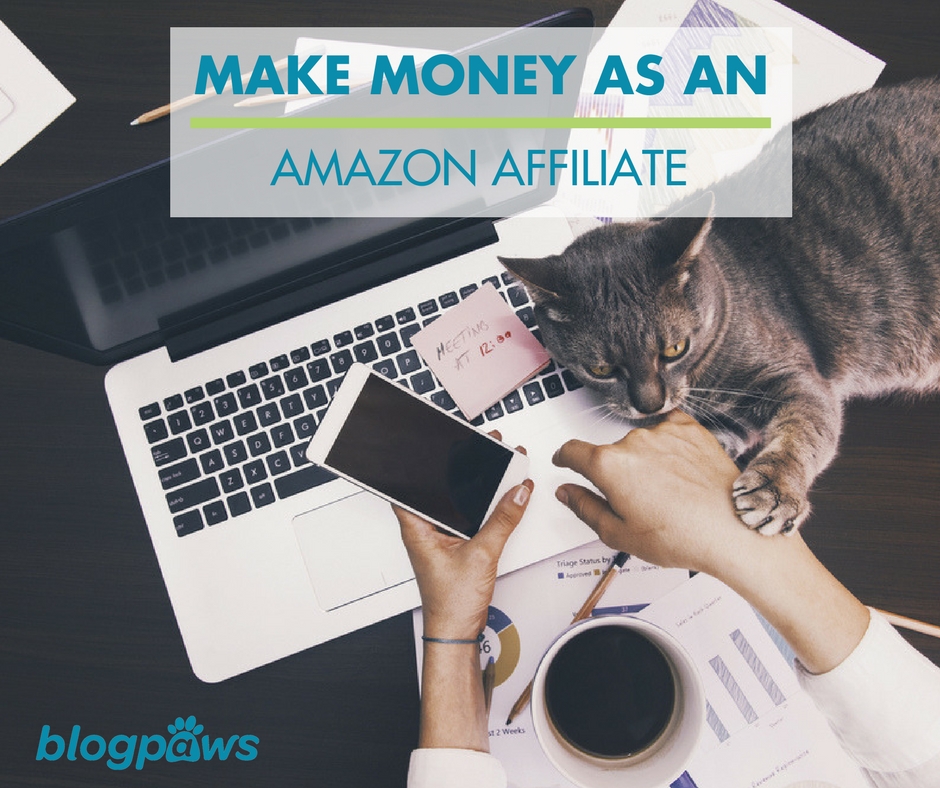 10 Fast Facts About Amazon Affiliates
Please ensure when sharing Amazon affiliate links in your blog posts that they do not appear in your newsletter or RSS feed. This is a great reason to switch your blog posts from read-in-full to click-for-more option. Be sure that if you do include affiliate links in your post that they appear below the read more links. Also, you cannot use Amazon affiliate links in ebooks or PDFs. You can link in ebooks and PDFs to your blog posts that contain Amazon Affiliate links (again, with proper disclosure in the posts).
 While you can share links freely to Facebook, Twitter, and Instagram please be aware that Amazon Affiliate program policy is a little less clear on sharing to Pinterest. To that end, we recommend not sharing to Pinterest until terms of service change. Links shared on social media platforms like Facebook and Twitter must have proper disclosure.
When sharing to your blog and social media,  please remember to fully disclose.
You have the options of being paid via gift card or direct deposit. Either way, you will receive payment on a minimum of $10 earnings. If that takes one month or six months, the payment will accumulate in your account. If you prefer to receive a check be aware that payout on check does not occur until you have accumulated $100 in payment.
A strong Call to Action is essential in any blog post, especially with affiliate links.  Learn more to use a call to action successfully.
Regarding the handshake tool on Facebook, as of this writing you are not to tag Amazon. You should tag a brand in the post that you are promoting. You also need to properly disclose, as indicated in #3.
When sharing an affiliate link on your blog, it must be a nofollow link. Learn what a nofollow tag is.
Watch for promotions and bounties in your Amazon Affiliate dashboard. Promotions expire, but in most cases, bounties do not.  If you plan to use these sort of affiliate opportunities with Amazon, you can either start a spreadsheet to track expiring promotions and/or you can choose the "set it and forget" option.
Give your readers options: If you show them a favorite dog bowl you use, give them a variety of bowls using ads within blog posts. Or you can say something like, "This is the stainless steel bowl that my dog uses or you can try this one." If you hyperlink "stainless steel bowl" to the one you use, you can also hyperlink "try this one" for folks to have choices.
If you build it, they will come. Personally, I set my top 10 posts up as Amazon affiliate posts with proper disclosure because Google Analytics tells me they are the most trafficked posts on my blog. In doing so, I have seen a direct conversion of those products recommended and related ones. Remember, as long as someone clicks through and buys something from you on Amazon from that clicked link within 24 hours, you will get the commission.
Bonus Amazon Affiliate Tip
Check your dashboard from time to time. I check my dashboard weekly, but I know folks who check in daily. By following what people are purchasing and related products, you can even build content that makes sense around this data. Check out the clicks and ordered items within your affiliate dashboard and to track sales and revenue. You are a business owner, so work this facet of your business like a boss!
Don't Get Kicked Out
There are many ways to get kicked out of the Amazon Affiliate program. You need to work the program so that folks are actually clicking on your links. Amazon won't keep affiliates on who are not contributing to their bottom line: Sales. Also, this is a great post on things not to do as an Amazon affiliate.
Amazon Program Policies
As of this writing, Felissa Elfenbein, shares the following policies in place as an Amazon affiliate. Always check your Amazon Affiliate terms of service for any changes and/or updates.
Pet products receive an eight percent standard fee. This means that whatever you share that falls under pet products you will receive eight percent on the sale.
Be careful when sharing Amazon Affiliate links to free Kindle books. If you share too many links or that is all your readers are clicking on and "purchasing," you can be locked out of your affiliate and bounty payments for that month. Regular Kindle books or Kindle books that are discounted but not down to free are fine to share and would not make you fall into this category.
If you currently have multiple Amazon Affiliate accounts so that you can take advantage of visitors from the UK and Canada you can now take advantage of the OneLink feature. Basically it links your accounts and you can use one code for everyone. The OneLink code takes your visitor to their local Amazon Store to purchase the item you are featuring.
Don't Stop Now
Take the BlogPaws Affiliate Marketing course and let us help you with blog traffic and affiliate strategy along with a bunch of FAQs answered for you.
Access the two Amazon Affiliate videos in the BlogPaws Social Learning Community Facebook Group.
Your Turn
Are you using the Amazon Affiliate program? How has it worked out for you? How can BlogPaws help? Let us know in the comments below.
Carol Bryant is the Marketing and Social Media Manager for BlogPaws and runs her own dog blog, Fidose of Reality and its fundraising arm, Wigglebutt Warriors. When not busy playing with her Cocker Spaniel, Dexter, she stays far away from cooking. Her trademark is her mantra and is tattooed on her arm: My Heart Beats Dog.®
Images:   Monkey Business Images /Creative Lab /Shutterstock.com