We all want to grow our blogs. Sometimes, though, it can be frustrating to see flat (or, gulp, negative) growth. Many strategies for traffic acquisition take the long view… and a long time. That's fine, of course, and something we should all work toward, but what if you want to see an uptick now? Get a quick shot of confidence with some new readers by employing these five easy ways to increase blog traffic.
Try one or all of these five tips, and monitor your analytics to see how your traffic is affected. (And don't forget to come back and let us know in the comments!)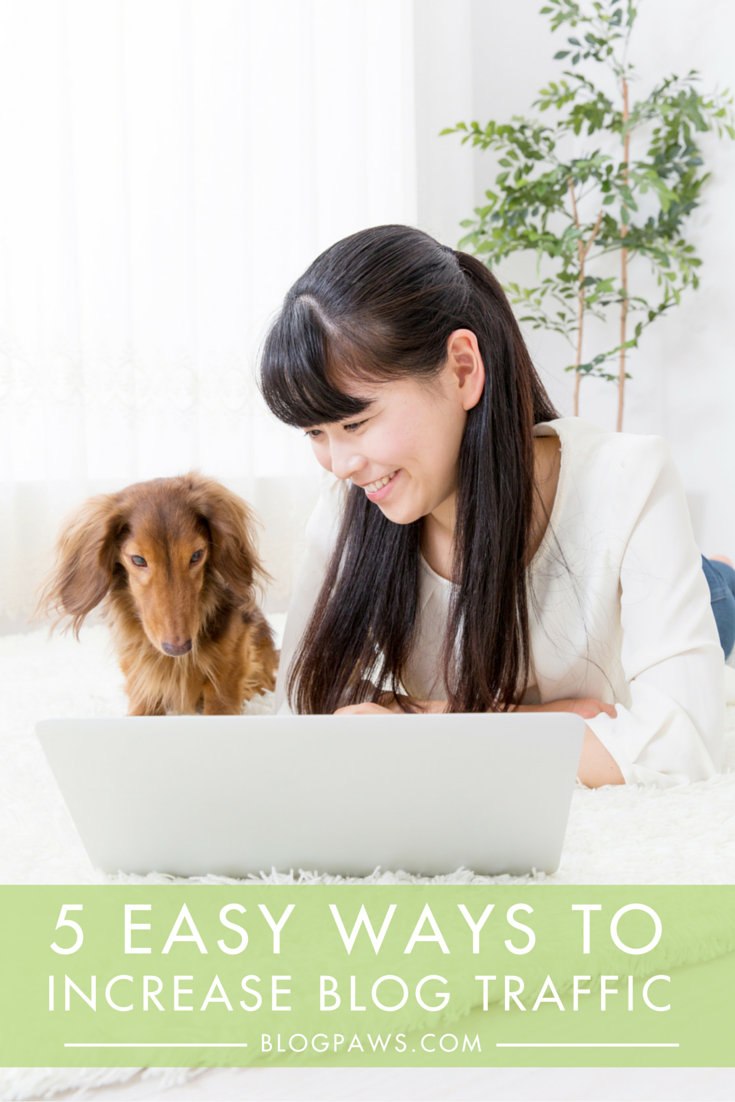 Write evergreen content.
What is "evergreen" content? Evergreen simply means the content is always relevant. It isn't time-bound. For example, a post about dogs in Super Bowl commercials would only have relevance during Super Bowl season. However, a post about dogs in television commercials would be evergreen because it's relevant year-round. Content that isn't specific to only a certain time period increases your traffic because people are perpetually searching for that topic–and perpetually landing on your post about that topic. Work in a few evergreen posts regularly to capture consistent traffic on those posts.
Use long-tail keywords.
Long-tail keywords reflect how people use search these days. For nearly every search, we can get super specific by using full phrases instead of single words ("the best dog groomers in Indianapolis" versus "dog groomers"). We all know this, of course, because it's how we use search. The trick is to apply that concept to your blog posts: Optimize your posts for long-tail keywords. When you're brainstorming a topic–particularly those evergreen ones mentioned above–make a list of terms people might use to search, then go ahead and type them into your favorite search engine. As it auto-fills suggestions on what to search, take note. Those might be hints on how best to phrase your keywords for that post.
Repurpose old content.
Can you turn an old post into a fresh Facebook share? Or how about combining popular posts into one, hot landing page? On my blog, I have a number of posts on indoor exercises for dogs that get a good bit of traffic. To get the most out of those individual posts, it would be smart of me to combine them all into a single landing page that encourages engagement (bonus points for pinnable images and click-to-tweet buttons). Find ways to leverage your archives to add growth.
Make sharing a no-brainer.
Are all your blog readers bloggers themselves? Probably not! Social sharing buttons or embeds may not be apparent or natural for people who aren't familiar with blogging. Don't just rely on tiny buttons at the end of a post; instead, add "click to tweet" buttons with pre-written text into your posts. Or, better yet, ask your readers to share your content as a call-to-action within your post.
Take better pictures.
You might have the best content out there with keywords that bring traffic, but unless you nail the visual element, your engagement probably stops right there on your post. Visual elements earn traffic because they're attention-grabbing, enticing potential readers to click that share, pin, or tweet. Plus, they're easily shared (see above) by readers. If photography isn't your strength or you're just not sure what a "pinnable" image is, join the (free!) photography challenge in the BlogPaws community. There are tons of actionable tips, plus examples to help inspire you.
Have you tried any of these tactics to increase your blog traffic? What's worked (and what hasn't) for your blog? If you haven't tried any yet, which one do you plan to tackle first? 
Maggie Marton serves as the BlogPaws blog manager. When not hiking with her two pit mixes, Emmett and Cooper, or playing with Newt the Cat, Maggie writes about them (and the pet industry) at ohmydogblog.com and maggiemarton.com. 
Image: takayuki/Shutterstock.com