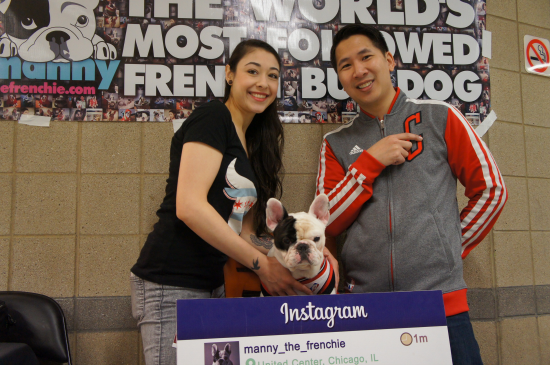 Jon and Amber with Manny.
Manny the Frenchie is a famous French Bulldog who will be appearing at the BlogPaws 2014 Conference, where along with his parents, a session will be given on How to Become an Instagram Rock Star. Well, Rosalyn aka Sugar's Mom – of the famous Sugar Golden Woofs blog, met up with Manny at a Chicago Bulls game earlier this month.
Manny is waiting for his fans .
Rosalyn went to the game and files this report for BlogPaws as well as sharing these very exclusive photos. You can catch up and learn more about Manny by reading his speaker series interview here.
Chicagoans are enthusiastic sport lovers.  One of the beloved teams is the Chicago Bulls who play their home games at the United Center, also known as "Madhouse on Madision." Michael Jordan #23 is the most popular bulls players and his statue graces the United Center.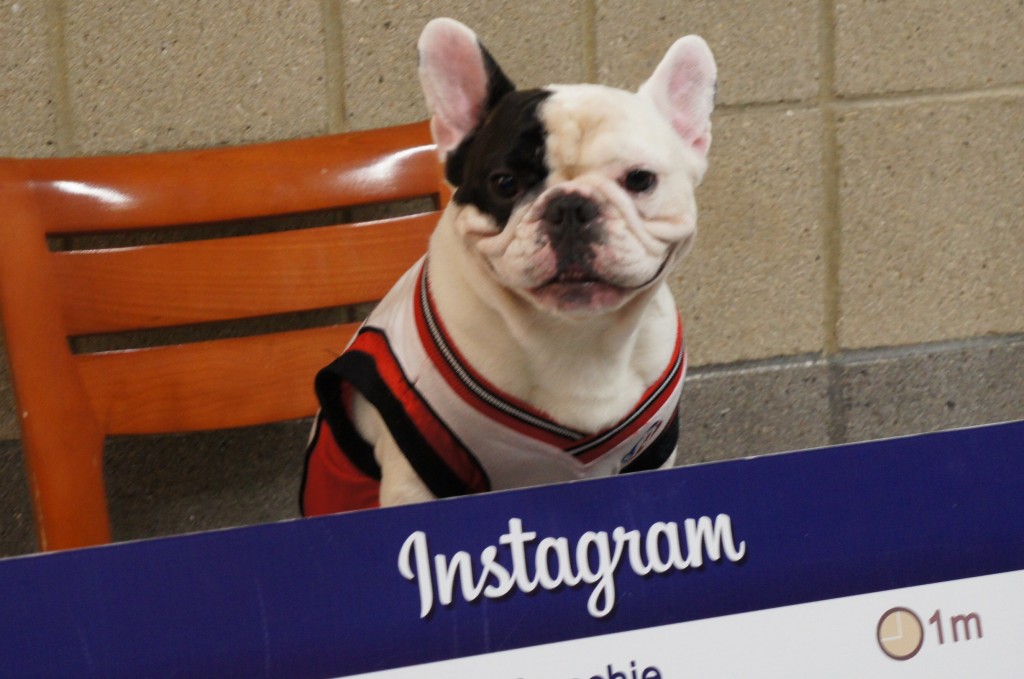 All set for his close up shots.
A Chicagoan, 3-year-old French BullDog Manny is a big Bulls fans. Last Sunday, March 9th at the Bulls vs Miami Heat game, Manny The Frenchie had a Meet n Greet appearance with the Bulls fans.
Manny The Frenchie is The World's Most Followed Frenchie Dog. His stardom started on Instagram. He currently has 450,000+ followers and continuously growing. Many Bulls fans recognized Manny and took a photo with him holding an Instgaram prop board.
This was Manny's 4th Bulls game meet and greet appearance. Manny had his own table and chair on the concourse of the stadium. He wore a Bulls shirt, patiently sat on a chair, smiled and posed. He was adorable and enjoyed all the admirations from his fans for an hour. 
Manny brought the Bulls lots of Frenchie Luck as they won against the Miami Heat.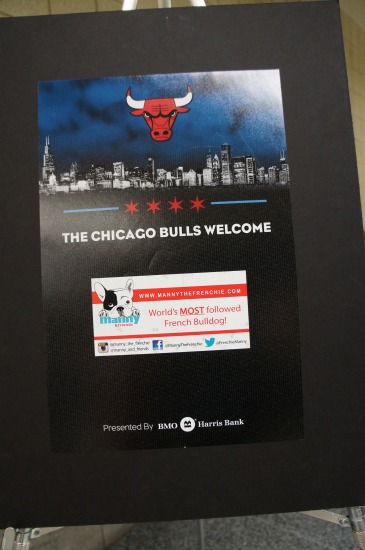 Manny is owned by Amber Chavez and Jon Huang. They got Manny at 4 1/2 months old from a breeder who was very motivated to get rid of him. Manny was so cute that many of their friends requested for photos. To save time, Amber and Jon opened an Instagram account, @Manny_The_Frencie. Manny's photos became an instant hit on Instagram.
Manny does lots of meet and greet appearances and donates money to animal charities.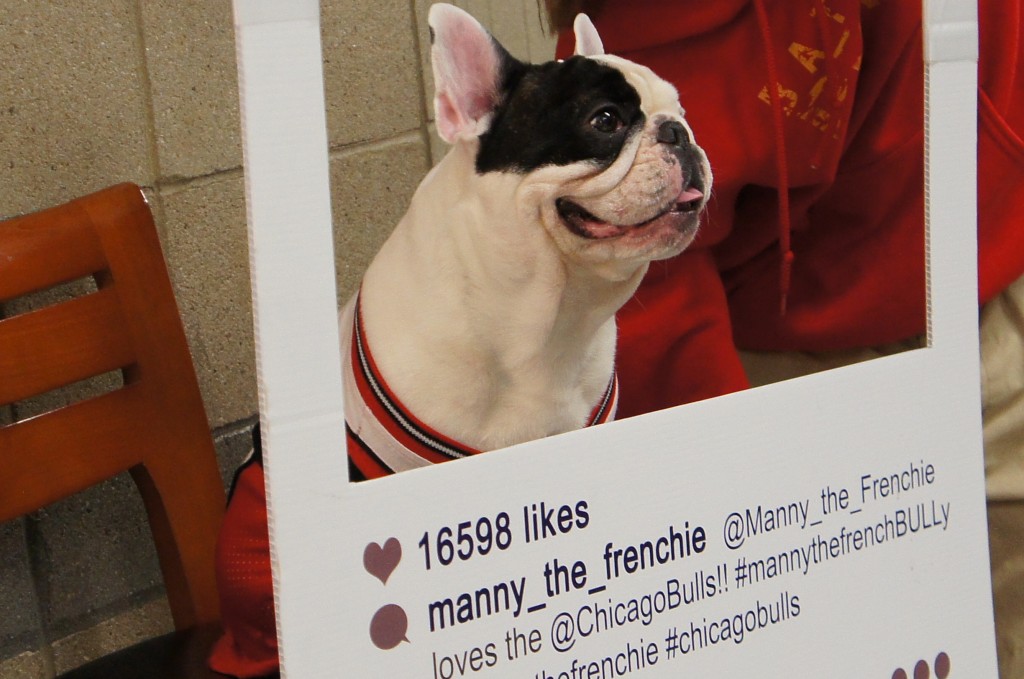 Manny The Frenchie, Amber and Jon will be presenting for an hour at BlogPaws14 Conference, "How To Be An Instagram Star."
Join us at BlogPaws 2014 in just a few weeks!