Grab my download of 50 Tips to Puppy Proof Your Home!
Click here for a free ebook to help your adult cat adjust to a new kitten!
These are examples of lead magnets: You promise the reader something in exchange for a piece of information (their email address, for example). High-converting lead magnets are those that you can incorporate into blog posts and social media content, and that provide a valuable, tangible ROI (return on investment) for both you and your subscriber.
Last week we talked about how to clean up an email list, and this week we will dive into the do's and don'ts on how to use lead magnets in order to grow an email list.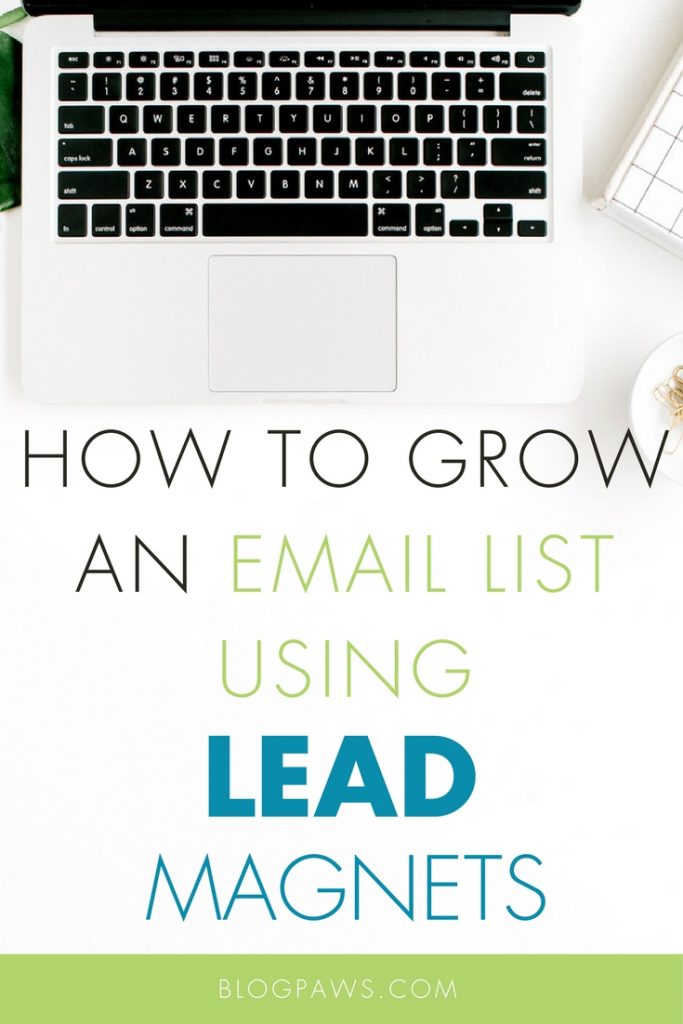 Getting Started on Lead Magnets
You need an email list service in order to entice subscribers with your lead magnet so that your email list will grow. When I decided to go from blogger to entrepreneur, email strategy was and remains one of the key components to do so. With the recent changes in Facebook's news feed targeting businesses, growing an email list is more important than ever.
Over at WP Beginner, they've outlined the 2018 edition of the best email services for professional bloggers. Which one is best for you depends on your goals, budget, plans, and needs. I've been a Mailchimp girl for a long time, but my 2018 blog plans include switching to something more in tune with my goals, so a change is coming for me.
Why Do I Need Lead Magnets
A solid email list is a must have in every professional blogger's toolbox. Even if you are a hobby blogger or someone who plans to monetize a blog, an email list is comprised of your loyalists. In offering a valuable product via download and delivering on that promise with quality, your email subscribers are the ones who will promote you, return to visit, and spread the word about your awesomeness.
Sponsored posts, ad revenue, and affiliate-related posts rely heavily on pageviews and click throughs. Give your loyalists what they want and it returns to you tenfold. This statement is hard to apply in a day and age of less and less pageviews on Facebook and pay to play on most social media networks.
Asking someone to subscribe to your email list works for friends and family, but this is not a viable long-term sustainability plan for your blog's success. Lead magnets ensure someone gets a quality product or service in exchange for giving up the holy grail of online marketing: their trusted email address.
Lead Magnets That Deliver
In order to get that highly coveted click through with email address freely given, the lead magnet you offer ("incentive") needs to deliver. Gone are the days of "get 5 free tips"–100 words later, the person unsubscribes, potentially never to return.
It's a new generation and everyone is vying for email addresses. Deliver quality that solves a problem or one of these other lead magnets that deliver:
Checklists: 25 Conversations to Have With Your Cat's Veterinarian or Checklist of Emergency Numbers for Pet Parents.
Cheat Sheets: Everyone loves a hack, so consider delivering a 'cheat sheet' to make life easier. For example, Discover Insider Tips to Nail Your Next Job Interview or How to Find a Work From Home Job You Love.
Free Ebooks: I've seen authors offer a small chapter from a book and offer it out for free as a lead magnet. You can embed a link into your freebie to entice the reader to purchase your entire book.
Coupon: This is perfect for any professional blogger who sells products or services. "Get 10 percent off your next purchase" – and the means to obtain the code or discount is a name and email address.
Printables: Everyone loves a freebie to hang on their bulletin board or refrigerator. Printables can be an effective tool especially if you offer a series of them. Be certain the printables are in line with your blog mission.
Promoting Lead Magnets
Once you've landed on an newsletter/email service and build out your lead magnet(s), the next step is to promote it.
Place the lead magnet as a non-intrusive pop-up on your blog's homepage. Most lead magnet programs include the option for the pop up not to appear if the visitor is already a subscriber. In doing so, the subscriber is not annoyed every time they visit your blog.
Include the lead magnet in your email signature line. I use the professional version of Wisestamp, which allows me to customize my email signature's content.
Squeeze it in with a squeeze page.  Wordstream.com defines a squeeze page as, "A landing page designed to capture opt-in email addresses from potential subscribers. The goal of a squeeze page is to convince, cajole, or otherwise "squeeze" a visitor into providing one of their most sought-after and coveted pieces of personal data: the email address."
Call to Action in Blog Post: Use your Calls to Action wisely by including a relevant one at the bottom of a blog post that beckons to your link magnet.
Use the sign up button on Facebook and direct readers to your lead magnet in the cover photo.
Make LinkedIn work for you: Add a lead magnet link to your personal profile in the summary area.
Tweet with a purpose using your lead magnet. Experiment with text and images to see which one(s) work best and receive the most engagement and click throughs to actual sign ups.
Business cards with a URL or a QR code on the back are great ways to include lead magnets at networking events and conferences, such as the BlogPaws Conference.
Advanced Lead Magnets
Here are a few more ideas if you've been working with lead magnets for a while or want some unique ideas to collect emails without annoying your visitors:
Hold a Contest: Yes, there are folks who unsubscribe afterwards, but you can monitor this with a high quality email service.
Create a Facebook Group and share quality content via lead magnets in the group weekly or monthly.
High Quality Infographics make for a tempting printable. Provide one in exchange for an email address.
Conduct a Free Webinar: Host a 20 minute webinar and collect emails to sign up. You can upsell in the webinar by referring folks to another piece of saleable content that you promote at the end of your webinar. You can also give something away during your free webinar to anyone who signs up for your email list.
Atomize Your Awesomeness: Jay Baer shared that quip at last year's BlogPaws Conference and it stuck. Develop a video and/or audio version of your content, perhaps with a podcast. Some people like to listen, as evidenced by the present popularity of podcasts. Provide this content as a lead magnet.
Lead Magnet Mega Important Tip
Once you acquire a fan, you want to keep them. It might sound like common sense, but keeping a fan is probably harder than acquiring them. If you promise a standout piece of content as a lead magnet, overdeliver. Be certain you do not abuse the emails you are collecting, and most importantly, that you deliver amazingly awesome future content with a plan and purpose.
The worst feeling a professional blogger experiences is that of an unsubscribe pang in the pit of their stomach. I know, I've been there. Watch your open rates, unsubscribe rates, and never spam or overshare content to the point that you annoy subscribers. People will always remember how you make them feel, so spread the good vibes.
Don't Stop Now
Keep the knowledge flowing and make email magic with these blog posts:
Go Face to Face with the Pros
Learn more! BlogPaws has always been and will always be about and for the bloggers and influencers: Those who want to learn, grow, network, and take their blog to the "next level." BlogPaws connects brands to bloggers and influencers and those who want to monetize, form relationships, and turn a passion for pets into a way to make money.Get your tickets to BlogPaws' 10th Conference before they sell out.
Your Turn
Are you using lead magnets? If not, how can we help? If yes, are you successful with them?  Let us know in the comments below. We respond to all comments.
Carol Bryant is the Marketing and Social Media Manager for BlogPaws and runs her own blog, Fidose of Reality and its fundraising arm, Wigglebutt Warriors. When not busy playing with her Cocker Spaniel, Dexter, she stays far away from cooking. Her trademark is her mantra and is tattooed on her arm: My Heart Beats Dog.®
Images:  Floral Deco  / Jacob Lund  /Shutterstock.com