WordPress skills will make or break your success as a blogger!
SEO is Google's ways of determining a website's "intentions" so that it can best recommend your links to users. You must leverage the plug-ins and features available to sharpen your SEO skills. Remember: SEO will not only ensure your post is discovered but it helps ensure good, quality content.
So, let's start with some SEO-related tips and tricks for WordPress bloggers:
Alt text for images
Image text is important because it tells Google exactly what the media is, and should be descriptive in description (a long phrase) and short in its alternate text (the keyword itself).  When you load your images in WordPress don't forget to add that keyword in the alt text box.
Read more: The Beginner's Guide to Alt Text

Yoast
If you use Yoast, don't forget about the SEO title and meta-tag description. Yoast is currently considered the most comprehensive search engine optimization software available for WordPress users. It allows you to fine tune headlines and how your content is found on Google.
Fill out the SEO Yoast box: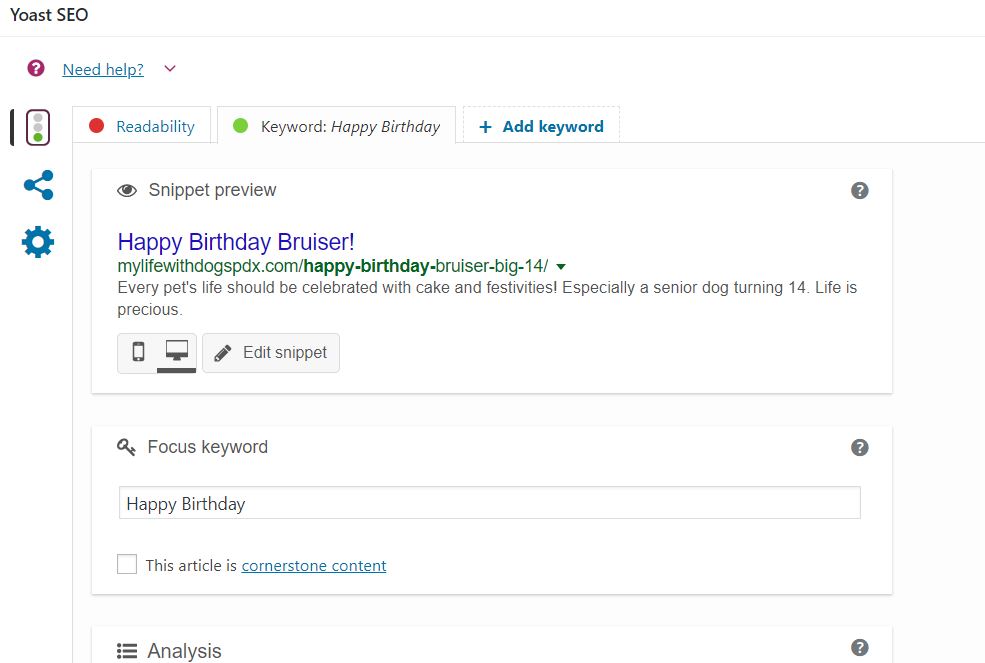 Meta descriptions: Much like alternate image texts tell Google what the media is before searching that specific piece of media, meta descriptions tell Google (and the users) what that piece of content is before it searches that specific post. The meta description is what gets pulled when it is featured in email and social media distribution.
So, you need a brief description:
Images
Keep them optimized and small or these will eventually slow down your site. Resize large images in tools like Canva. They need to be as small as reasonably possible so that they load speedily. This is particularly important for mobile devices. Load jpegs. Or try TinyPNG.com.
Headers
Use H2 as your header format and bold it. Header tags are an important on-page SEO factor because they're used to communicate to the search engines what your website is about. Search engines recognize the copy in your header tags as more important than the rest. I always use H2 headers in my posts.
Read more: Formatting Your Blog Content for SEO
Video
Adding YouTube videos keeps people on the site longer. The longer a user stays on your page also counts toward determining content depth and length to Google (avg. session duration, time on page).
SEO tools like Clearscope
Ensure you have loaded your post with search terms. Clearscope is a tool that allows user to create content around keywords your audience is searching for. Clearscope makes keyword research and discovery as simple as performing a search on Google. When I get writer's block – I use Clearscope to help wrap up my posts with a few paragraphs.
These are basic skills that will greatly improve your SEO skills and once you start applying these the process will become easy and second nature. Even if you cannot invest in a tool like Clearscope, it's worth using Google to search your topic or theme and see what comes up! Good luck!
With deep experience as an Earned Media specialist, reporter and freelance writer, Christy Caplan's strength is in developing integrated digital marketing strategies. From soup to coffee and select technology products, she has brought strategic marketing campaigns to life to drive sales for top companies such as Ruffwear Dog Gear, Boyd's Coffee, iFLY Portland Launch, Home Builders Association of Portland, The Heathman Hotel, The Roger Hotel, Folgers, JELD-WEN Windows and Doors and Microsoft. Christy's unique understanding of social and digital media connects consumers to brands both on and offline and influences buying decisions. Christy's blog My Life With Dogs PDX is a publishing platform brands partner with to reach key target audiences. Her expertise as a Certified Vet Technician allows her to write about health and wellness issues that take place in clinics every day. She contributes articles to the following publications: Animal Wellness, AAHA (Pets Matter blog), Frugal Portland, Spot Magazine, City Dog Magazine, Pet Sitting World Magazine and Rover.com. She was honored to be accepted into the Dog Writers Association of America (DWAA) in 2016.