Once you've come up with the purrfect blog post topic and catchy headline, the next step is to not only gather ideas and create content, but to properly format it all. Referring back to the importance of search engine optimization for blogs, a solid format gives structure to a post and helps Google understand its content. Besides impressing Google, you also need to draw the eye of readers to actually read your post.
Why Does Formatting Matter?
Just as quickly as Fido fetches his favorite ball, readers decide just as quickly if your content is something they want to read. In fact, the average Internet user takes only 5 seconds to scan an article before deciding if it's something worth reading.
So, how can you keep an audience's attention to read on?
The answer is simple: Utilize formatting to keep your reader engaged! In this post, you'll learn how the use of headers, paragraphs, images, and links in your blog posts will encourage readers to go from scanning to reading your content.
First, let's discuss headers.
Headers
Headers allow you to breaking up content into sections so readers can easily outline the blog's content before reading it. Since eight out of ten people scan headlines before diving into the article, headers are a make-or-break contribution to keep your audience engaged.
Consider it this way – If Lady is rummaging through her basket for a particular toy, different factors influence her decision to keep looking. It could be the smell, taste, texture, or how loud the toy squeaks. These are informational categories of Lady's search. Even though readers don't look for these exact clues (we hope!), they do scan a page for headlines that spark interest and encourage further reading.
Check out the two examples below. Option A does not utilize headers while Option B does. Which one is easier to read and gives a strong idea of the blog's content at a glance? Option B!

Paragraphs, Lists and Bullet Points
Headers create curiosity and beg readers to read more. Also, headers give you an opportunity to insert relevant keywords into your posts to help search engine rankings.
Ah, paragraphs – without them you wouldn't have a blog! Since writing web content is different than writing for print, here's a few ideas to keep readers focused and engaged:
Include 2-5 sentences of text

Limit paragraph length from 50-100 words

Break text up into friendly, manageable chunks

If you have quotes,

use italics and center it

to catch attention
Did you noticed that we broke up those ideas into easy to read bullet points? We did this on purpose! Here's why…
Most web users don't read content, they skim it

Lists like this stand out and are easy to read

See what we mean?
When appropriate, convey important messages to readers by adding lists or bullet points in addition to paragraphs. Bulleted lists, like headers, help to catch a reader's eye when skimming. Furthermore, it's a great way to round up key points, features, or steps on how to do something.
Images
Blogging is more than just writing content; it's a combination of text, images, and other visuals that enhance reader experience. When you add images of Whiskers taking a cat nap or playing with his favorite mouse toy, your blog becomes visually appealing to both readers and Google.
Alt Text
Since Google can't "see" images, it relies on alt text to explain what the image is. You want the alt text to be as detailed as possible to help your image and website rank nicely in a search. Using keyword research is a pawsome way to enhance these descriptions.
Naming Your Images
Also, don't forget to properly name your images by adding some details to your file names! For example, an image of an orange Bubble Eye Goldfish could be named orange-bubble-eye-goldfish.jpg instead of a less descriptive goldfish.jpg. Not only is this good for the search engines, but it will also keep your photographs better organized on your hard drive.
Gnaw at Link Building
If you're writing about your favorite pet-friendly shampoo, don't be afraid to provide a link to the company's website or product page. Bloggers like to showcase who they support, and this can help lead to blog traffic. Remember to only include credible links when the chance arises. Adding too many links can be considered spam!
Proofread
Once your concluding paragraph is done, your social media accounts are noted, and you've placed a call-to-action to encourage conversation, sit and stay for one more step! Always budget time to reread your post for spelling and grammatical errors, and ask a friend to take a look. Fresh eyes may pick up on something you missed!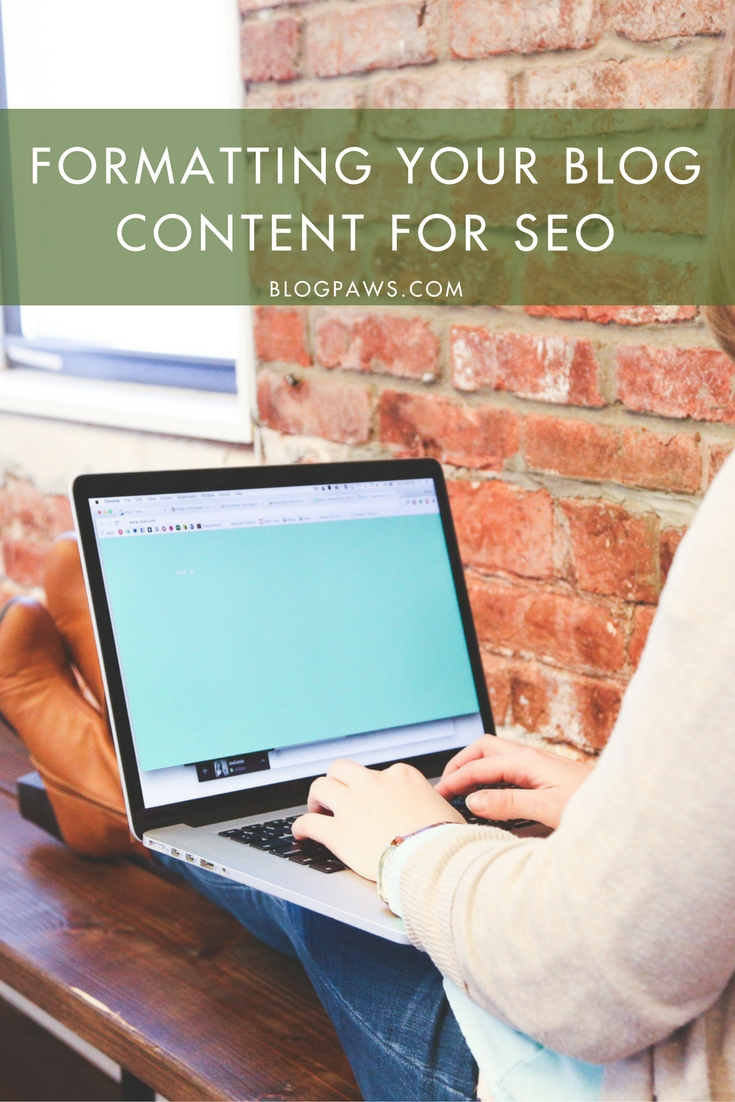 How It Plays Together
As your blog post comes together with these formatting tips in mind, don't be afraid to move your content around. Are your paragraph lengths the same? Break them up with lists, bullets, or even start a new header. Just remember to have fun with it. In the wag of a tail of swish of a fin, you'll soon see what catches your reader's eyes!
What's your favorite formatting tip? Let us know in the comments below!
Want to learn more about SEO best practices and how to apply these strategies to your blog? Have a burning Q you'd like the experts to A? Join us along with our friends at DragonSearch for #BlogPaws chat tomorrow, Tuesday, September 27, from 8 to 10 PM (eastern) to discuss all things SEO! 
About the Author: Tyler Brown is a Digital Marketer at DragonSearch. She loves all things content and spends her days researching, constructing, and sharing custom content across a number of different verticals (pets being one of her favorites!). When Tyler isn't hiking with her golden retriever or exploring trails with her horse, you'll find her busy in the kitchen baking favorite recipes. Find her on Twitter @_tylerbrown. DragonSearch is a digital marketing agency in New York, which provides a range of services including SEO, PPC, content marketing and social media advertising. Follow DS Fido on Twitter for all the latest pet news and info. 
Save