While the official start to summer is right around the corner (June 21), it sure feels like summer in many places! So, to kick off the warm-and-sunny season, here are a dozen summer blog starter ideas to get those creative juices flowing: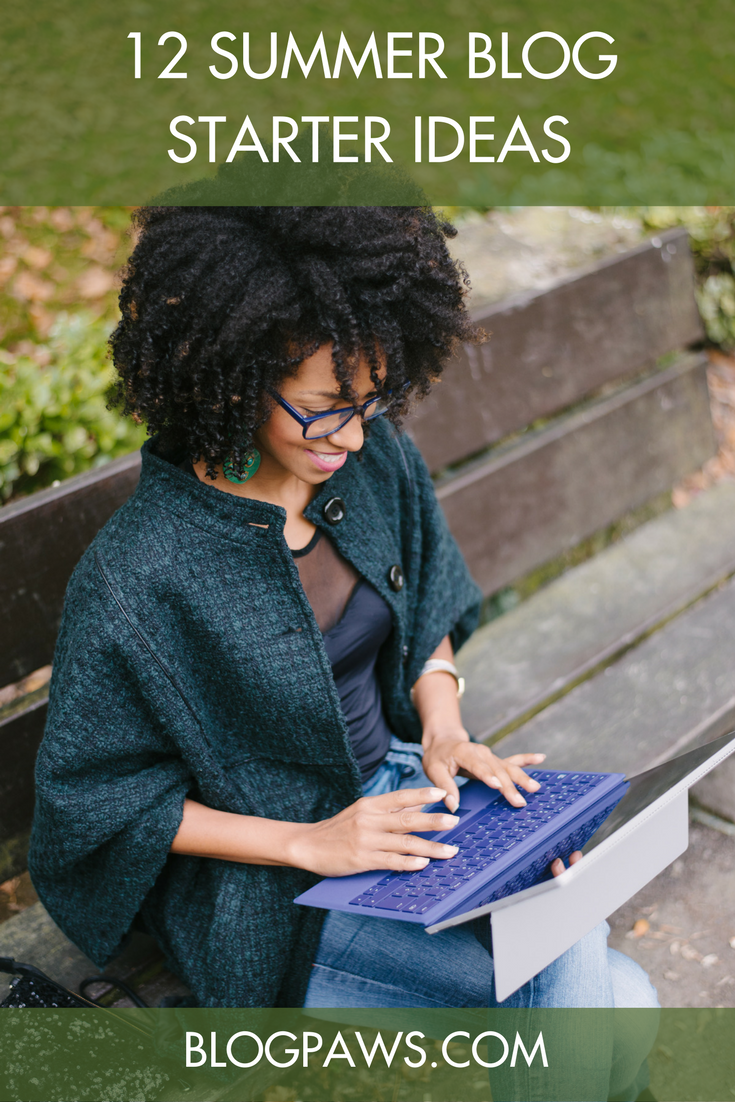 Collab on a blog hop: Find other bloggers whose work you admire, and start a blog hop centered around a specific theme. Collaborations are an awesome way to build your audience during the summer slow-down. (Read more about Blogger Collaboration.)
Indoor enrichment: Skip the standard "summer safety tips" post and share fun, fresh ideas for keeping your pets entertained indoors when it's just too hot outside.
Best beach reads: Read any good pet-passionate books lately? Compile a roundup of your faves along with a list of your "to reads." Don't forget to use affiliate links, if appropriate!
Trend-spotting: In your part of the country or world, what trends are you seeing in the pet space? Does your trendy local retailers have a new line of something fabulous? Or perhaps you've noticed people participating more (or less) in outings or activities? Report on what you're seeing!
Host a live Q and A: Try it on Facebook Live! Then, repurpose the video into a corresponding blog post (like we did here). Not feeling up to live video? Ask your readers to leave questions in the comments section of a specific post, then devote another post to answering.
Pet peeves: You're a passionate, savvy, responsible pet parent. That isn't true for all pet parents, and maybe there's something that less-savvy pet parents do that drives you up a wall. Post a fun, good-natured "rant" about that topic, and invite your readers to share theirs, too! (Full disclosure: I did this a while ago, and it was a hoot! I plan on resurfacing it on my blog this summer!)
Listicles: This is a tried-and-true style of post for a reason. It works. Busy blog readers seem to have even less time in the summer months, so keep it short and sweet with lists. A few to try: best DIY treat recipes, favorite summer vacation spots, your pet's nicknames, tricks to train, favorite harnesses for your cat to try this summer, and so on.
Can't-miss-em pet blogs: Spread good karma this summer with a roundup post of your favorite pet blogs. Chances are, if you enjoy reading a particular blog, your readers will, too.
Travelogue: Ah, the joy of hitting the open road with your pet in tow for a summer getaway. Or, maybe you're headed toward an exotic locale or a week on a peaceful lake. Or, maybe you're simply moving your laptop to your backyard for a summer staycation! Whatever the case may be, a travelogue of your summer adventures can delight and inspire. Be sure to take lots of clear, well-lit pics!
What we're ______: Doing, reading, thinking, seeing, trying. Whether it's a pet product, a movie, a collar, an idea, share away! Inspire others with what you're up to.
How you celebrate: Choose one of the pet-themed holidays or observances  and post how you celebrate that event.
Gone fishin': No, you don't really need to go fishing, and I'm sure you can come up with a catchier headline than that, but summer beckons! If you want to take some time off from your blog, do! However, don't leave your loyal audience hanging. Write a brief post that explains you're taking some time away, but leave them with links to lots of resources from your archives that your readers can dip into and out of all summer long.
What's on your "to blog" list for this summer? Which of these ideas resonates most for you and your audience? 
Maggie Marton serves as the BlogPaws senior editor. When not hiking with her two pit mixes,Emmett and Cooper, or playing with Newt the Cat, Maggie writes about them (and the pet industry) at ohmydogblog.com and maggiemarton.com. 
Image: Dirima/Shutterstock.com