If you are coming to the BlogPaws 2018 Conference, considering it, or wanting to learn more, you've come to the right place. Bookmark and reference this post: We will update as the excitement and news builds!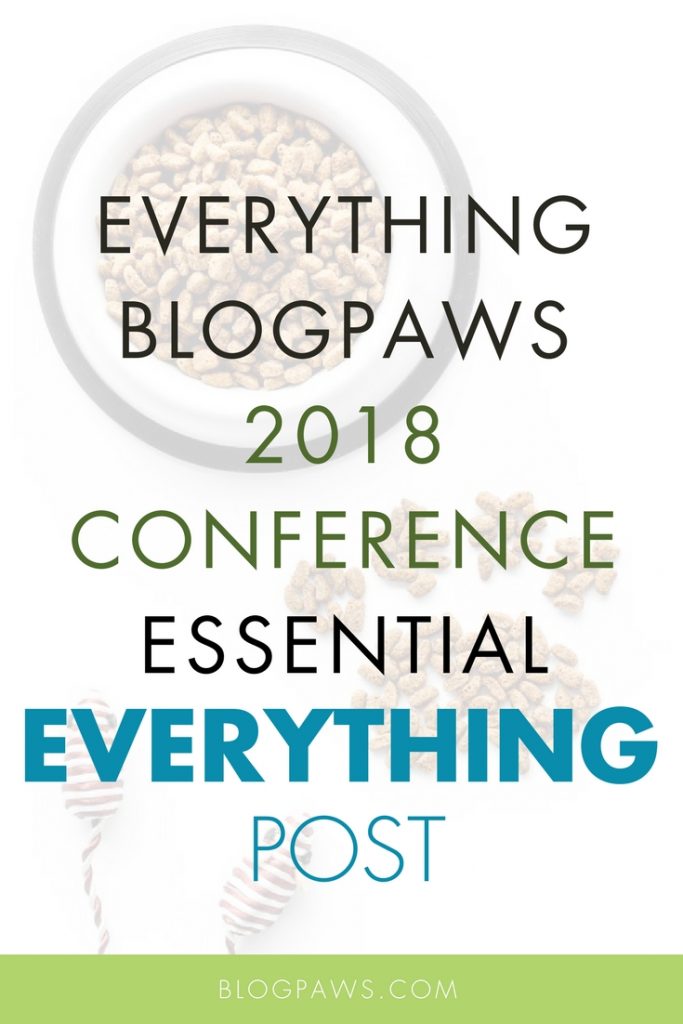 BlogPaws 2018 Conference: What Is It? Who Should Attend?
The BlogPaws 2018 t0th Anniversary Conference is a 3-day event jam-packed with educational sessions led by top professionals, networking opportunities with influencers, a busy exhibit hall, exciting brand events, more influencers, and lots of pets. Pets remain at the heart of everything BlogPaws does. Our pet-friendly conferences invite all well-behaved pets everywhere in the event space.
Your ticket to BlogPaws includes entrance into the exhibit hall, all sessions (except as noted), all keynote sessions, events, the Nose-to-Nose awards, and all meals per the agenda.
BlogPaws has always been and will always be about and for the bloggers and influencers: those who want to learn, grow, network, and take their blog to the "next level." Whether this is your first conference or your 10th, there is something new for everyone…and MANY surprises this year.
BlogPaws connects brands to bloggers/social media influencers and those who want to monetize, form relationships, and turn a passion for pets into a way to make money.
Here's a sample of the BlogPaws 2017 Conference in Myrtle Beach:
Conference Dates
Wednesday, April 18 through Friday, April 20, 2018.
Location
The BlogPaws 2018 Conference will be held at:
Sheraton Kansas City Hotel at Crown Center
2345 McGee Street. Kansas City, MO 64108, United States Phone: (1)(816) 841-1000
Team BlogPaws visited the Sheraton Kansas City Hotel at Crown Center this year, and here are some video highlights:
Can I Ship Things to the Hotel In Advance of My Arrival?
Yes, you can ship things in early but there is a per box charge of $5 per box for boxes under 50 pounds.
Hotel Group Reservations
The Sheraton Hotel at Crown Center is offering a special rate of $155 per night (plus taxes), including free Internet access. You can make reservations at the Sheraton by visiting here.  It is highly recommended that you make your reservation as soon as possible. Each year our host hotels have sold out.
BlogPaws Group Reservations are available here. Group rate available until April 1, 2018.  Subject to availability. Relax in one of 720 guest rooms, each boasting warm décor, city or Crown Center views, and the Sheraton Signature Sleep Experience. Plus, there are eco-friendly features and state-of-the-art technology, including an LCD HDTV and iPod docking station.
Note from Felissa Elfenbein, BlogPaws' Director of Influencer Marketing, "We don't know if wrong dates are accidentally being chosen that are outside of the BlogPaws Room Block but there are still plenty of rooms available Tuesday through Saturday and even a few rooms still available Monday and Saturday Night. If you are trying to book outside of those dates please connect directly with the BlogPaws Event Planner Rebecca Flick at rebeccagflick@gmail.com. Have any additional questions? Please email me Felissa@BlogPaws.com and I will do my best to help remedy the situation."
Red Roof Discount
RED ROOF DISCOUNT CODE: Red Roof – Driving to the Conference or making your summer plans. Red Roof is offering BlogPaws Community members a special 15% discount when using this link and remember Pets stay FREE!
Official Ticket Sales
Here is the official link to the BlogPaws 2018 Conference tickets.
Once we sell out, there will be no additional tickets available.
Which Ticket to Purchase
There are a few different types of tickets, and you will purchase the ticket that best identifies you.
Official Facebook Event Page
Are you a member of the official BlogPaws Facebook Event Page? Be sure to join and check in frequently for conference updates and news.
Chewy and BlogPaws
Along with major tenth-anniversary celebrations, we are thrilled to announce that this year BlogPaws is partnering with Chewy to bring even more inspiration, even more education, and even more fun to the annual event.
Chewy, the nation's leading online pet retailer, joins forces with BlogPaws to bring you the most experiential conference for pet industry influencers. Trust us: This is one you don't want to miss!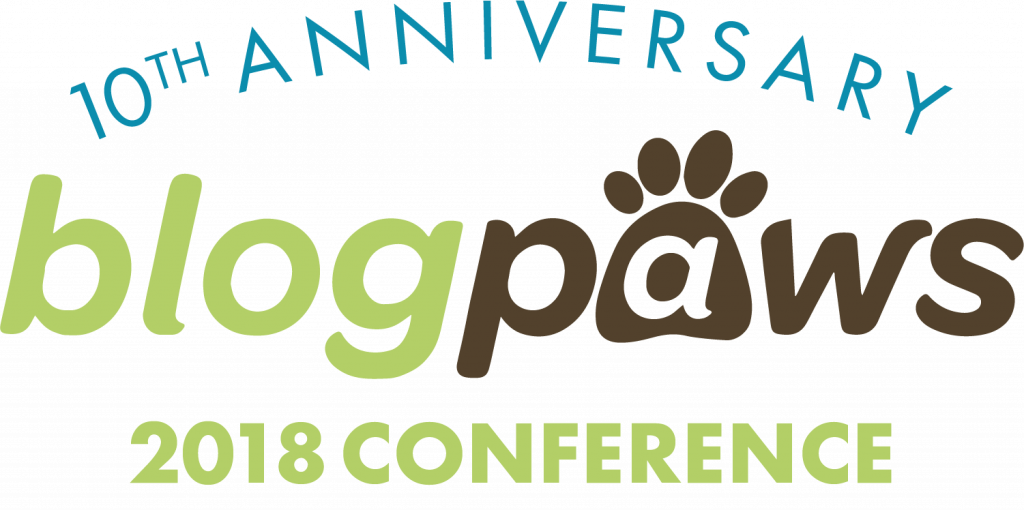 Conference Sponsors
Go nose-to-nose and face-to-face with the sponsors who are there to meet you and who make this conference possible, and this list is being regularly updated.
Follow the BlogPaws 2018 Conference Sponsors Twitter list.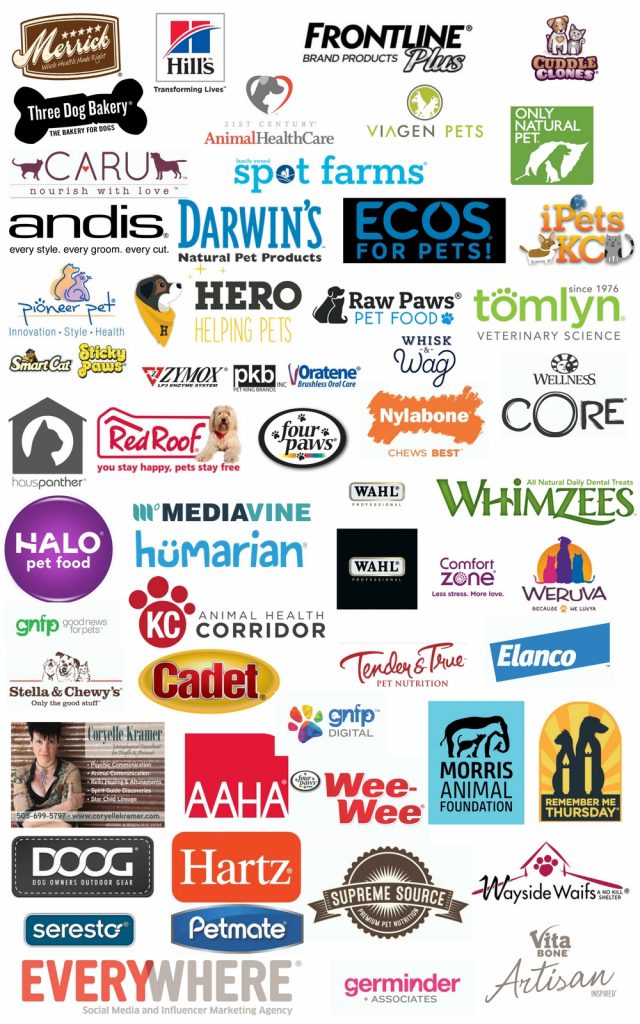 Conference Speakers
Because we have a lot to offer this year, of course, but also in post conference surveys sent to all attendees, you asked for MORE sessions led by experts outside the community while still keeping a balance with experts within the community…you asked, we listened.  More announcements and speakers to follow!
Follow the BlogPaws 2018 Conference Speakers Twitter list.
Keynote Updates
Emmy Favilla, Senior Commerce Editor, BuzzFeed: How do you stand out in a digital world overflowing with product recommendations and make genuine connections with your audience? What is it about BuzzFeed shopping posts that drives you to click, share, and think, "I need to buy that!"? BuzzFeed Senior Commerce editor Emmy Favilla shares tips and tricks for creating relatable, honest, and fun product posts and reviews that compel readers to buy — as well as discusses when to be discerning about promoting items — and covers best practices and ethics when it comes to creating editorial content that incorporates affiliate marketing.
Lesley Bender, Director of Chewy Brand Marketing: Over half of the households in the United States own a pet which makes this a multibillion dollar industry. As more and more pets become members of the family, pet parents are influencing and shaping the future of the pet industry. Please join Lesley Bender, Director of Brand Marketing for Chewy to learn how pets are influencing the landscape of brand marketing. She will share trends in the pet industry and how you, the influencer, can work with brands outside of traditional reviews and sponsored content.
Lesley oversees the strategic development of brand marketing at Chewy, ensures that partner brands are well represented, and develops marketing plans to create engagement and connections with the modern pet parent.
New for 2018: Meet & Greet with the Speakers
These will take place in our new Living Room experiential space in the exhibit hall (also new for 2018!). The Living Room will be our relax and connect space – where you can cozy up with a new book from one of our community authors or connect with speakers and keynotes one-on-one in a comfy setting. The Living Room will be staffed by one of these superstars Thursday and Friday from 9am -11am.
Jacques Bouchard & Alex Ionna from Dragon360
Jamie Lieberman from Hashtag Legal
Melissa Megginson from Tailwind
Jenny Guy from MediaVine
How to Sign Up: No sign up needed! You can view their schedule of appearances on our online agenda but you are not required to sign up. Everyone is welcome to stop by, say hello, ask a few questions, and relax in the living room!
A round of applause to Comfort Zone for sponsoring the Living Room!
BlogPaws 2018 Conference Schedule
This is the most up-to-date schedule. Check back for updates…invite your friends to register TODAY!
Once you register, you can create your very own personalized BlogPaws 2018 Conference schedule, print it out, or reference it online.
Table Topics
Yes, as we've had in years past, we will have some table topic discussions during lunches. The table topics are in the official BlogPaws Sched right now to register. Registrants are on a first-come, first-serve basis and capped at 10. BlogPaws 2018 Conference schedule for the table topic information and who is leading them.
One on Ones
One on Ones will take place on Friday, 4/20 from 2:45pm – 4:15pm. These fill up really fast, so mark your calendar! You will need to register for the specific one on one speaker (s) you want to meet with. You will get 10 minutes with each speaker to ask questions relevant to their topic. This is a great way to get some individual attention to your specific questions that may not get answered in a general session. Our lineup this year includes:
Jill Caren – SEO/Content Marketing
Tyler Brown – Dragon360 – Blogging with Goals
Jodi Chick – Blog Planning
Heather Wallace – Blogging to Books
Marika Meeks – How we built a 30k+ IG audience in a year
Hannah Zuleta – Instagram Stories
Tori Mistick – What I've Gained from Starting a Podcast for my Blog
Maggie Marton –  Creating Content People Want to Read: From Plan to Execution
Bernard Lima-Chavez – Branding Your Blog with Photography
How to Sign Up: Registration opens on 04/5/18 at 12pm EST. Please sign up here to secure your spot once the registration opens. Once the spots are gone, they are gone. Get in early!
BlogPaws Planner Downloadable Printable Stickers
Simply download and print. You can print on computer paper, cut them out, and glue them into your planner. Or, you can print them on sticky paper to DIY planner stickers. Thanks to Jodi Chick of Kol's Notes for making these stickers.
Experiential Areas
We have many experiential areas this year, and here's a sneak peek at these new offerings:
Living Room: Relax and Connect: Comfort Zone brings to BlogPaws a comfy setting to cozy up with a new book from one of our community authors or connect with speakers and keynotes one-on-one.
Office: Capture and Share: Step into the Chewy Studios office to amplify your smartphone photography! How? This space includes a photo opp that gives you insider info into next year's BlogPaws Conference.
Kitchen: Taste & Chill: Need a quick pick-me-up or a moment to chill? Hang out in the kitchen and sample homemade baked dog treats, snacks, and bevvies, generously provided by Whisk & Wag.
Patio: Meet & Mingle: Hang out with friends. Chill on the patio. Mingle with our friends at Frontline.
Backyard: Play: Merrick is excited to welcome you to their Kansas City Backyard BBQ. Enjoy traditional yard games like corn hole and bocce ball, while having fun with your friends and colleagues.
Special Items of Note
Frontline Happy Hour takes place on Wednesday, 04/18. Frontline is also sponsoring the Welcome Reception on Wednesday!
Bayer Lunch Time: BlogPaws proudly announces that Bayer is the Thursday, 04/19, lunchtime sponsor!
Merrick Happy Hour will take place on Thursday, 04/19.
Hill's is the proud sponsor of the Newbies Breakfast on Thursday, 04/19.
Seresto invites all attendees to join them for Lunch on Thursday, April 19th. They have some great initiatives to share that will help keep your cat or dog flea and tick free.
Nose-to-Nose Finalists: Here are your 2018 BlogPaws Nose-to-Nose Pet Blogging and Social Media Awards Finalists.  Hill's is the proud sponsor of this year's awards! The finalists will be revealed in an exclusive red carpet gala ceremony featuring celebrity emcee, David Frei, on Friday, 04/20.
BlogPaws 2018 Conference Ambassadors
BlogPaws proudly announces your 2018 BlogPaws Conference Ambassadors:
An ambassador is someone who shares in a mission and helps support it every step of the way. Each year, BlogPaws selects a group of pet bloggers as ambassadors to the conference. They are chosen for their professionalism and talent in social media. They will assist everyone in the BlogPaws Conference experience before and during the conference. Welcome them aboard and be sure to follow their blogs!
How Do I Get There?
The closest airport is the Kansas City International Airport which is about 20 miles from the hotel.
Reserving your Airport Transportation in Kansas City over the PHONE:
(913) 937-9444
Reserving your Airport Transportation in Kansas City ONLINE:
Go To: Book Now! (https://book.mylimobiz.com/v4/champinc)
If booking online, follow these steps:
Login:
Top righthand corner of the screen click on "Log in".
-Username: BlogPaws
-Password: BP18
Dashboard:
Top lefthand corner of the screen click on "New Reservation".
Step 1:
Select Service
-From Airport
Pick Up Date & Pick Up Time (please put landing time for arriving flights, we pick up 2 hours in advance for departing flights…this is plenty of time, trust us we do this daily. Example if your flight departs at 8 am, we will want to pick you up at 6 am. All PU times need to be on the hour or on the half hour).
Pick Up & Destination Locations
-PU at MCI (this has a drop down option please just type "MCI" for our airport and select the drop down option as well as your hotel location)
-DO at Sheraton Crown Center (just type Sheraton and it will auto-populate "Sheraton Kansas City Hotel at Crown Center, McGee St)
Show Rates
Step 2:
Select Dedicated Ride (first option)
Book Now
Step 3:
Name
Number (mobile, we text diver information)
Email (Payment receipts, and confirmations)
Billing Contact (BlogPaws) <– this will make your ride free! When you receive your official confirmation it will show an amount as long as you have chosen BlogPaws as your billing contact you will not be charged.
Any Notes (disabilities, additional information, child seats, Pets, oversized luggage, etc)
Payment Info (Direct Bill)
Flight Info (they track flight information and have to have arriving flight information)
Round Trip? <– Yes! Book Your Return Trip now as well. This will reserve your spot on the return shuttle.
Book Now
Once reviewed by an agent, a confirmation email will be sent.
Passengers MUST CALL to cancel, no email cancellations will be accepted.
You will receive a text 45 minutes in advance of your pick up at the airport, it will have your drivers name, number, and photo.
Badges
They're heeeeeere! Share your excitement! Get your friends and followers to join you! Here are the official BlogPaws 2018 Conference badges and codes. Choose to copy and paste the file or simply copy the code for the Text/HTML version of the badge: ====> http://blogp.ws/BPBadges2018
Zero-Waste Conference
Once again, our pals at Only Natural Pet will be in full force with a Zero Waste system at the Conference,  but we are taking it up a notch! This year, they will educate on how you can recycle and reduce your carbon pawprint at home, too!
Official Hashtag
BlogPaws uses the hashtag #BlogPaws before, during, and after the event.
Will There Be Facebook and Instagram Lives to Follow?
Definitely! You want to follow along throughout.
Will There Be Livestreaming?
Yes, stay tuned for the schedule so you can watch the fun and networking unfolding from the comfort of home!
Can I See a Schedule Overview?
Wednesday, April 18, 2018 
8:00 a. m. – 12:30 p.m.       Sponsor set up time
8:00 a.m. – 6:00 p.m.          Registration
1:00 p.m. – 9:00 p.m.           Pet Parks open (both large and small dog available, as well as a nap/break room for pets to relax)
1:00 p.m. – 5:00 p.m.           Exhibit Hall & Cat Lounge open (Exhibit Hall closes at 5:00 p.m. after Happy Hour)
1:00 p.m. – 4:00 p.m.           VIP Afternoon Workshops
4:00 p.m. – 5:00 p.m.           Happy Hour Event in the Exhibit Hall (Exhibit Hall closes at 5:00 p.m.)
5:00 p.m. – 6:00 p.m.           Opening remarks
6:00 p.m. – 7:10 p.m.            Opening Reception/Food
7:30 p.m. – 9:00 p.m.            Evening event – announcement coming soon!
Thursday, April 19, 2018
7:00 a.m. – 7:00 p.m.            Registration/Info Desk open
8:00 a.m. – 9:00 a.m.            Breakfast and networking
8:00 a.m. – 7:00 p.m.            Pet Parks Open
8:30 a.m. – 11:00 a.m.           Exhibit Hall & Cat Lounge Open
11:00 a.m. – 12:15 p.m.         Breakout Sessions Round 1
12:15 p.m. – 1:00 p.m.           LUNCH
1:00 p.m. – 2:15 p.m.            Keynote: Announcement coming soon!
3:30 p.m. – 6:30 p.m.           Exhibit Hall & Cat Lounge Open (Exhibit Hall closes after Happy Hour at 6:30 p.m.)
2:30 p.m. – 3:30 p.m.           Breakout Sessions Round 2
3:45 p.m.  – 4:45 p.m.          Breakout Sessions Round 3
5:30 p.m.  – 6:30 p.m.          Happy Hour in Exhibit Hall
Friday, April 20, 2018 
7:00 a.m. – 4:00 p.m.            Registration/Info Desk open
8:00 a.m. – 9:00 a.m.            Breakfast and networking
8:00 a.m. – 10:00 p.m.          Pet Parks Open
9:00 a.m. – 11:00 a.m.           Exhibit Hall & Cat Lounge Open
11:00 a.m. – 4:30 p.m.           Exhibit Hall Tear Down
11:15 a.m. – 12:30 p.m.         Morning Workshops
12:00 p.m. – 1:00 p.m.           LUNCH
1:00 p.m.  – 2:15 p.m.           Keynote: Announcement Coming Soon!
2:45 p.m. –4:15 p.m.             One on One Sessions & Author Signings
5:00 p.m. – 6:00 p.m.           Red Carpet Happy Hour & Walk
6:00 p.m. –7:00 p.m.            BlogPaws 7th Annual Nose-to-Nose Dinner & Awards, Closing Remarks
7:00 p.m. – 10:00 p.m.         After-Pawty!
Complete 2018 BlogPaws Conference schedule here.
Cat Lounge
Hey, cat bloggers! You know we always want to give something special to the feline fanatics at our annual BlogPaws conference and we usually turn to cat style expert Kate Benjamin of Hauspanther for her coordination skills with the Cat Lounge, but this year Kate is taking a bit of a hiatus to deal with some health issues (more details on her new personal blog FelineSoFine.com, because of course she created a blog about it!)
Kate is going to work behind the scenes to orchestrate a really cool cat lounge experience for you this year and we've got a great team of volunteers to make it happen, so you definitely have something special to look forward to!
We will have fun new additions, special sponsors, cats, cats, and more cats!! Meow-za! World's Best Cat Litter™is the official cat litter of the Cat Lounge.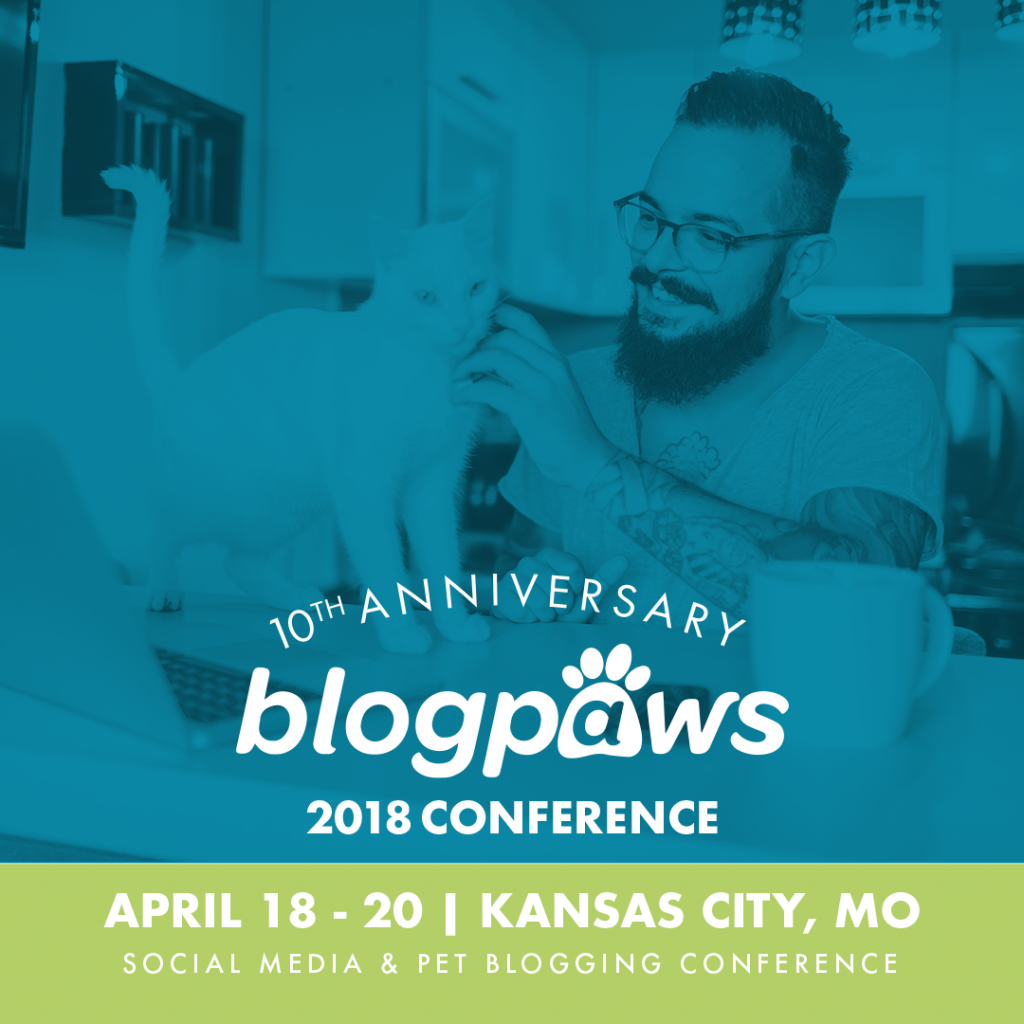 Attendee Newsletter
All registered attendees will receive a newsletter each week leading up to the conference. Check the email you used to register for the conference. There is very important information in these attendee newsletters you won't want to miss.
What to Wear
Whatever you are most comfortable in! We have outfits ranging from jeans and a T-shirt to business casual.  For the awards gala on Friday, most do tend to dress up – including pets! One recommendation we do have is if you tend to be chilly, bring a sweater, as the air conditioning will be on indoors.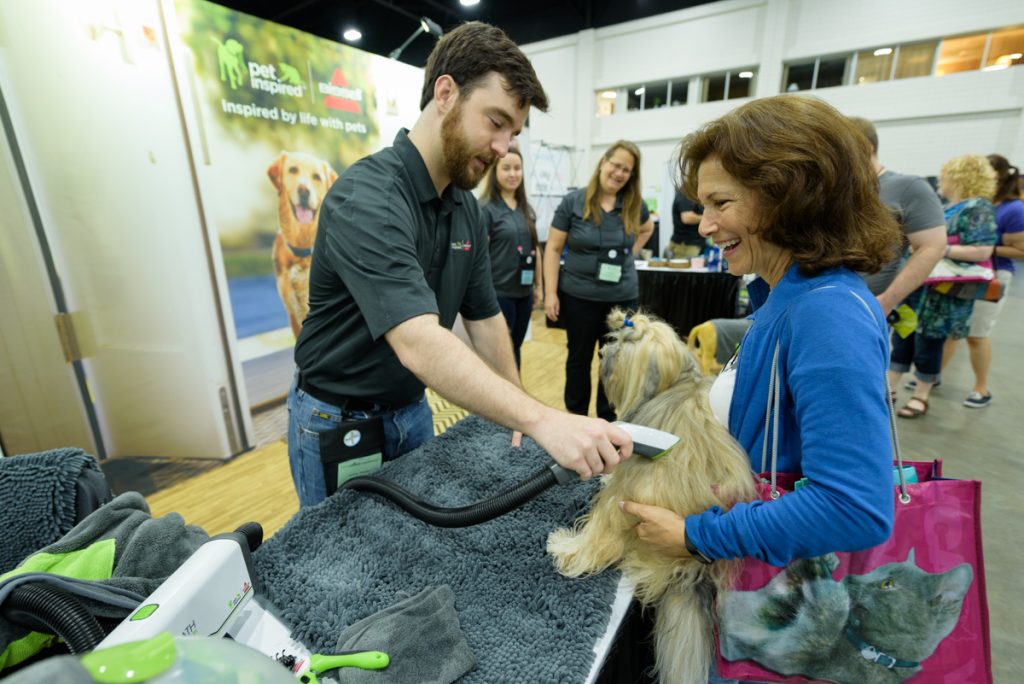 Food During the Conference
On Wednesday, the only meal provided by BlogPaws is the opening reception buffet at 6pm. While food on this night is not a sit-down meal, it is hearty enough to be your meal and you should not need to eat elsewhere. The Wednesday evening Happy Hour from 4pm – 5 p.m. will have light appetizers, as well.
Thursday, breakfast and lunch will be provided.  Breakfast usually consists of a continental style meal with a hot item or two, and lunch is a full hot buffet. You will be on your own for dinner this evening.
Friday all meals are provided by BlogPaws. Breakfast will be similar to Thursday's, as is the lunch. The dinner during the Nose to Nose Awards will be a buffet style meal immediately following the awards.
Snack Attack
We know the days can be long and you will need a pick me up to help keep you going. We want to make sure that you have treats waiting for you and not the other way around so we are bringing back snack bags!
Thursday's snack bag which will be available at the Reg Desk is full of nostalgic treats for you to enjoy. Think back to when your mom used to pack you lunch and the goodies she would include (or you wished she would).
Friday's snack bag which will also be available at the Reg Desk will be extra full of goodies to help get you through the day and well into the night! Getting ready for the Red Carpet and Nose to Nose Awards can make you hungry. Remember dinner is AFTER Nose to Nose Awards this year.
What Events Take Place During the Conference
Check in with the official BlogPaws Conference schedule for the most up-to-date information and check back often, as we have many surprises in store for attendees!
Kid Friendly?
While we think any kid would have a good time and enjoy seeing some animals, we ask that they do not attend the conference. This is a professional conference and we want to be respectful of other attendees. If you wanted to bring your family and enjoy the Kansas City area and the hotel during the conference, that is totally fine! Kids cannot come to any conference related functions, so keep that in mind.
Pet Friendly?
BlogPaws is pet friendly. We accept animals of all kinds! We do expect pet parents to have dogs on leash, cats restrained, and other pets on either a leash or controlled in some way as the number of pets grows every year. It's important to the health and safety of all involved that pet parents consider their pet's personality and ability to interact with others, at all times. If you plan to bring your animal, please indicate that during registration and additional information will be sent to you. Additionally, anyone bringing their pet will have a second step to their registration process for the event on-site. Stay tuned for more information on that! Please be certain to clean up after your pet both outside and if there are any indoor accidents.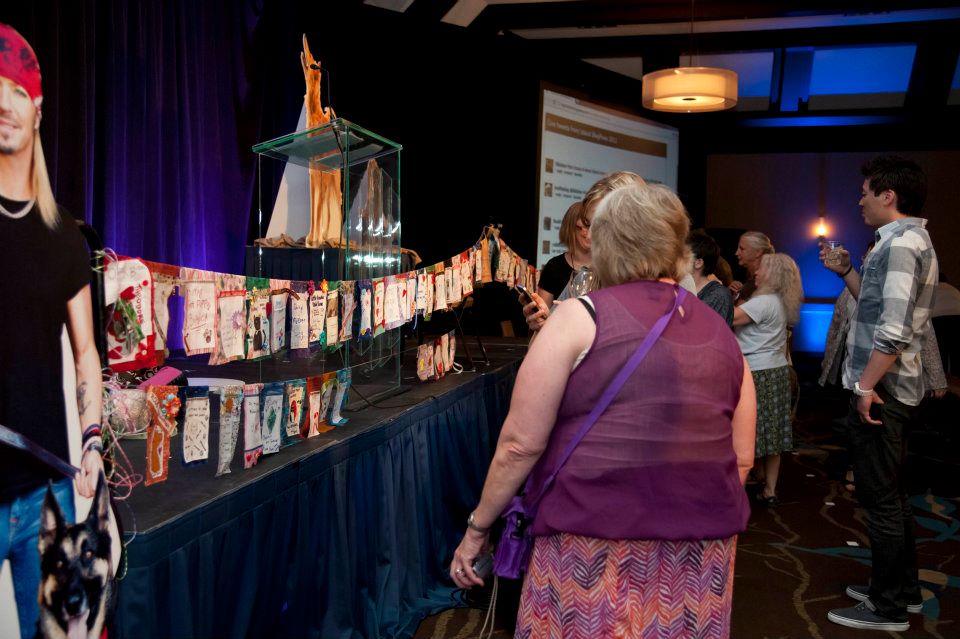 Honor Flags
Honor Flags are Back: It is time to bow our heads, show love and remember, and this year's BlogPaws Conference will play host to the time-honored tradition that is Honor Flags. Honor Flags remember our dear pet companions who are no longer with us and honor all who are dedicated to rescuing animals.
Supplies will be available at the BlogPaws Conference and each flag will represent a pet you wish to honor. Whether you are an artist or not, honor flags are designed to remember those we love and have lost. Express yourself, share the love and the bond with your pets, and take some quiet time to create a keepsake that will grace the honor flag and for you to take home as a remembrance.
Weather in Kansas City, Missouri in April
Weather in April in Kansas City, Missouri averages in the 60s and 70s, making it ideal for visitors and those traveling into the area.
Pet Parks
Wednesday, April 18, 2018: 1:00 p.m. – 9:00 p.m.         Pet Parks open (both large and small dog available, as well as a nap/break room for pets to relax)
Thursday, April 19, 2018:  8:00 a.m. – 7:00 p.m.            Pet Parks Open
Friday, April 20, 2018: 8:00 a.m. – 10:00 p.m.                 Pet Parks Open
BlogPaws 2018 Nose-to-Nose Pet Blogging and Social Media Awards
These are the only pet industry awards in which pet bloggers and social media influencers are judged on the expertise, performance, and creativity of their entry. Each category is judged by a distinguished panel of professionals and not by popular vote. The influence of pet bloggers is growing and the BlogPaws community is leading the way.
Celebration Time: Meet your 2018 BlogPaws Nose-to-Nose Pet Blogging and Social Media Award finalists. Winners will be revealed by David Frei in a red carpet ceremony on 04/20/18 at the BlogPaws 10th Anniversary Conference!!!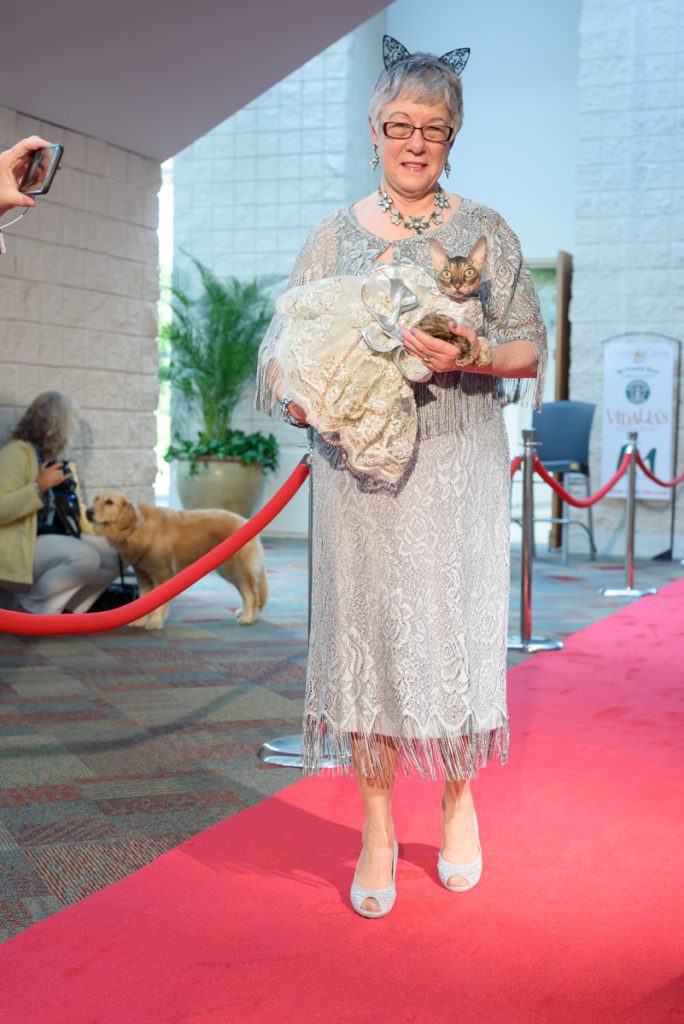 Nose-to-Nose Awards and Red Carpet Walk
Please join us at 5:00 p.m. on Friday for the official Nose-to-Nose Red Carpet walk, complete with photographers! If you do not want to walk the red carpet, that is fine, too! Anyone can get their picture taken in front of the step & repeat at the end of the red carpet. For Friday evening, April 20th:
5:00 p.m. – 6:00 p.m.           Red Carpet Happy Hour & Walk
6:00 p.m. –7:00 p.m.            BlogPaws 7th Annual Nose-to-Nose Dinner & Awards, Closing Remarks
7:00 p.m. – 10:00 p.m.         After-Pawty!
Parking Update
Overnight parking for BlogPaws is now $15! Your hotel key card will act as your parking pass so it is probably best to check in before you park your car.
For those who are driving back and forth each day, there is a Parking Garage. The first 3 hours of visitor parking is free and can be validated at the front desk. After the first 3 hours it is an initial $6 + $1 for each additional hour up to a maximum of $18. Visitors can pay for parking as you exist the Parking Garage.
For those in need of valet service, that is available for $13 for short term parking. If this is something you would like to take advantage of, please confirm with valet how many hours constitutes short term and or what the charge is for overnight / long term.
Connect In Advance of the Conference
We encourage you to register on our site through our agenda platform and link up your Twitter account. You may link up other accounts if you choose, but Twitter is a great way to connect with people ahead of time. Once you register, you can see who else has registered in the Attendees section.
Posts After the Conference
Here are 25 BlogPaws Conference post ideas before and after the big event.  There will be a blog post linky party where you can post all of your conference blog posts. This linky party will be on BlogPaws.com on 04/23/18 and stay open until early June. Post as many blog posts as you want from the conference experience!
Is the Conference The Same As Previous Years?
No two conferences are ever the same. As social media and blogging evolve so, too, do the BlogPaws Conferences. Networking face to face is pivotal, and our attendees and sponsors value the interaction to form and continue relationships. Whether this is your first BlogPaws Conference or your ninth, no two conferences are ever the same.
Where Has BlogPaws Held Conferences?
2010: 1st in Columbus, Ohio
2010: 2nd in Denver, Colorado (BlogPaws West)
2011: 3rd in Tysons' Corner, Virginia
2012: 4th in Salt Lake City, Utah
2013: 5th Tysons' Corner, Virginia
2014:  6th in Lake Las Vegas, Nevada
2015:  7th in Nashville
2016: 8th in  Chandler Arizona
2017: 9th in Myrtle Beach
We won't be hosting a conference in California because there is a ferret ban in the state. And BlogPaws is all about supporting all animals. Many of our members have ferrets.
What If I Have a Blog But Not About Pets?
BlogPaws is for anyone who wants to learn more about social media or blogging. If you have a pet, that's fantastic; if not, we welcome you, as the education is stellar!
Photos from Previous BlogPaws Conferences
BlogPaws Facebook Page Photo Albums.
Must Read Links for Conference Goers
How to Make the Most Out of Your BlogPaws Experience
8 Social Tips for Attending a Live Event Like BlogPaws