Guest Post by Dawn Miklich   afFURmation 
You may have heard of Pinterest, it's the newest social media platform that's becoming hugely popular.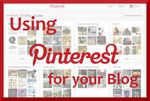 On Pinterest, you can "pin" or upload pictures or videos to a "board" under your profile.  Pinning is done easily by using a browser button in Google Chrome, entering the url of the site you want to pin from or using the "Pin it" button on the site you wish to pin from.  It's a great way to save and share interesting things from around the web. 
So where does the "social" part of this social media come in? Along with pinning items you find around the web, you can look through other people's pins on Pinterest and repin those pins to your board.  If there's someone whose pins you like, you can "follow" the board the pin is on or follow all their boards.   Any boards you follow will show any new pins added to them in your Pinterest stream making it easier for you to see any potential new pins for your boards. If there is a pin you really enjoy, you can "like" it or leave a comment for the pinner.  You can also share your favorite pins on Facebook or Twitter.

Sounds interesting, but how can a site where people plan weddings, design their dream home and pin more chocolate recipes than I will ever have time to make (or eat, but I'd be willing to take that as a dare) benefit a blogger? While it might not be for everyone and every blog, there are several ways a blogger could take advantage of Pinterest.
For Post Ideas
Post ideas can show up anywhere- reading news online, visiting another blog or even looking at pins on Pinterest.    Make a board for post ideas, then pin these links to use for future posts.
Along with looking through pins of people you are following, you can find post ideas on Pinterest by looking by category or searching by putting a hashtag in front of your search term to pull up any pins people tagged with that term.
To Bookmark
Bookmarks are a great way to save links you'll need later, but often the title isn't a big help in remembering what or why you bookmarked a link. Pinning a picture from the site gives a visual reminder plus a description can be added telling you why you pinned it.
Some ideas of what you could bookmark-
Bookmark books you might like to read and review on your blog. 
Keep references you'd like to refer back to. 
Save articles, like blog how to articles, together on one board to make them easy to find and access. 
Save your favorite blogs on one board.  
For Contests
You could run a contest using Pinterest. Pick a theme and have your readers create a board using that theme.  Or have them pin their favorite post from your blog.
You can see Pinterest is more than just a place to post pretty pictures.  Watch for Using Pinterest for your Blog Part 2 for ways to get traffic to your blog.
To learn more about Pinterest, visit my Pinterest Posts board for links to posts from around the Internet.
Dawn Miklich shares her home with a variety of critters including dogs, cats, ferrets, parrots and a bunny.  She blogs about pets at afFURmation and pins a lot of stuff on Pinterest.