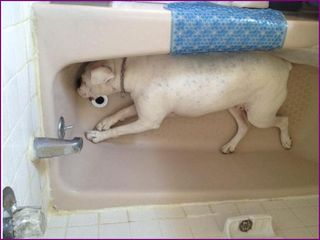 Katherine Kennerly says, "When you can't find Zero in the summer this is where she is! Must be a lot cooler to lay in the tub!" We imagine this might be a scene from the BlogPaws Conference, too! BOL! Katherine Kennerly is one of our BlogPaws Community members. Are you??? Here's a quiz:
Which of the following statements apply to the 2013 BlogPaws Conference:
A) The BlogPaws Conference is pet-welcoming
B) The BlogPaws Conference takes place in an area that is pet-friendly
C) Home to Angel On a Leash (and voice of Westminster), David Frei emceeing the BlogPaws Nose-to-Nose Social Media and Pet Blogger Awards
D) The BlogPaws Conference is featured all over the home page of Fairfax County, Virginia:
E) All of the above
If you guessed E, we wag and purr in your honor. Indeed, BlogPaws is all of these and more! In fact, check out all the pet-friendly things you can do while visiting Tysons Corner, Virginia, thanks to our fur-ends at The Fairfax County Tourism Bureau.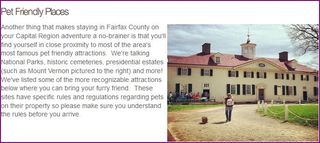 It is also time for BlogPaws
Wordless Wednesday blog hop! As we countdown to BlogPaws 2013 Conference (which takes place in mid May – woot! ) – we encourage you to make new
connections, find followers, join in the blog hop, and grow your blog.
Visit and leave comments on other blogs to make some new buddies and maybe some new followers.
You can add the BlogPaws Blog Hop button to your post and/or to your blog sidebar, either by cutting and pasting the image or using the HTML code below.
Need help? Here it is: How to Join a Blog Hop – BlogPaws Tutorial