by: Carol Bryant
Join Kenn Bell, Creator/Executive Producer of the website and video series, Dog Files, and the Animal Planet Special, Hero Dogs Of 9/11, for a three hour masterclass in planning, filming and editing emotionally compelling videos that will captivate your audience. This takes place Thursday, June 21 from 2 to 5 pm at BlogPaws 2012 in Salt Lake City.
This is not simply a class on what equipment to buy, or what to do with the equipment, but a thoughtful study in the art form of storytelling as it relates to videos.You'll watch one of the latest Dog Files episodes and Kenn will break it down, step by step, showing you how structure, movement and sound combine to create the message you want to convey to your viewers. At the end of the masterclass, we'll watch it again so you can see it with your new "enlightened" eyes. And Kenn says…

"I hope people will learn to make better, more emotional videos. The more effective they are, the more we will get our messages out and help animals," Bell told us. 
Who should come to this master class? if you are passionate about getting involved in the fastest growing medium on the internet and want your videos to stand high above above the average YouTube videos, make sure to sign up for this.
Kenn is flying from New Jersey but will be sans his pooches,  two hounds named Max and Remy. "They won't be with me this year because I'm flying and they wouldn't appreciate being in the cargo hold of a plane," he remarked.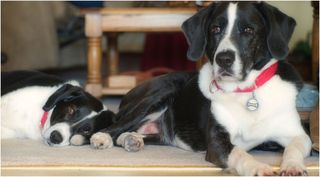 As a bonus, on Thursday night, June 21,  following opening remarks, there will be an exclusive screening of Kenn Bell's Animal Planet Special, "Hero Dogs Of 9/11". Stay afterword for a Q&A with Kenn and a Search And Rescue Dog Team that worked at Ground Zero.
Where can you learn more about Kenn?
http://thedogfiles.com – http://facebook.com/dogfiles and http://twitter.com/dogfiles
Come to Salt Lake City, meet Kenn, and join in the fabulous 3-day event:  BlogPaws 2012
Catch up on our BlogPaws Speaker Series in the BlogPaws Community.