Post by Blog Manager Robbi Hess
You have a pet website or a blog and you write in it faithfully. You have readers that will comment occasionally. Your analytics show you that people are coming to your site and they're sticking around to see what you have to offer, but they're just not buying or commenting. What can you do?
It could be that your pet blog simply isn't working hard enough for you. There are some measures you can take to amp it up — whether you're selling a product, providing a service or simply wanting to become known in your particular pet niche — you need activiity on your blog to let you know your efforts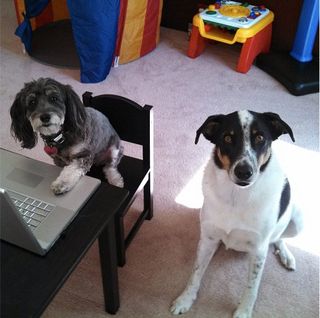 are worth it, right?
Here are my tips for putting your blog or website to work for you: 
Regardless of what you write you need to keep the readers' wants and needs in the forefront. A blog isn't a "what's in it for you" it's a "what's in it for them." Are you offering information they can use today? A dog training tip, cat grooming advice, hints on hotels that are pet friendly and how to be a good guest, a dog bone recipe, etc. Yes, you have information, knowledge and expertise to share but the writing should be geared toward helping your reader. 
Where's your call to action? Are you offering something free on your site? "Sign up for my newsletter and get a free e-book on funny pet habits," or "Call me for a free blog consultation," you get the picture. Also, when you write a blog, ask a question. If you're just presenting straight facts a reader may not feel compelled to leave a comment. If you ask a question, "What steps have you taken to bring more readers to your blog" I'd love to know!" Invite conversation then make certain you reply to it. 
Chances are you're an expert in your particular field. Congratulations! But, remember, I may not have your level of expertise and if I have to pull out a dictionary or jump on Wiki when you toss out a phrase or word I don't understand I may lose interest in your post. Convey your information and knowledge in a way that your readers can easily relate to. 
Keep your blog posts on topic. For example, don't start a blog post with the headline of "Traveling Cross Country With Your Kitty And Staying Sane," but then go into a blog post that talks about finding a pet friendly hotel, or grooming or cat, or finding places for your dog to do his business when on unfamiliar turf. Your readers will wonder if you're trying to pull a fast one or if you simply got off topic or they could be miffed because they're preparing for a cross country road trip with a cat and really, really wanted those survival tips you were going to offer. Your headline is a promise you make to your reader, make sure you fulfill it. 
Show your enthusiasm. If you're bored of the topic you're writing, your reader will be bored as well. There are many evergreen topics on which every blogger writes throughout the year. While the overall topic is the same (ie Keep Your Pet Safe On Halloween) you can put your unique spin on it, even if you've covered that topic before. Add new facts. Talk to an expert. Keep it, well, evergreen! 
Being consistent in your blogging is also an asset and will get your readers in the habit of checking your blog daily, or weekly, or whatever schedule you're on (hint: the more you blog, the more traffic you will have).
Take some time today to look at your blog, or have a pet-loving friend give it a once over and see what you might be missing. Could it use an upgrade or update? Have you earned accolades that aren't mentioned? Do you have a call to action on your site? I'd love to hear if your site is working for you!