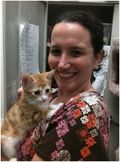 If you blog, what is one thing you forever wish for and we all could really use on a regular basis? Readers, right?
Crystal Gouldey of Perkasie (about an hour from Philadelphia), Pennsylvania, knows a thing or two about how to get more readers. Through the magic of email marketing, she will be showing folks at BlogPaws how this tool can work in their favor as well.
Here's what Crystal shared with BlogPaws in advance of her session at BlogPaws' sold out conference:
BlogPaws: Howdy, Crystal! How many times have you been to BlogPaws?
Crystal Gouldey: This is my first time.
BlogPaws: What specifically will you be talking about?
Crystal: I'll be talking about how to expand your
blog audience with email. I'm going to cover:
-The best ways to get people you meet
offline to follow you online
-How to get blog readers to become email
subscribers (so you'll know they'll keep reading!)
-How social media and email work
together to get more eyes on your blog
BlogPaws: Sounds interesting! What do you hope
people gain/learn by attending your session?
Crystal: There are two main points I'd like
people to take home:
-The many ways they can build an online
following
-How email makes it easy to grow and
manage your audience

BlogPaws: What is your favorite
aspect of attending BlogPaws/what do you most anticipate as an attendee?
Crystal: The absolute best part? I'll get to meet
lots of pets! I'm also eager to be surrounded by people who enjoy both blogging
AND animals. 
BlogPaws: Do you have pets and
if so, their names/ages/types, etc?
Crystal: My cat, Sassy, is a 4-year-old DSH
tortie I adopted from a shelter about 2 years ago. She's scared of everything,
particularly ceiling fans and anything that makes noise. 
There's also Mojo, the family dog who
lives with my parents. He's a 5-year-old Sheltie/Keeshond mix and he's a
spoiled brat. 
BlogPaws:  Where can people learn
more about you?
Crystal: I write for the AWeber blog (http://www.aweber.com/blog/).
You can also connect with me personally
on LinkedIn: http://www.linkedin.com/pub/crystal-gouldey-moore/48/875/855
BlogPaws: Just for fun, what is
something about you people would be surprised to learn?
Crystal: Even though I've been doing marketing
for 5 years and I'm currently working on my Master's in  Communication, I
actually have by Bachelor's in Animal Science – I wanted to be a vet!
BlogPaws: What is one website you visit at
least once daily?
Crystal: One must always have cat pictures to
share with people: http://andmycat.com/

BlogPaws: What is a favorite blog or blogger you
follow regularly? (other than your own)
Crystal: I follow Unbounce for their cool
marketing tips and tricks. They do a great job presenting their content. http://unbounce.com/blog/
From 2 to 3 pm on Saturday, May 18th, join Crystal for her session at the BlogPaws 2013 sold out Conference.