By Tom Collins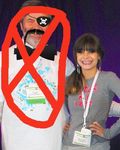 Last year, I announced that we'd activated a nifty image editing feature for adding captions, cropping, and adding special effects to your uploaded photos right within the BlogPaws Community site (I'm sure you can do better than I did, demo-ing some of the fun effects that are built-in presets). To use them right in the Community site, just upload your image, place your cursor over it, and a bar should appear across the top of your image. When you click on that, the Aviary editing panel opens and you're off!
As I mentioned in our November 30 Newsletter, though, you can do more than just edit images for your Community photo album:
"If you don't have access to Photoshop, or some such, you can do a fair job of touching up, captioning, cropping, and so on, right here in your My Photos pages. Upload an image, edit/save it, then right-click and "Save Image As …" and, voila! You've got the edited version back on your hard drive to use as you please!"
But wait! There's more!
In keeping with my things I found while looking for something else theme, TypePad recently announced it's adding the plugin version of Aviary, too (now in Beta). So I was checking out the details and clicked over to the Aviary site and discovered their Phoenix image editing software.
Here's a screenshot, showing some of the advanced features (LAYERS is the big one) that I think make this an amazing resource for anyone without access to a high-end tool like Photoshop, or my beloved Fireworks (click image to enlarge):
I could go on about what you can do with many of the tools shown above and certainly there are tradeoffs with using web-based — "cloud-based" if you prefer — tools, especially free ones (maybe we'll come back to those questions in future posts), but for now,
GO! OPEN PHOENIX ON YOUR SCREEN! PLAY WITH IT!
Let us know what you think!